Are you planning a trip to Eugene and looking for the best hotels in Eugene? If you have no idea where to stay? This article can help you in finding the perfect accommodation in Eugene, Oregon.
The birthplace of Nike is a picturesque university town with a strong sports culture. Eugene, though, has much more to offer.
It is a city of the arts, covered with vibrant murals, and it even had a renowned hippy counterculture. In this safe town, there are several museums, different dining options, and artisan breweries.
The Willamette Valley, which is stunningly lush and boasts rivers and trails, is also nearby, giving it the nickname "Emerald City." Eugene is unquestionably a great city for foodies, daring explorers, and adventurous types.
The top hotels in Eugene, Oregon, offer an incredible selection that lets you tour the city at your own pace. You can choose from opulent hotels to quaint inns here.
Eugene is a great location to explore the surrounding area because it is only 60 miles (96 km) from the Oregon Coast.
One of the 10 Spectacular Sea Stacks Around the World can be found on the Oregon Coast. Additionally, Eugene is a fantastic place to spend a winter holiday.
Just a few hours to the southeast is the crater lake national park, one of the 22 best winter vacation spots. Thus, despite its tiny size, Eugene has a lot of work to accomplish. Here are the top 11 hotels in Eugene, Oregon, to help with that.
---
Things to Consider While Choosing the hotels in Eugene, Oregon To make your trip Perfect
It can be difficult to choose the ideal hotel in Eugene, Oregon, but there are a number of things to take into mind. Here are some crucial things to remember.
Location: You could wish to stay at a hotel close to your destination depending on the reason for your trip. If you're travelling for business, it can be more convenient to stay in a hotel close to the convention centre or the financial area. If you're on vacation, a hotel close to tourist sites can be a better option.
Budget: The price of your stay is a crucial aspect to think about. From inexpensive motels to luxurious boutique hotels, Eugene, Oregon, offers a wide selection of hotels. Before selecting a hotel, decide on your spending limit.
Amenities: Think about the features you value, such as a fitness centre, pool, or spa. A hotel with a kitchenette and complimentary breakfast may be more useful if you're travelling with children.
Reviews: You should gain valuable information about a hotel's quality by reading reviews written by other travellers. Unbiased reviews from past visitors can be found on websites like TripAdvisor and Yelp.
Brand reputation: Staying at a hotel chain with a good reputation can give you peace of mind and ensure a high standard of service.
---
List of 11 Top rated hotels in Eugene, Oregon For Families and Friends
After doing a lot of research and considering the reviews of guests we have shortlisted some of the best hotels in Eugene, Oregon that will make your holidays memorable.
1. Graduate Eugene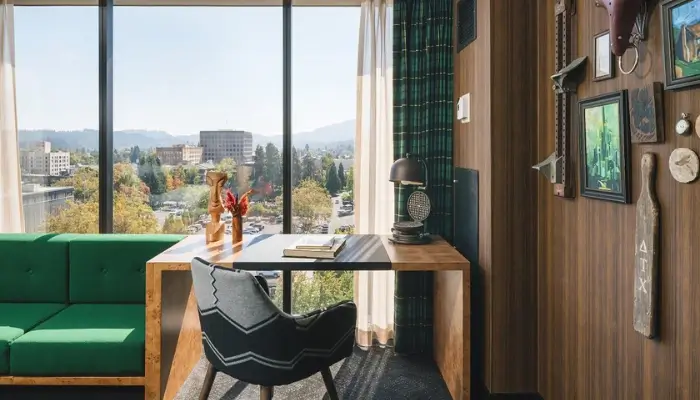 Eugene, a graduate, has a garden in Eugene. The University of Oregon, Autzen Stadium, and Matthew Knight Arena are all 1.5 miles away from the site. The hotel has a front desk available 24 hours free WiFi access all over the place.
A dining area, a flat-screen TV with cable channels, and a private bathroom with a hairdryer and a shower are included in each of the hotel's rooms. The Graduate Eugene hotel has desks and air conditioning in its guest rooms.
The nearest airport is Mahlon Sweet Field Airport, 11 mi from Graduate Eugene.
Address: 66 E 6th Ave, Eugene, OR 97401, United States
---
2. Tru By Hilton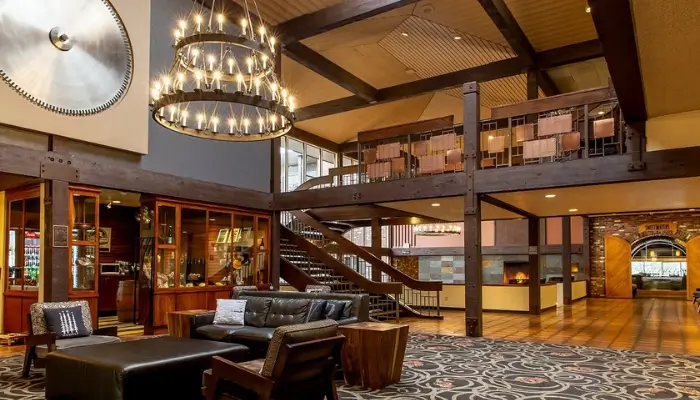 Off I-5, the Tru by Hilton Eugene, OR is close to a number of hiking and bike paths that surround the Willamette River. It is Hayward Field. Autzen Stadium, the home of the Oregon Ducks, is only 9 miles away and can be reached in under 10 minutes.
Within three miles are 5th Street Market and the downtown area of Eugene. You can also make use of our cosy lounge area, which features a pool table and free hot breakfast every day.
The University of Oregon is 2.1 km from Tru By Hilton Eugene, Or, while Autzen Stadium is 5.5 km from the property. The nearest airport is Eugene Airport, 17.7 km from the accommodation.
Address: 3111 Franklin Blvd, Eugene, OR 97403, United States
Also Read: 11 Best Hotels With Pools In Boston 
---
3. Valley River Inn Eugene/Springfield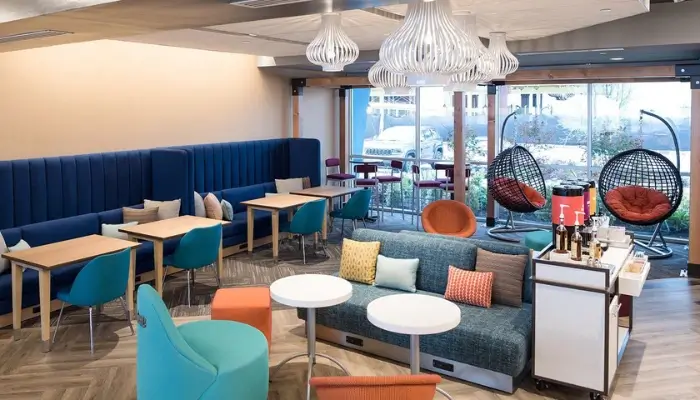 The Valley River Inn offers luxurious amenities and nicely furnished rooms in a stunning riverfront setting.
257 roomy suites and guest rooms with terraces or balconies and breathtaking views of the Willamette River, the Owen Rose Garden, and our beautifully designed courtyards are available in our historic hotel in Eugene, Oregon.
In addition to our comfortable rooms and suites, our hotel in Eugene provides a 24-hour fitness centre, outdoor pool, indoor whirlpool, and on-site dining at the renowned SweetWaters on the River, which delivers creative Pan-Pacific Northwest cuisine in a classy riverbank setting.
Address: 1000 Valley River Way, Eugene, OR 97401, United States
---
4. Inn At The 5th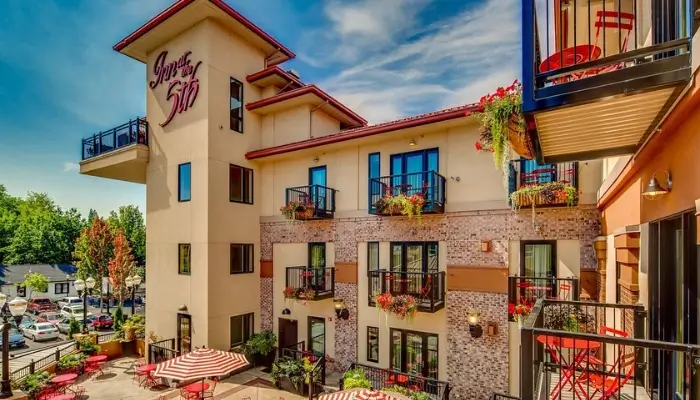 The Inn at the 5th is located in Eugene's Market District, the city's centre for culture. The Willamette River is a block away, and several of the nicest parks are nearby.
The hotel is housed in a five-story stucco building and greets guests in a chic lobby with cozy seating and gloomy lighting.
Hallways pay respect to Eugene's outdoorsy persona by including wall prints of nature and rugs that look like cherry trees in bloom.
You may request room service from the excellent Marche restaurant, which is literally around the corner, for all meals. The location features business nooks on each floor with free Wi-Fi, in addition to the two event venues.
Even though it's modest, the exercise centre is well-equipped, and the Marche even serves a fantastic breakfast.
The charming outdoor seating area completes the amenities, where you can relax with a cup of coffee and observe daily activities.
Address: 205 E 6th Ave, Eugene, OR 97401, United States
---
5. The Campbell House Inn
The Campbell House Inn, one of the best hotels in Eugene, Oregon, offers luxurious splendour at an affordable price right in the center of the city's Historic District.
The luxurious bed & breakfast, which was built in 1892 and has undergone a comprehensive restoration, is located adjacent to Skinner Butte Park and the Willamette River and cradles a tonne of historic charm.
The charming Victorian estate, which is situated on beautifully landscaped grounds, will take your breath away. Since it's an inn, it lacks some conveniences that a typical hotel would have, but you won't notice.
Even though there isn't a restaurant on the premises, the inn offers a superb cooked breakfast for free and even conducts complimentary wine receptions in the evenings.
The outside area is the ideal location to enjoy the full breakfast, which has hot entrée options and freshly baked goods such as sconces, on brighter days.
Address: 252 Pearl St, Eugene, OR 97401, United States
Also Read: 11 Best Hotels With Pool In Orlando
---
6. La Quinta By Wyndham Eugene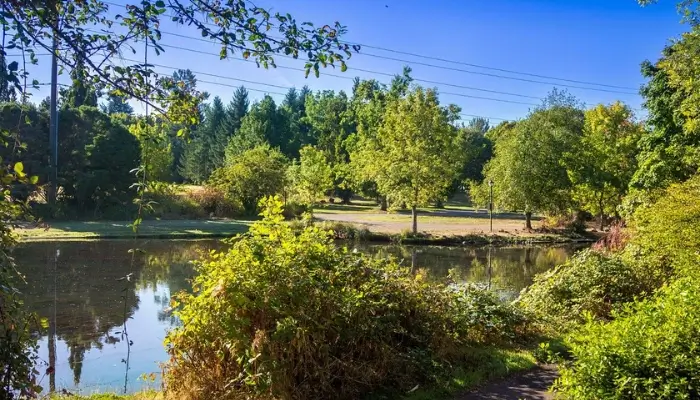 More than anything else, the La Quinta by Wyndham Eugene resembles a charming but excellent bed & breakfast. The best vegetation in Eugene surrounds the hotel, which is housed in a striking low-rise grey and white building.
The on-site convenience store is a blessing because the hotel offers simple self-catering accommodations, especially if you wish to prepare quick meals. In addition to a business and fitness centre, the hotel has a guest laundromat.
The gorgeous indoor Olympic-sized swimming pool, however, is the centrepiece. Given that the hotel is located in a sports town not far from the University of Oregon, this makes it logical.
The free Wi-Fi and the cooked, complimentary breakfast that is provided each morning are the icings on the cake.
Address: 155 Day Island Rd, Eugene, OR 97401, United States
---
7. Red Lion Inn & Suites Eugene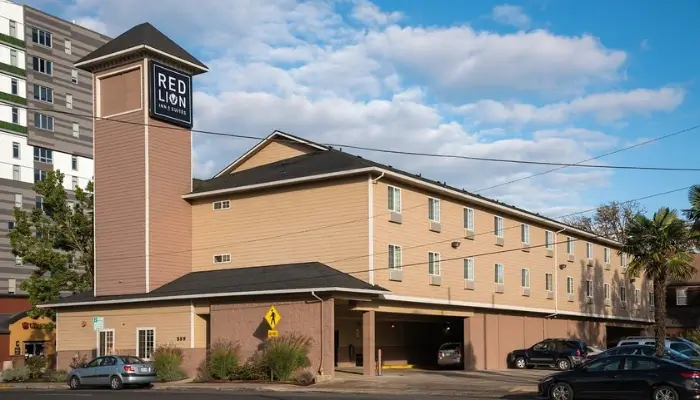 One of Eugene, Oregon's hotels with the best value is the Red Lion Inn & Suites. First of all, it is close to the University of Oregon on foot.
Additionally, it is a short stroll from Downtown and the Willamette River. As a result, there are several dining, shopping, and entertainment options close to the hotel. So while staying here, you can have a well-rounded vacation in Eugene.
Starting with a fresh, complimentary breakfast, the hotel provides a variety of amenities. For those who don't want to miss their workout routines, there is also a fitness center on-site.
In addition to free local calls, the hotel also provides free Wi-Fi and complimentary daily newspapers.
Address: 599 E Broadway, Eugene, OR 97401, United States
---
8. EVEN Hotel Eugene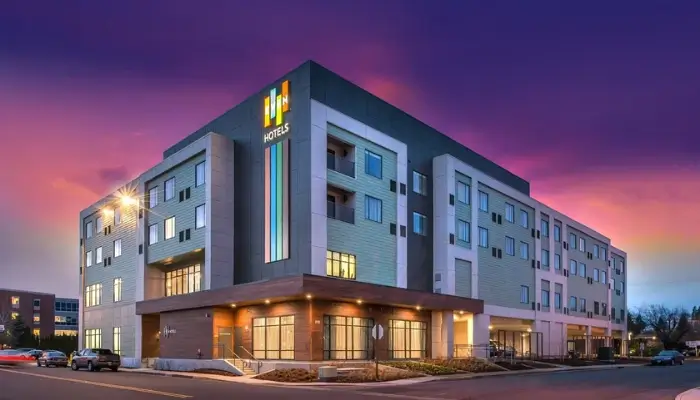 You'll adore the EVEN Hotel Eugene if your notion of vacationing in Eugene involves maintaining your health. Everything in this place is geared toward your health and well-being, including the amenities and the rooms.
Some passengers who support this location have even gone so far as to refer to this hotel as a wellness facility, and that claim is accurate.
First off, the hotel has a fantastic indoor pool where you can even swim laps! A hot tub is located right next to it and is the ideal place to soak your tired muscles.
A fitness enthusiast's dream, the well-stocked fitness center is filled with the best tools available. Finally, a variety of complementary therapies, such as massages and body treatments, are offered on-site.
Since the hotel's main goal is to get you moving, in addition to a fantastic complimentary breakfast, the restaurant also serves healthy and gluten-free meals.
Address: 2133 Centennial Plaza, Eugene, OR 97401, United States
Also Read: 11 Best Hotels With Private Pool In Miami Beach
---
9. Best Western New Oregon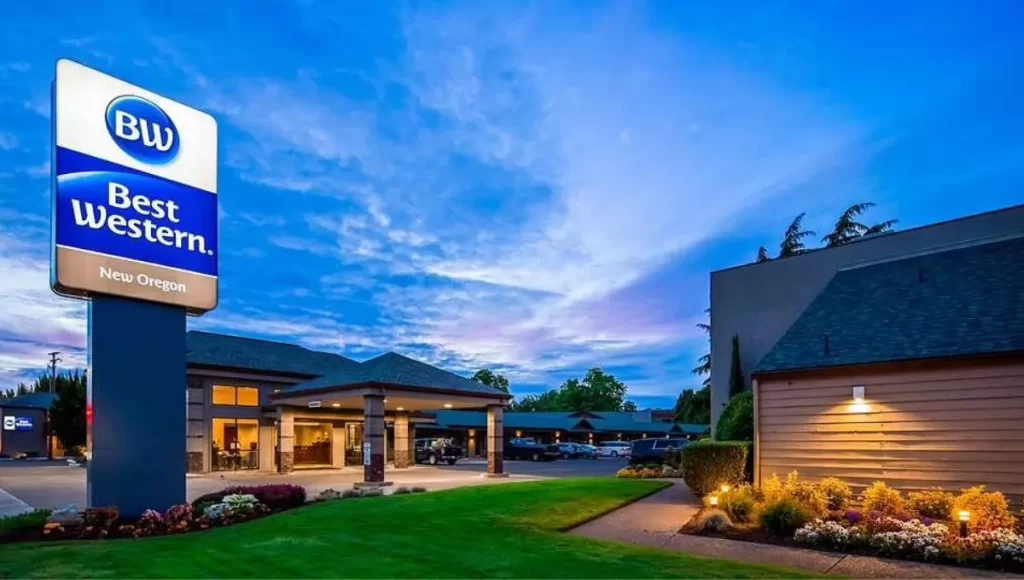 Any traveller will find the Best Western New Oregon in Eugene, OR, to be a peaceful and welcoming home away from home.
Every Best Western hotel has free internet access, allowing visitors to browse the web and check their email from the convenience of their room or the business centre.
It guarantees a relaxing and productive stay by placing a high focus on cleanliness. Additionally, outstanding customer service will guarantee that we fulfil all of your requirements and beyond your expectations.
---
10. Hyatt Center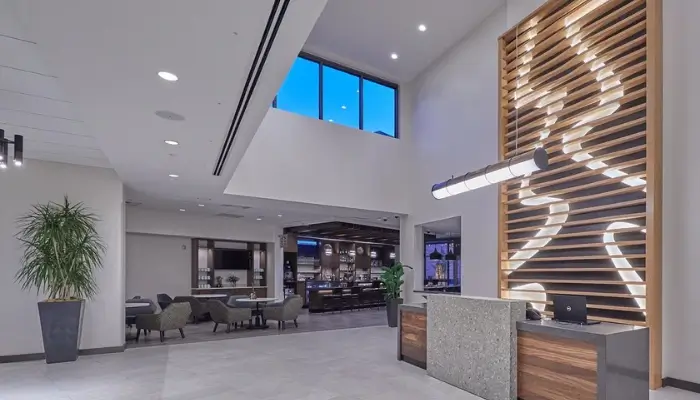 One of the top hotels close to Eugene, Oregon, is Hyatt Place. This hotel has a very welcoming pet policy if you're travelling with pets.
The hotel is close to the Oakway Golf Course and is located in the Cal Young area on the other side of the Willamette River.
The hotel has a tonne of great features, starting with its abundance of amenities. It has a beautiful indoor pool, which is a wonderful location to unwind after a long day of touring the town. Right next to it, a soothing hot tub completes the picture of leisure.
Even better, you may purchase meals or snacks from the on-site market and café. In addition, the bar serves great cocktails in the evenings and fresh coffee in the mornings.
The hotel has a 24-hour fitness center for those who enjoy working out in addition to a 24-hour business center.
Also Read: How To Get Free Hotel Rooms?
---
11. C'est La Vie Inn
We've made this our final departure from C'est La Vie Inn for a reason. The well-regarded bed and breakfast is one of Eugene, Oregon's busiest and best-rated hotels.
The ancient, drab-colored inn is a lovely retreat in the town and is surrounded by lush Oregonian vegetation.
The name of this tranquil haven that will take you to another time and place, "C'est la vie," which translates to "Such is life," is ideal.
One of the greatest specimens of Queen Anne architecture in not just Eugene but also Oregon, the inn is housed in a completely restored English property.
You can spend some quality time with your partner in one of the many romantic corners that the groomed gardens have to offer.
On chilly days, curl up with a book in the library and a cup of coffee. The gourmet breakfast prepared each morning while you are a guest here is exceptional.
---
Conclusion
Finding the correct hotel is crucial for a relaxing and pleasurable stay, whether you're in Eugene, Oregon for business or leisure.
There is a hotel for every traveller among the selection of accommodations, which ranges from affordable to luxurious. When selecting a hotel, take into account your preferences for amenities, location, and budget.
Also, don't forget to read reviews left by past visitors. You'll have no trouble locating the top hotels in Eugene, Oregon if you use this guide.
---
FAQs For Hotels in Eugene Oregon
There are a lot of questions that come to mind while choosing the hotel during the stay some of the commonly asked questions are answered below.
Q. What are the best hotels near the University of Oregon?
A. Holiday Inn Express & Suites Eugene Downtown – University, an IHG Hotel, Hayward Inn, and Best Western New Oregon are a few of the well-liked lodging options close to the University of Oregon. Hotels close to the University of Oregon are listed fully here.
Q. Which hotels in Eugene are good for families?
A. Families visiting Eugene gave high marks to Inn at the 5th, Hyatt Place Eugene/Oakway Center, and Hampton Inn Eugene. See the whole list here: Eugene Family Hotels.
Q. What's the best luxury hotel in Eugene?
A. Graduate Eugene is a well-liked option for Expedia guests seeking classy lodging. It is a 4-star hotel with valet parking and a bar.
Q. Are you looking for a luxury hotel for your stay in Eugene?
A. Plan a flight into one of the 18 opulent hotels after arriving at Mahlon Sweet Field Airport (EUG) or Corvallis, OR (CVO-Corvallis Municipal) Airport. You might want to consider taking advantage of the entertainment and live music that Eugene is famous for while you're there.
Q: What is the best time to visit Eugene, Oregon?
A. Summertime, from June to August, is the ideal season to visit Eugene, Oregon. There are numerous outdoor activities and festivals taking place in the nice, sunny weather.
Q: Are there any pet-friendly hotels in Eugene, Oregon?
A. Yes, a lot of hotels in Eugene, Oregon, welcome pets. The Graduate Eugene, Hilton Eugene, and Best Western New Oregon Motel are a few of the top pet-friendly hotels.
---
Tell Us In The Comments As per You Which Are The Best Hotels in Eugene Oregon?
Hope we were a great help to you, for further guidance and help be the first to discover secret destinations, travel hacks, and more.
Also, don't forget to book your personalized holiday package with Fiery Trippers. Let us make your vacation a romantic as well as a dreamy getaway.