Are you looking for the best hotels with Jacuzzi rooms in the USA for your next vacation? If you have no idea which are the famous in-room jacuzzi hotels in the US, this can help you in finding the best hotels with an In-Room Jacuzzi in the United States.
Is it safe to use Jacuzzi in a hotel room? Yes, hotels prioritize regular cleaning and maintenance to ensure the safety and hygiene of their Jacuzzi facilities.
When it comes to experiencing a truly indulgent vacation, there's something undeniably appealing about having your very own Jacuzzi right in your hotel room.
The USA boasts a diverse range of accommodations that cater to this desire, offering guests the chance to unwind and rejuvenate in style.
Whether you're planning a romantic getaway, celebrating a special occasion, or simply want to pamper yourself, these hotels have got you covered.
Let's dive into a world of relaxation, luxury, and unparalleled comfort.
---
Advantages of Hotels with Jacuzzi in Rooms
There are several benefits to booking a hotel with a Jacuzzi in the room. These rooms provide privacy, allowing you to take a soak without having to share the space with others, in addition to the obvious convenience.
Warm water jets are a wonderful complement to your holiday because of their medical qualities, which can reduce stress and promote relaxation.
---
List of 11 Best Hotels With Jacuzzis In Rooms, USA
Have you ever dreamt of sinking into a bubbling Jacuzzi right in the comfort of your hotel room? Well, dream no more! we're taking you on a virtual journey through the top-notch hotels across the United States that offer luxurious rooms complete with your very own private Jacuzzi.
After reading the reviews of so many customers we have listed some of the best hotels with an In-room Jacuzzi in the U.S.
1. The Alexis Royal Sonesta Hotel Seattle, Washington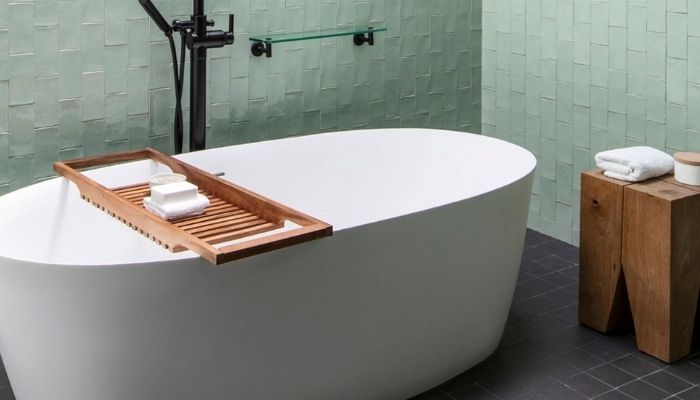 This beautiful hotel is situated in the center of Seattle, this hotel provides a variety of suites to choose from.
Desiring your own personal Jacuzzi, you can with ease book the Spa Suite or Honeymoon Suite which both include a jetted tub big enough for two. 
Along with that, you can visit The Seattle Art Museum, Pike Place Market, and the Seattle Waterfront which are within 10 minutes of walking distance.
Wi-Fi, flat-screen cable TV, whiskey library, fitness center, and the 24-hour front desk can be enjoyed here. A beautiful choice that you will love to visit.
📍 Address: 1007 1st Ave, Seattle, WA 98104, United States
📞 Phone: +1 206-624-4844
---
2.  Cove Haven – Lakeville, Pennsylvania
Cove haven hotel is famous for hosting honeymooners, you will find rooms that have heart-shaped Sweetheart Tubs along with a fireplace. A seasonal heart-shaped outdoor pool is also on-site.
The rooms also feature a fridge and coffee maker, and the living room has a cable TV with a stereo system.
For dining, you can visit the Coliseum Restaurant which will offer you breakfast and dinner, Sculpted Ice Works is a 7-minute drive from this resort.
Horseback riding, speed boat rides, tennis, golf you can do all this as a couple. A mesmerizing place that should be checked out.
📍 Address: 194 Lakeview Drive, Lakeville, PA 18438
📞 Phone: 8665005502
---
3.  Alila Ventana Big Sur, California
Alila Ventana Big Sur is situated on a hillside if you find yourself here, you must try out The Superior Hot Tub Suite which includes a private hot tub and a large outdoor deck overlooking meadows.
The secluded suite also has a wood-burning fireplace and a luxurious king bed while the En suite bathroom includes a walk-in shower and soaking tubs.
The spacious rooms feature a window seat and a private balcony with an ecstatic beautiful view. From flat-screen TV, a coffee machine, a minibar, and selected ones include a hot tub on the decks. 
Andrew Molera State Park and Pfeiffer Beach are some attractions along with the Glass House Gallery. A great one that will offer you a lot to do.
📍 Address: 48123 CA-1, Big Sur, CA 93920, United States
📞 Phone: +1 831-667-2331
---
4. Stephanie Inn, Cannon Beach, Oregon
A beachfront property located in Cannon Beach, which is a popular destination for romance-seekers along with hosting several oceanfront resorts offering spectacular views of the Pacific and iconic Haystack Rock.
You will be provided with warmly decorated rooms with a kitchenette, a balcony, and a cable flat-screen TV. Few of them will provide a spa bath as well as an oceanic view. 
The Ocean Lodge and Seaside Factory Outlet Mall are some of the places that you can visit along with interesting boutiques and art galleries in town. An astounding hotel that is ideal to get away for a cozy romantic trip.
📍 Address: 2740 Pacific Ave, Cannon Beach, OR 97110, United States
📞 Phone: +1 844-374-2107
---
5. Hotel Aspen – Aspen, Colorado
Hotel Aspen is just 1 KM away from Aspen Mountain, if you are an outside lover you should definitely take advantage of the ski service. 
The most you can make is out of booking one of the Jacuzzi Suites that will provide you with private terraces and can gaze at the natural beauty. An outdoor pool and hot tub are also available.
The rooms have fitted flat-screen TV, bathrobes, 
The John Denver Sanctuary can be visited. Along with that during summer you can enjoy hiking miles, white water rafting, and winters for skiing and boarding. An amazing hotel that is preferred by couples.
📍 Address: 617 E Cooper Ave, Aspen, CO 81611-2011
📞 Phone: 00 1 844-869-3916
---
6. Green Mountain Inn – Stowe, Vermont
Green Mountain Inn is located at the center of historic Stowe, Vermont. 
The rooms are luxurious that is outfitted with gorgeous fireside Jacuzzi tubs, and four-poster king beds with 300-count Egyptian cotton linens.
The rooms provide free Wi-Fi, coffee facilities and are decorated in Vermont hand-crafted furnishings. Additional facilities are also available, pool bar, fitness center, massage center, and fire pits that you can enjoy.
You can discover top-rated ski trails, fishing, and kayaking along with the Stowe Golf Park. A beautiful place that will be loved by you.
📍 Address: 18 Main St, Stowe, VT 05672, United States
📞 Phone: +1 802-253-7301
---
7. The Sanford House Inn & Spa, Texas
The Sanford House Inn & Spa accommodations are divided into 4 categories- Carriage House, Manor House, Cottage Suites, and Villas. To enjoy the jetted jacuzzi tubs you can opt for the latter two.
The complimentary breakfast and homemade cookies are a delight. The rooms have free Wi-Fi, cable TV, private washroom and the contemporary rooms feature unique artwork and sophisticated decor.
AT&T Stadium, and Six Flags Over Texas are some of the places you can visit along with The Sanford House Inn & Spa for manicures and pedicures. An amazing stay that you will enjoy here.
📍 Address: 506 N Center St, Arlington, TX 76011, United States
📞 Phone: +1 817-861-2129
---
8. Espacio The Jewel of Waikiki, Hawaii
Espacio the jewel of Waikiki is located in Honolulu, directly in front of Waikiki Beach, it is a small boutique property. 
Having a massive accommodation that features an oceanfront balcony with a spectacular jacuzzi tub.  
The suite is elegant and has Italian marble details with accents from Morocco. Having a modern kitchen, a hot tub on a private balcony along Smart TV can change the room temperatures and lighting.
The rooftop infinity swimming pool, whirlpool, and sundeck are available with 2 complimentary tickets to the Bishop Museum and the Honolulu Museum of Art. A pretty choice that will make your stay fruitful.
📍 Address: 2452 Kalākaua Ave, Honolulu, HI 96815, United States
📞 Phone: +1 808-377-2246
---
9. The William Vale, New York 
The William Vale offers accommodation in Williamsburg, across the East River from Manhattan. 
The most stunning feature is the open-air wooden jacuzzi that will love you indeed.
The rooms come with floor-to-ceiling windows, open-air balconies, and views along with Glass-enclosed rainfall showers.
Having a 19m rooftop swimming pool, the lobby is adorned by artwork from Brooklyn-based artist – Marela Zacarias. Artwork from other local artists decorates the rest of the property which itself is beautiful. A pretty hotel that you love to visit.
📍 Address: 111 N 12th St, Brooklyn, NY 11249, United States
📞 Phone: +1 718-631-8400
---
10. Hilton Sedona Resort at Bell Rock, Arizona
Hilton Sedona resort at bell rock wrapped with red rock formations, you will find jacuzzi tubs to relax and enjoy.
The resort will offer two categories of whirlpool-equipped suites–the King Whirlpool Suite with Balcony: Golf View and the King Whirlpool Suite with Balcony: Red Rock View.
From the on-site golf course, a full-service spa along with hiking, horseback riding, and biking are available in the surrounding area.
Offering a great number of facilities this is indeed a great choice.
📍 Address: 90 Ridge Trail Dr, Sedona, AZ 86351, United States
📞 Phone: +1 928-284-4040
---
11. The Chanler at Cliff Walk, Rhode Island
Chanler at Cliff Walk is situated right off of Newport's famed Cliff Walk you can witness coastal views from all angles.
If you book the Signature Rooms you can experience the ensuite jacuzzi tubs while The Ocean Villa has a private outdoor hot tub and sauna, along with its own courtyard garden and ocean-facing deck.
Being surrounded by acres of manicured gardens and sparkling waters of the Atlantic you can enjoy the scenic beauty while enjoying the meal prepared by celebrated restaurants. An amazing resort to check out for sure.
📍 Address: 117 Memorial Blvd, Newport, RI 02840, United States
📞 Phone: +1 401-847-1300
---
FAQs About Best Hotels With Jacuzzis in Rooms
There are a lot of questions that come to our mind while making a reservation for a Jacuzzi room, some of the commonly asked questions are answered below.
Q. What is it called when a hotel has a Jacuzzi in the room?
A. When a hotel has a Jacuzzi in the room, it's often referred to as a "Jacuzzi Suite" or a "Room with a Private Jacuzzi.
Q. How much is a luxury Jacuzzi in the US?
A. The cost of a luxury Jacuzzi in the US can vary widely depending on factors like hotel location, amenities, and room type. It's recommended to check with specific hotels for pricing details
Q. Is a hot tub and Jacuzzi the same?
A. While the terms are often used interchangeably, a Jacuzzi is a brand of hot tub. So, all Jacuzzis are hot tubs, but not all hot tubs are Jacuzzis.
Q. What is the difference between a tub and Jacuzzi?
A. A tub is a generic term for a container used for bathing, whereas a Jacuzzi refers specifically to a brand of whirlpool bathtub or hot tub that offers water jets for relaxation.
Q. Are these hotels suitable for both couples and solo travelers?
A. Yes, these hotels cater to both couples seeking a romantic getaway and solo travelers looking to indulge in luxury and relaxation.
---
Conclusion
Embarking on a journey to experience the best hotels with Jacuzzi in rooms in the USA is a surefire way to treat yourself to a luxurious and rejuvenating getaway.
From stunning views to opulent interiors, these hotels offer a blend of relaxation and elegance that promises an unforgettable stay. So why wait? Indulge in the lap of luxury and create lasting memories at these exceptional hotels.
---
Tell Us In Comments As Per You Which One Is Best Hotels With Jacuzzis in Rooms, USA?
Also, don't forget to book your personalized holiday package with Fiery Trippers. Let us make your vacation a romantic as well as a dreamy getaway.
---