Are you looking for beaches in Charlotte for your next vacation? if you have no idea about what are the famous beaches near Charlotte? This article will help you in finding the best lakes and beaches in Charlotte.
No, Charlotte, NC does not have a beach. However, there are several beaches located within a short drive from the city.
Charlotte, North Carolina's most populated metropolis, has an overpowering metropolitan environment.
However, Charlotte locals are well aware that despite the city's abundance of stunning tourist attractions, events, and cultural institutions, there are hardly any beaches there. But don't worry, there are magnificent lakes and beaches in nearby cities about an hour away.
If you drive to the eastern side of the state, you'll see Atlantic coastlines and several barrier islands that have won awards for their breathtaking natural beauty all over the world.
Whether you're looking for a day trip or a long weekend getaway, we've got you covered.
---
What is the coldest month in Charlotte NC?
January
The average daily high temperature falls below 59°F during the chilly season, which lasts for 3.0 months from November 28 to February 27. With an average low temperature of 34°F and high temperature of 52°F, January is the coldest month of the year in Charlotte.
---
List of 11 Best Lakes And Beaches near Charlotte North Carolina
Here are the Best Beaches in Charlotte, North Carolina along with advice from industry professionals.
1. Lake Norman — Cornelius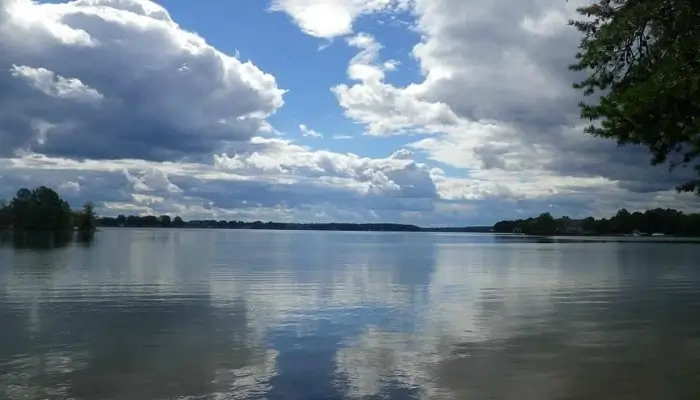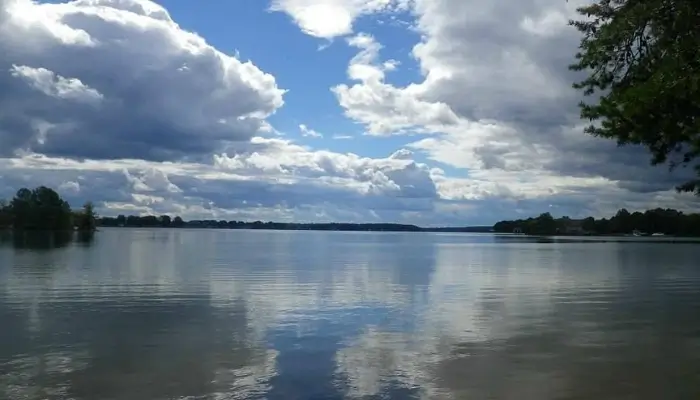 The largest and most well-known lake in North Carolina will be the first on this list; curiously, it was produced by the Cowans Ford Dam between 1959 and 1964.
The Reasons We Suggest This Beach
Families have been drawn to Lake Norman for decades because of its beauty and coastline-like beach, which is just 30 minutes away.
A beautiful sand beach area is available for swimming along its broad shoreline, which also accommodates boating, fishing, and marinas.
The lake's proximity to the thriving communities of Huntersville, Davidson, and Cornelius gives you limitless options for dining, shopping, entertainment, and exploring.
Expert Advice
Lake Norman tops all nearby lake beaches for outdoor enthusiasts because it has miles of nature paths that wind through parks and preserves, many of which are open to the public for free!
On the other side, the adjacent towns are also brimming with historical sites including a farm, town jail, plantation, and more if you're interested in tales from bygone ages.
---
2. Lake Wylie — Rock Hill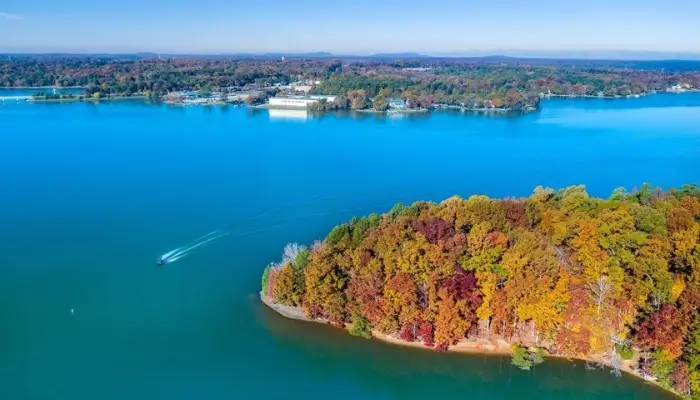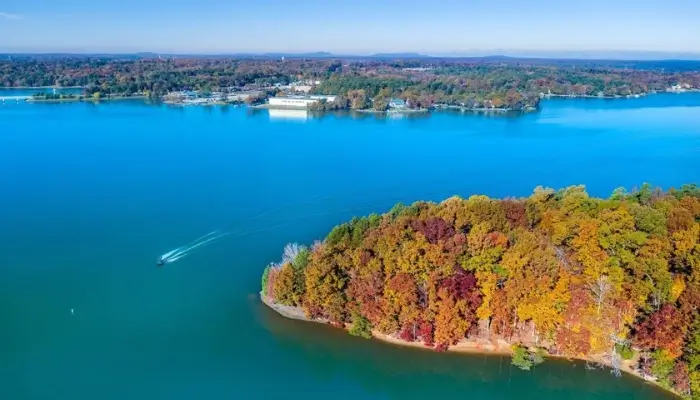 The closest beach location, Lake Wylie, is only 20 minutes away and is frequently the top choice for those seeking quick beach getaways from Charlotte. It is situated between Rock Hill and Charlotte.
The Reasons We Suggest This Beach
Lake Wylie has access points for boating and fishing and is maintained by Duke Energy in collaboration with the SC Department of Natural Resources.
On the other hand, sandy beach access points can be located in Ebenezer Park and Windjammer Park, two nearby parks.
Greater than Windjammer, Ebenezer Park has a campground, concession stand, playground, and picnic shelter.
Expert Advice
A waterfront bar and restaurant are available at Lake Wylie if you forgot to pack any snacks or meals for picnics.
There are 38 boat spaces, a sizable deck, and an outside bar at Papa Doc's Shore Club.
Also Read: 11 Best Places To Camp In North Carolina
---
3. Wrightsville Beach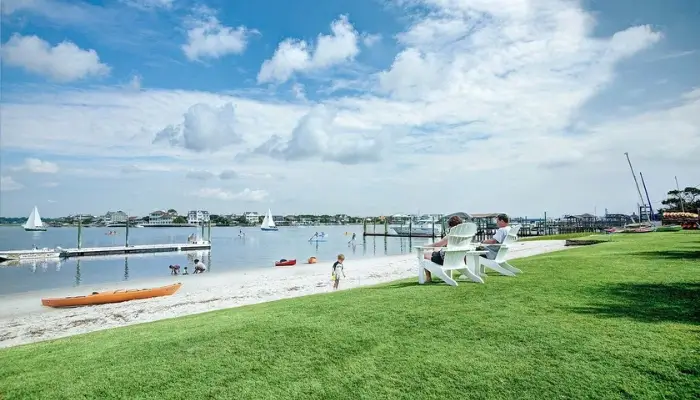 Wrightsville Beach, which is about four hours away yet has been voted as North Carolina's best beach and named by National Geographic as one of the top surfing towns, is a shining example of what the state's coast has to offer.
The Reasons We Suggest This Beach
Wrightsville Beach, one of the state's most beautiful beaches, has four miles of immaculate shoreline, turquoise waves, and all the facilities.
Surfers, kiteboarders, sailors, stand-up paddleboarders, and other water-based adrenaline seekers are among the beach bums who frequent this area.
Expert Advice
Although oceanfront beaches are breathtakingly gorgeous, you should use caution when wading into the sea there because rip currents and large waves are more common.
---
4. Atlantic Beach
The North Carolina village of Atlantic Beach is situated on a barrier island on the eastern edge of Bogue Banks, bordered by the Atlantic Ocean and Bogue Sound.
The Reasons We Suggest This Beach
If you're seeking both entertainment and seclusion, Atlantic Beach is one of the greatest weekend beach getaways from Charlotte you should consider.
Miles of the boardwalk, a fishing pier, equipment rentals, and walking trails can be found along the shore.
Expert Advice
Many of the town's lovely parks, some of which offer lush natural settings and historical sites, are connected to the beach.
Looking for a place to keep the kids entertained?
Atlantic Beach Town Park is there.
Travel back to the time of the Civil War?
Fort Macon State Park exists.
Want to learn more about the life that exists in this region of the Atlantic?
The NC Aquarium exists.
You can expect a tonne more surprises right here!
Also Read: 11 Best Beaches In Texas
---
5. Topsail Beach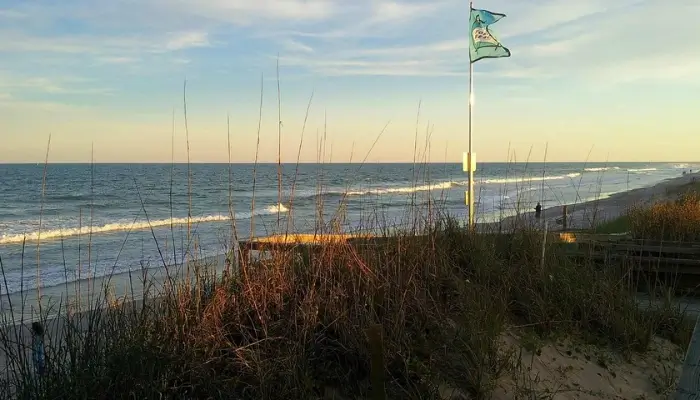 It takes about four hours to travel to Topsail Beach, which is located on a different barrier island off the coast of North Carolina.
The Reasons We Suggest This Beach
You'll have more privacy on an island that is less well known.
That is precisely what you can anticipate at Topsail Beach whether you are sunbathing, swimming, surfing, fishing, or cruising.
The expertise of the fisherman at the pier and the eateries providing delectable seafood are testaments to the island's past as a peaceful fishing community.
Expert Advice
You can take advantage of the town's skating rink, playground, and museum after spending the morning at the beach.
---
6. Outer Banks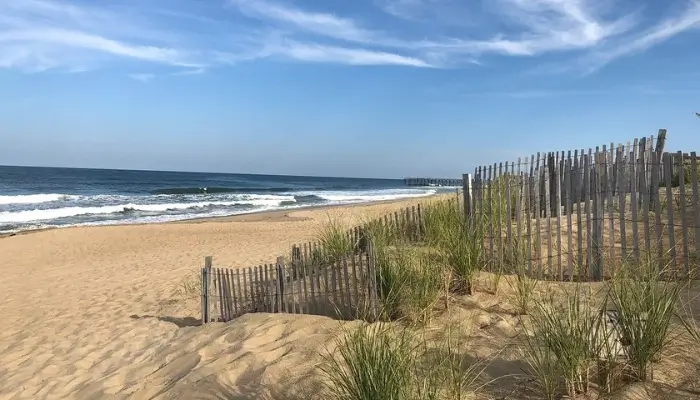 The Outer Banks, a 200-mile-long chain of barrier islands, are located along North Carolina's eastern coast.
If you're searching for the ideal beach vacation from Charlotte, take into account that it frequently ranks among the places with the nicest beaches in the nation.
The Reasons We Suggest This Beach
The Outer Banks of North Carolina, where people go to escape the daily grind, have more than 100 miles of coastline and seaside communities.
Despite being close by, the Outer Banks seem like a completely different world.
There isn't even a single remnant of a metropolis to bring back tension!
Expert Advice
The place names in Outer Banks reflect the mystery that permeates the region as well.
Visit the region known as the Graveyard of the Atlantic, the site of thousands of shipwrecks, or learn about the mysterious disappearance of the Roanoke Colony from Roanoke Island.
There are as many tales of pirates and legends about the town of Kill Devil Hills as there are unforgettable experiences and settings on these islands.
---
7. Emerald Isle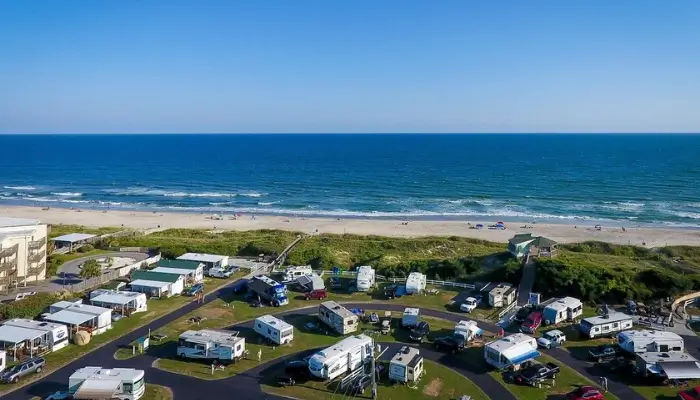 Another town on the same barrier island as Atlantic Beach is Emerald Isle, but due to its family-friendly amenities, it attracts more visitors.
The Reasons We Suggest This Beach
It's understandable why many people consider Emerald Isle to be the best family beach close to Charlotte with its stark white sand, cerulean waters, and laid-back atmosphere.
Showers, parking, picnic areas, and grills are just a few of the beachside amenities Emerald Isle has to offer, making it easy for your family to enjoy a beach getaway.
Did we also mention that it is the location of several top-notch family resorts?
Expert Advice
Bring your kids to Salty Pirate, Emerald Isle's water park, if they have more energy to burn.
If you're taking a trip with a group of outdoor enthusiasts, you may visit many of the city's parks or go on a stroll through Emerald Isle Woods Park.
---
8. Kure Beach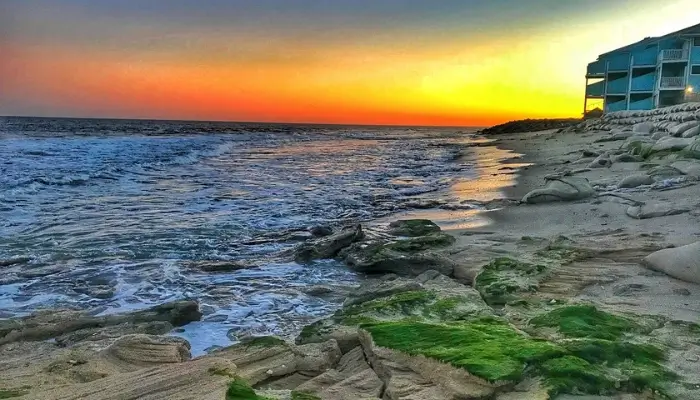 The village of Kure Beach is located three and a half hours from Charlotte and has a stunning, well-kept coastline with waters from the Atlantic.
The Reasons We Suggest This Beach
A hidden treasure in Pleasure Island, Kure Beach is bordered to the north by Carolina Beach and to the south by the Fort Fisher State Recreation Area and Historic Site.
Family holidays, island tours, and outdoor concerts are all ideal on its broad shoreline.
Expert Advice
Check out the summertime calendar for Kure Beach today!
Through art exhibits, farmers' markets, and concerts, the town cultivates a strong sense of community.
Also Read: 11 Best Beach Resorts In The USA
---
9. Ocean Isle Beach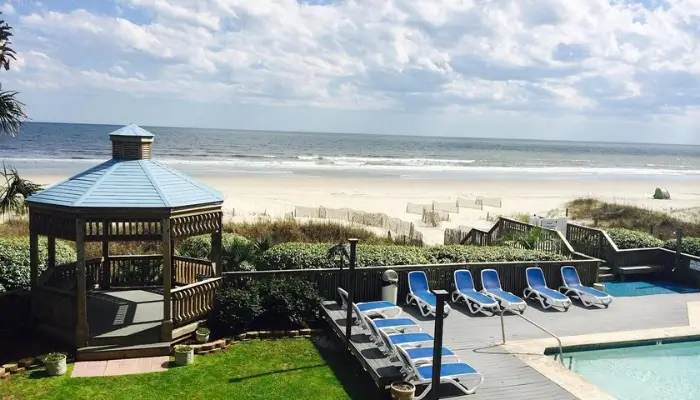 With only 525 inhabitants and being one of the state's southernmost barrier islands, Ocean Isle Beach is the ideal beach getaway for intrepid travelers seeking seclusion.
The Reasons We Suggest This Beach
This barrier island's seven-mile-long beach runs along the Atlantic, giving visitors several opportunities to enjoy the pristine sand and clear water.
The holiday can be fully completed by visiting the small beach town, which also has a museum, seafood restaurants, a golf course, and shops.
Expert Advice
If you're in the area during the warmer months, stop by the seaside village of Ocean Isle; there are summertime activities planned for kids.
Sunset Beach, which is only ten minutes from Ocean Isle, also has a planetarium!
---
10. Carolina Beach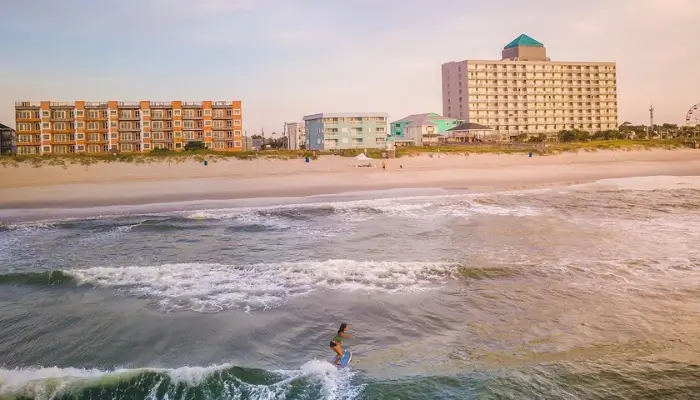 Carolina Coastal is a well-known beach community with living shoreline, entertaining attractions, and thrilling events.
The Reasons We Suggest This Beach
The best swimming beach in the Charlotte area is Carolina Beach, which has a long shoreline, shallow ocean floor, on-duty lifeguards, and generally gentle waves that approach the shore.
The beach boardwalk, where amusement park rides, carnival games, and food kiosks can be enjoyed, is a favorite among visitors, whether they are here alone, with their significant others, their team, or with their families.
Expert Advice
The town features a state park with trails that have carnivorous plants along the way, perfect for travelers who are curious about nature or just botany nerds!
Also Read: 11 Best Monterey Beaches To Visit
---
11. Hilton Head Island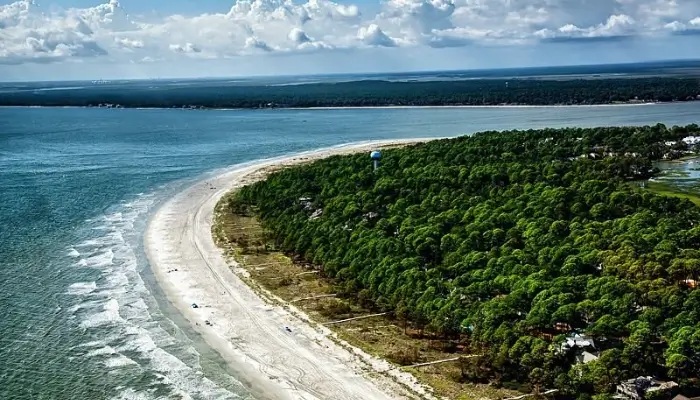 Hilton Head Island is a historic South Carolina tourist town with 12 picturesque miles of shoreline from the Atlantic Ocean.
The Reasons We Suggest This Beach
Hilton Head provides everyone with wonderful beach activities including the sea and the trees, from boating and crabbing to fishing, sailing, cruising, dolphin watching, and hiking, all while maintaining its island atmosphere despite its numerous tourist zones.
Expert Advice
With its shallow, quiet seas and watchful lifeguards, Coligny Beach Park has a beach that is the safest for youngsters.
When it gets congested later in the day, simply walk north.
The island's museum and nature reserve are also worth visiting.
---
Beach Safety Tips
There is a solid reason why beaches are one of the most well-liked travel places in the world. They provide a chance to relax, unwind, soak up the sun, and take in the natural beauty of the ocean.
But you must keep in mind that the beach can sometimes be harmful, so you must take the necessary safety steps to ensure a fun and safe experience.
we'll discuss the importance of following to beach safety recommendations and offer some key advice.
Importance of Following Beach Safety Tips
Anyone who wants to visit the beach should make beach safety a top concern. Hundreds of people drown at beaches every year, many of which could have been avoided with the right safety measures.
Other risks at the beach, besides drowning, include sunburn, thirst, and shark attacks. You may lessen your risk of encountering these dangers and have a safe and enjoyable beach experience according to beach safety advice.
Top Beach Safety Tips to Keep in Mind
Here are some top beach safety tips that you should keep in mind when you're at the beach:
Stay Hydrated: Drinking plenty of water is crucial since exposure to the sun can dehydrate you. Bring plenty of water with you to the beach and sip on it regularly while there. Alcohol should be avoided because it might increase dehydration and affect judgment.
Apply Sunscreen: Apply sunscreen before going to the beach because a sunburn can ruin a beach trip. Reapply broad-spectrum sunscreen at least every two hours, after swimming, or after sweating. It should have an SPF of 30 or higher.
Swim in Designated Areas: There are frequently designated swimming areas on beaches, which are identified by flags or buoys. Because they are supervised by lifeguards and have fewer risks, such as rip currents, these places are safer for swimming. Swimming outside of these permitted zones should be avoided since it can be dangerous.
Watch out for Rip Currents: Strong currents that move away from the beach are known as rip currents, and they can be quite dangerous for swimmers. Swim parallel to the coast until you are free of the current if you are stuck in a rip current, then swim back to land. Swim back to shore if you can't swim out of the current; otherwise, float or tread water until you can.
Follow Beach Rules and Regulations: Beaches often have rules and regulations that are in place for your safety. These may include limitations on the use of fires, alcohol, and animals, as well as policies governing littering and beach access. For everyone's safety and enjoyment, be sure to read and abide by these guidelines.
---
Conclusion
The commercial center of North Carolina is Charlotte, sometimes referred to as Queen City. The city is charming in many ways. Charlotte has everything, whether it's an adventure, sports, art, shopping spree, vibrant nightlife, or the culinary arts that cry out to you.
Except for the beach life, that is. There aren't any beaches in Charlotte, despite the city having a wealth of fantastic tourist attractions, festivals, culinary arts, and other things. However, there is no need to worry because nearby towns have plenty of beautiful beaches to keep you occupied.
Since we all agree that life is better at the beach, we've compiled a list of twenty beaches you may visit while visiting Charlotte.
---
FAQs For best Beaches in Charlotte NC
There are a lot of questions that come to mind while planning a beach vacation some of the commonly asked questions are answered below.
Q. Does Charlotte NC have a beach?
A. No, Charlotte, NC does not have a beach. However, there are several beaches located within a short drive from the city.
Q. Where is the closest beach to Charlotte NC?
A. Wrightsville Beach, which is about 215 miles southeast of Charlotte, North Carolina, is the nearest beach to the city. Carolina Beach, Kure Beach, Topsail Beach, and Oak Island are some more local beaches.
Q. What is the best time to visit the Best Beaches in Charlotte?
A. The best time to visit the Best Beaches in Charlotte is during the summer months, from May to September, when the weather is warm, and the water is perfect for swimming.
Q. Are the Best Beaches in Charlotte family-friendly?
A. Yes, the Best Beaches in Charlotte are family-friendly and offer a variety of activities for all ages, including swimming, fishing, and sunbathing.
Q. Can I bring my pets to the Best Beaches in Charlotte?
A. It depends on the beach's policies. Some beaches allow pets, while others do not. It's best to check the beach's website or call ahead to find out their pet policies.
---
Tell Us In the Comments About One of Your Best Lakes And Beaches Near Charlotte.
Hope the article was helpful to you and was able to make your trip more easier and fun! Don't forget to book your personalized holiday package with Fiery Trippers. Let us make your vacation a romantic and dreamy getaway.
---