Washington is one of the most adventurous states in the US, with a variety of topography including high-desert plains and temperate rain forests.
It's numerous state and national parks have natural wonders like glaciated mountains, active volcanoes, reachable hot springs, alpine lakes, and a variety of fauna.
Check out our ranking of Best National Parks In Washington if you're looking for a little adventure, a multi-day trip, or even just a view to cherish for years to come.
---
List Of 11 Best National Parks In Washington
After much research and reading customer reviews, we have shortlisted some of the best national parks in Washington.
1. Mount Rainier National Park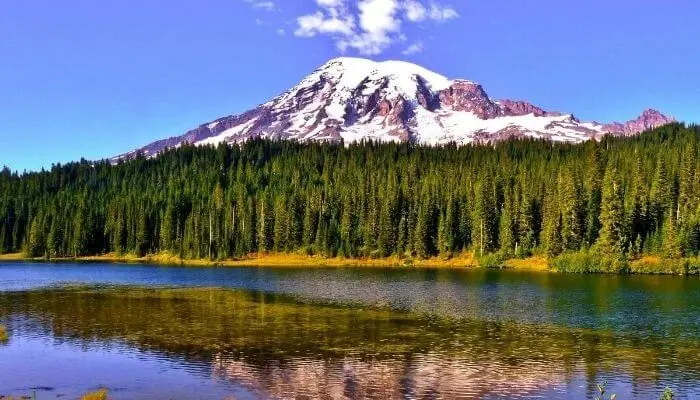 Mount Rainier is Washington's most recognizable summit, rising 14,410 feet above sea level. One of the most beautiful national parks in the country surrounds this active volcano.
The subalpine meadows, alpine lakes, and craggy peaks of Mount Rainier National Park are popular tourist destinations in the spring, summer, fall, and winter.
260 kilometres of hiking paths may be found throughout the park's 350 square miles of land. 25 glaciers may be found on the mountain.
The most difficult decision for your next trip is where to start because there is so much territory to discover.
Exploring the park's natural regions on foot is the best option. There are countless day walks to choose from at Mount Rainier, which has six distinct hiking areas, including the aptly named Paradise Area. All levels of experience can be accommodated by the variety of hiking trails.
Popular in Paradise for its breathtaking vistas, the Skyline Loop Trail. On the east side of the park, close to the White River Entrance, the Naches Peak Loop is covered in wildflowers in every direction.
A 93-mile trekking track that completely rings Mount Rainier's base, the Wonderland Trail is renowned across the world.
The park roads are popular for bicycling. When the roads are less congested, September and October are some of the greatest months for riding. Mt. Rainier National Park does not permit mountain biking.
Many locations on Mount Rainier are suitable for tent camping. There are four designated campgrounds. During the peak summer months, these camping areas are frequently totally booked.
The historic Paradise Inn inside the park is only one of the several housing options available to travellers seeking a less rustic overnight stay.
The Copper Creek Inn, among other lodging options outside the park, provides more contemporary lodging near the park's entrance gates.
---
2. Olympic National Park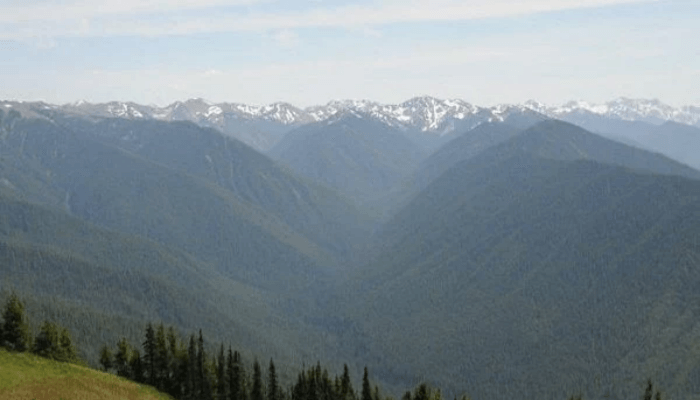 On the Olympic Peninsula in Western Washington, Olympic National Park safeguards nearly a million acres of wilderness.
Olympic National Park is home to glaciated mountains, an untamed shoreline, and substantial tracts of temperate rainforest, including the well-known Hoh Rainforest. The park's variety of ecosystems allows for a wide variety of activities.
The park's numerous rivers, lakes, and untamed coast provide year-round boating and fishing options. Olympic National Park has plenty of hiking and backpacking paths to keep you moving forward for the rest of your life if you enjoy the outdoors.
One of the park's most easily reached mountain ranges is Hurricane Ridge. It can possibly be the most well-known. However, it's easy to find your own private space to explore thanks to the area's large trail network.
The same is true of Olympic National Park's shoreline. Even though areas like Rialto and Ruby Beach are well-known, the tidepools, which are teeming with unusual marine species, are likely where you'll see the most activity.
Experienced mountaineers are best suited for bigger exploits on Mount Olympus. The 17.4-mile Hoh River Trail, which can be completed in an overnight backpacking trip, leads to this glaciated mountain.
Due to the variety of routes available, backpacking in Olympic National Park generally evokes feelings of being a child in a candy store.
In Olympic National Park, it's crucial to prepare for the weather. Climates can differ greatly from one location to another due to the diversity of the different regions.
Usually, from July through August, when things start to warm up after a damp spring, is the greatest time to explore Olympic National Park.
The Heart O' the Hills Campground close to Hurricane Ridge and the Kalaloch Campground on the seashore are two of Olympic National Park's top campgrounds. Within its bounds, the national park manages more than a dozen campgrounds.
---
3. North Cascades National Park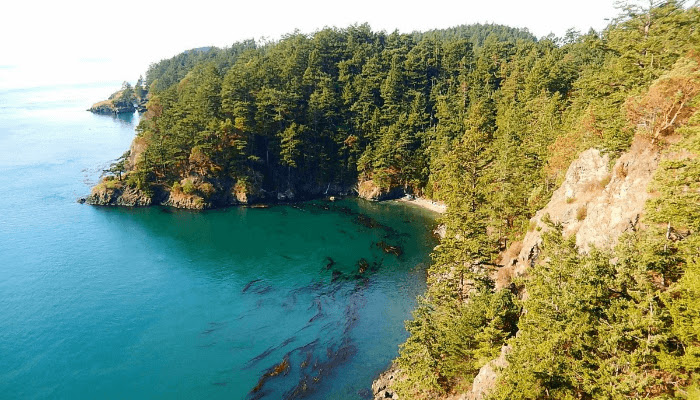 The North Cascades National Park Complex is made up of North Cascades National Park and the two nearby Ross Lake and Lake Chelan National Recreation Areas.
More than two million acres of rocky mountain terrain on Western Washington's northern boundary are covered by these public places.
The Stephen Mather Wilderness designation shields a sizable portion of the forest from the nearby logging and mining activity on more than 90% of the North Cascades National Park Complex.
Many of the picturesque sights and attractions in North Cascades National Park are a little more difficult to get due to its mountainous terrain. It is worth the effort to hike for several days or take a ferry to get to North Cascades National Park.
There are two ways to get to North Cascades National Park: either driving along Highway 20, also known as the North Cascades Scenic Byway.
The alternate way entails coming from the picturesque settlement of Stehekin after taking the Lady of the Lake Ferry across Lake Chelan.
With Cascade peaks and brilliant Northwest green and blue tones, both forms of transportation are breathtaking.
The Diablo Lake Overlook is a must-stop for motorists on Highway 20. The western hamlet of Winthrop in the Methow Valley and Lake Shannon are two other picturesque sites along Highway 20.
The North Cascades National Park Complex offers more than 400 miles of hiking trails, including the northern terminus and last segment, in addition to the side attractions along Highway 20.
Family-friendly hikes include the paved quarter-mile Washington Pass Overlook Trail, which offers breathtaking views of Liberty Bell Mountain close to the highway, and the well-liked 7.2-mile Maple Pass Loop, which offers a variety of difficulties and seasonal scenery like golden larch trees in the fall and blooming wildflowers in the summer.
The North Cascades Institute, located close to Ross Lake, is a good option for all of your educational needs in the North Cascades.
In the North Cascades National Park, this nature centre offers experiential learning options that include overnight accommodations.
---
4. Deception Pass State Park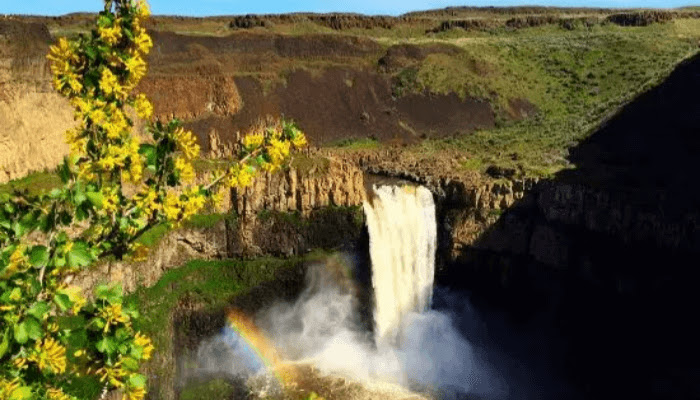 Deception Pass State Park is Washington's most visited state park, receiving over two million visitors each year.
Deception Pass State Park provides several opportunities to explore the surrounding Puget Sound region.
It is located between the northern tip of Whidbey Island and Fidalgo Island and is connected by an iconic high bridge across the Deception Pass canal.
The Civilian Conservation Corps (CCC), which constructed the majority of the park's infrastructure in the 1930s, is largely responsible for Deception Pass State Park's amenities and accessibility.
In the present, visitors can learn about the CCC's past at the Civilian Conservation Corps Interpretive Center in the park's Bowman Area.
Even though the history of the park and the CCC is fascinating, it's the variety of recreational opportunities that keep visitors coming back year after year.
The park features both spectacular inland vistas and rocky shorelines. Boat ramps are accessible at Cornet Bay, and fishing is a well-liked activity at Cranberry Lake. It's also not uncommon for visitors to Rosario Beach to spend hours exploring the tidal pools.
The old-growth trees of Deception Pass State Park are a haven for hikers. Beautiful hiking pathways include the Pacific Northwest National Scenic Trail and the Sand Dunes Interpretive Trail. Keep a look out for the area's diverse fauna, which includes orcas in the ocean and seagulls in the sky.
Three separate campsites, each with tent sites and electrical hookups, are offered at Deception Pass State Park. The most availability is typically found at Cranberry Lake Campgrounds.
The Cornet Bay Retreat Center has 16 cottages that may be rented, in addition to a main lodge and recreation centre, for those who would like to spend their nights indoors.
On the adjoining Ben Ure Island in Deception Pass State Park, a rustic lodge is accessible for more daring expeditions. Only non-motorized water transportation is capable of reaching this castaway cabin.
---
5. Lake Wenatchee State Park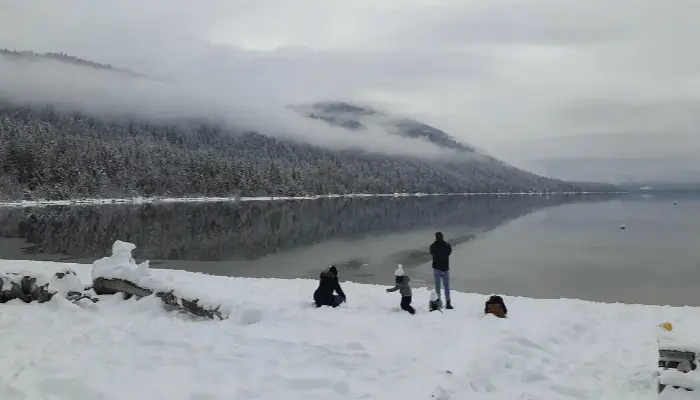 Lake Wenatchee State Park is a well-liked vacation spot for both locals and visitors to Washington. It is only 12 miles from the Bavarian-themed town of Leavenworth.
There are many recreational opportunities available, which attract visitors in addition to the picturesque vistas of Lake Wenatchee and the towering Dirtyface Peak that towers over the waters.
While groomed cross-country ski paths are available to skiers during the winter, July is the busiest travel season.
The lake is popular for swimming and boating, and the park offers boat rentals. At Lake Wenatchee, popular inland pursuits include biking, hiking, and horseback riding.
More than 150 tent sites spread across two campgrounds are available at Lake Wenatchee State Park for anyone planning an overnight stay.
More than 40 parking spaces with electrical hookups are available at the state campground for RVs and motorhomes. For those who enjoy braving the cold, winter camping is also an option.
---
6. Palouse Falls State Park
The 198-foot Palouse Falls cascade, which is the park's most famous feature, is located in the southeast corner of the state of Washington.
The main draw of the park is this picturesque waterfall, which is sometimes referred to as the best in the state, although many visitors come to be in the presence of nature.
Tent-only camping is available at Palouse Falls State Park. Interpretive signs explaining the extensive geological and cultural history of the falls are placed along the hiking trail that winds through the area.
Palouse Falls State Park in Southeastern Washington is a terrific area to discover peace and spend some alone time because it isn't necessarily the most visited state park in the state.
---
7. Lime Kiln Point State Park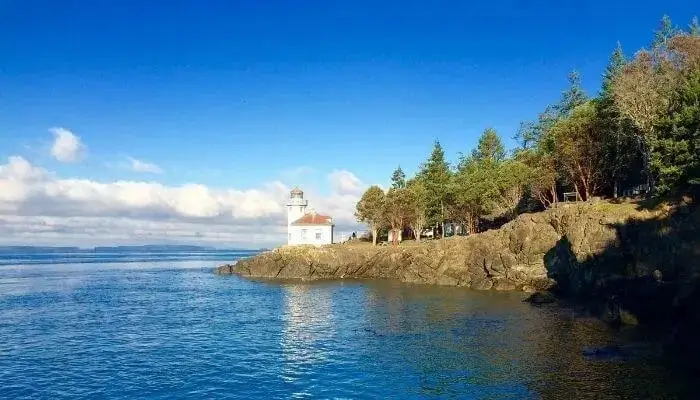 Lime Kiln Point State Park, also known as "Whale Watch Park," provides numerous chances to see orcas from May to September.
Throughout the remainder of the year, there is still a tonne lot to do at this magnificent beachfront park. Lime Kiln Point, on the west side of San Juan Island, is renowned as one of the best spots in the world to see whales.
It's difficult to miss the historic lighthouse that watches over the shore while visiting this 36-acre, day-use state park and taking in the rugged coastline it includes.
When you visit this magnificent state park, you're sure to witness a variety of wildlife, which is why the park's Lime Kiln Point Interpretative Center provides interpretive information about them.
---
8. Gingko Petrified Forest State Park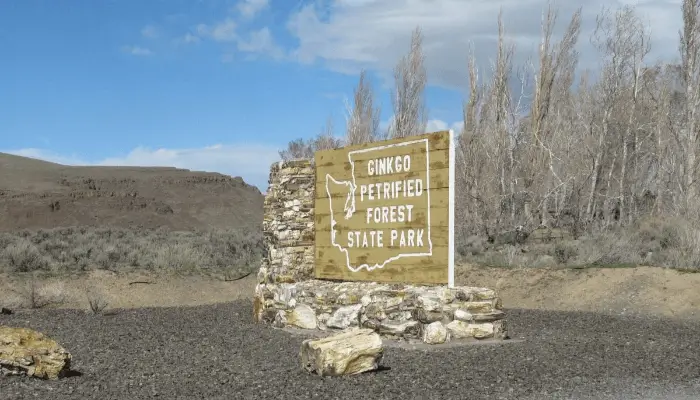 This distinctive Eastern Washington State Park, located along the banks of the Wanapum Reservoir, is home to one of the most varied collections of petrified wood found anywhere in the country.
A state park was established in the 1930s as a result of the discovery of this petrified forest. Also a National Natural Landmark, the region.
The Gingko Petrified Forest State Park's astounding collection of petrified wood is on display to visitors both outside the park and within the Interpretive Center.
Additionally, the Columbia River, which is nearby, is beautifully seen from around the park. Petrified logs that have not been disturbed in their natural environment can be seen along the 1.25-mile Trees of Stone Interpretive Trail.
Camping is possible at the nearby Ginkgo Petrified Forest State Park. During the summer and shoulder seasons of the year, the nearby Gorge Amphitheater concert season and all 50 full hookup sites at the adjacent Wanapum Recreation Area have been known to fill up. The campgrounds are situated close to the Wanapum Lake access points.
---
9. Cape Disappointment State Park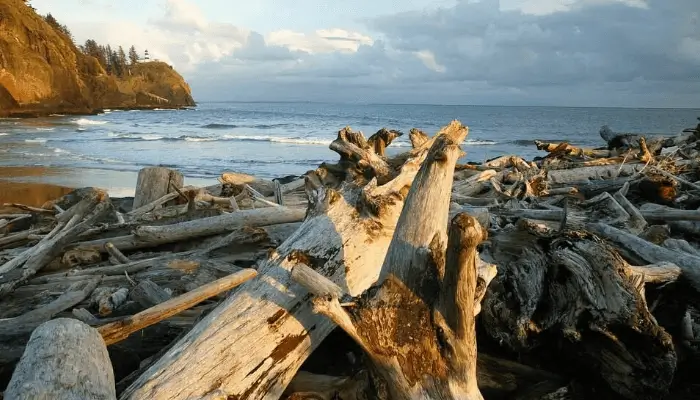 Cape Disappointment is a fantastic location to discover the Washington coast and the area's rich cultural history. The State Park is named after Captain James Meares' failed attempt to locate the Columbia River.
One Washington State Park, in particular, doesn't live up to its moniker. Two picturesque lighthouses may be seen in the park, including the picturesque North Head Lighthouse that looks out over 27 miles of Atlantic beach.
There are numerous hiking routes at Cape Disappointment, all of which lead to numerous possibilities for whale watching.
The Lewis and Clark Interpretive Center is well worth visiting while you're in the area. The interpretive facility, perched on a 200-foot cliff, highlights the U.S. Corps of Discovery and their amazing journey to the surrounding Pacific Ocean.
---
10. Birch Bay State Park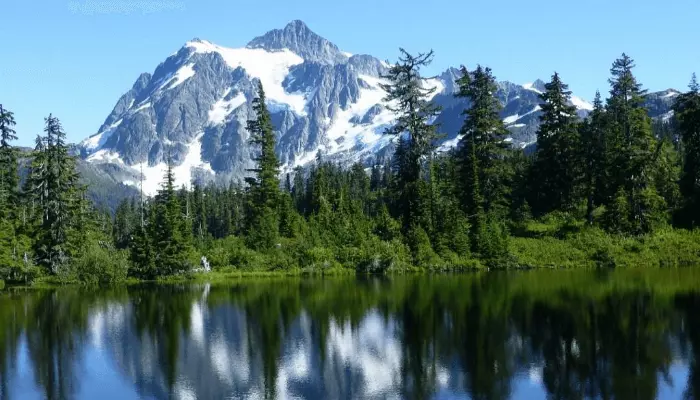 Birch Bay State Park, which is just 194 acres in size, is a state park in Washington located about 20 miles north of Bellingham and a few miles south of the Canadian border.
The harvest of hard-shell clams can be done there, though. Along with expansive vistas of the Cascade Mountains and the Canadian Gulf Islands, the park offers lots of coastlines to explore along Birch Bay.
For a picturesque picnic by the ocean, visitors appreciate the park's numerous benches. Camping is also offered at Birch Bay State Park with more than 140 campsites that accommodate tents and RVs.
Toilets, showers, and a trailer dump station are available along with other standard camping amenities.
---
11. Manchester State Park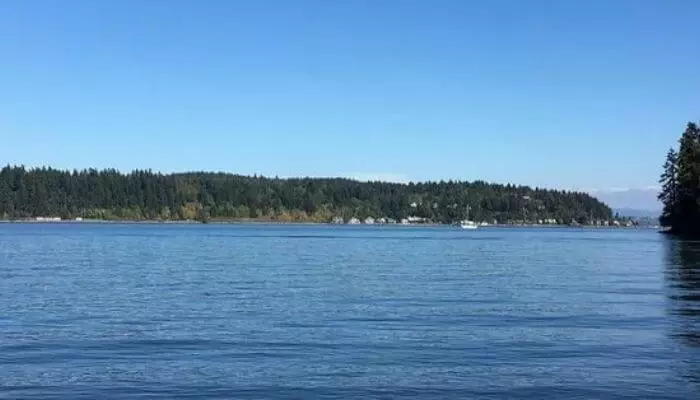 Away from Seattle, on the Kitsap Peninsula, is Manchester State Park. Early in the 20th century, a fort was built here to defend Bremerton Naval Shipyard and Puget Sound.
Today, it is a beautiful state park. In particular, the abandoned torpedo warehouse that is currently used as a covered picnic area in Manchester State Park (formerly known as Fort Middle Point) is a reminder of its defensive past.
Here, strolling along the seashore that forms the park's eastern boundary is a common activity. The Puget Sound, including nearby Bainbridge Island, and Rich Passage is beautifully visible from this area of the park. Regardless of whether it's a stopover or weekend getaway on your Puget Sound adventure itinerary,
---
FAQs About Best National Parks In Washington
How Many National Parks Are There In Washington?
There are three national parks in Washington, plus a number of national historic sites and other federally managed areas. Washington's most iconic park, Mount Rainier, is family-friendly and easily accessible from Seattle.
What Are The 3 National Parks In Washington State?
A Complete Guide to the 3 Washington State National Parks. There are three national parks in Washington State – Mount Rainier, Olympic, and North Cascades National Park.
Which National Park Should I Go To In Washington?
Mount Rainier National Park. Standing 14,410 feet above sea level, Mount Rainier is the most iconic peak in the state of Washington. And the national park surrounding this active volcano is one of the most scenics in the nation.
Which Is Better North Cascades Or Mt Rainier?
They're both magnificently scenic, but North Cascades is primarily a wilderness and a backpacker's paradise. Mt. Rainier is much more accessible with lots of short nature hikes. So, if you're looking for a wilderness backpacking experience – North Cascades.
What Is The Most Visited National Park In Washington?
Mount Rainer National Park
Visible on a clear day from Seattle, this is the most popular national park in Washington State for visitors and locals. That is not surprising, as Mount Rainer is the highest peak in Washington at 14,410 feet above sea level.
---
Tell Us In The Comments Which One Is The Best National Park In Washington?
If you ever been there? How was your experience? Let us know in the comments!
Also, don't forget to book your personalized holiday package with Fiery Trippers. Let us make your vacation a romantic as well as a dreamy getaway.