Are you looking for good rooftop bars in NYC? If you have no idea which are the popular rooftop bars in New York? This article can help you in finding the best rooftop bars in New York City.
Welcome to New York City, a thriving and busy metropolis! New York City, which is famous for its iconic skyline and vibrant nightlife, has a ton of great rooftop bars where you can relax, mingle, and take in stunning views.
Finding the best rooftop bars in the city, whether you're a local or just visiting, is an important part of the New York experience.
In this comprehensive guide, we'll take you on a tour of the most luxurious spots that serve delicious drinks, amazing food, and a memorable ambiance.
Prepare to upgrade your evenings as you explore the magical rooftop bar culture in the city that never sleeps!
---
List of 11 Best Rooftop Bars In New York City That will make your trip Memorable
After considering the guest's reviews we have shortlisted some of the best rooftop restaurants in NYC that make your evening memorable forever.
Castell Rooftop Lounge
The Press Lounge
Westlight
Manhattan
St. Cloud Rooftop Bar
JIMMY SoHo
Elsie Rooftop
Mr. Purple
Bar 54
Dear Irving on Hudson Rooftop Bar
Overstory
1. Castell Rooftop Lounge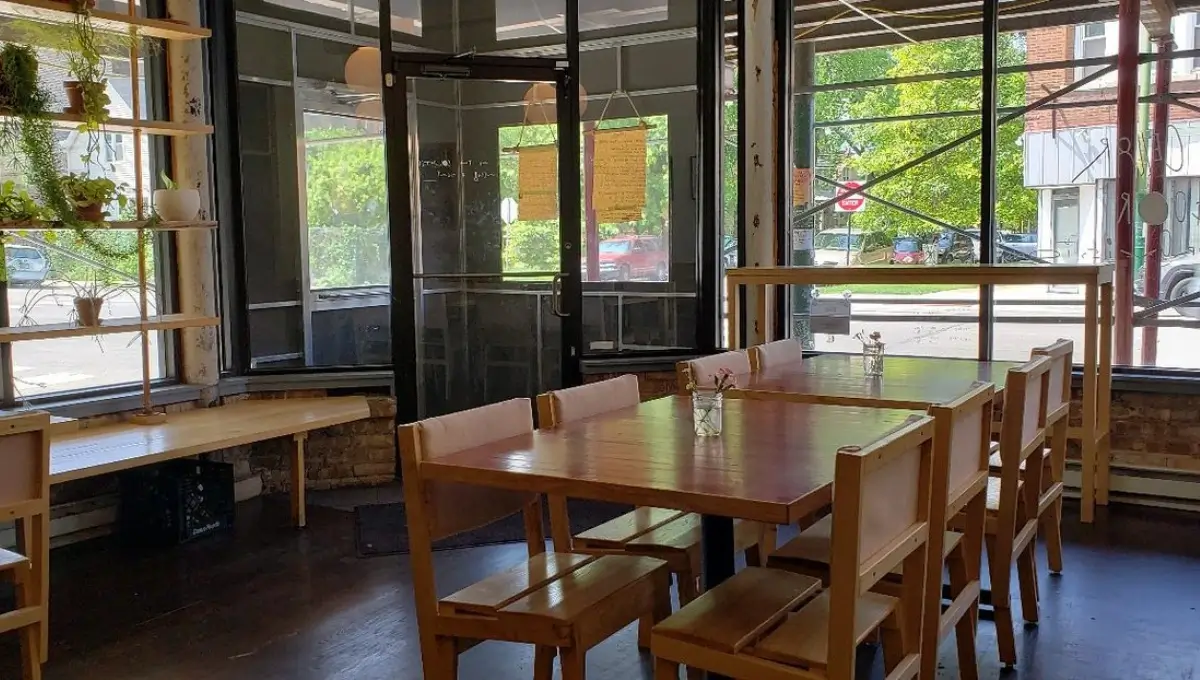 The highlight of the AC Hotel Times Square is its Castell Rooftop. It's the perfect location for a memorable night out, with a beautiful terrace, a warm indoor space, amazing vibes, and the New York skyline in the background.
The bar offers a fantastic assortment of unique cocktails crafted from an inventive list of traditionally reimagined drinks.
The deliciousness of their products will astound you; you'll remember every taste for a very long time.
The Smoked Manhattan, which may be made with whisky or rum, Beeswax Old Fashioned, which uses bourbon, and Night Cap, which uses vodka and espresso for a more daring option, stand out the most.
You can enjoy it with an order of Smoked Salmon Flatbread with crème fraiche, caviar, and dill or Beef Sliders with cheddar cheese and garlic aioli. Oh, and throughout the week, happy hour is from 4:00 to 6:00 p.m.
Location And Contact
Address: AC Hotel, 260 W 40th St, New York, NY 10018
Website: castellnyc.com
Contact Number: (929) 284-3761
Also Read: 10 Incredible Gyms in NYC That Provide One-Day Passes: Maintain Fitness While Travelling
---
2. The Press Lounge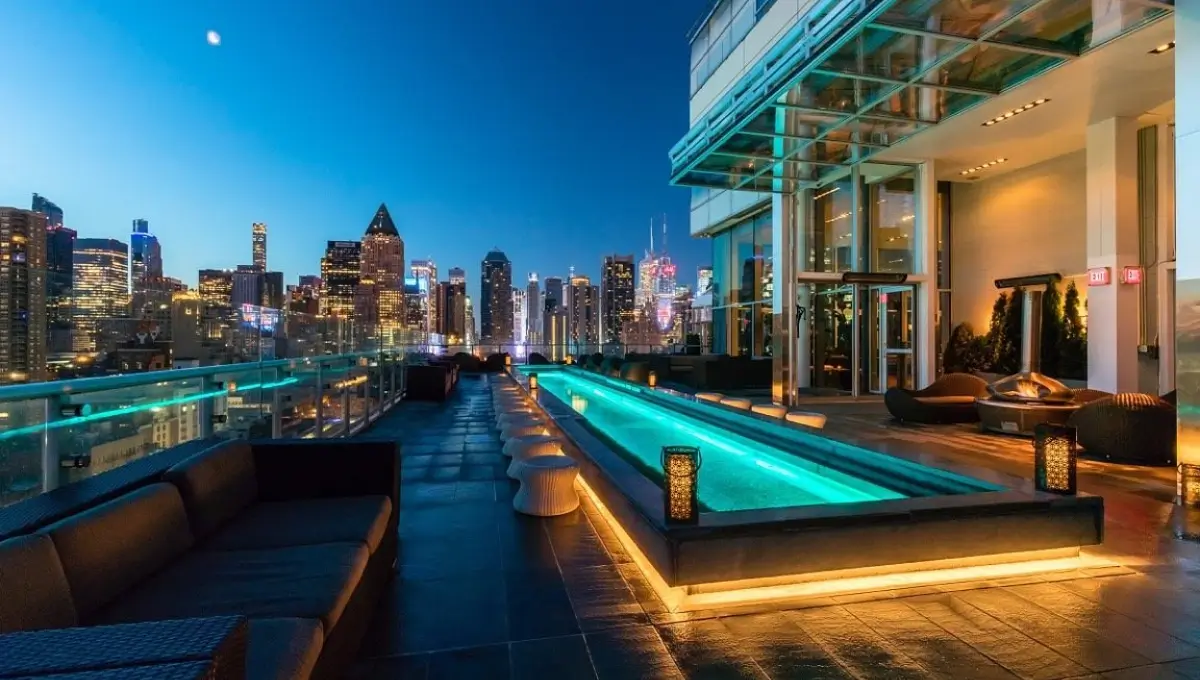 Your next destination should be The Press Lounge, where you may enjoy a beautiful 360-degree vista while taking in the bright Manhattan cityscape, the refreshing Hudson River breezes, and the breathtaking sunsets all year!
Highlights include Too Many Kisses, Cuffin' Season, and Hampton's Jitney, some of their hallmark drinks.
Too Many Kiss tastes creamier, richer, and more chocolate-like, while Cuffin' Season has a zesty, bitter, yet delightful flavor. Another option is to have one made to your specifications!
Don't forget to pick up some food with your beverages; we especially encourage you to sample their House Hummus and Warm Soft Pretzels. Excellent in comparison to the cocktails!
Location And Contact
Address: 653 11th Ave 16th Floor, New York, NY 10036
Website: thepresslounge.com
Contact Number: (212) 757-2224
---
3. Westlight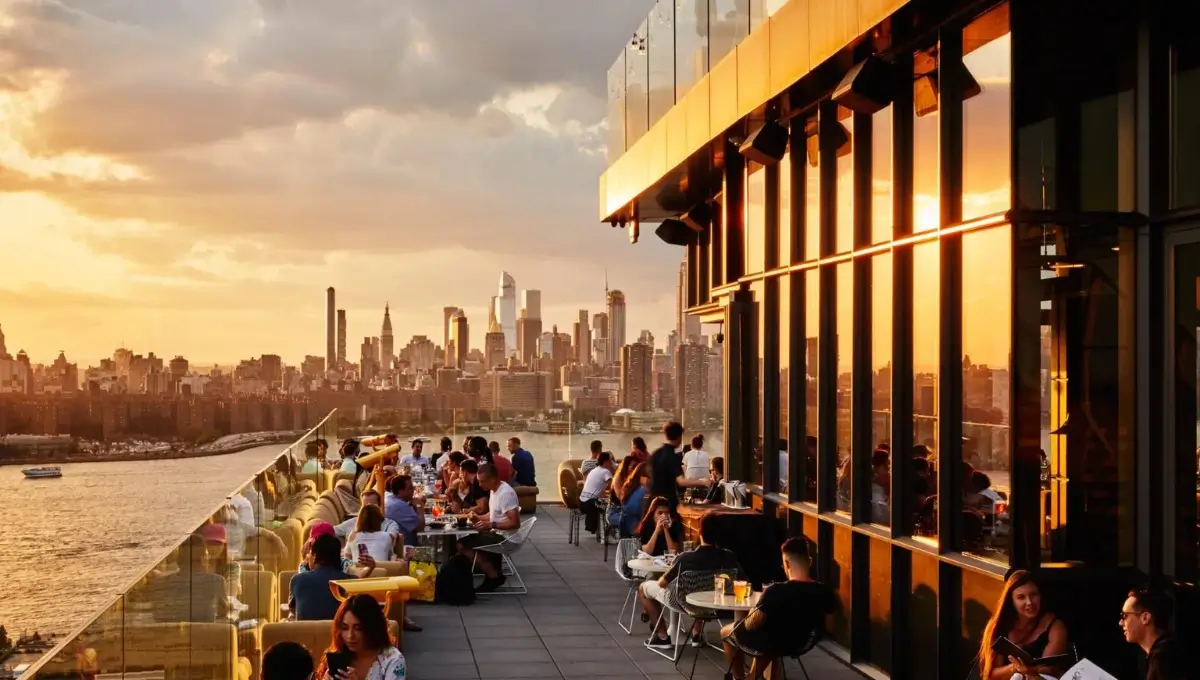 In addition to the exquisite food and your favorite classic cocktails, Westlight is a chic place to meet up with friends and enjoy the captivating cityscape.
We're confident you won't regret checking out this gorgeous rooftop! Get the crowd-pleasing Charred Octopus Skewer and Ginger-glazed Ribs for dinner! The ribs are meltingly tender with a spicy, garlicky flavor, in contrast to the gentle, sweet taste of the octopus.
which is topped with vibrant, fresh pomegranate salsa made of sweet, ruby-red pomegranates and crunchy cucumbers.
Try the renowned Don't Call It A Throwback drink, which favors bases like gin, rum, herbal undertones, and smokey overtones. Stunning!
Location And Contact
Address: 111 N 12th St, Brooklyn, NY 11249
Website: westlightnyc.com
Contact Number: (718) 307-7100
---
4. Manhattan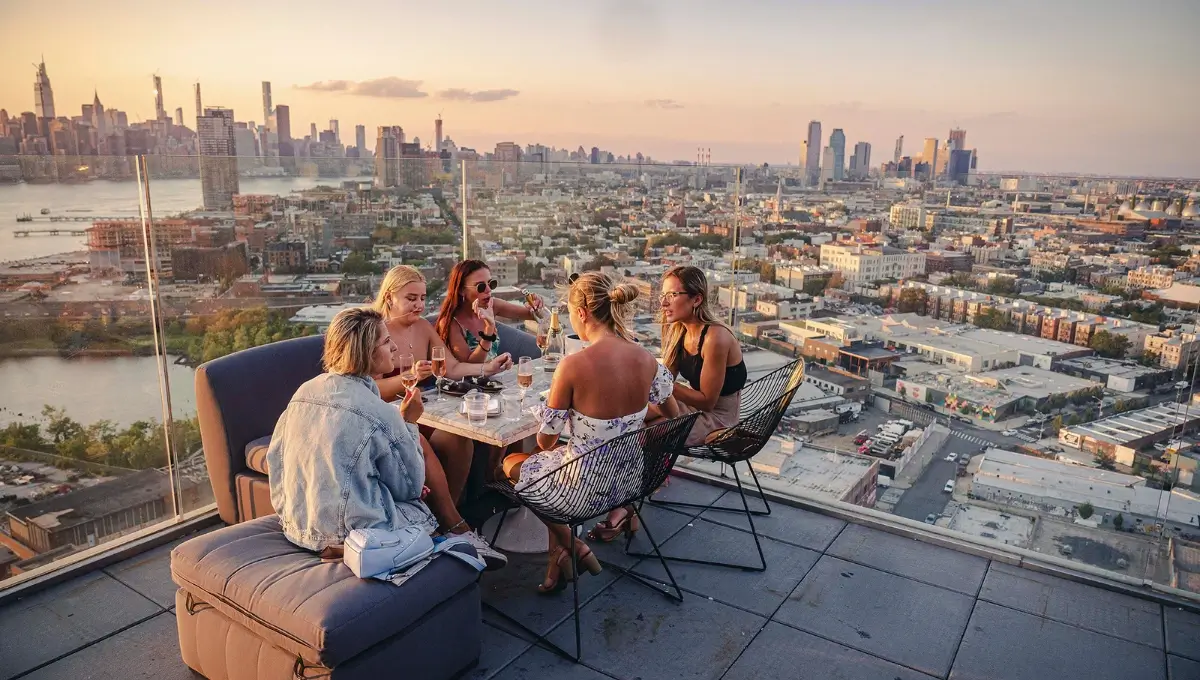 It would help if you never missed Manhattan, another gorgeous bar in New York with a view.
Seat on the 60th floor in Manhattan's Financial District to completely appreciate the magnificence of the city skyline and river vistas. Visit them today to savor their upscale New American food.
Oysters Manhattan with uni and champagne sabayon, which provides such distinctive flavors, is a highly recommended meal. Another dish is beef tartare with crispy sweet potato and hazelnut miso!
There is also such a thing as barbecued freshwater eel, which has a rich flavor profile and is a little bit sweet.
The wonderful and unique Honey Yogurt Mousse with Tiger Figs and Pistachio Ice Cream will let you finish your meal on a high note.
Location And Contact
Address: 28 Liberty St 60th floor, New York, NY 10005
Website: manhattarestaurant.com
Contact Number: (212) 230-5788
---
5. St. Cloud Rooftop Bar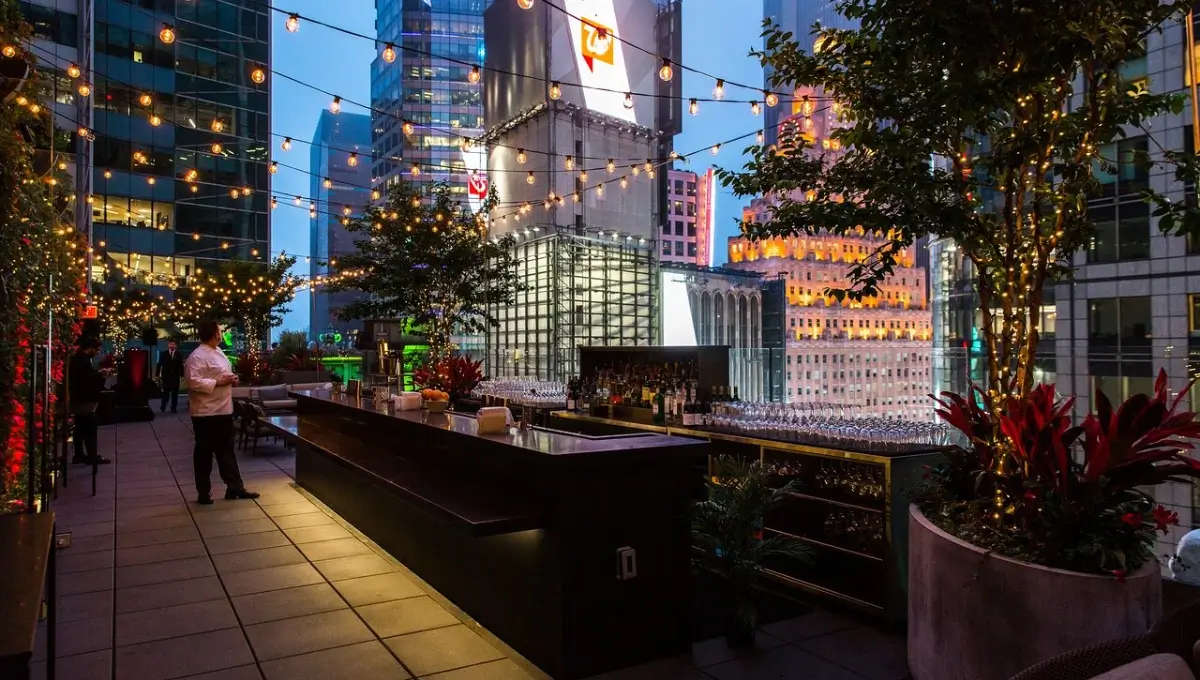 contemporary and opulent. On top of the five-star Knickerbocker Hotel is the St. Cloud Rooftop Bar.
Enjoy a blend of the rooftop bar and discotheque with eargasmic music selections while you bask in the beauty of skyscrapers across from Time Square, where the New Year's ball will shine.
The cost of the St. Cloud experience is more than that of some of the bars on the list. Still, you can't overlook the reality that no amount of money will ever be adequate to cover the magnificent views and atmosphere, impeccable service, and delicious food and drinks.
Please don't pass up the opportunity to taste their Miss Pavlova, which combines Empress 1908 Gin with italics liqueur, St. Germain, lemon juice, and grapefruit juice, or their Saints and Sinners, which combines Ketel One cucumber and mint with Singani 63, Yuzu Lime Soda, Lemon, and other ingredients.
Talk about giving back: each cocktail ordered at the bar comes with a $5 gift to the St. Cloud charitable organization. The posh bar has a smart casual dress code, so look your best, everyone!
Location And Contact
Address: 6 Times Sq 17th Floor, New York, NY 10036
Website:  charliepalmer.com
Contact Number: (212) 757-2224
---
6. JIMMY SoHo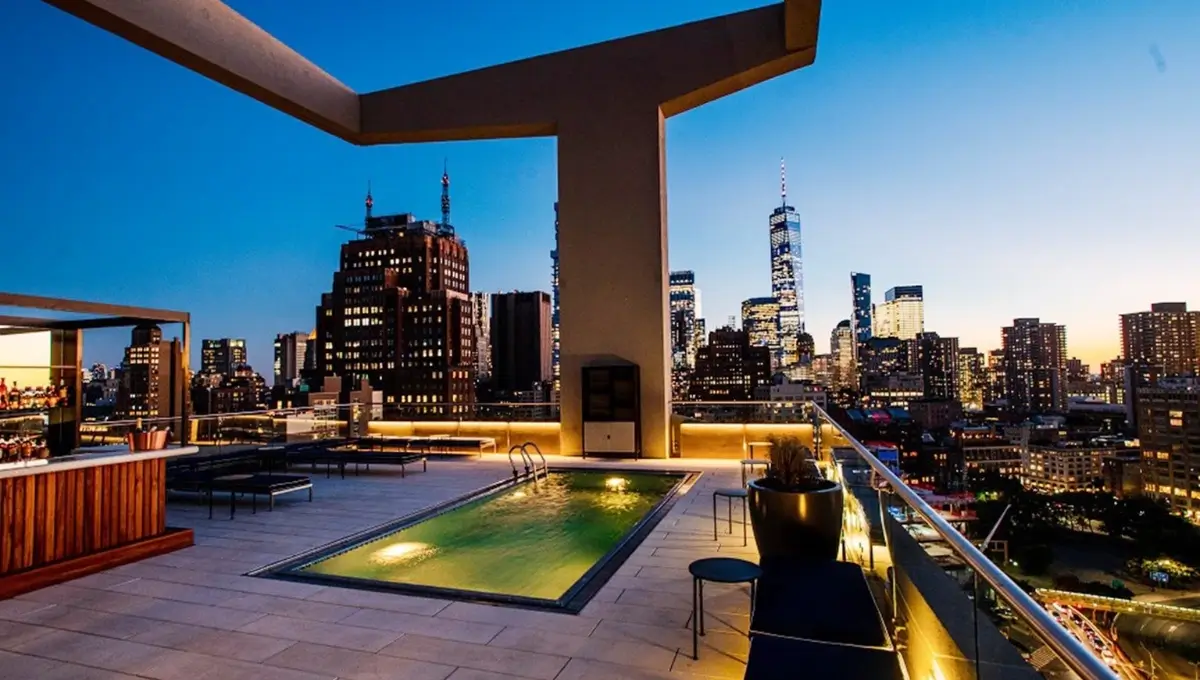 JIMMY, a chic rooftop bar at the ModernHaus Soho (formerly The James), is well-known for its unimpeded views of New York. Whenever you turn, Manhattan is seen.
Also, during special occasions, the bar has a pool where you may cool off while sipping a martini. They have a well-crafted menu with specialty drinks, wines, beers, and savory snacks.
Since it's so excellent, their Blushing Woman cocktail, which combines Milagro tequila, La Pinta pomegranate liqueur, and lime, will make you blush.
The Purple Rain, which blends Empress gin, lychee liqueur, lime, and edible flower, stands out among their specialty drinks.
Every food goes great with their cocktails, but our favorites are the tomato basil flatbread and maitake mushroom tempura.
Location And Contact
Address: 15 Thompson St, New York, NY 10013
Website:  jimmysoho.com
---
7. Elsie Rooftop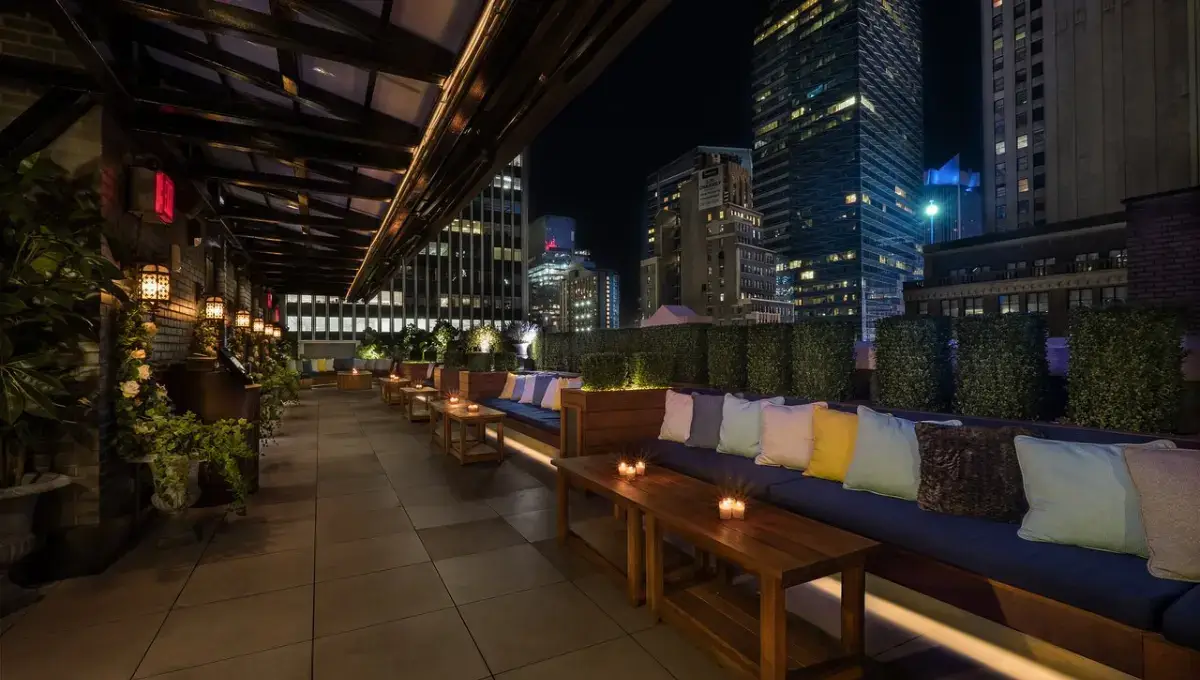 Elsie Rooftop is appropriately named after the well-known socialite Elsie de Wolfe, who lived in the 1920s.
In homage to Lady Mendle's status as the first female interior designer, this luxury rooftop club and terrace features a stunning arrangement that seamlessly blends modern and historical styles.
You're missing out if you don't prioritize their life-saving cocktails like the Elsie de Wolfe, which combines Ketel One cucumber and mint, lemon, Chandon sparkling rose, and Rose Water; the Sunset, which combines Empress 1908 gin, house-made strawberry lemonade, and soda; and the Versailles, which combines Angel's Envy, rosemary, canton ginger, and agave; you're also missing out on a lot.
Elsie is a bottomless haven for fans of sangria, mimosas, and bellini. During brunch, which lasts 90 minutes, their drinks are bottomless – pure ecstasy!
Location And Contact
Address: 1412 Broadway, New York, NY 10018
Website: elsierooftop.com
Contact Number: (646) 834-2291
---
8. Mr. Purple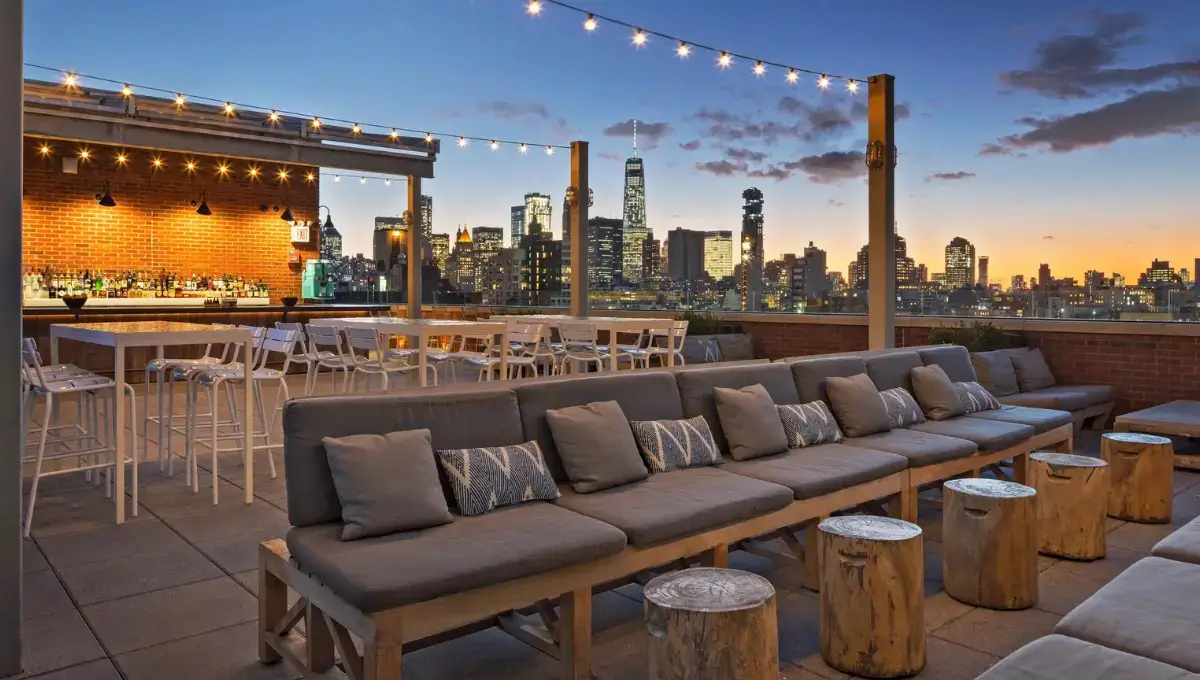 Put yourself at home in Mr. Purple's roomy rooftop bar while admiring the stunning views of Manhattan.
The Lower East Side's energetic and artistic spirit is reflected in the bar, which is situated on the 15th floor of Hotel Indigo.
The layout of the bar's two terraces is ideal for a memorable outdoor experience. Yet the Mr. Purple deal is sealed by the vast selection of spirits, locally created craft beers, wine options, traditional and inventive cocktails, and delectable light fare.
Drink enticing concoctions like the Who's That Ginger, a sublime blend of Patron Silver tequila, ginger, fresh lime, and candied ginger, or the Les Spritz, which combines Grey Goose vodka, St. Germain, Ruffino Prosecco, fresh lime juice, and Q Club soda.
The chilled Cranberry Casamigos Margarita is an excellent remedy for the summer heat. Besides these fantastic options, Mr. Purple also carries your favorite brands of vodka, whisky, cognac, champagne, and more.
Location And Contact
Address: 180 Orchard St 15th floor, New York, NY 10002
Website: mrpurplenyc.com
Contact Number: (212) 237-1790
---
9. Bar 54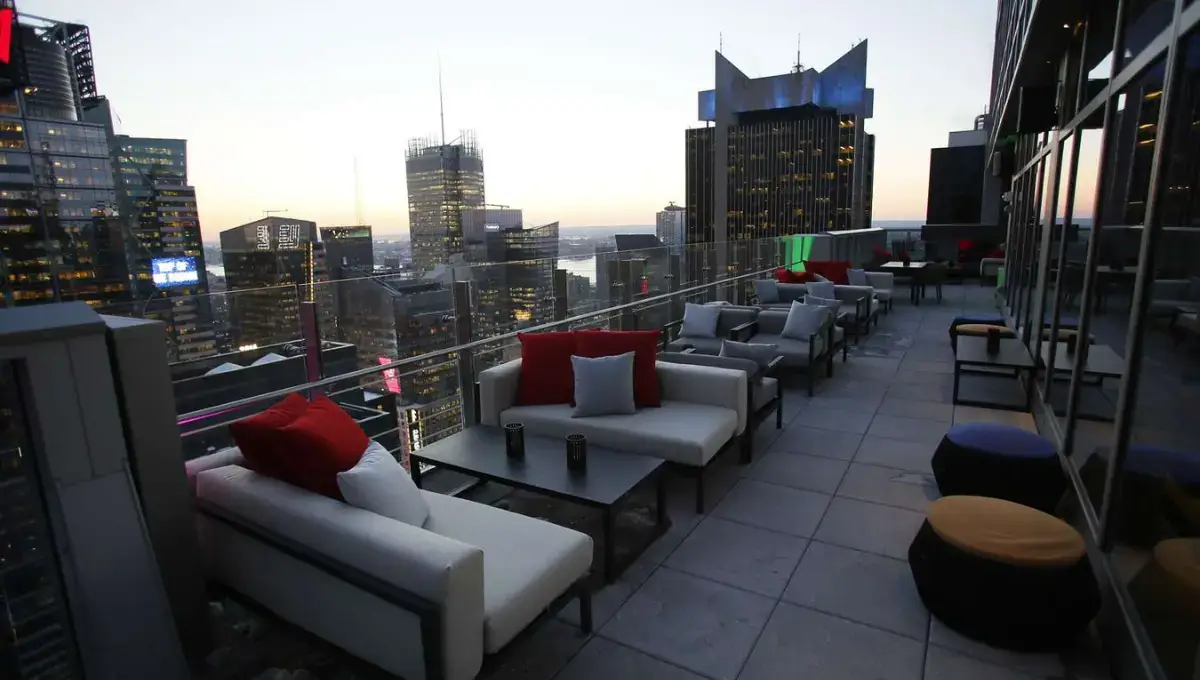 Time Square's Bar 54, positioned atop the Hyatt Centric, has stunning city views. Frequently referred to as NYC's "highest open-air rooftop bar," it is a must-visit if you're into inventive drinks, fantastic ambiance, first-rate service, and everything lovely to add to your fantasy night out – all while enjoying breathtaking views!
Despite the lengthy wait for an outside table, the location is worthwhile. It is perhaps one of the best sites to see the sunset and the moon rise because you can view all of lower Manhattan from here!
Enhance your rooftop experience with standout drinks from their stirred and shaken menu, like the Yuletide, which is made with gin, cranberry relish, lemon, and rosemary, and the Bed of Roses, which is made with vodka, Pama liqueur, italics, and pomegranate.
Or perhaps pick anything from the more popular options offered by Bacardi, Smirnoff, or Dorothy Parker? You can't go wrong with their selections, especially when combined with the charcuterie board or the ponzu-glazed edamame dumplings. A winning combination for the finish line!
Location And Contact
Address: 135 W 45th St, New York, NY 10036
Website: Bar 54
Contact Number: (646) 364-1234
---
10. Dear Irving on Hudson Rooftop Bar
Once Dear Irving opened its doors in 2018, rooftop bars were never the same. Socialize with friends over creative cocktails and mouth-watering food as you take in the stunning New York landscape.
Also, this time is perfect. Be it during the day or at night; the vistas are equally stunning! When you watch the most incredible sunset in NYC, take in the rainbow of hues.
There are many choices, but two stand out: theirnnie, crafted especially with notes of cinnamon, ginger, and pear, and Towards the Sun, which has an aroma reminiscent of an espresso martini and a bitter winter.
Their zero-proof mixes, especially the fresh and spicy Garden Party, are a must-try if you're not in the mood for alcohol. Outstanding choices from their snack menu include Filet Mignon Bites and Croque Monsieur.
Location And Contact
Address: 310 W 40th St, New York, NY 10018
---
11. Overstory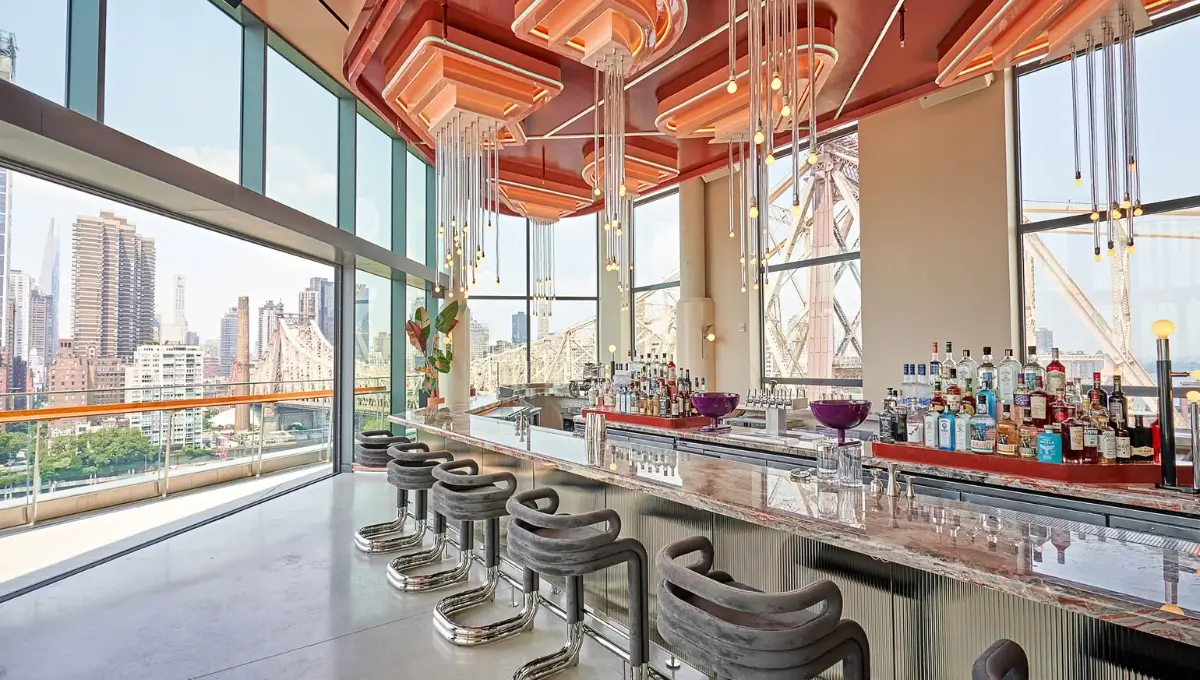 360-degree view of the New York skyline, retro funk vibes, incredibly welcoming service, unique beverages, and mouthwatering food? The undiscovered gem Overstory offers all of this and more!
In their upscale and stylish bar, Overstory, located above 70 Pine Street in the Financial District, serves classic and sophisticated cocktails. They only use the most incredible ingredients to create their blends, which are out of this world!
A sip of their Supply Chain, a unique concoction of Japanese whisky, rum, togarashi, chile, and champagne, is unmatched. Or, you may try the risky Crème de la Creme, which contains rum, passionfruit, creme fraiche, gochujang, soda, and egg white.
Try Overstory's Dips & Falafel and Scallop Crudo for a taste of the world, reflected in its extensive menu.
Location And Contact
---
FAQs For Best Rooftop Bars In New York City
There are a lot of questions that come to our mind while looking for the best rooftop bars in new york city, some of the commonly asked questions are answered below.
Q. What is the highest rooftop bar in Manhattan?
A. The highest rooftop bar in Manhattan is 230 Fifth Rooftop Bar, offering stunning views of the city skyline.
Q. What do you wear to a rooftop in NYC?
A. The dress code for rooftop bars in NYC is usually smart-casual attire.
Q. How much does it cost to get into the bar in NY?
A. The cost of entry to bars in NY varies, with prices typically ranging from $10 to $50 or more for special events.
Q. What is the most expensive section of Manhattan?
A. The Upper East Side is considered the most expensive section of Manhattan.
Q. What is the largest rooftop in the US?
A. The Rooftop at Pier 17 is the largest rooftop in the US, located in New York City.
Q. Are rooftop bars open year-round?
A. Rooftop bars in New York City have varying operating schedules, some open year-round and others seasonally.
Q. Are reservations necessary for rooftop bars?
A. Reservations are recommended for rooftop bars to secure a spot, especially during peak hours.
Q. Can rooftop bars accommodate large groups or private events?
A. Many rooftop bars in NYC can accommodate large groups or host private events, but it's best to inquire directly with the specific bar.
Q. Are children allowed at rooftop bars?
A. Rooftop bars in New York City are primarily geared towards adult patrons, and age restrictions may apply. It's best to check individual policies regarding children.
Q. Do rooftop bars offer food?
A. Yes, most rooftop bars in NYC offer a selection of food options, ranging from light bites to full meals.
---
Tell Us In The Comments As per You Which One is the Best Rooftop Bars In New York City?
Also, don't forget to book your personalized holiday package with Fiery Trippers. Let us make your vacation a romantic as well as a dreamy getaway.
---