Are you looking for good places to eat in Miami with a beautiful view? If you don't know where to go, where can you eat delicious cuisine? This article can help you in finding the best rooftop restaurants in Miami.
The premier party destination on the US east coast is Miami. Additionally, Miami is blessed with a beautiful climate and many fantastic rooftop eateries.
Miami's culinary scene is a melting pot of flavors, and its rooftop restaurants take the dining experience to new heights, quite literally.
Imagine relishing mouthwatering dishes prepared by world-class chefs while being surrounded by the panoramic beauty of the Magic City.
---
Here Are The List Of the 11 Best Rooftop Restaurants In Miami: Dining with a View
After a lot of research and considering the guest's feedback we have shortlisted some of the best rooftop restaurants in Miami.
Sugar
Area 31 at the Epic Hotel
Editor Rooftop at Urbanica Fifth Hotel
Juvia
Watr at the 1 Rooftop
Dolores But You Can Call Me Lolita
MILA Restaurant, Rooftop Lounge & Mixology Bar
The Citadel
Salvaje
Quinto Miami
Rosa Sky
1. Sugar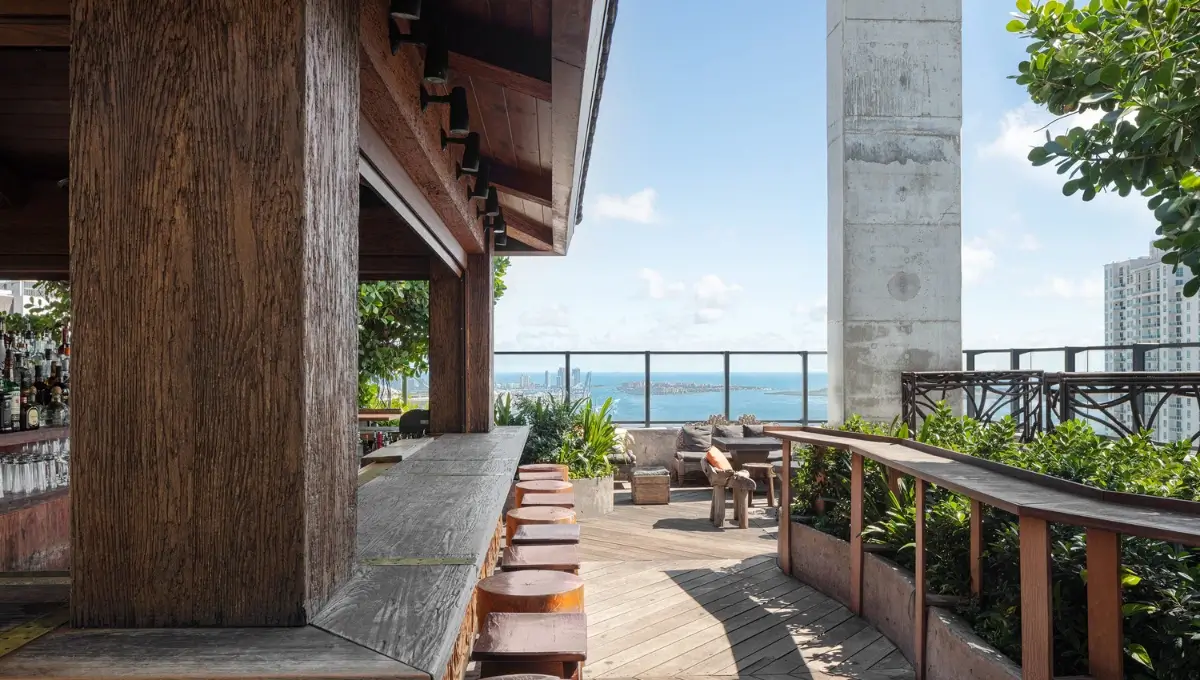 The award-winning rooftop and lounge Sugar is tucked away 40 stories up at the top of the beautiful EAST Miami, situated in the middle of Brickell.
One of Miami's most upscale venues, Sugar, features some opulent Balinese flare. Its lush, tropical rooftop patio is home to a hand-carved wooden bar, tiki-style loungers, and rustic dining tables.
Here, perched high above it all, you have terrific 360-degree views of Biscayne Bay and the Miami cityscape. Excellent at sunset and fabulous at night when the city lights are on.
The rooftop bar has an excellent drink menu, but it also has a restaurant that serves food with a fresh Asian flavor. From small plates to specialty sushi rolls, poke bowls, and satay, including dishes like "Brisket Bao Buns" and "Korean Short Rib."
Sugar is a top location for chic dinners and cocktails with a view at sunset because of its sophisticated and urban-trendy environment. When the night becomes lively with DJ sets and an exciting audience, you can stay.
---
2. Area 31 at the Epic Hotel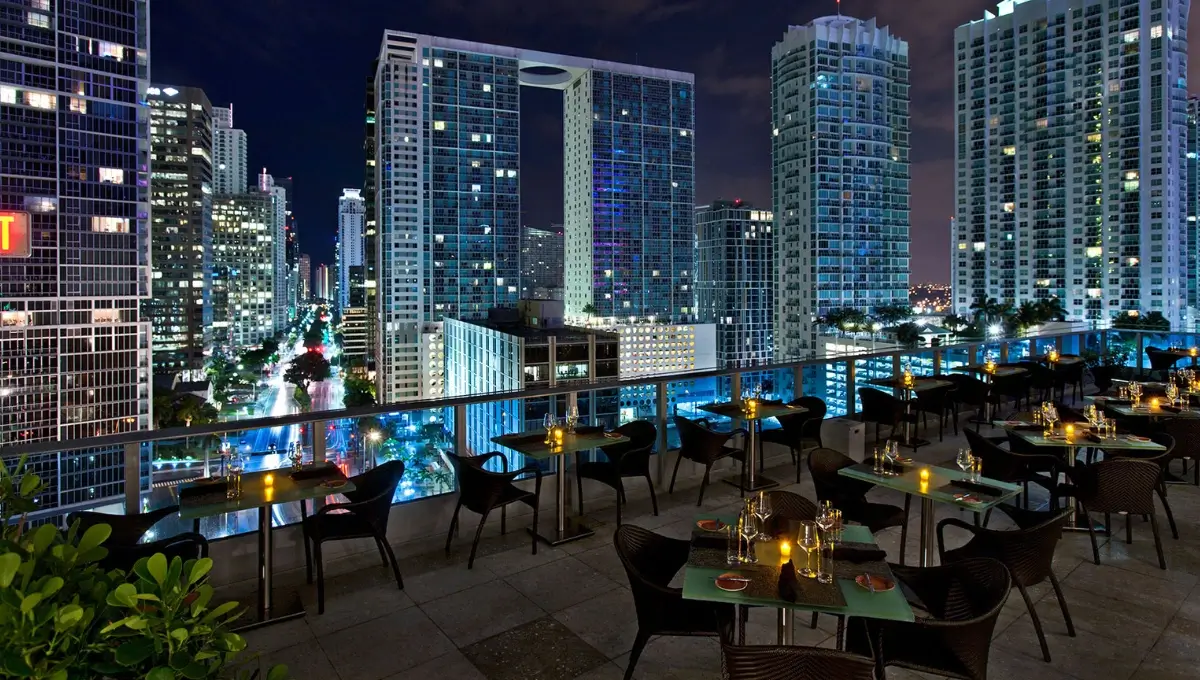 Area 31 is one of Miami's most advanced options since it provides both breathtaking vistas of Miami and delectable sustainable cuisine.
Area 31 is a restaurant on the 16th floor of the Kimpton EPIC Hotel that serves fish and meat dishes entirely locally sourced from sustainable sources and created by Executive Chef Wolfgang Birk. Area 31 is available for breakfast through dinner.
Additionally, there is a fantastic weekend brunch that is well worth at least a few trips. A wide selection of wines and sparkling wines are available, as well as Area 31's beautifully crafted unique cocktails, which continue the "local and sustainable" theme established by the food menu.
Area 31 is a well-liked location for romantic dinners and memorable nights out because it has both indoor and outdoor seating, modern decor, and a vibrant but refined ambiance that you'll surely appreciate.
---
3. Editor Rooftop at Urbanica Fifth Hotel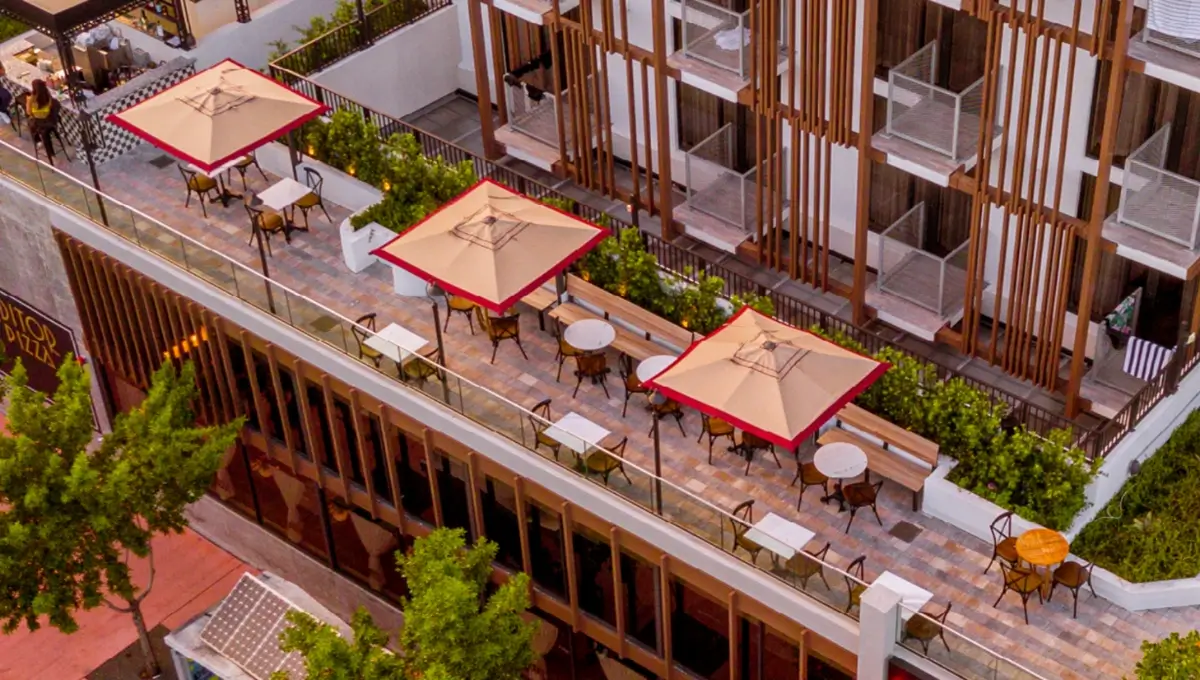 Editor Rooftop, a rooftop bar and restaurant in Miami Beach's main drag, is located on the second story of the magnificent Urbanica Fifth Hotel. It serves drinks and thin, light, crispy pizzas.
The contemporary and stunning terrace, which looks out onto 5th Street and the lush greenery of the South of Fifth area, is a great place to enjoy al fresco eating and beverages while taking in city views at dusk.
Editor Rooftop offers a wide variety of empanadas, salads, pasta, desserts, and more, in addition to the fantastic range of beverages and the pizzas above.
The rooftop is available daily for events and accessible to the public on weekends.
Editor's special season package is all you need whether you're hosting a corporate event, a private dinner, a gathering, or commemorating a special occasion for only $50 per person with unlimited pizza and unlimited beer & wine in a unique setting to enjoy food, drinks, music, and the sunset overlooking 5th street.
---
4. Juvia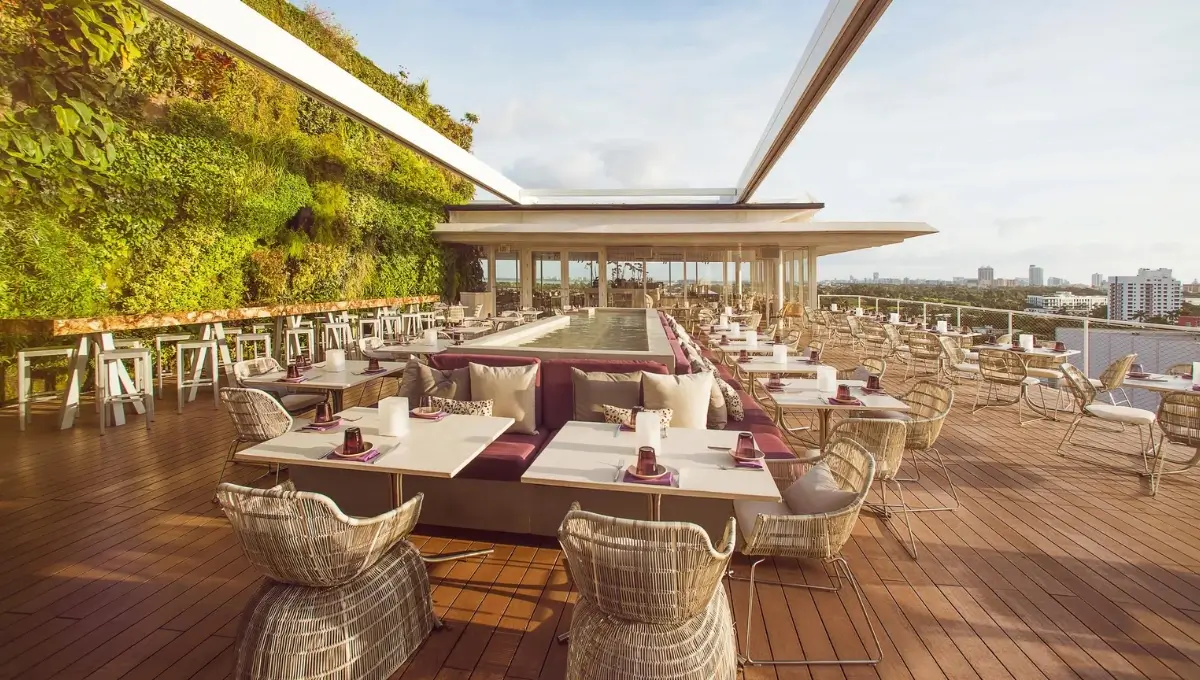 This magnificent rooftop restaurant/bar serves mouthwatering fusion cuisine that will surely delight you, as well as stunning views of Central Miami.
Juvia has indoor and outdoor seating, with the outside terrace's wooden deck being the ideal place for beverages and the inside area's floor-to-ceiling windows being the perfect setting for dining. Both rooms are furnished with comfort and style in mind.
Expect creative takes on French, Japanese, and Peruvian food prepared and presented to please both the eyes and the palate.
You can find various beers, wines, spirits worldwide, and delicious, unique cocktails.
Reservations are advised at Juvia because it is a well-known eatery in the neighborhood, especially on weekends when the lively atmosphere and live music come to life.
---
5. Watr at the 1 Rooftop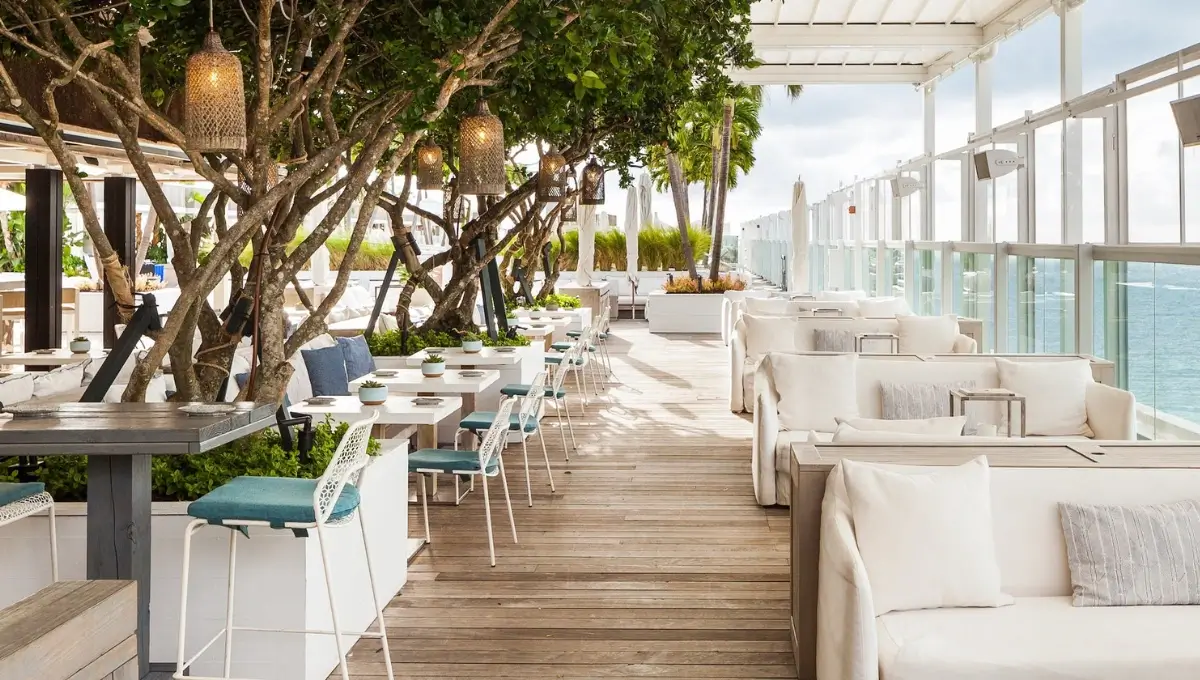 Watr, which can be found atop the opulent 1 Hotel South Beach, features the best rooftop pool in Miami, fantastic ocean views, and unique fusion cuisine.
Watr has organic Polynesian decor, cozy lounge areas, substantial dining tables, and a pleasant environment whenever you visit. It draws inspiration from the ocean and diverse cultures.
The food offered here is better categorized as "Peruvian-influenced Japanese cuisine" and includes dishes like sushi rolls, roasted octopus, and the renowned Whataburger. You can choose from specialty cocktails, frozen drinks, draft beers, and wines.
During lunch and the early afternoon, What is exclusively accessible to guests; however, in the evening, when live DJs are playing, and a sizable, trendy crowd gathers, Watr becomes a popular destination for a good night out.
---
6. Dolores But You Can Call Me Lolita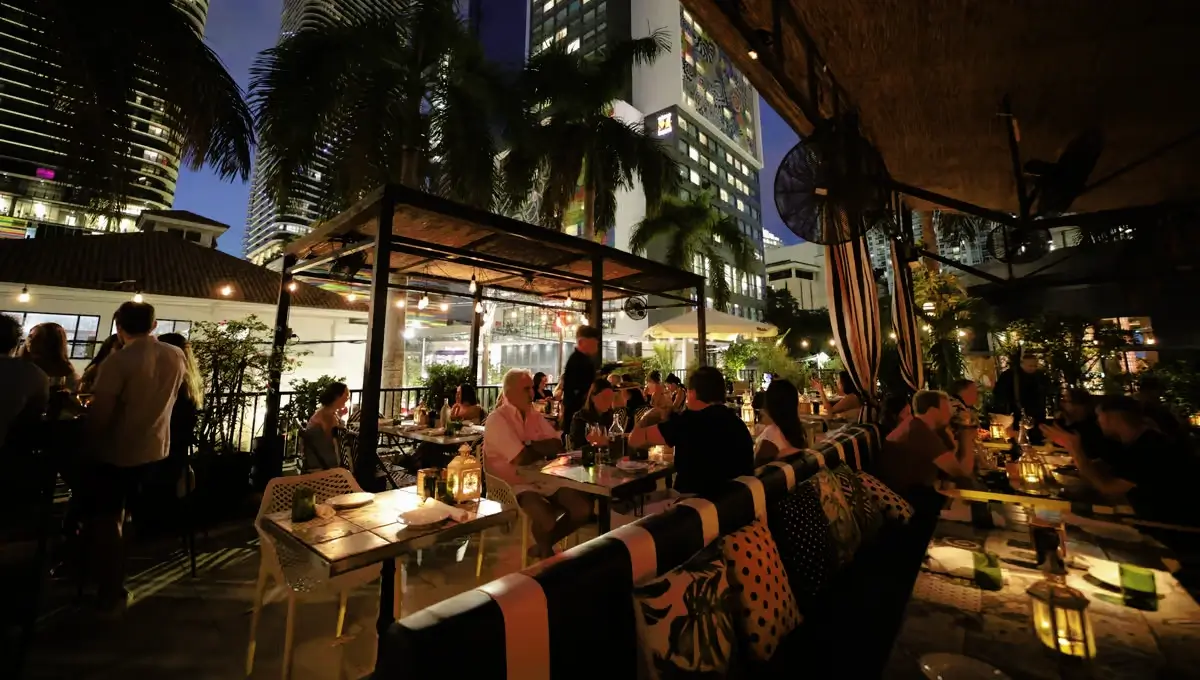 Although Dolores isn't the tallest rooftop restaurant on this list, it is undoubtedly one of the most inventive and is the one we advise for large groups.
Dolores is housed in an ancient firehouse and combines vintage charm with modern sensibilities. It has a relaxed environment and a distinctive, warm decor.
Enjoy an Argentinean grilled churrasco or a Hawaiian tuna poke bow while lounging on a soft couch under a palm tree and sipping wine from Dolores' extensive wine list.
Dolores is one of the more flexible options on this list because you can get plenty of tacos and beer if those are your style.
Dolores But You Can Call Me is open from noon until late. Lolita in Miami has a lively, fun-loving South American vibe ideal for a night out.
---
7. MILA Restaurant, Rooftop Lounge & Mixology Bar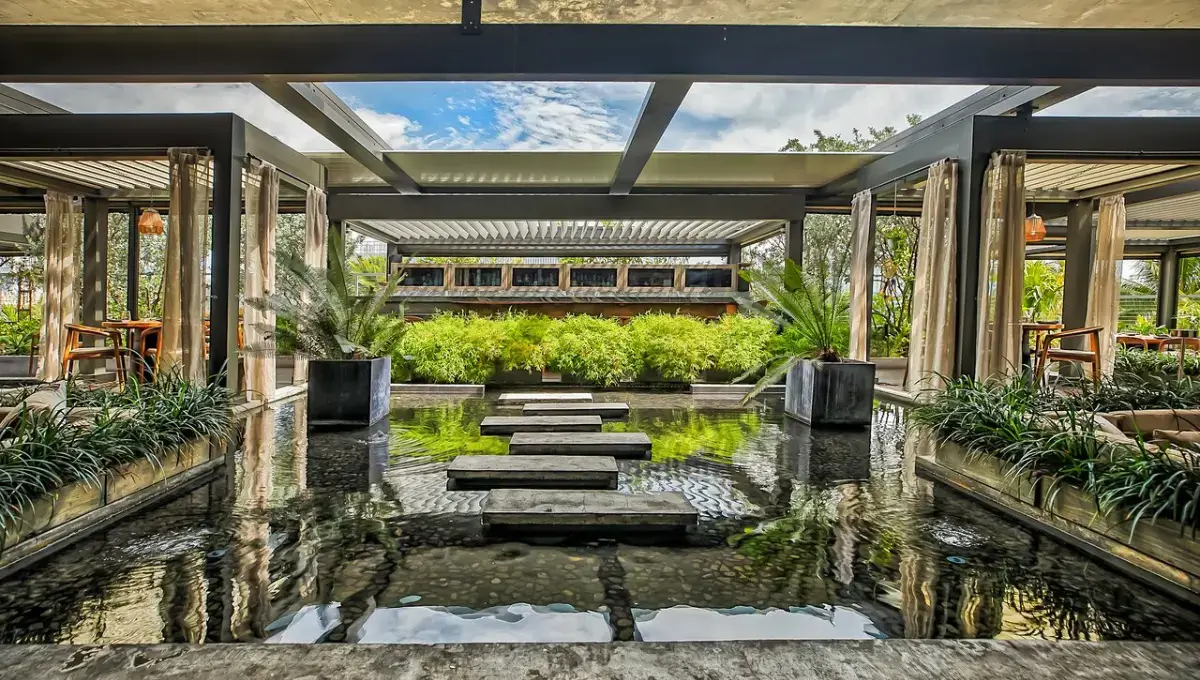 The MILA Restaurant, Rooftop Lounge & Mixology, situated in the center of Miami Beach, is where our list of the finest rooftop restaurants in Miami begins.
With its alluring fusion of Mediterranean and Asian flavors, chic-bohemian, minimalist Cycladic décor, and lush accents, this magnificent refuge will enrich your dining experience.
The atmosphere will give you the impression that you are in an opulent setting, but the food will keep you coming back.
They have a large variety of expertly prepared meals, but if you're unsure what to have, try one of their delectable specialty dishes like Wagyu Carpaccio or truffle cream spaghetti, or go with their 5-course signature tasting menu.
Sitting on the outside deck, you can enjoy stunning views of South Beach and perfectly made drinks from the chic cocktail bar. Additionally, fire dancers will entertain you as a bonus to the flirtatious ambiance.
However, MILA has a strict premium dress code that complements the opulent setting, so make sure you look your best before you arrive. You should also make a reservation in advance because tables fill up quickly.
---
8. The Citadel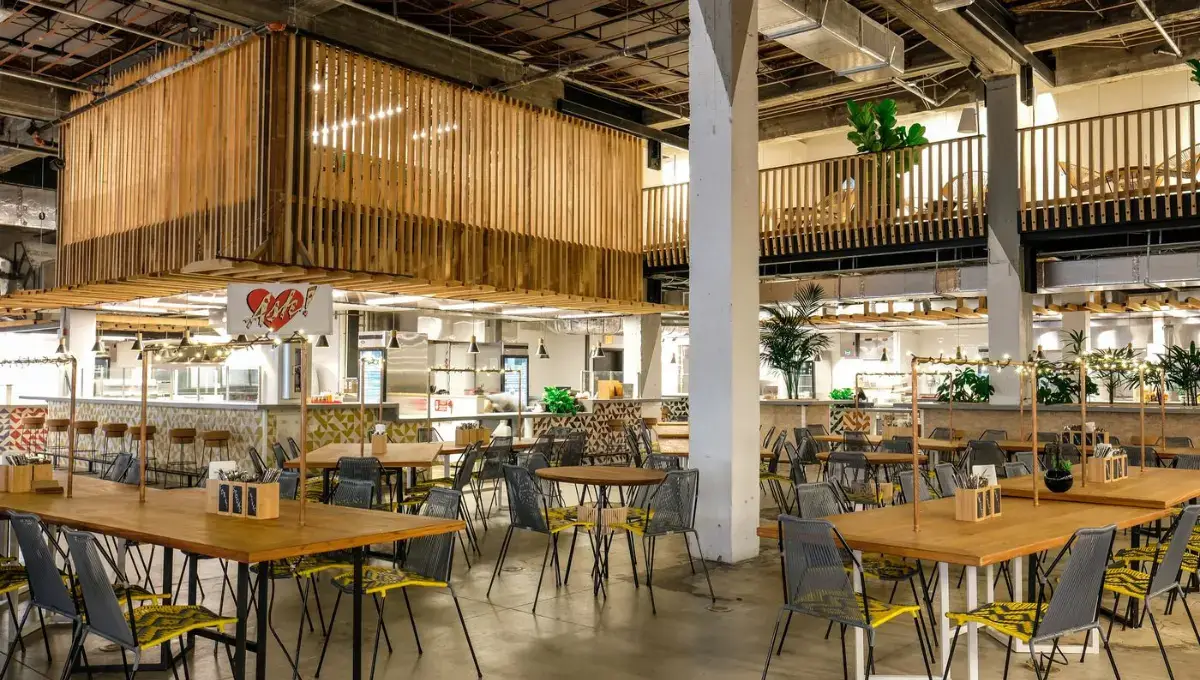 One of Miami's best rooftop restaurants is The Citadel! More than just a standard selection of restaurants can be found in this upscale Little River food hall!
There is now a rooftop bar with a covered area where you can enjoy their interesting beverage menu while enjoying the views of Wynwood and Downtown.
The best selection of food and drinks may be found downstairs, but the best part is that you can order from any of the restaurants from your seat at the rooftop club.
Burgers from USBS Craft Burgers, seafood from The Shores, and wood-fired Neapolitan pizza from Ash are a few of the standouts from the varied menu!
You can go here whenever you like. However, we suggest going at night when live DJ performances enhance the lively ambiance.
---
9. Salvaje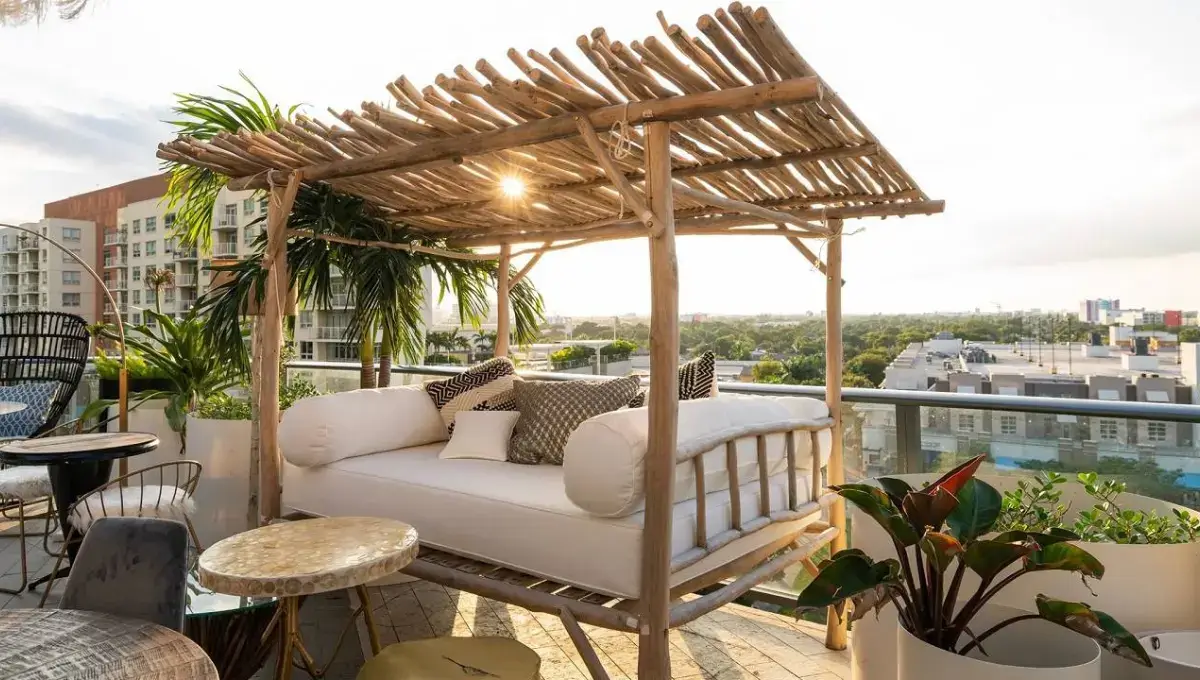 Gourmet adventurers who aren't afraid to let their senses go wild by indulging in creative Japanese cuisine crafted with ingredients from worldwide adore Salvaje.
Salvaje's outdoor deck is decorated with enormous palm palms, bamboo daybeds, statues of wild animals, and a warm glow from light fixtures, keeping with the Spanish meaning of its name, "wild." At the same time, the interior opts for mismatched tables.
The retractable roof makes this location popular year-round, yet the decor is only a tiny part of what this property offers.
Salvaje has a shisha lounge and an omakase sushi bar, but it's also worth mentioning for its artisan cocktail menu, which draws on Latin flavors to produce distinctive combinations. If you're unsure what to try for a snack, the truffle fried rice with roasted duck is always a terrific option.
---
10. Quinto Miami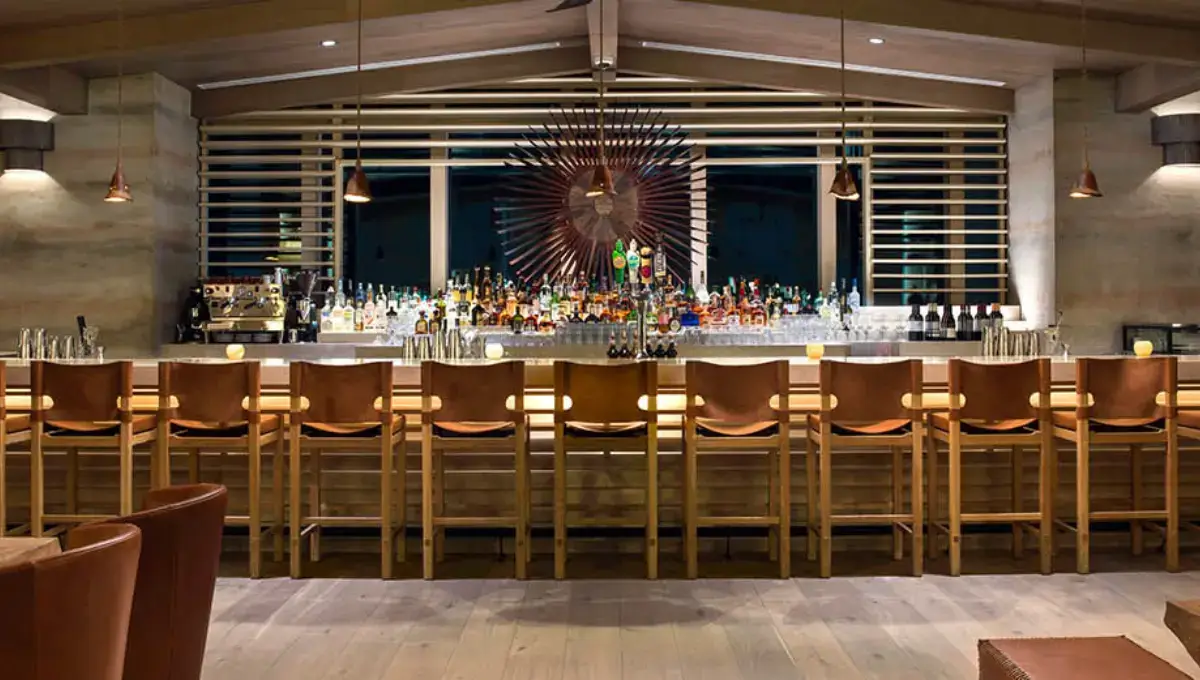 One of Miami's top restaurants with a view is Quinto Miami, situated in the center of Brickell on the fifth story of the East Miami hotel.
The wood-fired Parrilla at this sophisticated and rustic-chic South American restaurant is renowned for its ability to roast your meat perfectly.
While perusing a menu of South American classics with standout dishes like the Grilled Pulpo Octopus and the succulent Skirt Steak, you can take in the panoramic views of Brickell City Center and the city skylines from the lush outdoor patio.
---
11. Rosa Sky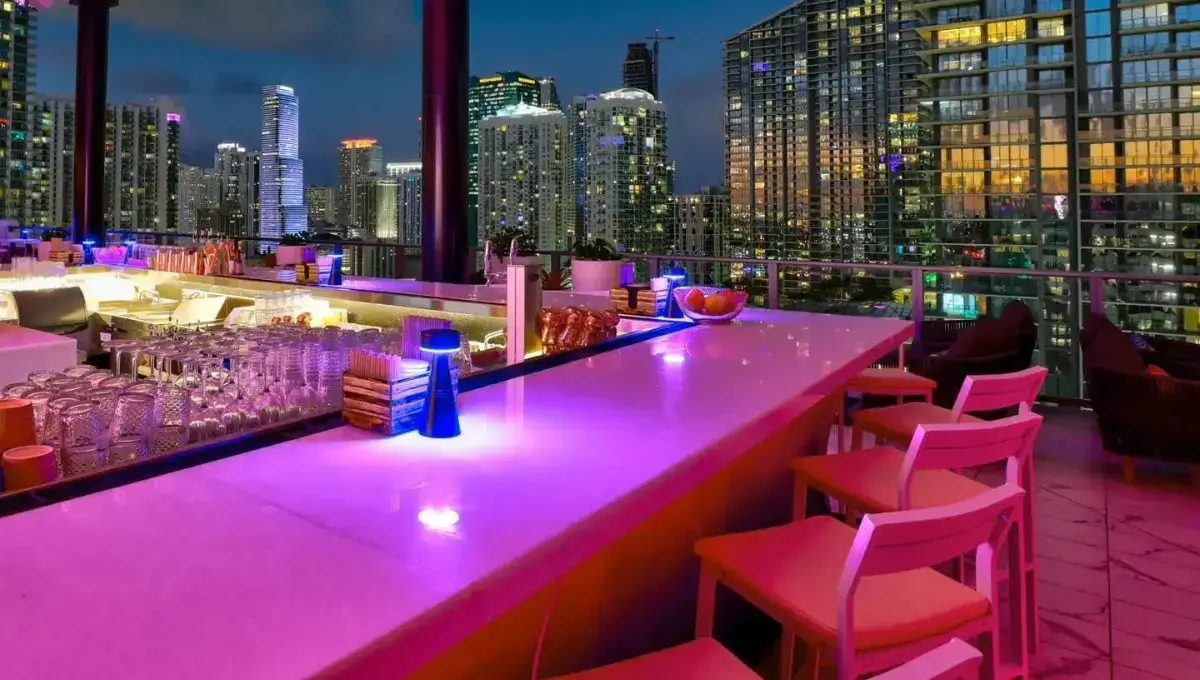 Rosa Sky is the best rooftop restaurant in Downtown Miami for inventive and fresh cocktail creations, breathtaking views of the area, and diverse tapas with a worldly flair.
Rosa Sky, which is conveniently situated on the 22nd floor of the AC & Element Hotel Miami Downtown and is easily reached via the elevator that faces the street (SW 1st Court), is the perfect place to go for a nightcap because they promise only the best handcrafted seasonal cocktails and wines from around the world. Must-tries are the eponymous Rosa Sky and the daring Tulum Trip.
While cocktails are the order of the day here, you should also pay attention to their tapas menu. You will desire more of the flawlessly crisp and flavorful Cuban "Cigars" that you order.
Additionally, if you visit the trendy lounge after hours, it transforms into a distinctive paradise in rose-colored lighting, elevating the upscale and classy ambiance. If you're looking for rooftop brunch spots in Miami, they also hold a Sunday brunch.
---
FAQs For Best Rooftop Restaurants In Miami
There are a lot of questions that come to mind while searching best rooftop restaurants in Miami some of the commonly asked questions are answered below.
Q. Are reservations required for rooftop restaurants in Miami?
A. Reservations are recommended for Miami rooftop restaurants, especially during busy times, to secure the best views and seating.
Q. What's the dress code for rooftop dining in Miami?
A. Most rooftop restaurants have a smart-casual dress code; neat attire is advised.
Q. Do rooftop restaurants offer vegetarian and vegan options?
A. Yes, many rooftop restaurants in Miami provide vegetarian and vegan menu choices.
Q. Can I host private events on the rooftop?
A. Yes, many Miami rooftop restaurants offer private event spaces for parties and special occasions.
Q. Best time for sunset views at rooftop restaurants?
A. Sunset is popular; check the restaurant's schedule for the exact timing during your visit.
---
Conclusion
A delicious food adventure at one of Miami's premier rooftop restaurants is an unforgettable experience.
These places not only tempt your taste buds with their superb cuisine, but they also provide a feast for the eyes with stunning views that go on forever.
Whether you're a local or just visiting, don't forget to put these rooftop eating spots on your list of places to go. Enjoy the unique blend of tastes and views that define Miami's eating scene.
---
Tell Us In The Comments As per You Which One is the
Best Rooftop Restaurants In Miami

?

Also, don't forget to book your personalized holiday package with Fiery Trippers. Let us make your vacation a romantic as well as a dreamy getaway.
---