Planning a trip to Miami and looking for some fun in the sun? Look no further! In this article, we'll dive into the best water parks in Miami that promise an unforgettable experience for visitors of all ages.
Does Miami have water parks? Yes, Miami is home to a variety of thrilling water parks that offer a perfect blend of excitement and relaxation for visitors of all ages.
Miami is not just known for its beautiful beaches and vibrant nightlife, but it's also home to some of the best water parks in the country.
Whether you're traveling with family, or friends, or going solo, these water parks offer a refreshing escape from the heat and a day filled with thrilling water rides and attractions.
Water parks in this region come in various sizes, shapes, and pricing ranges. They are among the best activities for kids in Miami, especially during the hot summer months.
They all have slides, rapids, splash zones, lazy rivers, and aquatic playgrounds. Find our selections for the top water parks in the city below.
---
Here Are The List Of the 11 Best Water Parks In Miami
After a lot of research and considering the traveler's feedback we have shortlisted some of the best water parks in Miami.
Tidal Cove
Rapids Water Park
Grapeland Water Park
Miami Watersports Complex
Venetian Pool
Miami Shores Aquatic Center
Calypso Bay Water Bank
Miami Zoo
Victory Pool Family Aquatics Center
Pinecrest Gardens Splash'N Play
McDonald's Water Park
1. Tidal Cove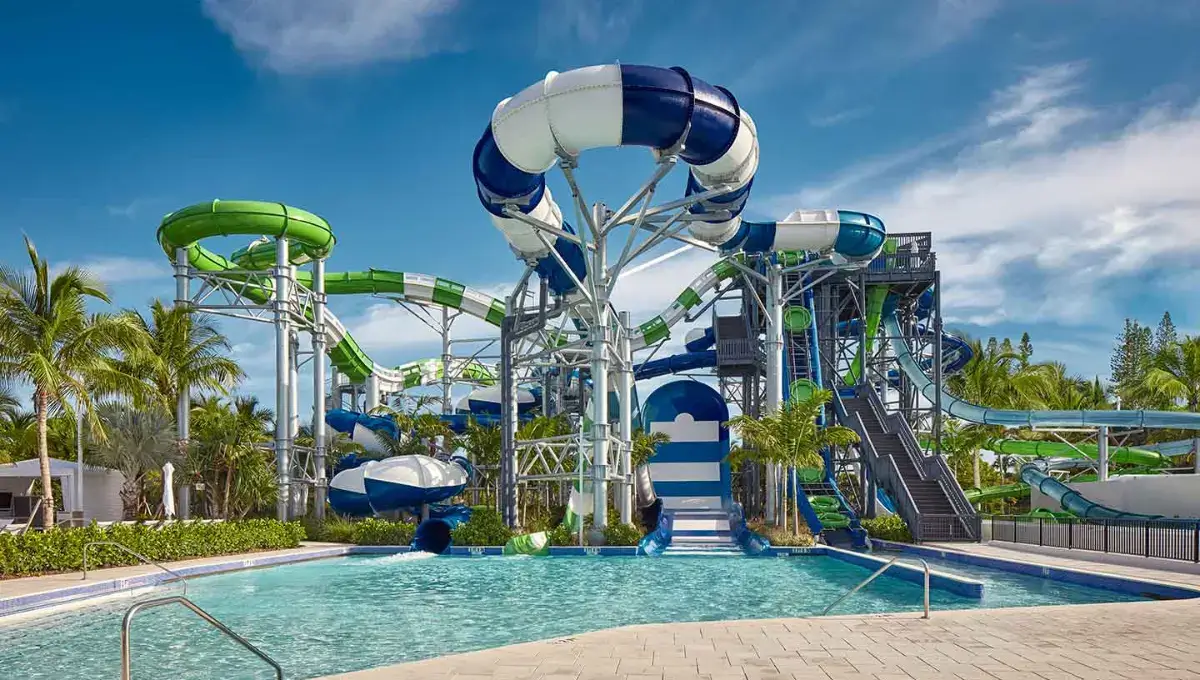 The luxurious water park Tidal Cove, part of the JW Marriott Miami Turnberry Resort & Spa, offers thrilling water activities, making it the perfect family activity in Miami. There are numerous family-friendly attractions in the park.
The facility's FlowRider triple surf simulation pool, where both novice and expert surfers can ride the waves, is its most prominent feature.
The 600-foot lazy river and the Oasis Pool are ideal places to unwind for those looking for a more tranquil aquatic experience.
The seven exhilarating water slides at Tidal Cove provide excitement and fun for the more courageous tourists. A children's section of the park featuring a water play structure and smaller waterslides is also available.
Cabanas and daybeds are available in the park for those who like to soak up the Miami sun. Visitors can savor a range of delectable foods and beverages thanks to the abundance of dining alternatives in the park.
In conclusion, Tidal Cove offers a thrilling yet tranquil water park experience in the heart of the vibrant Miami environment.
⌛ Timings: 09:00 AM to 06:00 PM
⛱ Attractions: Aqua Drop, Boomerango, Constrictor, Master Blaster, Whizzard, Flow Rider, Lazy River, Laguna Pool, and Kids Cove.
📍 Address: 19999 West Country Club Drive, Aventura, FL 33180, USA
Also Read: 🎢 11 Best Theme Parks In Miami, Florida
---
2. Rapids Water Park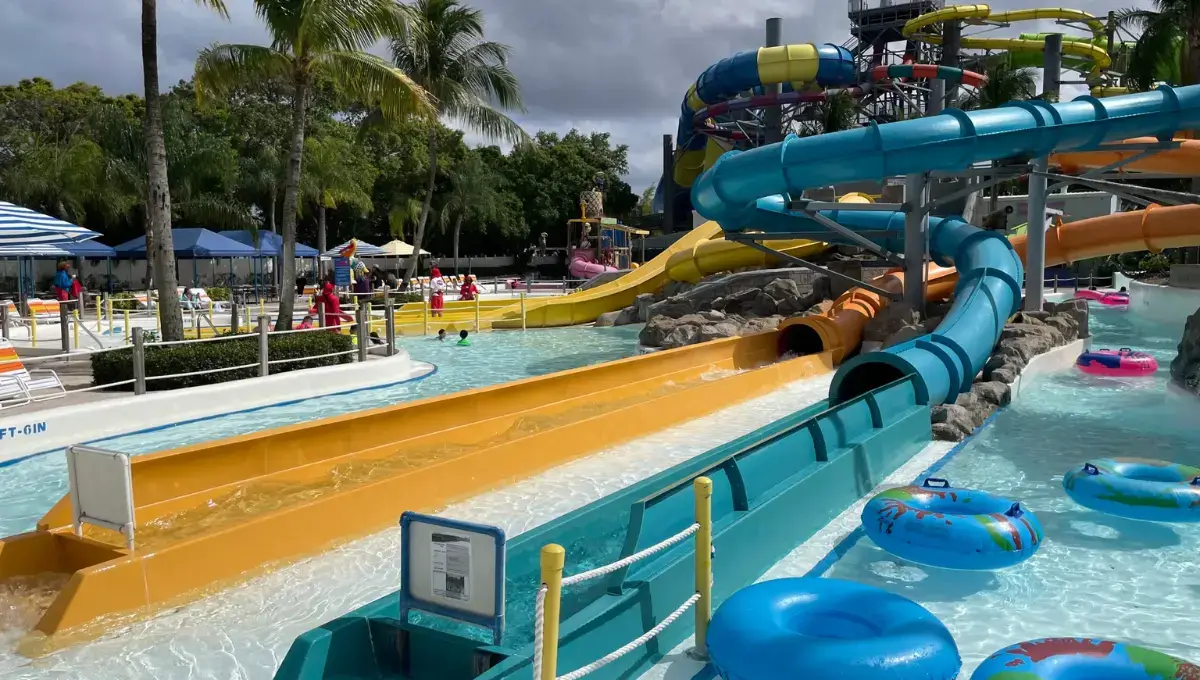 Rapids Water Park is a well-liked family attraction for water-based enjoyment and is situated in Riviera Beach, just outside of Miami.
It covers 30 acres and has a remarkable collection of over 35 water slides, including thrilling attractions for adults and younger kids.
The Big Thunder, a funnel ride, and the Raging Rapids, an action-packed group raft ride, are two of the most prominent attractions.
The park also features a 25,000-square-foot wave pool and a lazy river that smoothly meanders for visitors looking for more leisurely water sports.
Barefootin' Bay is an interactive water play structure with splash zones and miniature slides perfect for younger visitors.
Additionally, there are numerous dining establishments, exclusive cabanas, and a fully stocked retail store for any forgotten necessities.
Rapids Water Park guarantees a fun-filled day for the whole family in the Miami Heat by combining excitement and relaxation.
⌛ Timings: 10:00 AM – 07:00 PM
⛱ Attractions: Big Thunder, Brain Drain, Rapids Racer, Body Blasters, Riptide Raftin, Alligator Alley, Big Surf, Lazy River, etc.
📍 Address: 6566 N Military Trl, West Palm Beach, FL 33407, USA
---
3. Grapeland Water Park (Temporarily closed)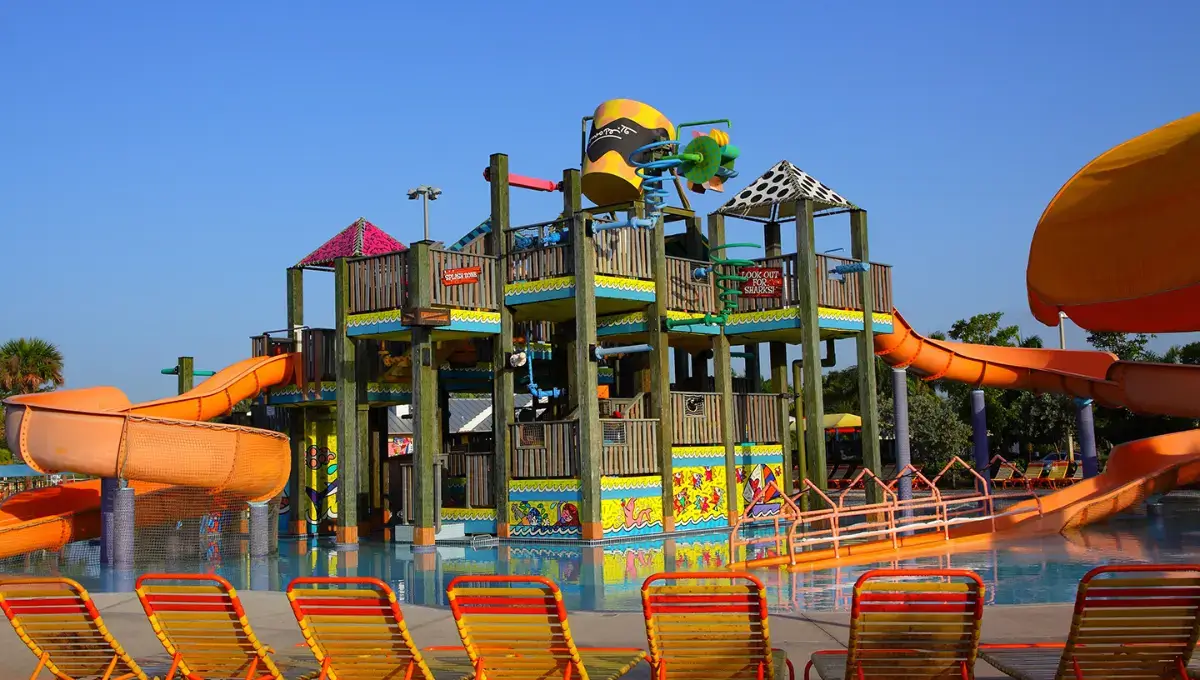 The Grapeland Water Park, which is located nearby the Miami International Airport, attracts both visitors and locals. Even from a distance, the network of water slides and the gushing water create a magnificent spectacle.
The range of safe activities appeals to both parents and children. On the Pirate's Plunge or the Buccaneer River Ride, older children can have their fair share of adventure.
This Miami water park hosts family movie evenings on Fridays and keeps the park open later. Nobody has a valid grievance any longer.
⌛ Timings: 10:00 AM – 04:45 PM (Timings vary as per season)
⛱ Attractions: Captain's Lagoon, Buccaneer River Ride, Pirate's Plunge, and Shipwreck Island.
📍 Address: 1550 NW 37th Ave, Miami, FL 33125, USA
📞 Contact: +1 305-960-2950
---
4. Miami Watersports Complex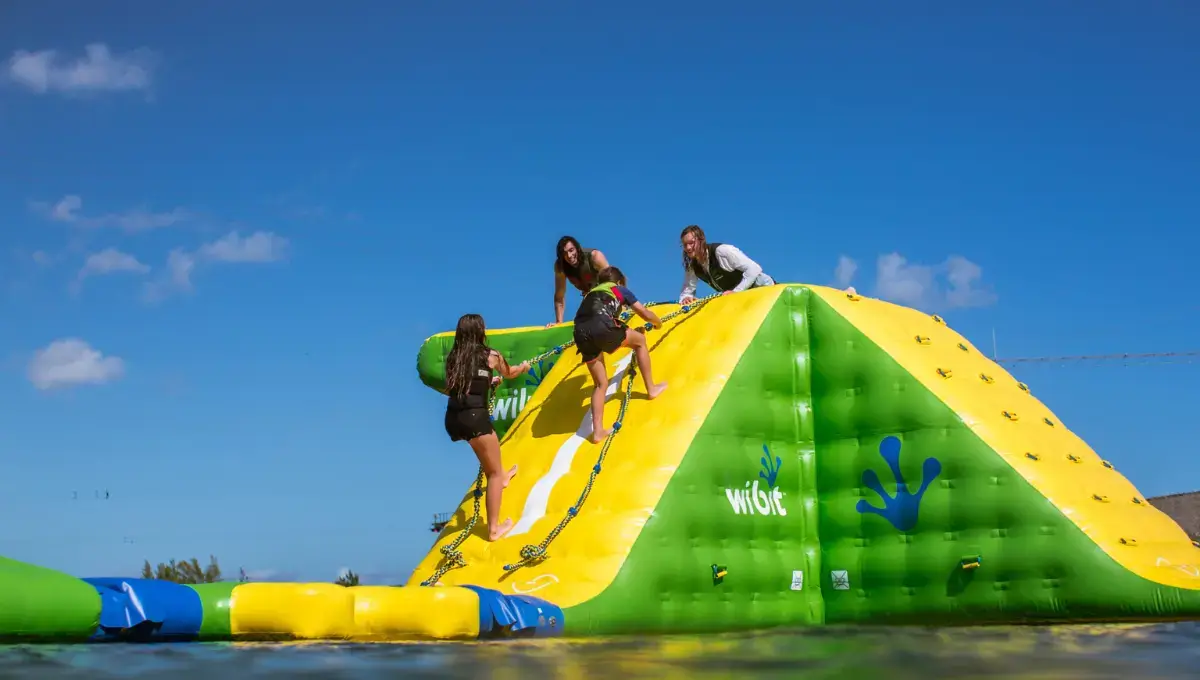 Wakeboarding, wake surfing, waterskiing, and other watersports can all be enjoyed at the Miami Watersports Complex.
It provides state-of-the-art facilities for amateur and expert watersport athletes as one of the best cable and boat parks in the United States.
The complex, located in Amelia Earhart Park, has two full-size cable systems, a boating lake, and a designated water skiing area.
The complex offers a variety of exercises and classes for people of all ages and skill levels, ranging from thorough beginner's courses to specialized instruction for experts.
With properly educated teachers, safety gear, and a monitored environment, everyone may enjoy peace of mind. Safety requirements are given high importance.
Additionally, users can access the facility's pro store, which sells equipment and accessories, and the complex's snack bar for a fast meal.
This location is ideal for relaxing with family, holding events, or catching a stunning Miami sunset after an adrenaline-filled day because of the attractive park surroundings.
The Miami Watersports Complex is a success in bringing top-notch water sports facilities to the center of Miami and providing countless opportunities for adventure on the water.
⌛ Timings: 10:00 AM – 07:00 PM
📍 Address: 401 E 65th St, Hialeah, FL 33013, United States
---
5. Venetian Pool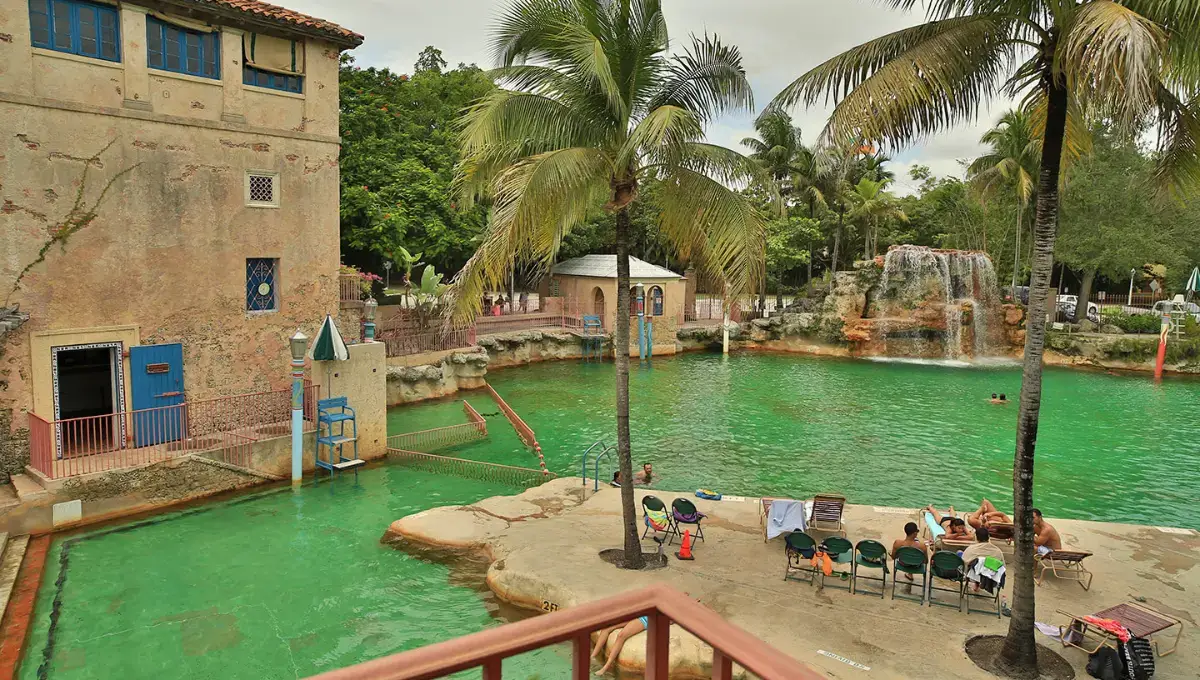 Although not quite a waterpark, Miami's Venetian Pool is the pinnacle of upscale swimming areas.
The 820,000-gallon pool was built in 1923 using a coral rock quarry already there. It receives its water from a freshwater spring.
It's a lushly beautiful way to beat the Miami Heat, surrounded by palm trees, shady fields, and lovely porticos. From March through November, everyone three years of age and older is invited.
⌛ Timings: 10:00 AM – 05:30 PM (Timings vary as per season)
⛱ Attractions: Two huge historic lookout towers, waterfalls, porticos, Venetian bridge, and kids' pool area.
📍 Address: 2701 De Soto Blvd, Coral Gables, FL 33134, USA
---
6. Miami Shores Aquatic Center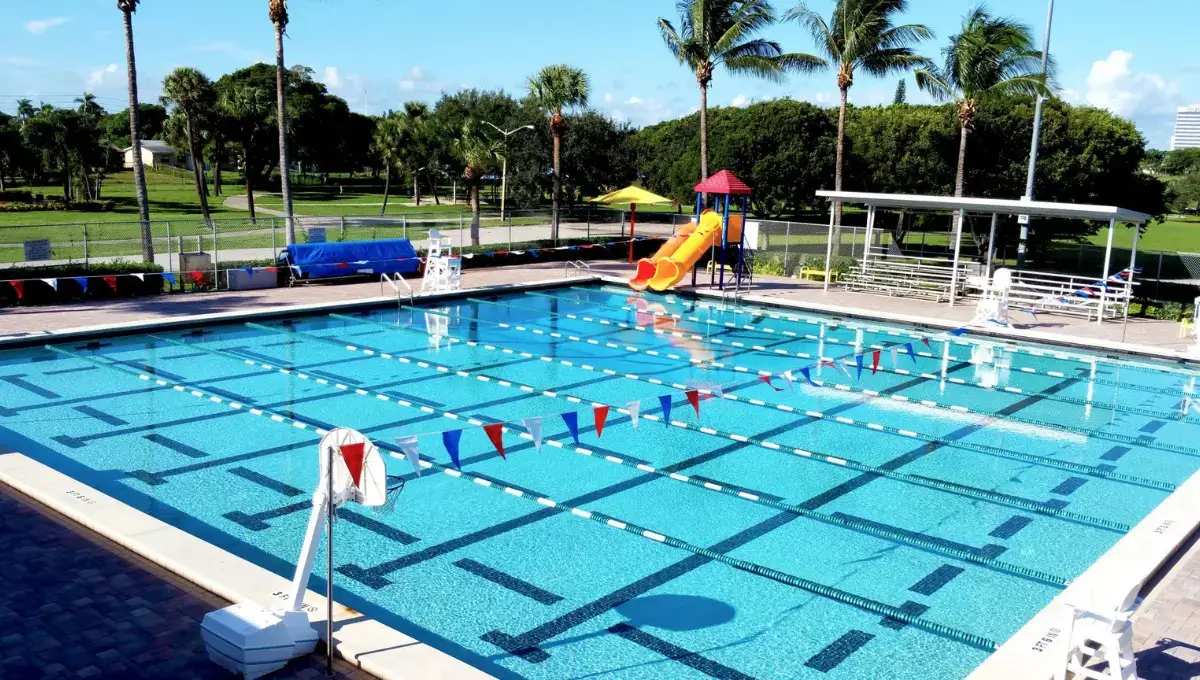 The Miami Shores Aquatic Center is a famous gathering place for recreational pursuits like Red Cross Swim Lessons and The Predators Swim Team, located north of Miami Shores Country Club. Aquatic yoga events are held there.
Additionally, Shipwreck Cove has six slides spread across three levels with a water depth range of 0 to 18 inches. The main draw for children and families is the interactive playground, water cannons, and various spraying equipment.
📍 Address: 10200 Biscayne Blvd, Miami Shores, FL 33138, United States
📞 Phone: +1 305-795-2241
⌛ Timing  
Friday 6–11 am, 2–8 pm
Saturday 11 am–5 pm
Sunday 11 am–5 pm
Monday 6–11 am, 2–8 pm
Tuesday 7–11 am, 2–8 pm
Wednesday 6–11 am, 2–8 pm
Thursday 7–11 am, 2–8 pm
---
7. Calypso Bay Water Bank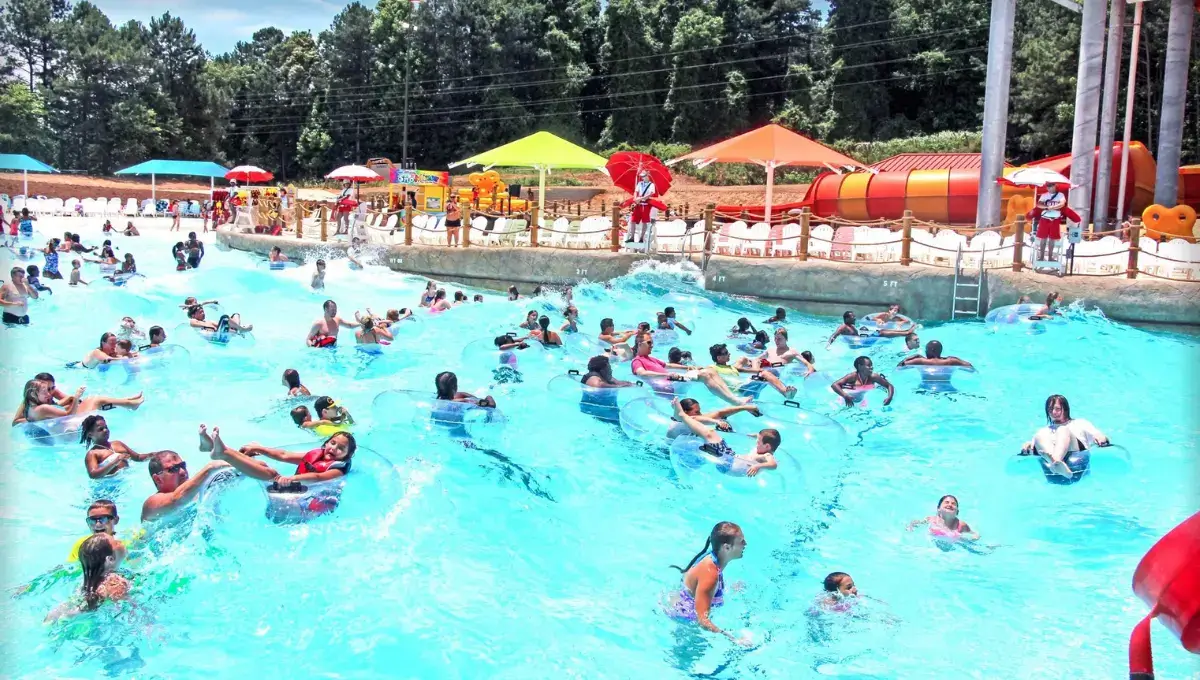 Families may enjoy a picnic at Calypso Bay Water Bank in Royal Palm Beach, thanks to its 897-foot-long river ride and water play areas.
There are separate areas for kids of all ages and adults to relax and splash in the water. Calypso Bay Water Bank might become your go-to location if you seek affordable solutions with good security features.
📍 Address: Seminole Palms Park:151 Lamstein Lane, Royal Palm Beach, FL 33411
📞 Phone: 561-790-6160
⌛ Timing  
Spring Hours
March 18 - March 26
Monday – Saturday 10:00am – 5:00pm
Sundays 11:00am – 5:00pm
March 27 - May 26: Weekends Only* Saturdays 10:00am – 5:00pm
Sundays 11:00am – 5:00pm
*Open Friday, April 7th 10:00am – 5:00pm Family Fun Fridays: May 5, 12, 19, 26
Water Playground ONLY open 10:00am-2:00pm
Summer Hours
May 27 - August 6
Monday – Saturday 10:00am – 5:00pm Sundays 11:00am – 5:00pm
Fall Hours
August 7-September 4: Weekends Only*
Saturdays 10:00am – 5:00pm Sundays 11:00am – 5:00pm *Open Labor Day 10:00am – 5:00pm
---
8. Miami Zoo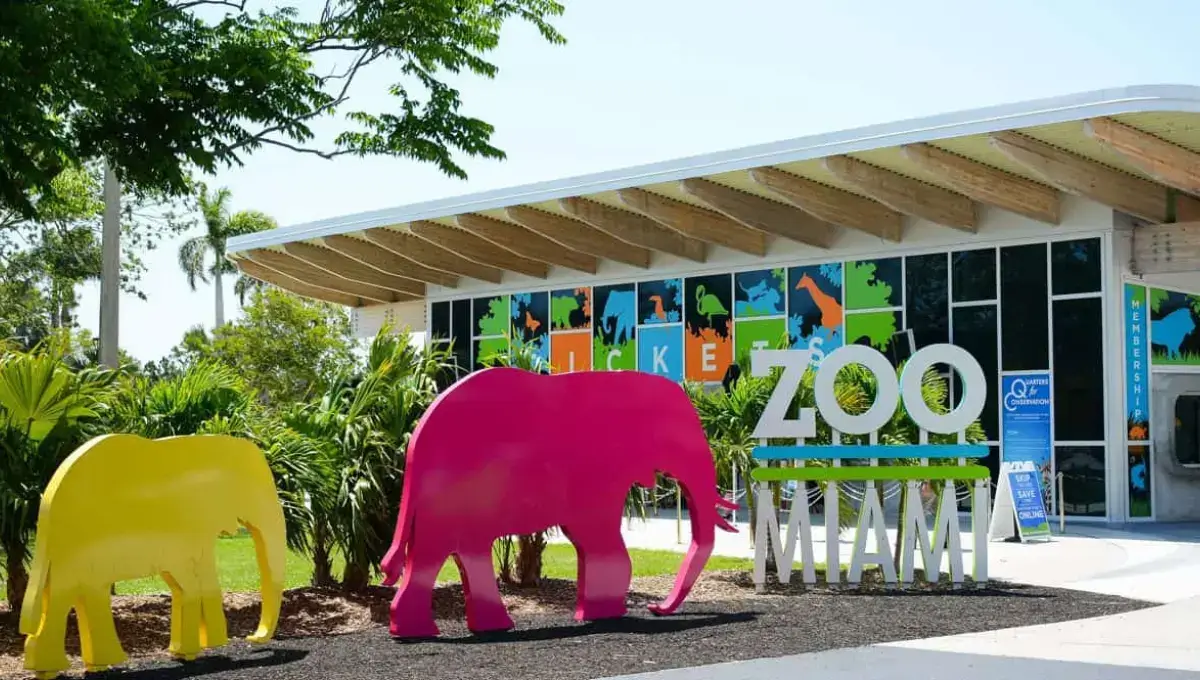 Water attractions resembling playgrounds are available in the local zoo. Imagine a "whale tail waterfall," enormous spray fountains, and overflowing buckets.
Visit the Beyond Village Plaza and Ocean Voyage in the Playworld Playground (the Fiesta Fountain at the Amazon is presently closed).
Both are fantastic locations to take your children or the children you are entertaining so they can run around and get drenched while you relax in the shaded alcoves.
⌛ Timings: 10:00 AM - 05:00 PM
📍 Address: 12400 SW 152nd St, Miami, FL 33177, United States
📞 Phone: +1 305-251-0400
---
9. Victory Pool Family Aquatics Center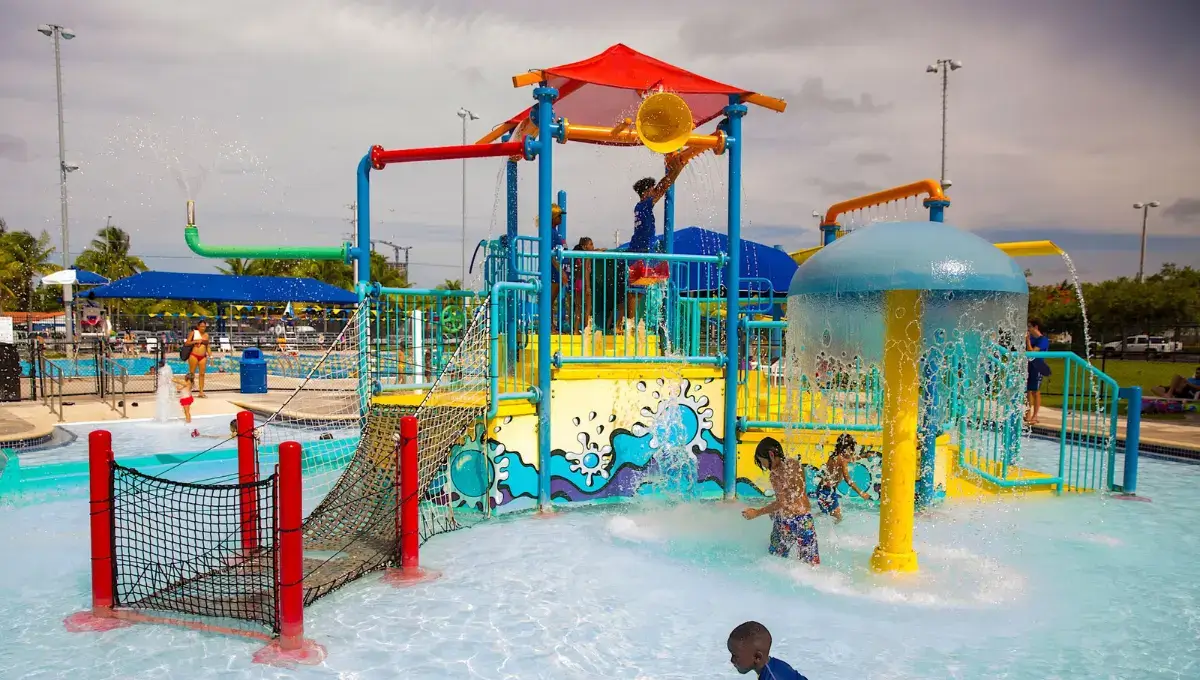 Visitors are delighted by the family-friendly water entertainment offered at Miami's North Bay Village's Victory Pool & Family Aquatics Center.
This cutting-edge facility provides a variety of water-based facilities for people of all ages. The zero-depth entry pool, a genuine crowd-pleaser, enables guests of all swimming abilities to enjoy the water safely.
In contrast, the enormous water slides add even more excitement and enjoyment, making the more daring guests delightfully squeal.
To ensure the small ones' safety and enjoyment, there is a separate splash play area for toddlers with water features.
Lifeguards are constantly on duty to ensure the safety and well-being of swimmers, and the pool is periodically inspected to maintain hygienic conditions.
The Victory Pool & Family Aquatics Center has a variety of shade structures and picnic tables in addition to the water attractions, making it ideal for a family outing.
Taking a plunge in this fun water center is the perfect way to cool the heat and make unforgettable memories, especially in Miami's famously sunny climate.
The facility guarantees a memorable splash-filled experience by combining excitement and relaxation.
📍 Address: 1980 NE 171 St, North Miami Beach, FL 33162, United States
📞 Phone: +1 305-948-2926
⌛ Timing  
Friday 1–4:30 pm
Saturday Closed
Sunday Closed
Monday 1–4:30 pm
Tuesday 1–4:30 pm
Wednesday 1–4:30 pm
Thursday 1–4:30 pm
---
10. Pinecrest Gardens Splash'N Play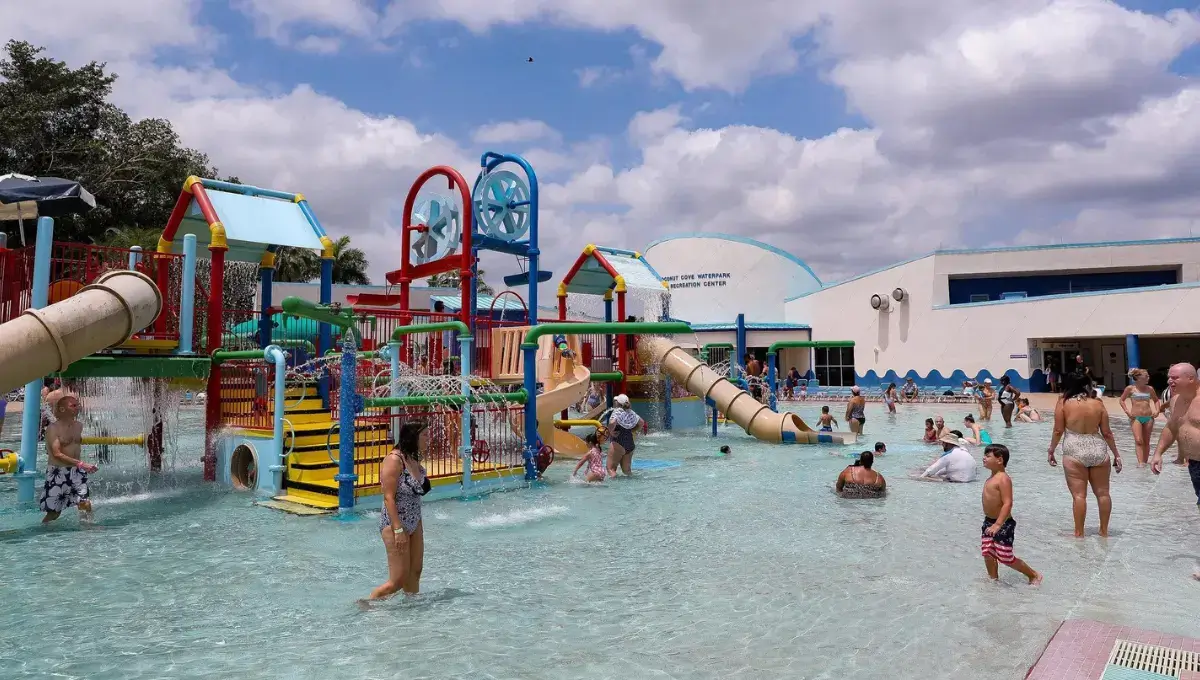 An exciting entertainment area perfect for family vacations is Pinecrest Gardens Splash'N Play, especially on steamy summer days.
This children's paradise, situated in Florida's stunning Pinecrest Gardens, mixes the excitement of water plays with the magnificence of the natural world.
While parents unwind in the gorgeous settings, kids of all ages may cool off at the many water fountains and splash pads.
The verdant Pinecrest Gardens, located away from the water activities, have a variety of plants, winding walks, and lovely picnic areas.
The Splash'N Play is renowned for offering a secure, entertaining environment and has wheelchair-accessible zones to ensure enjoyment for all. This amenity improves the recreational experience, along with a coffee shop, gift shop, and petting zoo.
Pinecrest Gardens, which provides more than a park but a bouquet full of memories, is a beloved family destination thanks to the breathtaking surroundings and the triumphant laughter from the Splash'N Play.
⌛ Timings: 10:00 AM - 05:00 PM
📍 Address: 11000 SW 57th Ave, Pinecrest, FL 33156, United States
📞 Phone: +1 305-669-6990
---
11. McDonald's Water Park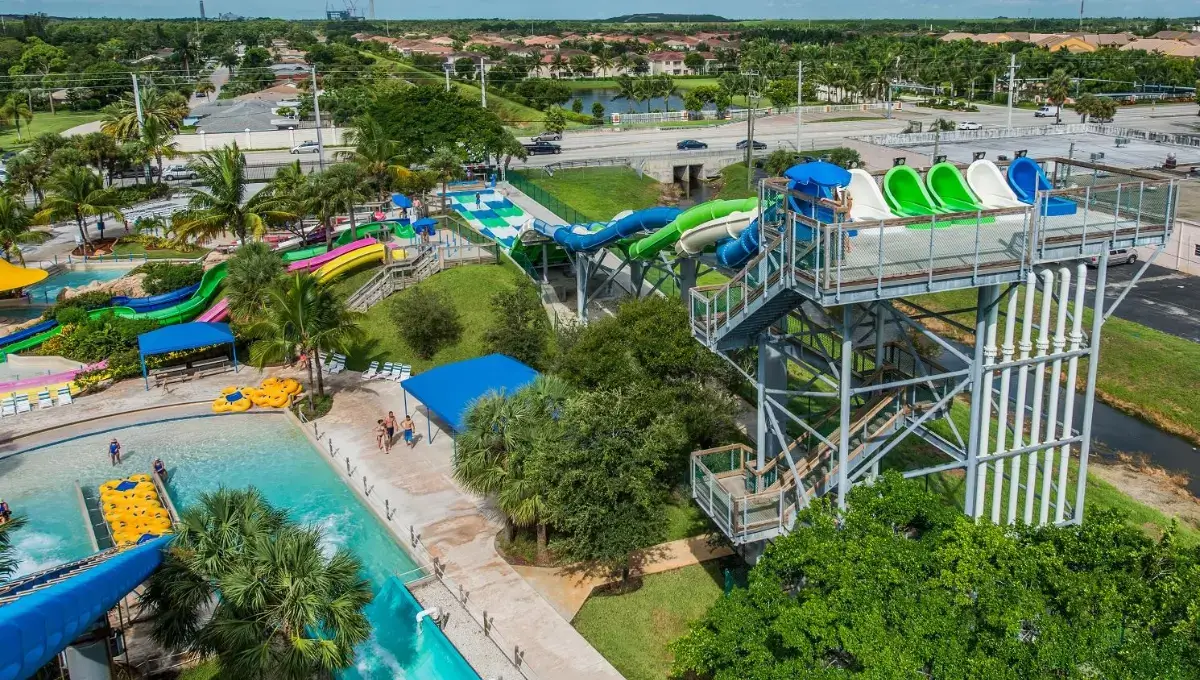 Kids are drawn to the interactive splash pads, water cannons, and water playgrounds at McDonald's Water Park in Miami.
In Hialeah, this park is situated off Ludlam Road, east of Palmetto Parkway, covering around seventeen acres.
It features ten reserved pavilions, three tennis courts, a playground, and racquetball courts, and it surrounds a sizable lake.
The pools, splash pads, and plenty of shade for grownups to catch up on their reading are all at the Mcdonald's Aquatic Center. The umbrellas can also be reserved for private events.
📍 Address: 7505 W 12th Ave, Hialeah, FL 33014, United States
📞 Phone: +1 305-818-9164
⌛ Timing  
Friday Closed
Saturday 12:30–5:30 pm
Sunday 12:30–5:30 pm
Monday Closed
Tuesday Closed
Wednesday Closed
Thursday Closed
---
FAQs For Water Parks In Miami
There are a lot of questions that come to mind when choosing water parks in Miami, some of the commonly asked questions are answered below.
Q. What is the largest aqua park in Florida?
A. The largest aqua park in Florida is known as "Tropical Tide Water Park."
Q. What is the famous park in Miami Florida?
A. One of the famous parks in Miami, Florida, is "Aquatic Adventureland."
Q. What is the biggest water park in the USA?
A. The biggest water park in the USA is "Noah's Ark."
Q. Is Aquatic Adventureland suitable for young children?
A. Yes, Aquatic Adventureland offers a designated area for young children with age-appropriate attractions and shallow pools.
Q. Can I bring outside food to Splash Kingdom?
A. Outside food is not allowed in the park, but there are plenty of dining options available inside.
Q. Does Miami have an amusement park?
A. Yes, Miami has several amusement parks, including water parks like "Tropical Tide Water Park" and "Aquatic Adventureland."
Q. Why is Miami called Magic City?
A. Miami earned the nickname "Magic City" due to its rapid growth and transformation, seemingly rising from swampland to a bustling metropolis almost like magic.
Q. Is Disney World close to Miami?
A. Disney World is not very close to Miami; it's located in Orlando, which is about a 3 to 4-hour drive away from Miami.
---
Conclusion
When it comes to beating the Miami heat, the Best Water Parks In Miami are the perfect solution.
From heart-racing slides to relaxing lazy rivers, these parks offer a blend of excitement and relaxation that's sure to please visitors of all ages.
Plan your visit to one of these parks and make the most of your time in Miami's aquatic paradise. So pack your swimsuit, grab your sunscreen, and get ready for a splashing good time!
---
✉ Tell Us In The Comment As Per You Which are The Best Water parks in Miami.
Also, don't forget to book your personalized holiday package with Fiery Trippers. Let us make your vacation a romantic as well as a dreamy getaway.
---