Are you searching for romantic destinations for your next couple's vacation? If you have no idea where to go, this article can help you in finding the most romantic destinations in the USA.
The vast nation of the United States of America is home to a variety of landscapes, thriving cities, and quaint rural villages.
There are many places to pick from whether you're organising a honeymoon, anniversary trip, or simply a romantic weekend.
The USA has plenty to offer every kind of couple, from the breathtaking natural beauty of Hawaii to the energetic city of New York.
This information will help you and your sweetheart plan the ideal romantic retreat, whether for an anniversary or just. Choose your next solo getaway from this selection, and then vote for your top destinations below.
---
What is the city of love USA?
Philadelphia means "brotherly love" in the original language. Philadelphia earned the moniker "City of Brotherly Love" for this reason. Its true name is that as well as its moniker. Philadelphia, a Quaker city, was exceedingly welcoming to guests while still taking its commitment to morality seriously.
---
Here Are The list of the 11 Most Romantic Destinations In The USA
After doing a lot of research and considering the tripper's reviews we have shortlisted some of the best places to visit in the USA for couples.
Charleston, South Carolina
Mobile, Alabama
Naples, Florida
Hudson Valley, New York
The Berkshires, Massachusetts
Bar Harbor, Maine
Wellfleet, Massachusetts
Cleveland, Ohio
Minocqua, Wisconsin
Seattle, Washington
Kauai, Hawaii
1. Charleston, South Carolina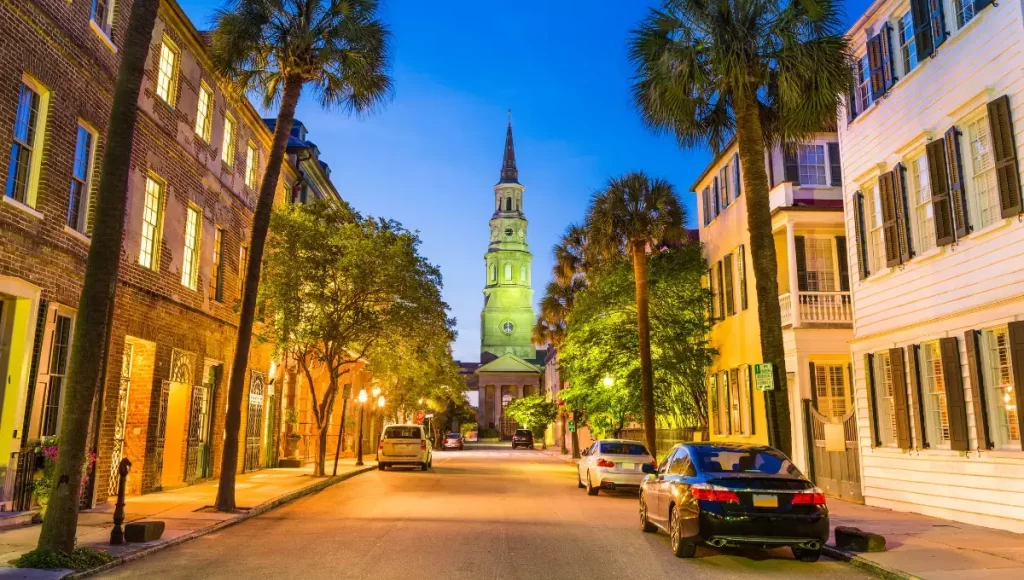 One of the most romantic destinations in the US is Charleston, particularly in the fall when the days are shorter, and the weather is mild with just a hint of a chill.
The ideal setting for amorous romantic along Charleston's famed gaslight-lit streets and alleys. The smoke that emanates from nearby buildings contributes to the cosy ambience.
Charlestonians find the low 70s and high 60s during the autumn season to be a bit chilly, so they often wrap up at night.
Although the cool temperatures are not ideal for going to the shore, they are suitable for walking tours. Charleston's historical tours and pub crawls are both entertaining choices.
---
2. Mobile, Alabama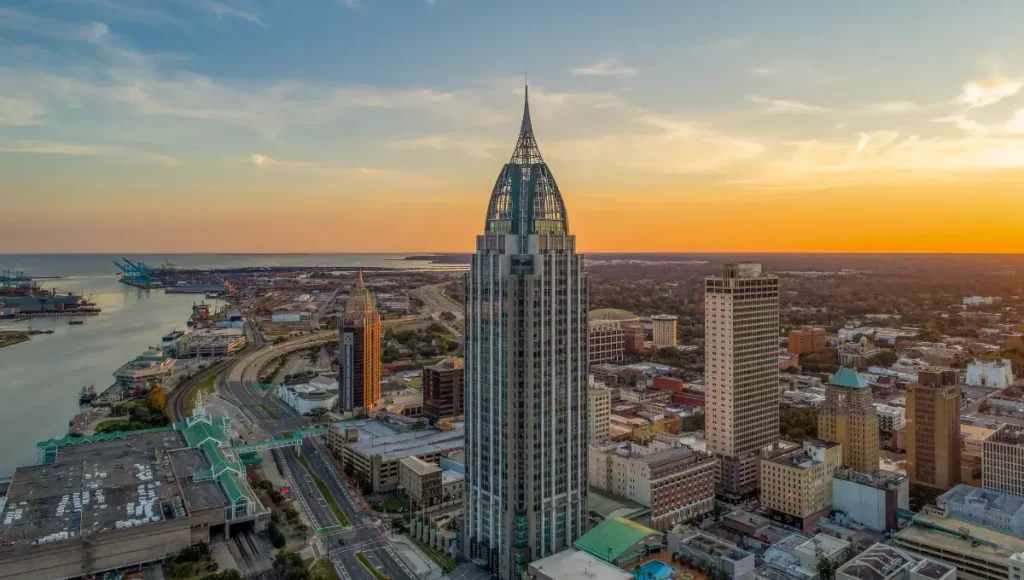 Mobile, Alabama, is the ideal location to live out your fantasy of playing Scarlett O'Hara and Rhett Butler from Gone with the Wind with your significant other.
It's simple to believe you've travelled back to the 19th century in this peaceful city on the central Gulf Coast, which exudes southern hospitality and elegance.
Spanish moss is draped from the branches of the tall oak trees that shade the downtown's main streets, Dauphin Street and St. Francis Street, which are lined with stately homes from the pre-Civil War period.
A few of these houses are currently accessible to visitors as museums. The Oakleigh House, a Greek Revival-style residence that once belonged to a wealthy cotton broker, is arguably the best.
Mobile, Alabama, is a lovely destination for spring break in the US, even though the mild climate makes it suitable for travel at any time of year. This is mainly because of the Azalea Trail Festival, which occurs early in the season.
---
3. Naples, Florida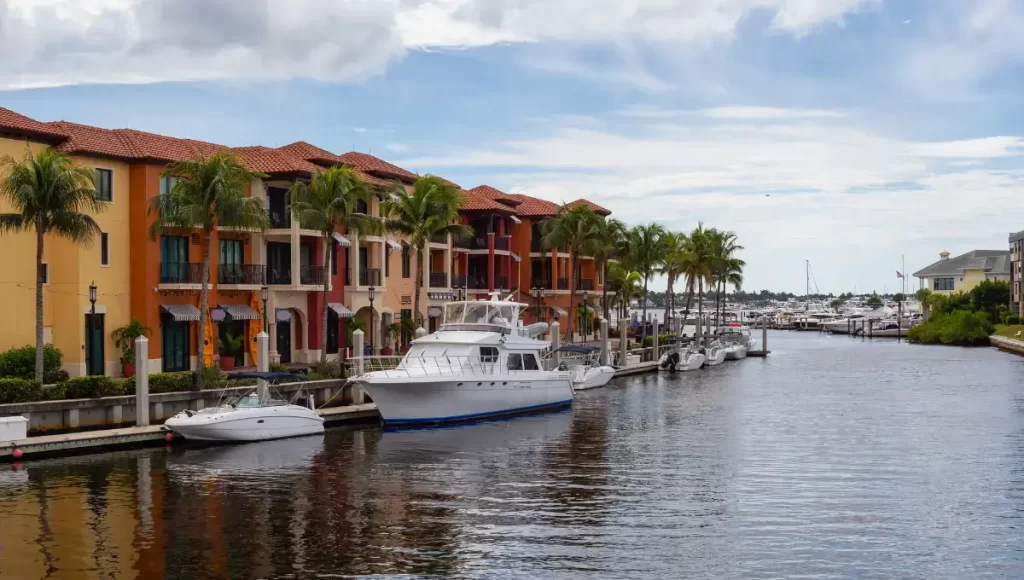 There are countless romantic escapes in America, and Naples, Florida, is one of them. Naples, hidden away in Southwest Florida, is surrounded by stunning beaches with white sand, turquoise sea, and an overall calming, romantic atmosphere.
Visit the beach—whether for a sunrise, sunset, or afternoon stroll—it's the most romantic thing to do in Naples. Couples won't be let down.
Adventuresome lovers can even go sailing or kayaking at dusk. Remember to keep a watch out for dolphins! Naples Beach is another lovely location from which to view the setting sun.
Everglades National Park is yet another romantic destination that is a must. On excursions, couples can see diverse wildlife, coastal mangroves, and other sights.
Along with the stunning natural scenery, Naples provides a cosmopolitan gem: the idyllic Fifth Avenue of the South.
---
4. Hudson Valley, New York
The ideal romantic retreat in the United States is the Hudson Valley in New York. Between Albany to the north and New York City to the south, the basin encircles the Hudson River.
Many mansions from New York's gilded period can be found on the east bank of the river, and many of them have spacious lawns ideal for a romantic picnic with views of the Hudson River. Couples can also sample wines and ciders at various vineyards and cider houses.
Some locations, like Brooklyn Cider House and Westwind Orchard, offer wood-fired pizza and cider tastings, allowing visitors to eat pizza and drink cider on the grass beside their farms.
Take a Hudson River cruise from Kingston, or even stay in a tiny B&B once a lighthouse in Saugerties for more romantic choices.
---
5. The Berkshires, Massachusetts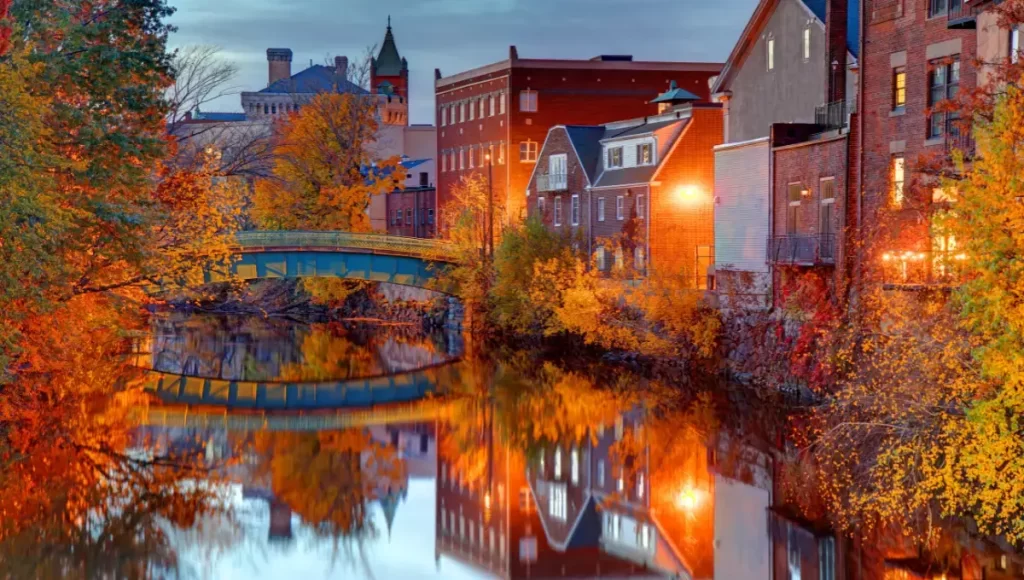 The Berkshires, a rural area of Western Massachusetts, are distinguished by their mountains and charming villages.
From Boston and NYC, which are both about three hours away, it's a well-liked romantic escape. The Berkshires have stunning autumn foliage and are incredibly beautiful.
All levels of hikers can find a trail to suit their abilities, and parts of the Appalachian Trail even travel through the mountain.
If hiking isn't your style, a scenic drive will get you there. On a clear day, the summit offers expansive vistas that reach as far as Vermont and New Hampshire. You can also view the stars on a clear night.
Small villages like Stockbridge, Lee, and Lenox in the Berkshires should be explored on foot. You'll find independent art galleries, antique shops, and traditional general stores selling regional products.
---
6. Bar Harbor, Maine
Bar Harbor does not disappoint tourists looking for a romantic getaway on Maine's serene shoreline.
The tiny tourist community, located on picturesque Frenchman Bay, is a favourite among honeymooners trying to escape their hectic city lives and work schedules.
Those seeking leisure and quality time with their loved ones are drawn to the area by its seafood restaurants, many of which have outdoor patios, its handcrafted goods stores, and its relaxed atmosphere.
On land and water, romantic activities are abundant. Small-group sailing is available at the Bar Harbor Inn, which has a view of the city pier.
A whale watch, on the other hand, is a beautiful romantic exercise for couples who enjoy the outdoors. Several tours are offered daily by the aptly named Bar Harbor Whale Watch Company, with opportunities to see puffins on the nearby islands.
What could be more romantic than a hike through the forests after exploring the sea? The Acadia National Park, which abuts Bar Harbor, has some fantastic treks.
---
7. Wellfleet, Massachusetts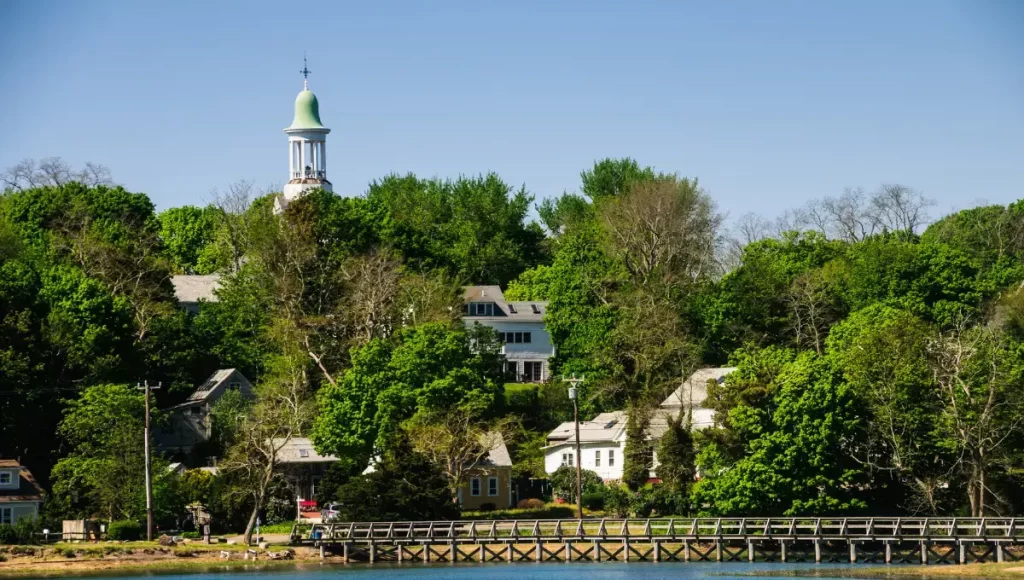 Known for its strong surf and soft sand, Massachusetts is a small area of territory on the Outer Cape.
It's difficult not to find this Cape Cod fishing town romantic with its charming atmosphere, peaceful spring-fed kettle ponds, and quaint art galleries. You'll discover a lot of romantic activities in this area, which is only two miles broad.
Cahoon Hollow Beach is a great place to unwind on the shore while surrounded by dunes. (You might also pay a visit to the renowned Beachcomber, a small venue that features some well-known musical performers.) Indulge in nostalgia at the Wellfleet Drive-In after the day.
Pack a lobster roll and some drinks to toast the sunset at Duck Harbor Beach for a traditional romantic evening.
---
8. Cleveland, Ohio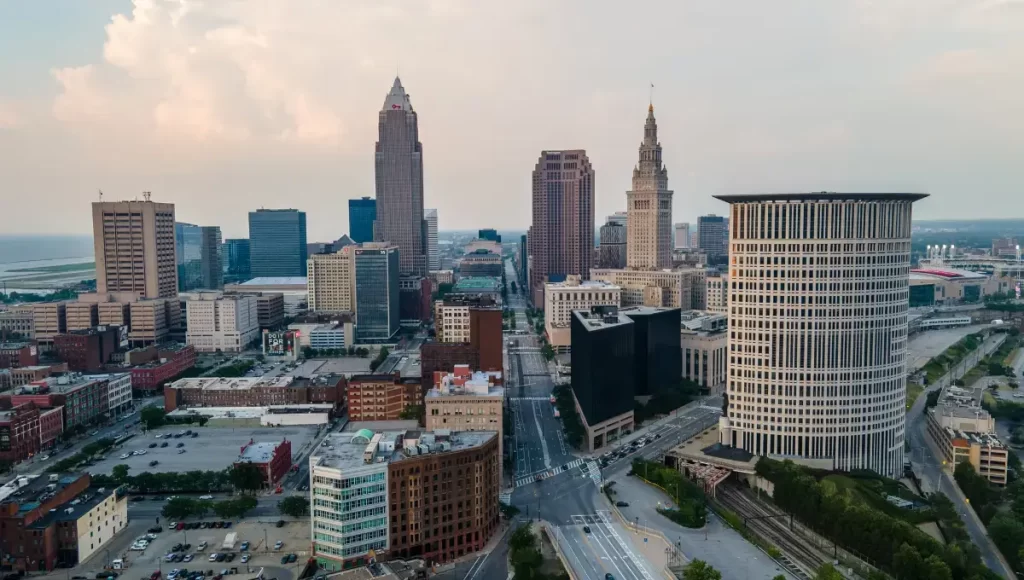 Cleveland, Ohio, is an excellent destination for a last-minute romantic getaway if you're searching in the United States.
No matter what kind of romance you prefer, this quiet lakefront community with a Midwestern feel has something to offer everyone.
Cleveland is home to museums like the famous Rock and Roll Hall of Fame and the Cleveland Museum of Art, one of the finest free art museums in the nation for those who are most interested in culture and history.
Additionally, you can watch a Broadway production at one of the famed venues in Playhouse Square or catch a performance by the Cleveland Orchestra at Severance Hall.
Let's say you prefer the outdoors and wildlife. In that case, you could go on a seaside date to Cleveland's city beach at Edgewater Park or stroll in the Cleveland Cultural Gardens.
---
9. Minocqua, Wisconsin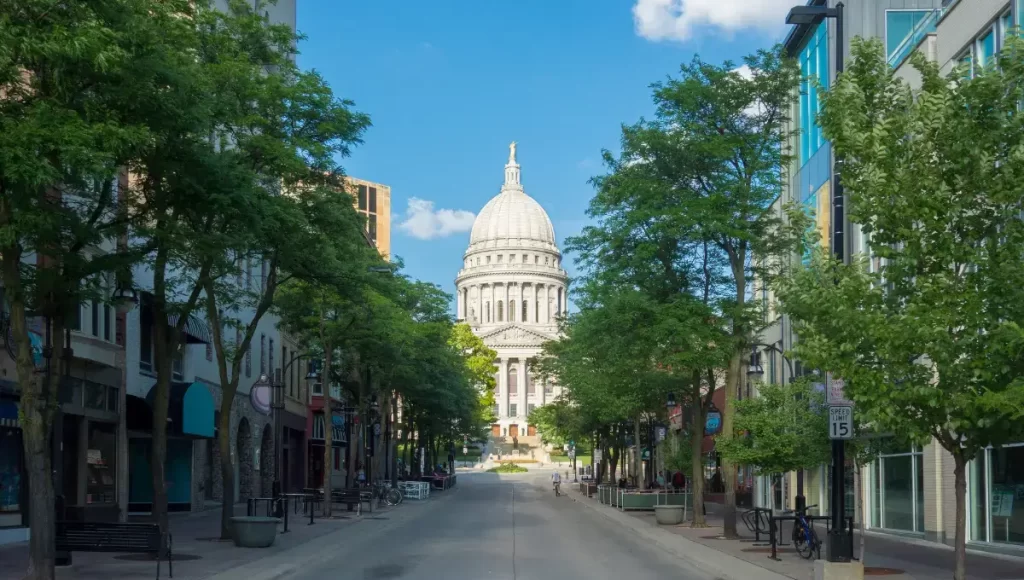 Oneida County, Wisconsin's Minocqua, is home to one of the finest romantic getaways in the country. Minocqua, which has a small population and is a tiny municipality, is frequently called The Island City.
The community's name, Minocqua, which means noon-day rest in the Ojibwe language, was given to it when it was formally founded in 1889.
Even though Minocqua was a logging town in the early 1800s, it ultimately became a romantic, idyllic vacation spot.
In addition to having one of the largest freshwater bodies in the world, the city of Minocqua also has a sizable tourism business.
The centre also boasts Clawson Hill, a well-known icon and the hub of Pointe hotels and resorts. That is what distinguishes it as a destination in general.
Additionally, you can visit a romantic location like the Minocqua Winter Park & Nordic Center, which offers snow sports facilities and a variety of engaging activities.
---
10. Seattle, Washington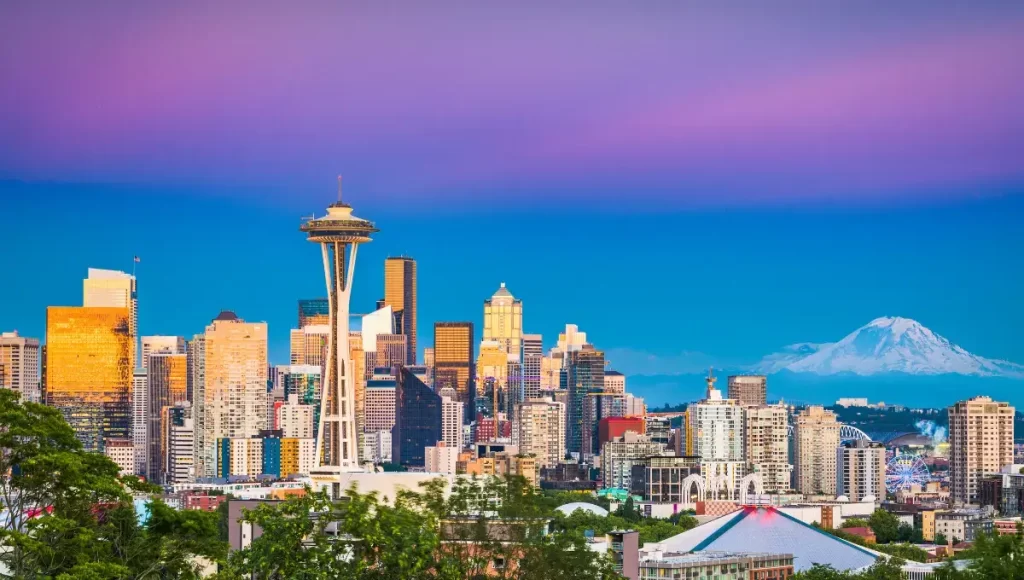 People don't typically consider Seattle their first choice for a romantic vacation in the United States.
However, Emerald City is a popular honeymoon location in the USA, thanks to the stunning mountain and ocean scenery.
Whether you stay in Seattle for a day or three, you and your partner will undoubtedly discover enjoyable things to do.
One of the most romantic places is Golden Gardens Park, where you can stroll along Alki Beach, ride the Great Wheel (and steal your significant other's kiss), and picnic with a glass of wine. Visit Discovery Park on Magnolia Buff before the day is done to see a gorgeous sunset.
---
11. Kauai, Hawaii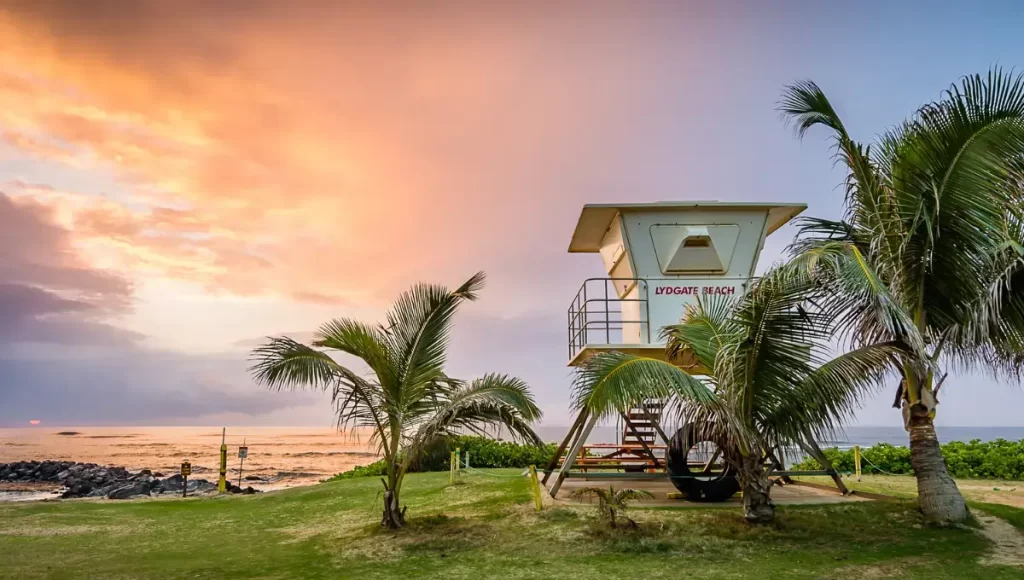 An escape to the shore is very romantic, and in Hawaii, Kauai is the best option. Since it is less populated and crowded than other well-known islands like Oahu or Maui, you can fully unwind, unwind together, and enjoy quality time on the island. Despite the island's tiny size, there are plenty of romantic activities to enjoy.
Visit Waimea Canyon to take in the breathtaking scenery, stand next to the thundering Wailua Falls, or go on a boat excursion of the legendary Na Pali Coast.
If it's a sunset cruise, bonus marks for romance. Sea Glass Beach's sunsets are ideal for an intimate evening.
For couples who are feeling adventurous, there is a memorable tubing trip through the jungle that lets you float down former irrigation channels.
---
Conclusion:
The USA is full of romantic places for couples to visit, from lovely rural villages to vibrant cities and breathtaking natural places.
The USA provides everything you might want, whether you're looking for a romantic mountain retreat, a beach holiday, or a wine-tasting experience.
We hope that our guide has inspired you to plan a romantic getaway with your special someone in the future.
---
FAQs For Romantic Destinations In The USA
There are a lot of questions that come to mind while choosing romantic destinations in the USA some of the commonly asked questions are answered below.
Q.1 Which city is the most beautiful in the USA?
Charleston, South Carolina, to start. One of the most picturesque cities in the US is without a doubt Charleston. The picture is set by enormous oak trees covered with Spanish moss, while pastel-painted homes line the cobblestone lanes.
Q.2 Is New York the most romantic city?
The number of fine dining restaurants, romantic hotels, couples activities, and searches for date ideas was examined in a recent study by Travel Lens to determine the most romantic locations in the globe and the US. Of course, New York City is at the top of the list with the highest romantic city score of 9.19 out of 10.
Q.3 What is the city of love and romance?
Paris
Romance and Paris go together like champagne and oysters, coffee and croissants, and jambon and beurre, which is why infatuated lovers travel thousands of miles to the French city on Valentine's Day every year.
Q.4 Is Seattle a romantic city?
Seattle, which is a charming fusion of a metropolitan city and the lush Pacific Northwest, is located modestly in the shadow of the Olympic Mountains.
---
Tell Us In The Comments Which One Is The Best Romantic Destinations In The USA?
Also, don't forget to book your personalized holiday package with Fiery Trippers. Let us make your vacation a romantic as well as a dreamy getaway.