Are you planning to visit Mexico and want to enjoy the famous festival of Mexico? If you have no idea about Mexican festivals? This article can help you in knowing the best Mexican festivals.
Festivals are important in Mexican culture because they respect and remember loved ones who have passed away as well as the nation's customs, religion, and history. They also help bring together people and create a sense of community.
Mexico is a country with a wide variety of traditions, stunning colors, and a rich culture. One of the most captivating aspects of Mexican culture is its festivals.
Mexican festivals are a celebration of life, food, music, and spirituality, from the large to the small. In this post, we'll look at how important Mexican festivals are to the culture of the nation and why visitors must experience them.
We will look at the history, rituals, and traditions of the most well-known Mexican festivals and provide information on how outsiders can take part in these traditional celebrations.
Mexican festivals provide a unique chance to fully immerse yourself in this fascinating country's rich and colorful culture, whether you're a local or a visitor.
Mexicans have a strong sense of tradition, which is seen in their celebrations. The Mexican people take delight in upholding these traditions year after year, whether it's a harvest festival or a religious celebration.
These festivals are a view to behold, with some of the most delectable food and vivacious music around. Therefore, be sure to attend the celebrations if you ever visit Mexico.
---
What is the famous festival in Mexico?
Three Kings Day, Candlemas, Guadalajara, Saint's Week, and All Saints Day are a few of the greatest Mexican holidays. What major holidays are observed in Mexico? Ano Nuevo, Dia de la Constitución, Dia del Trabajo, Dia de la Independencia, and Dia de la Revolución are the principal holidays observed in Mexico.
---
List of 11 Best Mexican Festivals To Celebrate And enjoy
Below are some of the famous celebrations in Mexico.
New Year's Eve – The final night of the year, celebrated with parties, fireworks, and countdowns to midnight.
Three Kings Day – A Christian holiday on January 6th, commemorating the arrival of the Three Wise Men and the Epiphany.
Carnival in Veracruz & Mazatlán – A pre-Lenten celebration in Veracruz and Mazatlán, featuring colorful parades, music, dancing, and costumes.
San Pancho Music Festival – A music festival in the charming beach town of San Francisco, Nayarit, featuring local and international artists.
Festival de Mexico – A cultural festival in Mexico City, showcasing music, dance, theater, and art from around the world.
Spring Equinox – A celebration of the beginning of spring, observed at the ancient Mayan ruins of Chichen Itza.
Day of the Dead – A two-day holiday on November 1st and 2nd, honoring deceased loved ones with altars, offerings, and festivities.
Art with Me – An art and cultural festival in Tulum, featuring exhibitions, workshops, performances, and talks.
Vive Latino – A music festival in Mexico City, featuring a diverse lineup of Latin American and international artists.
Guelaguetza Festival – A cultural festival in Oaxaca, that celebrates the state's indigenous traditions with music, dance, and food.
Whale Shark Festival – A celebration of the whale sharks' annual migration in Isla Mujeres, featuring ecotourism, workshops, and cultural events.
1. New Year's Eve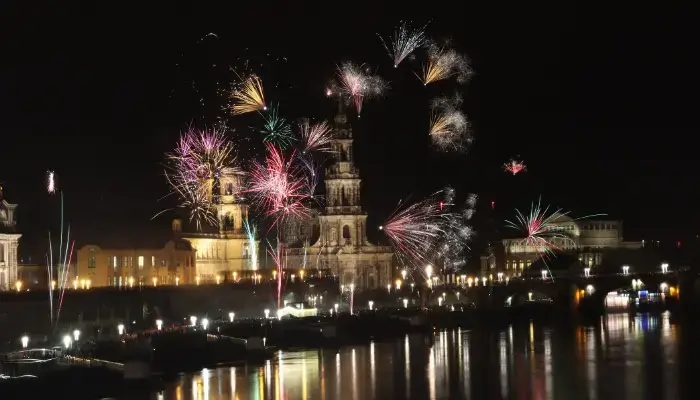 The gathering lasts all night! It's a really enjoyable night to celebrate in Mexico, whether you're in Mexico City or on the beach in Cancun. No matter where you are in the country, prepare for a lot of fireworks.
Cancun, Playa del Carmen, Mexico City, Puerto Vallarta, Monterrey, and Guadalajara are a few of the best locations in Mexico to ring in the new year.
Since January 1st is a federal holiday, many companies are closed. The majority of tourist attractions remain open, or you may simply go to a bar and sip tequila to get over your New Year's Eve hangover!
Also Read: Best Beers in Mexico
---
2. Three Kings Day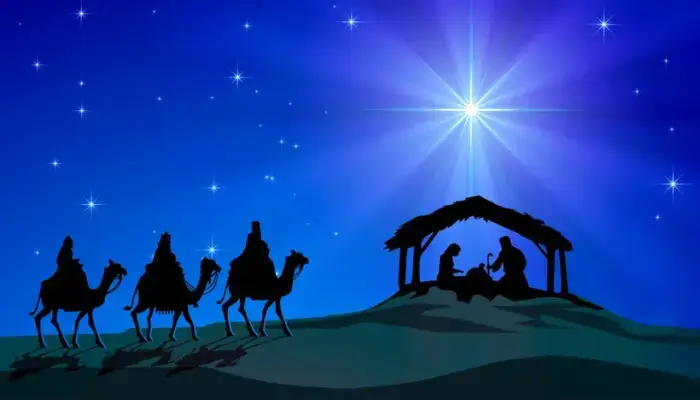 Twelve days after Christmas, on January 6, is Three Kings Day, which honors the arrival of the Three Wise Men who brought Jesus presents. Fun fact: On Christmas Day, the Three Kings, not Santa Claus, bring gifts to Mexican children.
Children's gifts are sold at particular marketplaces in Mexico leading up to this festival. Also popular is Rosca de Reyes, a delicious bread with dried fruit on top.
A baby Jesus figurine is concealed inside, and whoever discovers it is required to throw a celebration for the forthcoming Candlemas Day.
Also Read: 15 Best Casinos In Mexico
---
3. Carnival in Veracruz & Mazatlán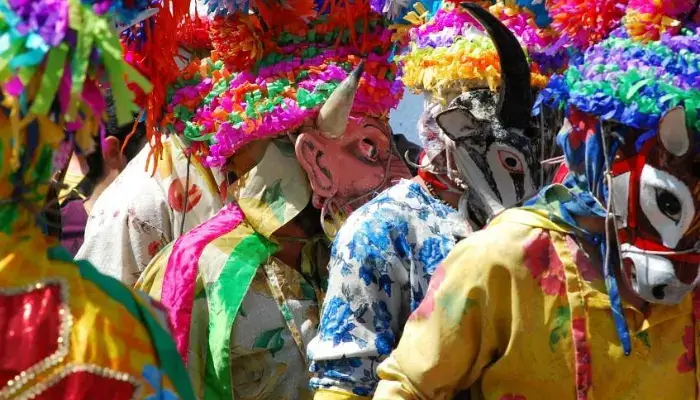 Carnival is one of Mexico's most well-known celebrations, taking place in several locations all around the nation.
You can take part in parades with colorful costumes, street dancing, and other enjoyable events in Veracruz and Mazatlan that capture the fervor and passion of this age-old custom.
Before Lent officially begins, there is a celebration known as Carnaval during which people can have fun and relax before beginning a season of fasting and introspection.
Other nations also celebrate it as Mardi Gras, which is derived from the Latin word "Carne vale," which means "farewell to meat."
The nine-day celebration brings together both locals and visitors. Carnaval is the ideal event in Mexico for you, whether you're searching for kid-friendly entertainment, a wild night out with friends, or an exhilarating cultural experience.
Veracruz, one of the oldest cities in all of Mexico, is situated on the Gulf of Mexico, thus it should come as no surprise that this city has one of the largest and best Carnivals.
Among the other attractions of the celebrations are street sellers, dancers wearing ornate costumes, and colorful parade floats.
I can guarantee that being surrounded by Latin feelings will make you never want to leave this side of Mexico!
Be ready for a bustling and entertaining celebration if you decide to travel to Mazatlan during Carnaval. This city on the Pacific coast is famed for its stunning beaches, making it the ideal destination for a relaxing break any time of the year.
Also Read: Best Pyramids In Mexico
---
4. San Pancho Music Festival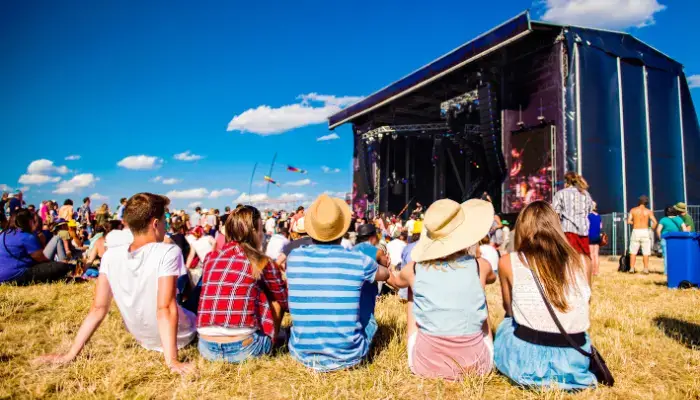 On the final weekend of February, a music festival is held in the little coastal town of San Pancho (also known as San Francisco). What began as a small-scale festival in a person's backyard has developed into one of the top musical events in the area.
Three days of festivities are held, with a variety of musical performers, food, drink, and arts & crafts merchants. One of the best things to do in San Pancho in February is fun for the whole family. To find out more, click here.
---
5. Festival de Mexico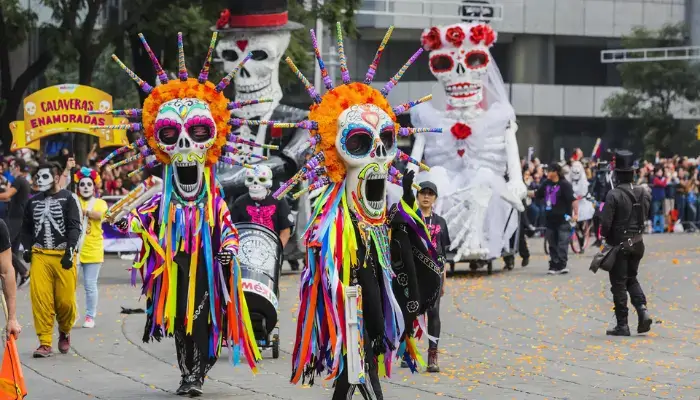 Festival de Mexico is the place to go if you want to engage in an interesting cultural experience and discover more about Mexican history and culture.
This well-known celebration of Mexican culture honors the nation's rich legacy via music, dancing, art, film, literature, food, and more each March in Mexico City.
You can catch films in theaters all across the city, go to live concerts and see art exhibits during Festival de Mexico.
Additionally, you can tour well-known areas like Roma, Condesa, and Polanco. You can try the cuisine from a variety of Mexican areas in these suburbs, which have a wide variety of eateries, bars, and cafes.
This two-week festival draws visitors from all over the world. Festival de Mexico is the ideal opportunity to fully experience Mexican culture and discover more about this wonderful nation, whether you're traveling alone or with your family.
You can't go wrong with this festival because it offers a wide range of entertainment and exciting experiences at every turn. Whether you want to shop at one of Mexico City's many markets or enjoy dancing and nights out, Festival de Mexico has what you're looking for!
Also Read: 11 Best All-Inclusive Resorts In Mexico
---
6. Spring Equinox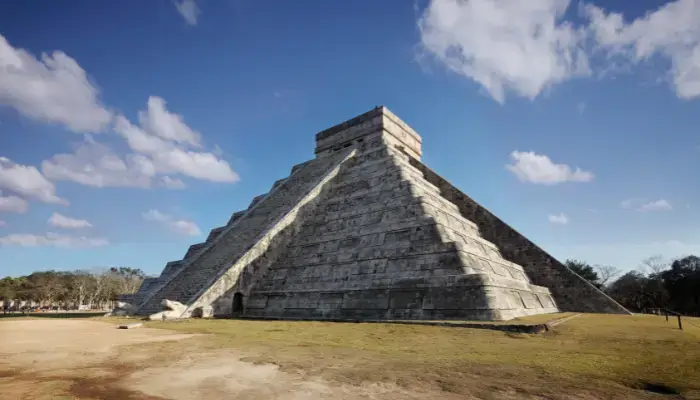 Traveling to Chichen Itza for the spring equinox is among the greatest things you can do in Mexico in March. On this particular day, the sun creates a serpent-like shadow on the main temple.
Given that Kukulkan, a feathered serpent god, is honored in the temple, it is not merely a coincidence.
Numerous individuals travel great distances to witness this breathtaking spectacle in person. For both locals and visitors, this is one of Mexico's most amazing celebrations.
---
7. Day of the Dead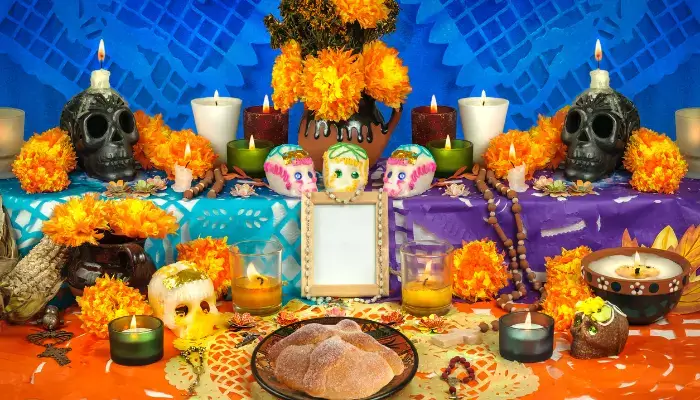 This customary celebration, known as Da de Muertos in Spanish, is observed all around Mexico. Extensive ofrendas (altars) are constructed by families to honor the deceased and welcome them home.
Contrary to popular belief, the Day of the Dead celebration is everything but depressing. Mexico is experiencing a highly lively and colorful season.
Plan your trip so that you can take part in this event in Mexico from October 31 through November 2 if you can. You may take in the celebration in Oaxaca City and Mexico City, respectively.
---
8. Art with Me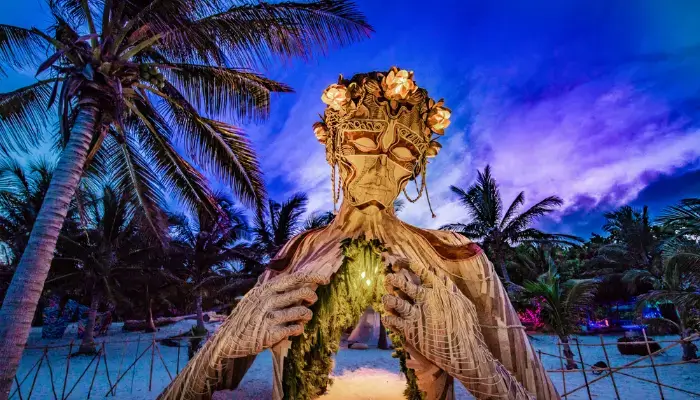 One of Mexico's most picturesque cities, Tulum organizes Art with Me, a well-liked music festival that highlights regional art, music, and cuisine every March and April.
For many years, Tulum has been a popular destination for singers, artists, and filmmakers since it offers the ideal setting for artistic expression because of its breathtaking natural surroundings.
You may catch live performances by upcoming local bands, exhibitions by up-and-coming artists, and screenings of short films produced by aspiring filmmakers at Art with Me.
Along with the chance to eat delectable regional cuisine and shop at distinctive local markets, Art with Me offers a fully immersive cultural experience unmatched by anything else.
Six pillars—art, care, dancing, breathing, play, and community—support the festival. Join courses for dance, meditation, healing, and other topics throughout the weeks.
Whether you're traveling to Tulum by yourself or with friends and family, Art with Me is the ideal chance to plunge deeply into a distinctive experience that is surrounded by the stunning Mexican landscape.
You can see several concerts, workshops, movies, and art exhibits with a 3-day general admission pass, which costs as little as $169.
And when you're not taking part in the festival, you can unwind on Tulum's pristine beaches, one of Mexico's most picturesque coastal towns.
---
9. Vive Latino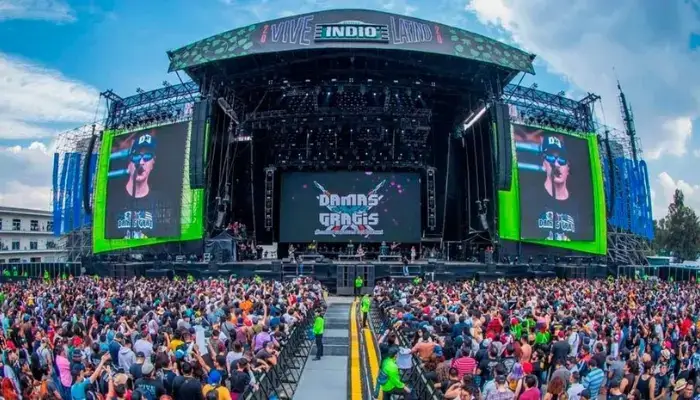 Look no further than Vive Latino if you want a fiesta that will blow you away. One of the most well-liked events in all of Latin America is this enormous music festival, which is held in Mexico City in March.
Vive Latino features music from all genres, so there's something for everyone there, whether you're seeking lively dance music or want to unwind with some lounge-like background sounds.
This event showcases all that Latin music has to offer, from reggaeton and salsa to hip-hop and rock.
In addition to the outstanding performances, Vive Latino is distinguished by its lively atmosphere. People from all walks of life come together at this event to share their love of music and take in Mexico's vivid culture.
Tickets for the two-day festival are frequently sold out well in advance. The cost of the general entrance is USD 150, but if you want to spend more, you may get VIP tickets that give you access to exclusive lounges and free food and beverages.
Vive Latino is a festival you can't miss if you enjoy partying and have a taste for Latin music. To fully appreciate Mexico City's historical attractions, extend your stay by a few extra days.
---
10. Guelaguetza Festival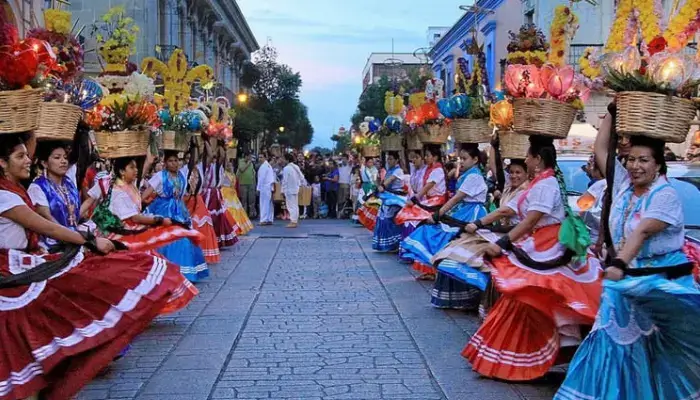 For this event alone, July might be the ideal month to travel to Mexico if you're interested in the local culture. Over two weekends, Oaxaca City hosts the Guelaguetza Festival (try saying that one three times fast!).
In Oaxaca City, representatives from surrounding areas perform traditional dances and display their exquisite, original attire. This festival honors the indigenous groups who comprise the State of Oaxaca (of which, there are 16).
It's challenging to find tickets for the major event, so check through Ticketmaster Mexico to see if you can. If not, there are lots of free activities that happen on city streets. One of Mexico's best cultural festivals is this one.
---
11. Whale Shark Festival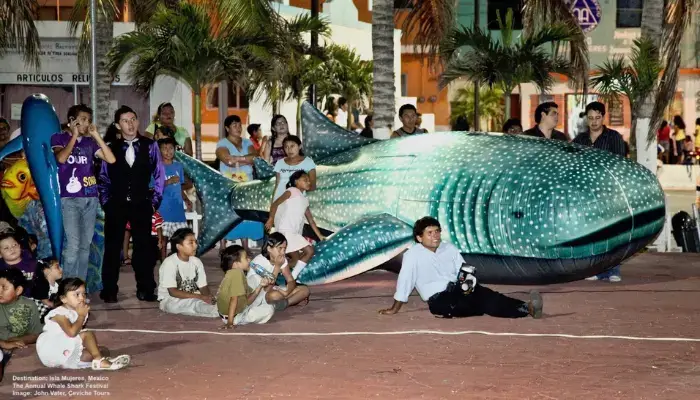 Isla Mujeres hosts this festival in July to honor the island's natural beauty and rich cultural heritage. The abundance of whale sharks that live in these seas is the main draw, as implied by the name.
Along with swimming with the magnificent whale sharks, you may eat local cuisine, take in some traditional dancing, and browse handicrafts made by regional artists.
More than just a festival, this is an opportunity to spread awareness of the value of eco-friendly travel and the need to protect not only whale sharks but the entire marine ecosystem.
---
FAQs About Mexican Festivals
There are a lot of questions that come to mind while searching for Mexican festivals, some of the commonly asked questions are answered below.
Q. What is Mexico's biggest holiday?
A. The most significant patriotic statutory holiday in Mexico is celebrated on September 16—Dia de la Independence or Anniversario de la Independence—in remembrance of the country's independence from Spain. Numerous schools are closed, and there are parades.
Q. What is the most largely celebrated holiday in Mexico?
A. What Is the Most Important Mexican Holiday? Although there are several Mexican holidays with historical and cultural significance for Mexico as a nation, the Da de la Independence celebration is the most significant day in Mexican history that is being observed today.
Q. What are the 2 most important holidays?
A. The most widely observed holidays in the United States are Thanksgiving, Veterans Day, and Mother's Day. Thanksgiving received an 80 percent popularity rating in a third-quarter 2022 study, followed by Veterans Day and Mother's Day with 76 percent each.
Q. What are the most popular Mexican festivals?
A. The Day of the Dead, the Carnival in Mazatlán and Veracruz, the Guelaguetza Festival, and the Vive Latino music festival are some of the most well-known Mexican celebrations.
Q. What are the different types of Mexican festivals?
A. There are many different kinds of festivals in Mexico, each with its own customs, traditions, and significance, such as religious, cultural, music, and regional celebrations.
Q. How can tourists participate in Mexican festivals?
A. Tourists can take part in Mexican festivals by going to festivities and events, participating in workshops and other activities, eating local cuisine and drinks, and becoming fully immersed in the community while respecting local traditions and dressing properly.
---
Tell Us In The Comments As per You Which One is the Best Mexican Festivals?
Also, don't forget to book your personalized holiday package with Fiery Trippers. Let us make your vacation a romantic as well as a dreamy getaway.