Are you searching for national parks in the USA for your next vacation? If you have no idea where to go, this article can help you in finding the best national parks in the USA to visit in summer.
The United States has many breathtaking landscapes, diverse wildlife, and beauty. Selecting the finest national and state parks for your upcoming trip may be difficult because there are so many.
Travel writers share their top US National Parks to visit in the summer, helpful advice, suggestions for places to stay, and recommendations for the top activities in this travel guide.
Find ideas for your next summer vacation, and you'll find the ideal national park to explore this summer, whether you're looking for a backpacking adventure, a romantic getaway, a relaxing family vacation, or something in between.
---
Can you visit national parks in the summer?
When the winter melts, the hiking trails open, and the long days beckon, certain national parks truly sparkle in the summer. From June until Labor Day, these eight parks are at their best.
---
Here Are The List Of 11 Best National Parks In The USA To Visit In the Summer
After doing a lot of research and considering the tripper's reviews we have shortlisted some of the national parks of the USA to visit in summer.
Virgin Islands National Park
Olympic National Park, Wyoming
Grand Teton National Park, Wyoming
Kenai Fjords National Park, Alaska
Yellowstone National Park, Wyoming, Montana, and Idaho
Denali National Park, Alaska
Arches National Park, Utah
Capitol Reef National Park, Utah
Grand Canyon National Park, Arizona
Yosemite National Park, California
Rocky Mountain National Park, Colorado
1. Virgin Islands National Park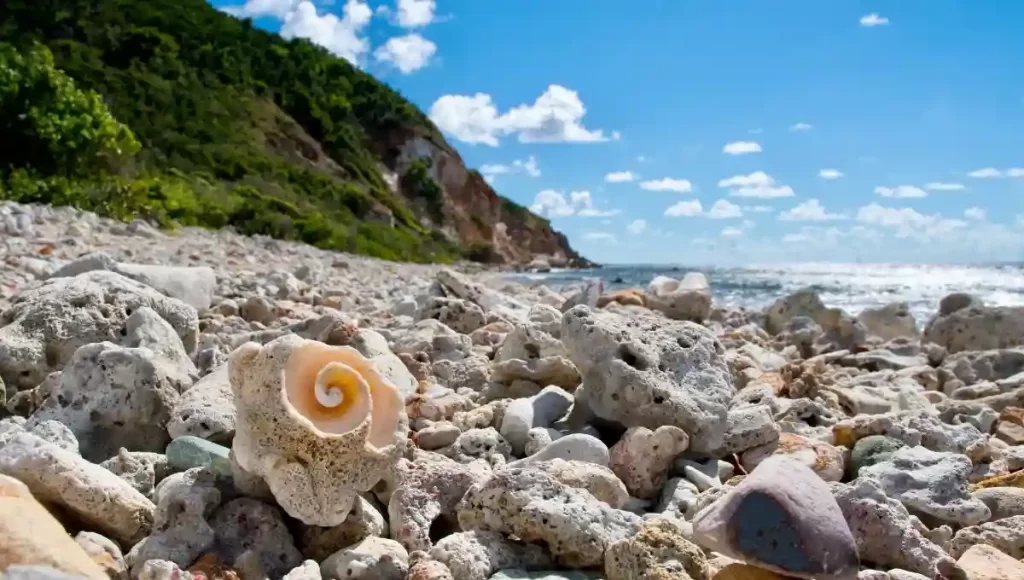 The U.S. Virgin Islands Virgin Islands National Park, on the island of St. John, is a fantastic place to visit in the summer. This magical Caribbean island offers hikes for every skill level, idyllic beaches, and breathtaking vistas.
Visiting Virgin Islands National Park in the summer will allow you to witness the native red flamboyant trees in full blossom.
The Saharan dust, which occasionally appears in the air during this season, is another possibility.
Although usually not enough to impair visibility or respiratory health, the dust does prevent tropical storms and create some breathtaking sunsets.
Beachgoing is the most popular pastime in Virgin Islands National Park. The length of North Shore Road is home to the most well-known white sand beaches.
On-site rentals of canoes, stand-up paddleboards, and snorkelling equipment are available at some of them, including Maho, Trunk, and Honeymoon.
Take advantage of the chance to snorkel or paddle through St. John's crystal-clear waters to see corals and marine turtles.
---
2. Olympic National Park, Wyoming
Olympic National Park, situated in Washington on the Olympic Peninsula, is one of the best national parks to explore in the summer.
Olympic National Park is one of the treasures of the wild Pacific Northwest, encompassing over 900,000 acres of diverse habitats.
The park is irresistible for hiking, beachcombing at low tide, experiencing the enigmatic Hoh Rainforest (designated by UNESCO as a World Heritage Site and a Biosphere Reserve), and taking in the mountain views and wildflowers.
The Sol Duc Falls Nature Trail is among the finest and simplest hiking routes in the park. A 1.6-mile trek leads to a well-known waterfall.
Another well-liked trekking location is Hurricane Ridge. All fitness levels can enjoy the three major trails: Big Meadow Trail, Cirque Rim Trail, and High Ridge Trail. You will be spoiled with vistas of sub-alpine meadows and glaciers.
---
3. Grand Teton National Park, Wyoming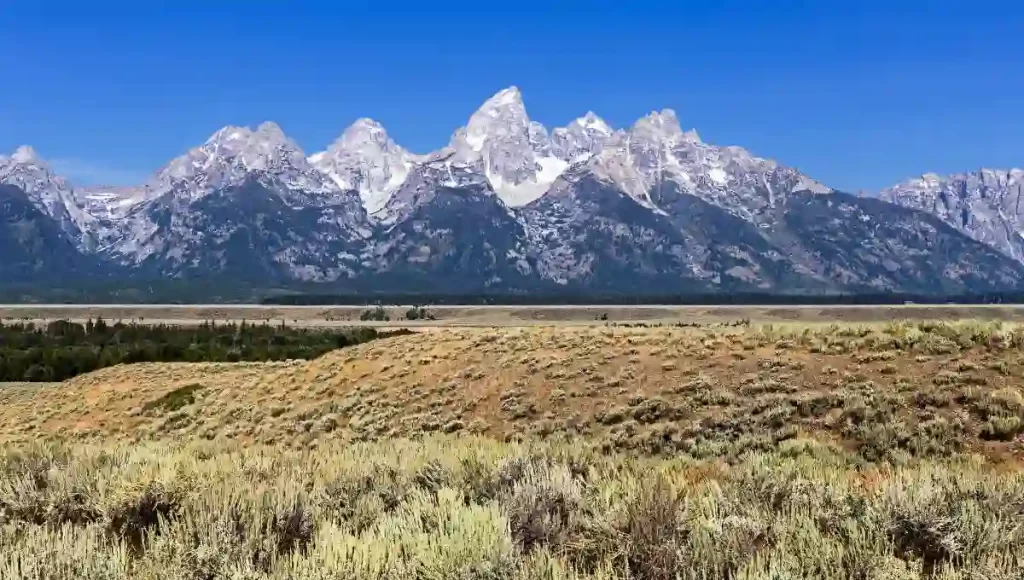 Grand Teton National Park in Wyoming is frequently named one of the finest national parks in the United States, making it ideal for a summer getaway.
It's simple to understand why considering the gorgeous mountains, countless hiking paths, and abundance of opportunities for water sports!
Watching the sunrise illuminate the Teton Range's tips is a must-do while you're there to enjoy the mountains fully. Mormon Row, Snake River Overlook, or Oxbow Bend offer the best vantage spots. To secure a good place, get there early. Also, wear warm clothing.
Undoubtedly, there is a tonne of great hiking paths to discover. The Jenny Lake Loop and Moose Ponds are two excellent first-time treks.
The Taggart Lake Loop is a lovely moderate walk with a little more elevation. Try the trails to Cascade Canyon or Delta Lake for a backcountry adventure.
---
4. Kenai Fjords National Park, Alaska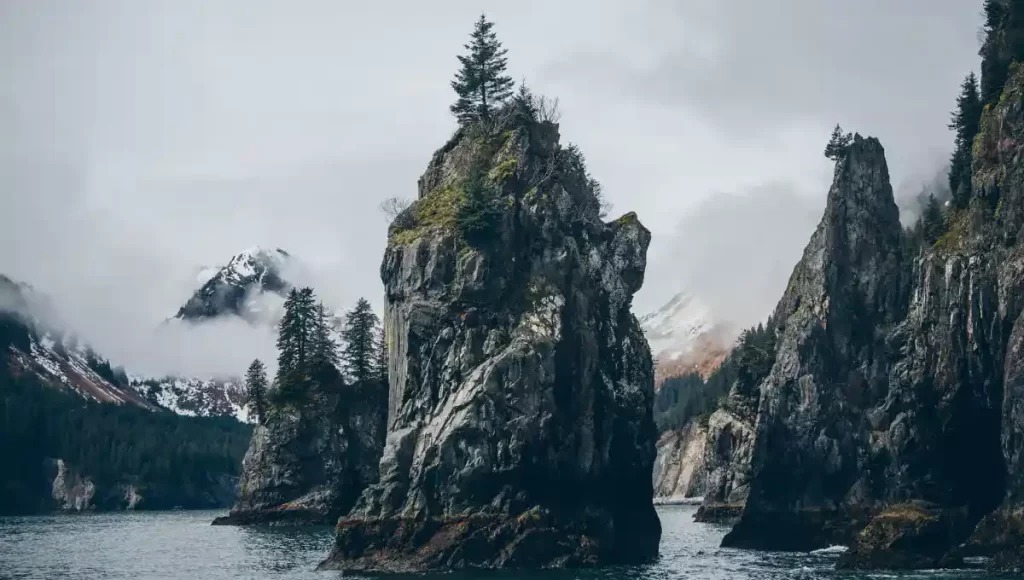 On the Kenai Peninsula in Alaska, there is a national park called Kenai Fjords. The park covers 669,984 acres in total.
Numerous marine and land species, including killer whales, moose, sea otters, brown and black bears, and others, can be found here. The park was created in 1980 and is Alaska's fifth-most frequented park.
Because the days are longer in the summer, it is best to explore the park then. The typical temperature range is between 40 and 70 degrees Fahrenheit. The Exit Glacier, the park's main draw, is blocked during the winter due to a lot of snow.
You can participate in a ranger-led program, go flightseeing over the fjords, take a Kenai Fjords cruise, go kayaking in the park, see the Exit Glacier, and observe whales, among other things.
Don't forget to hike one of the many trails close to the park, such as the Exit Glacier Paved Path, Harding Icefield Trail, or the 25.9-kilometre Resurrection River Trail (1.5 km).
---
5. Yellowstone National Park, Wyoming, Montana, and Idaho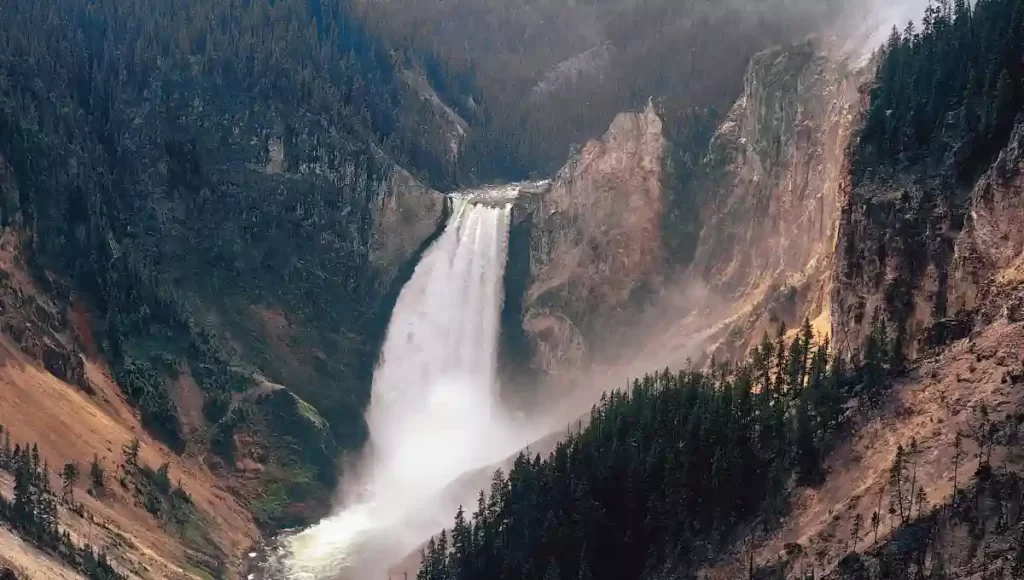 Yellowstone National Park, the country's first and oldest national park, is the best US national park to explore in the summer. The 3,500 square mile park is situated atop a volcanic centre and has given birth to three US states (Wyoming, Montana, and Idaho).
As a result, jaw-dropping geothermal features like geysers, hot springs, and mud volcanoes make up a large portion of Yellowstone National Park's finest attractions.
The Grand Prismatic Spring, the giant hot spring in the country (also known as GPS for short), is another must-see attraction.
However, due to its extreme heat, this isn't your typical hot spring where you can bathe. In reality, the scorching heat has given the GPS a distinctive multi-colour appearance that is truly exclusive to Yellowstone National Park.
---
6. Denali National Park, Alaska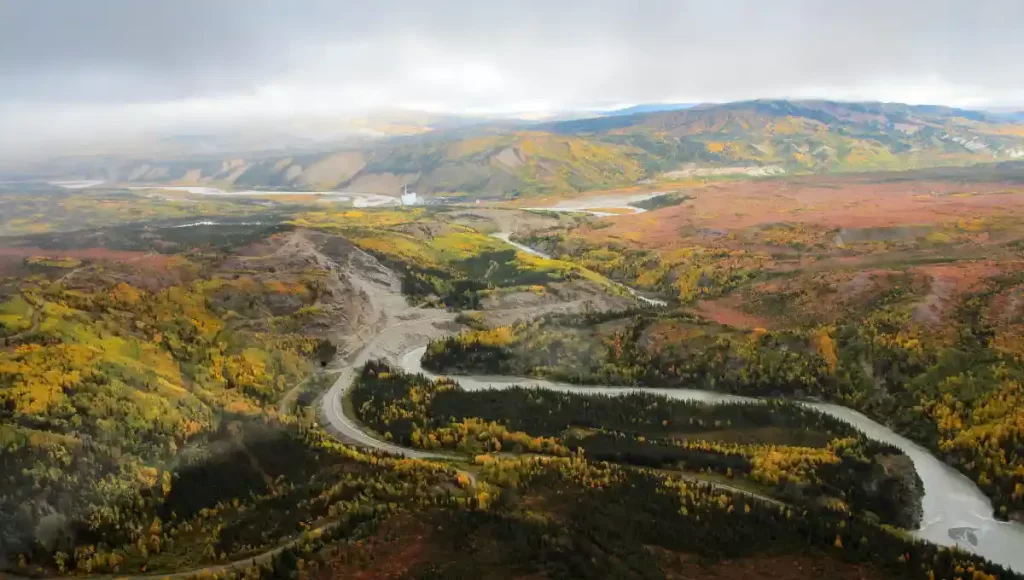 The best time to explore Denali National Park is in the summer when wildlife is active, and the park's sole road is open for travel.
It's essential to note that only buses can travel on Denali Park Road past Mile 15. Before your arrival, make sure to make a transportation reservation! If you don't want to hike off-trail or have a limited time, most hiking trails start within the first 15 miles. While every hike in Denali National Park is unique, my favourite is Savage Alpine.
The neighbouring towns of Healy and McKinley Village offer lodging options. Additionally, there are hotels in Kantishna at the end of the road and campgrounds in the park where you can camp. RVs are allowed at some Denali sites.
Although there are no established backcountry trails or campsites, backpacking is also popular in the area, so be ready.
---
7. Arches National Park, Utah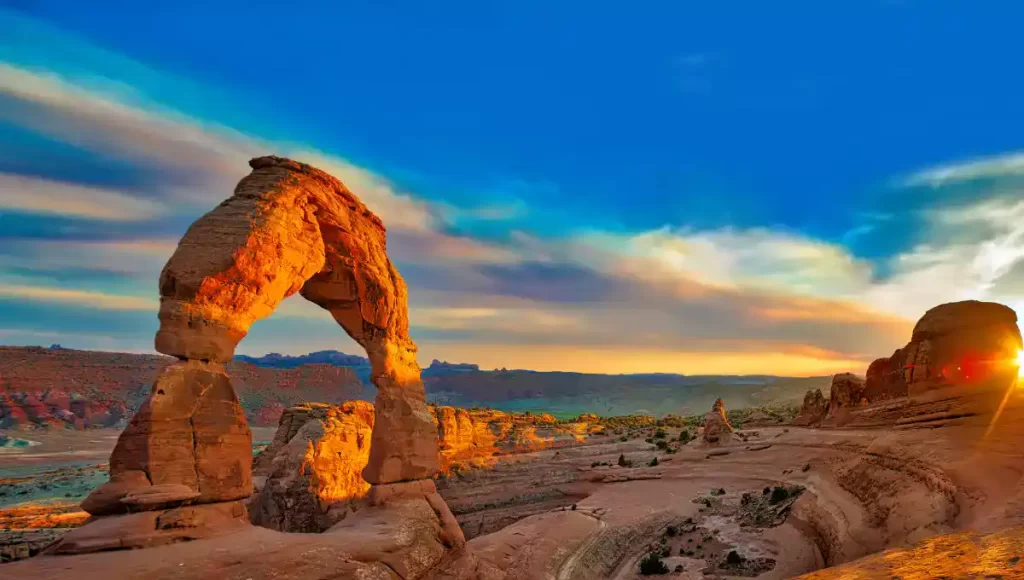 Gaping canyons and rugged sandstone scenery can be found in every one of Utah's breathtaking National Parks. However, none are quite as remarkable as Arches.
The ideal location for hiking and photos is the strange and wonderful arched sandstone formations shaped by wind and water erosion over millennia.
The busiest and hottest season to visit Arches may be summer, but it's also the best for seeing sunrises and sunsets and sticking out late to see the incredible starry night sky.
To escape the oppressive heat around midday, take the best hikes at Arches National Park early in the morning and late in the evening.
---
8. Capitol Reef National Park, Utah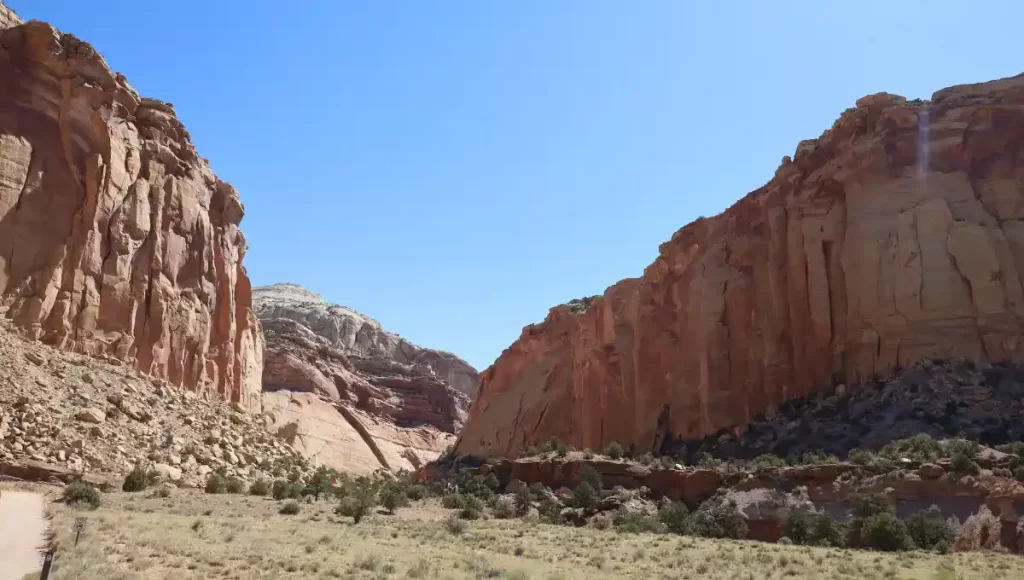 Capitol Reef National Park is one of the most family-friendly national parks and offers something for everyone. In addition to hiking, southern Utah's magnificent red rock country provides an opportunity to view petroglyphs and learn about more recent Mormon pioneer history.
Take the nearly eight-mile scenic journey for the most breathtaking vistas of the cliffs, gorges, and domes along the distinctive Waterpocket Fold.
You'll begin in the Fruta neighbourhood, where Gifford House offers a glimpse into earlier frontier living.
Don't forget to try a piece of their renowned handmade pie! As you pass the stable, consider what it must have been like to make a living there. The final section of the scenic journey is a dirt road that leads to the Capitol Gorge trailhead.
Enjoy breathtaking views of the sheer cliff face, the Pioneer Register, and the ruins of ancient native petroglyphs by hiking the 1.5-mile roundtrip trail through a narrow gorge.
---
9. Grand Canyon National Park, Arizona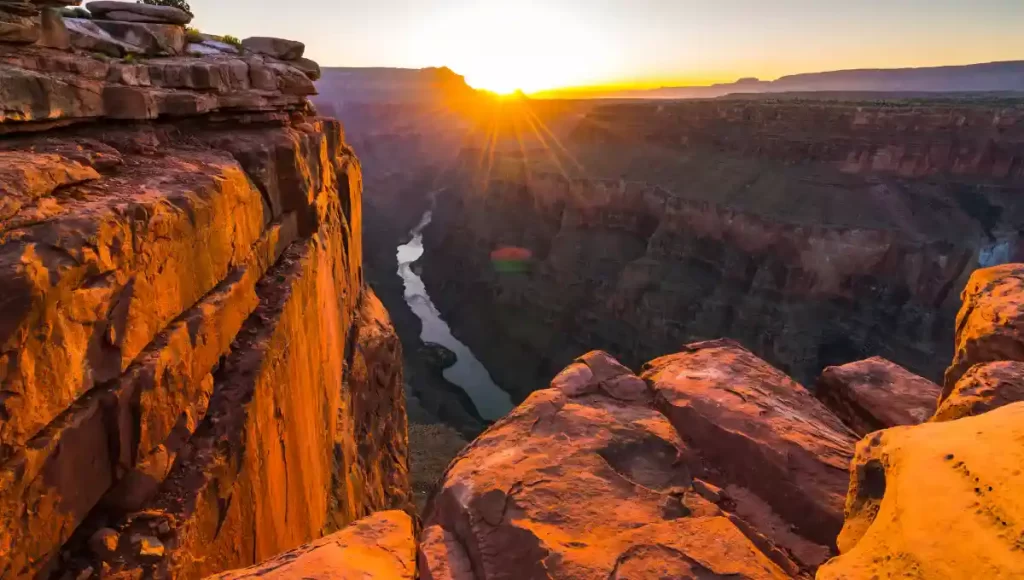 Unquestionably one of the most famous national parks in the USA to explore in the summer is the Grand Canyon National Park. You won't have ever seen anything like the wild red granite backdrops it offers.
This park's size ought to be on your goal list! The finest activities involve strolling around the rim, hiking, and staying overnight if you can.
One of my best photo locations is Mather Point, which offers a fantastic canyon view. The North Kaibab Trail is great for a day trek.
You might also consider treating yourself to a drink at the historic El Tovar Hotel, which has grand windows that face out onto the red canyon and has been a fixture in the area since 1905.
After paying the national park entrance fee, you can drive into the room. Any of the specified areas are available for camping.
Additionally, parking in the village allows you to hop on and off the free bus system to travel to the finest sightseeing locations.
---
10. Yosemite National Park, California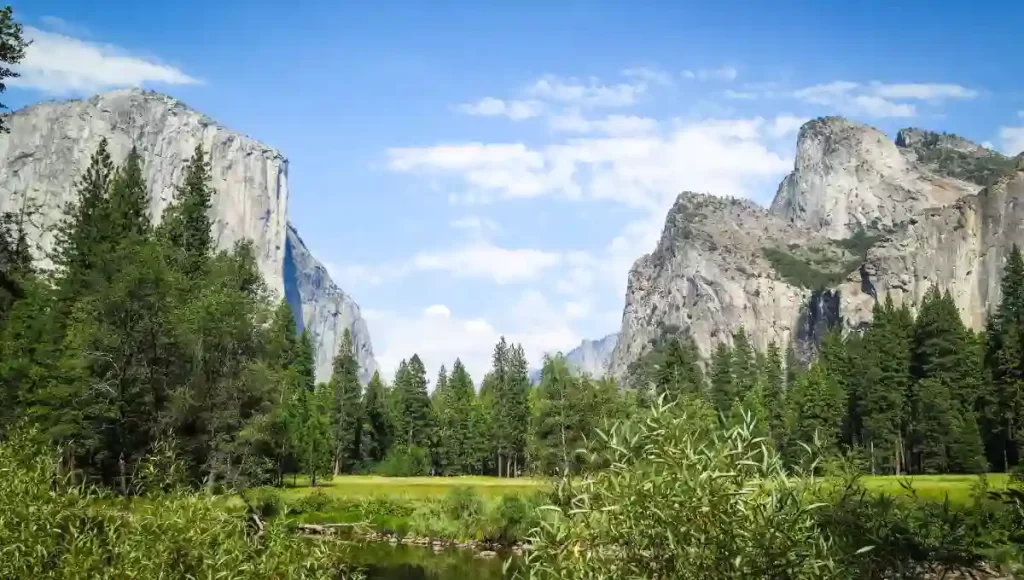 One of the best US national parks to explore in the summer is Yosemite National Park. The area is largely off-limits to visitors during the winter. By the summer, all park roads will be available due to the warming weather.
The park's hiking trails and backcountry regions, which are closed the rest of the year, are best explored during the summer months.
Yosemite Valley, the park's primary draw, cannot be missed by first-time guests to Yosemite National Park.
Observing Yosemite Falls and taking in the scenery of Half Dome and El Capitan are among the top activities to do in Yosemite Valley.
Taft Point, Sentinel Dome, and Nevada and Vernal Falls are some of the top summer treks. Challenge-seeking hikers can climb to Cloud's Rest or obtain a pass to ascend the renowned Half Dome.
---
11. Rocky Mountain National Park, Colorado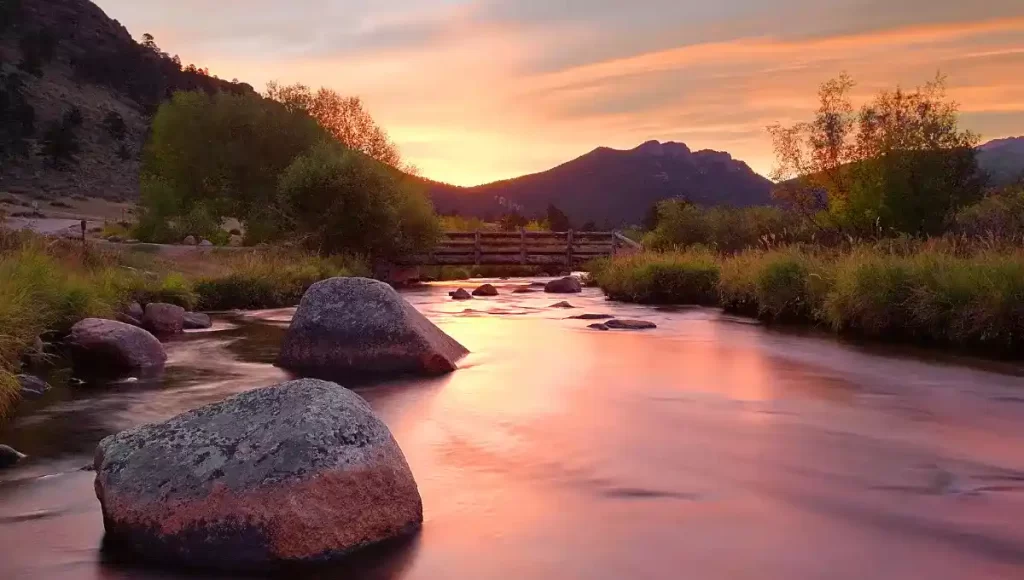 Rocky Mountain National Park is a haven for outdoor enthusiasts all year, but summer is the best season to visit.
Imagine what it's like to see this alpine paradise by picturing flower-covered hiking paths, crystal-clear mountain lakes, rugged ridgelines, and the most breathtaking views in Colorado.
There are numerous choices for both novice and experienced hikers on the more than 100 hiking trails that Rocky Mountain has to offer.
Even though it would take a year to hike to some of the finest viewpoints, Many Parks Overlook, the Gore Range Overlook, Sprague Lake, and Bear Lake are fantastic locations for your first trip.
---
FAQs For National Parks In The USA To Visit In Summer
There are a lot of questions that come to mind while choosing the best national parks in the USA to visit in summer some of the commonly asked questions are answered below.
Q. Which US national park should I visit?
A. Arizona's Grand Canyon National Park. Montana's Glacier National Park. California's Yosemite National Park. Alaska's Denali National Park.
Q. How is Yosemite in July?
A. Yosemite Valley often has highs of 90 and lows of 57 degrees Fahrenheit (32/14 degrees Celsius). At an altitude of 8,000 feet, Tuolumne Meadows often experiences highs of 72 and lows of 38 degrees Fahrenheit (22/ 3 degrees Celsius). In July, it typically only rains once.
Q. What is the number 1 national park in the US?
A. Wyoming, Montana, Idaho, and Yellowstone National Park. The first national park in the country was created in 1872, and it would be nearly difficult to mention all of its outstanding features.
Q. Is it worth going to Yosemite in August?
A. Yosemite National Park is best explored in August when summer in the Sierra Nevada is at its height. With the high-country snow reduced to spots and the roads and trails being completely clean and usable, the park is typically at its most accessible.
Q. how many major national parks are there in the USA?
A. Although the National Park Service manages 423 national park sites that are part of the national park collection, only 63 of them have the designation "national park" in it.
---
Tell Us In The Comments Which One Is The Best National Parks In The USA To Visit In Summer?
Also, don't forget to book your personalized holiday package with Fiery Trippers. Let us make your vacation a romantic as well as a dreamy getaway.