Are you planning to travel to Canada soon and looking for tourist places in Canada? If you have no idea what are the best things to do in Canada? This article can help you in finding the best places to visit in Canada
Visitors to Canada are as awed by the wildlife and wilderness as they are by the cultural and culinary offerings found in the cities that dot the vast country. Canada is a country full of natural wonders and urban delights.
Search for polar bears on Churchill's expansive northern tundra or paddle a canoe along Vancouver's sweeping coastline as you admire the city skyline.
Enjoy five-star fusion food in Toronto or listen to a jazz jam session on the sidewalk in Montreal.
You just won't be able to see everything in one trip, as it is the second-largest country in the world, so make sure to plan.
---
What is the #1 tourist attraction in Canada?
Niagara Falls
Canada's most well-known natural landmark, Niagara Falls, welcomes millions of tourists each year. These enormous falls, which are about an hour's drive from Toronto at the American border, have a 57-meter plunge.
---
List of 11 Best Places To Visit in Canada
After doing a lot o research we have shortlisted some of the best places to visit in Canada for couples that are really worth visiting
The Canadian Rockies
Vancouver
Niagara Falls
Whistler
Montreal Jazz Festival
Québec Old City
Toronto
Vancouver Island
Rideau Canal
Baffin
The Prairies
These are the tourist places to visit in Canada, whether you're a repeat traveler or looking for something new.
1. The Canadian Rockies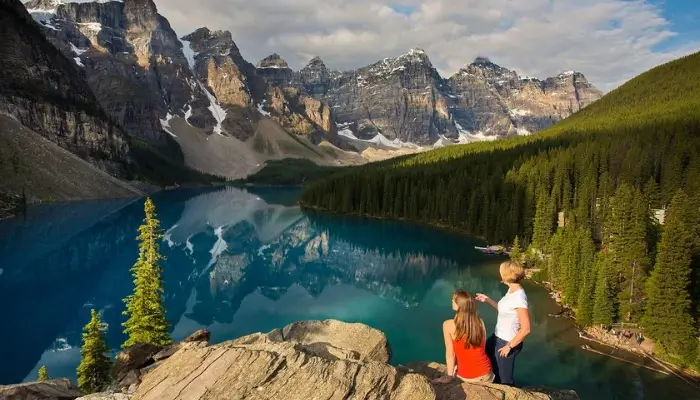 Awe and action are sparked by the sawtooth, white-topped mountains that cross the border between British Columbia and Alberta.
Five national parks—Banff, Yoho, Kootenay, Waterton Lakes, and Jasper—offer countless opportunities to explore the lush wilderness.
They are home to a variety of hiking trails, raging rivers, and ski slopes that are covered in powder, all of which will satiate adventure-seeking visitors.
Although there are many outdoor activities available in the summer, this is one of the greatest spots to visit in Canada in the winter.
Planning Tip: For a different viewpoint, take the train to experience the grandeur from the comfort of your seat.
As the steel cars chug up mountain passes and down river valleys on their way to points east or west, luminous lakes, jumbles of wildflowers, and glistening glaciers glide by.
Also Read: Where Can You Travel For Cheap? 11 Best Cheapest Places To Travel
---
2. Vancouver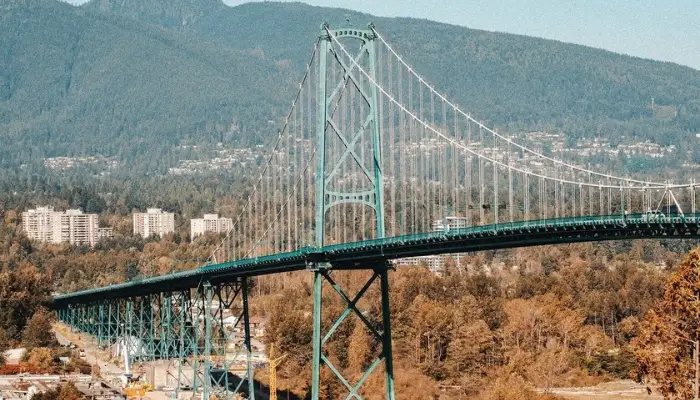 In Vancouver, the relaxed, cocktail-loving city is surrounded by breathtaking natural scenery.
It's a harmonious fusion of city and environment with skiable mountains on the outskirts, beaches lining the coast, and Stanley Park's dense rainforest only steps from downtown's gleaming skyscrapers.
Pick up a plate and a cold beverage from a nearby establishment and spend the day picnicking in one of the wonderful city parks for the best of both worlds.
You can shop and take a stroll around the varied and attractive neighborhoods; you might even run into a famous person.
Vancouver, also known as "Hollywood North," serves as the backdrop for several year-round TV and film projects.
Planning Tip: Vancouver is undoubtedly one of the greatest destinations to visit in Canada in the summer due to its pleasant climate and stunning beaches.
Also Read: Where Can You Travel Without A Passport? 10 Beautiful Places To Travel Without A U.S Passport
---
3. Niagara Falls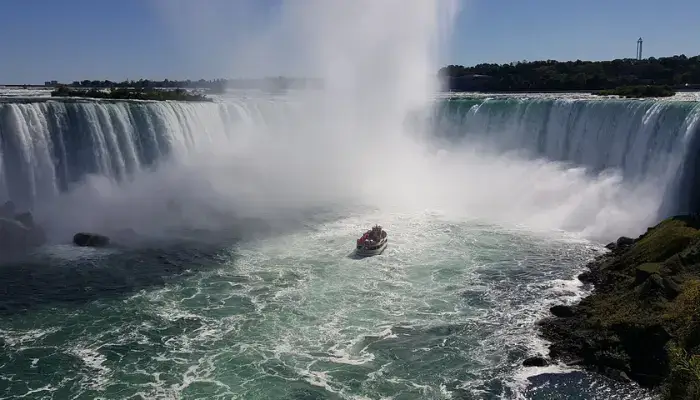 Niagara Falls may be little yet it never fails to impress when those massive muscular bands of water arc over the edge like liquid glass, crashing into the space below, and when you cruise toward it in a mist-shrouded boat.
While you're there, extend your stay and explore the area beyond the falls with a bike tour along the Greater Niagara Circle Route, or try the Wildplay Zipline to the Falls,
a heart-pounding thrill ride that provides unrivaled views of the falls below as you soar through the air.
At the Canadian ski resort of Whistler, a ski appears in a cloud of white snow between two snow-covered evergreen trees.
Also Read: What To Wear To Niagara Falls? That Will Make Your Trip Comfortable
---
4. Whistler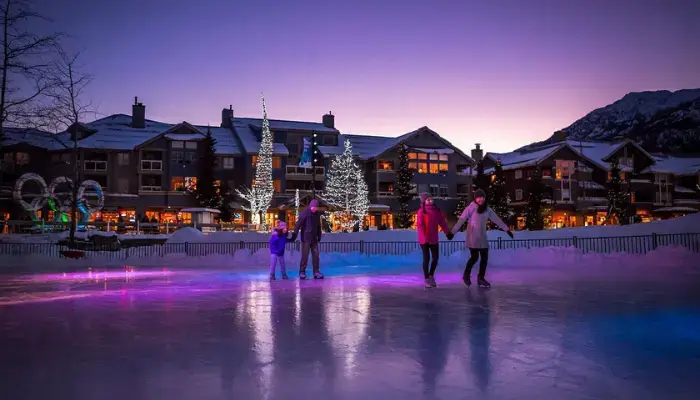 This ski resort is one of the biggest, best-equipped, and most well-known in the world, and it's only 90 minutes away from downtown Vancouver.
It served as the 2010 Winter Olympics venue. This location is a skier's paradise with over 200 marked runs winding down two towering mountains, Whistler and Blackcomb.
Whistler's main draw may be skiing, but summer visitors with their downhill mountain bikes and stand-up paddleboards outnumber their ski-season counterparts, turning the resort into a popular destination for both locals and tourists all year round.
A thriving arts and culture scene has recently emerged in Whistler, adding to the city's diversity.
Standouts include the Audain Art Museum and the Squamish Lil'wat Cultural Centre, which compete favorably with the resort's world-famous slopes for tourist dollars.
Also Read: What Are The Most Overrated Travel Destinations?
---
5. Montreal Jazz Festival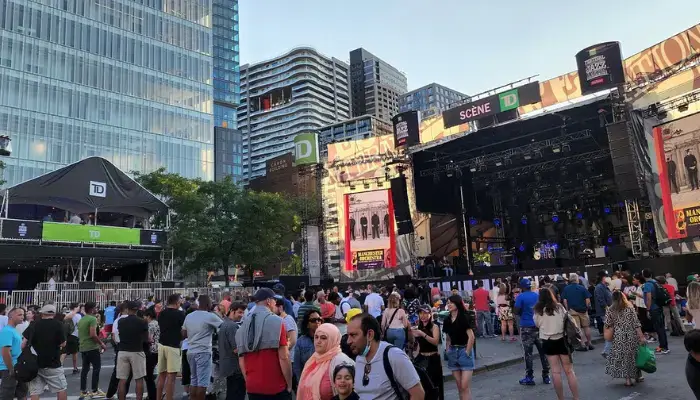 Montréal, the second-largest city in Canada and its cultural hub, is a wonder for music fans. At the Montréal International Jazz Festival,
over two million jazz-loving people can enjoy the best jazz-influenced musicians in the world. There are more than 500 shows and performances to enjoy.
The 11-day, late-June music festival has featured performances by BB King, Prince, and Astor Piazzolla, among others.
The good times go on day and night, and you might even get to join in with free drum lessons and street-side jam sessions.
Planning Advice: Dislike jazz? The city is filled with both large and small live music venues and events.
Also Read: What Is Roller Coaster? 11 Fastest Roller Coasters In The World That Will Trill The Adventure Lovers
---
6. Québec Old City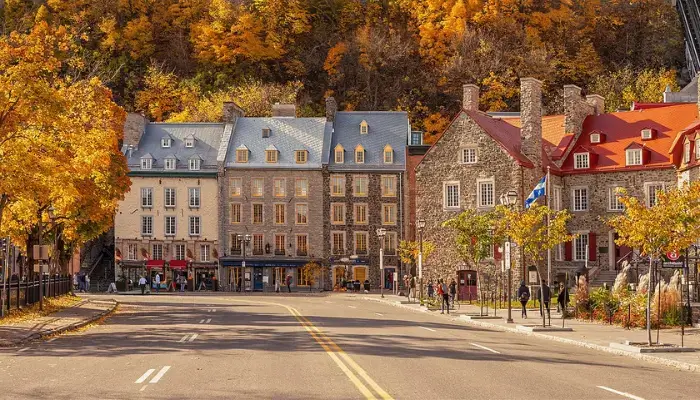 The capital of Québec has been inhabited for more than 400 years, and with its centuries-old stone walls, gleaming cathedral spires, and jazz-filled corner cafes, it rivals any European city in terms of ambiance, romance, sadness, eccentricity, and mystery.
The best way to take it all in is to meander around the maze of narrow streets in the old town, getting lost among the street performers and inviting inns while stopping sometimes for a café au lait and flaky pastry.
The city is also where Rte 132, Quebec's honeymoon route, is located. This road circles the Gaspé Peninsula, carrying couples along with joie de vivre past the sea and the mountain. Each summer, more than 700,000 people tear up the tarmac.
Of all, it is still far from rivaling Niagara Falls, Canada's "Honeymoon Capital," which welcomes more than 14 million tourists each year.
But instead, young lovers make their way to La Gaspésie. Because you don't need 14 million other people around if you're on your honeymoon.
---
7. Toronto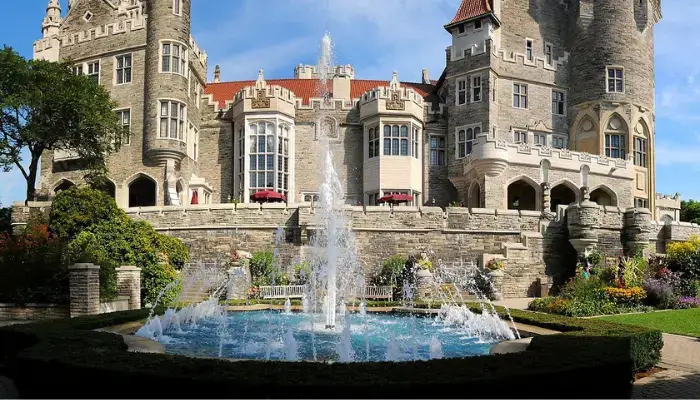 Toronto's frantic mash-up of communities and cultures overwhelms you with its urban wonder and cultural diversity. Will you eat in Greektown or Chinatown? A sandwich with peameal bacon or five-star fusion?
Designer shoes from Bloor-Yorkville are complemented with tattoos in Ontario's hippest city, Queen West, while modern art galleries, the best theater, rocking band rooms, and hockey frenzy further enhance the megalopolis.
The majority of its citizens were born outside of Canada, making it both the biggest and most diverse city in the country.
Be sure to take pictures of the CN Tower, one of the top attractions in Toronto. For an extra thrill, try the Edgewalk, which allows you to walk around the tower's perimeter while admiring unrivaled city views.
---
8. Vancouver Island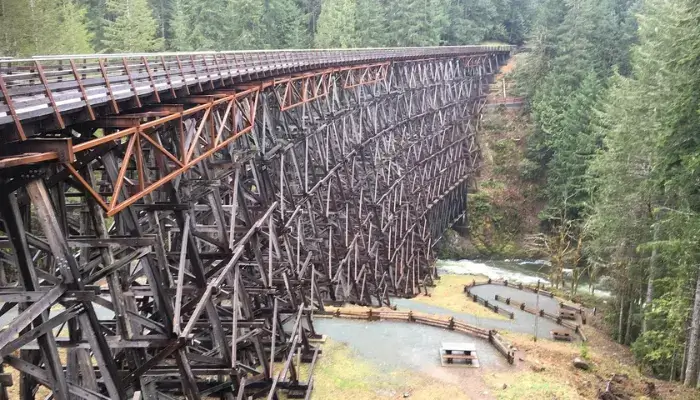 Picture-postcard The center of Vancouver Island is Victoria, which has bohemian boutiques, coffee cafes with wood floors, and an English background entrenched in tea culture since the 1840s.
The charming capital of British Columbia is merely the starting point for an island that is home to many amazing natural beauties.
Surfers line up for the waves in Tofino at the West Coast Trail, which is located in the foreboding Pacific Rim National Park Reserve.
Here, the ocean is battered by the wind, and the wilderness is shrouded in mist. This is one of the top spots in Canada for nature enthusiasts because there are so many outdoor activities to try there.
Planning Tip: The Cowichan Valley, which is dotted with friendly small farms and boutique wineries, is the place to go for intrepid foodies.
---
9. Rideau Canal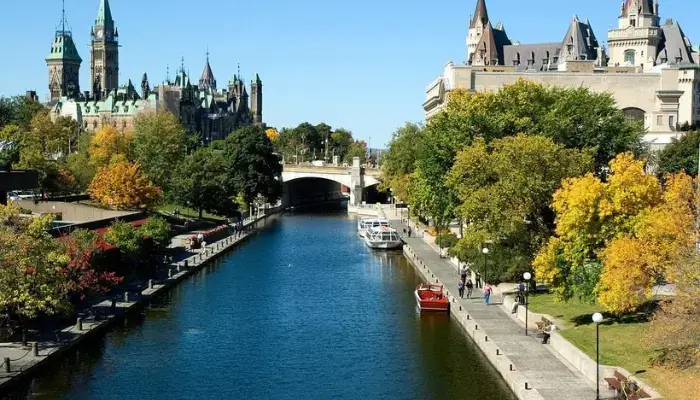 This 185-year-old, 200 km (124 miles) long waterway connects Ottawa and Kingston via 47 locks and is made up of canals, rivers, and lakes.
The Rideau Canal is at its best in wintertime Ottawa, where a section of its waterways is transformed into the largest skating rink in the world, the Rideau Canal Skateway.
On the 7.8 kilometers (4.8 miles) of groomed ice, people zip by while stopping for hot chocolate and delicious beavertails.
The Winterlude celebration in February takes it to the next level when locals create enormous ice sculptures.
---
10. Baffin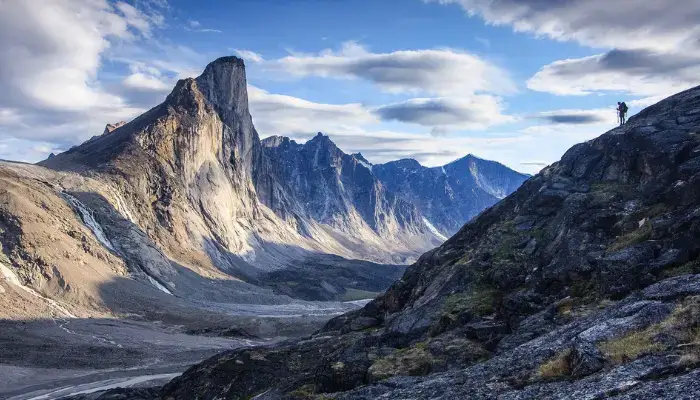 Baffin Island's desolate, wild landscape is home to mountains that soar into the clouds and one-third of Nunavut's people.
It is the fifth-largest island in the world and the largest island in Canada, making it the perfect location for an arctic safari where you may see bears, beluga whales, and narwhals in their natural habitat.
Auyuittuq National Park, whose name translates to "the land that never melts," is the jewel of the island. Glaciers, fjords, and precarious cliffs dot the eastern horizon.
Hardcore hikers, climbers, and polar bears are all drawn to the area by its allure.
Additionally, Baffin is a hub for Inuit art; across the region's several little settlements, you may find studios for fine weaving, printmaking, and carving.
---
11. The Prairies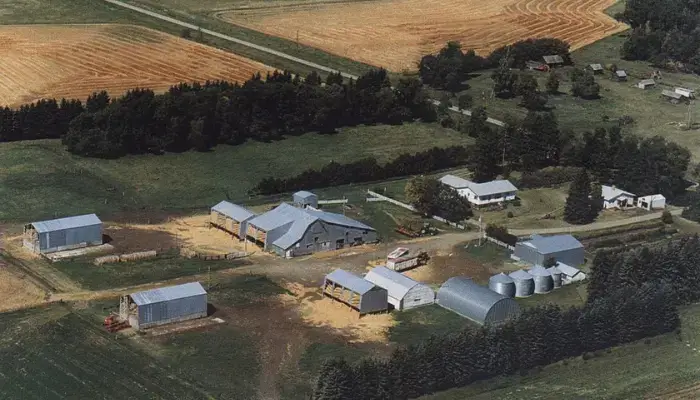 In the central part of Canada, solitude rules. Driving through the prairies of Manitoba and Saskatchewan reveals endless golden wheat fields that reach the horizon before disappearing into the sun.
The wheat sways like ocean waves as the wind blows, with the odd grain elevator towering up like a big ship.
Huge storms that drop like an anvil and are visible for kilometers along the skyline are a sign of huge skies.
Along with Ukrainian and Scandinavian settlements, distant places like artistic Winnipeg, boisterous Moose Jaw, and Mountie-filled Regina can be found.
---
Conclusion
Even if you've traveled to a lot of other locations, if you haven't been to Canada, your global travels aren't yet complete.
The top 11 tourist destinations in Canada are listed above. Although it is not generally renowned as a beautiful tourist destination, the locals are friendly.
Everyone from different nations would get along with the locals there easily, therefore Canada is not only becoming a popular tourist destination but also the country of choice for many immigrants to settle down.
Even though some regions have terrible weather, people are still active there because those places have been transformed into intriguing destinations with unique animals and nature.
---
FAQs For Places To Visit in Canada
There are a lot of questions that come to mind during a Canada visits some of the commonly asked questions are answered below.
Q.1 Which part of Canada should I visit?
Niagara Falls
Canada's most well-known natural landmark, Niagara Falls, welcomes millions of tourists each year. These enormous falls, which are about an hour's drive from Toronto at the American border, have a 57-meter plunge.
Q.2 What is Canada's prettiest town?
Toronto, the largest city in the nation and the epicenter of its artistic and cultural scene, is located in the center of the nation. A must-see destination nearby for travelers to Canada, Niagara Falls never disappoints. Montreal is renowned for its fashion, culture, and history in the nearby Québec, a French-speaking province.
Q.3 What is Canada mostly famous for?
Goderich
Goderich, known as "the prettiest town in Canada," enchants visitors with its breathtaking landscape and innovative urban planning. The town's location on Ontario's West Coast's eastern side of Lake Huron provides beautiful sunset views from its beaches.
Q.4 Is Toronto or Vancouver better?
The financial and cultural hub of Canada, Toronto is THE major city there. Vancouver is clearly a busy city as well, but it lacks Toronto's sense of a really international metropolis. The possibilities for dining, shopping, and entertainment are often superior to those in Vancouver.
---
Tell Us In The Comments As per You Which One is the Best Place To Visit in Canada?
Also, don't forget to book your personalized holiday package with Fiery Trippers. Let us make your vacation a romantic as well as a dreamy getaway.