Are you looking for the best outfit ideas to wear in Las Vegas in the month of June for your upcoming trip? If you are not sure about what to pack? This article can help you in understanding what to wear in Las Vegas in June.
Welcome to the vibrant city of Las Vegas, where you will find entertainment, thrills, and endless possibilities. Las Vegas, one of the most famous tourist attractions in the country, offers a vivid fusion of glitz, casinos, shows, and nonstop entertainment.
It's important to dress appropriately for the June heat in this hot desert oasis, whether you're planning a weekend escape, a bachelorette party, or a trip of a lifetime.
Beyond the weather, Las Vegas has a wide range of events and activities to satisfy every preference. There is something for everyone in this city that never sleeps, whether you want to explore the famous Las Vegas Strip, try your luck at world-class casinos, indulge in fine dining, or see breathtaking entertainment.
We will look at the top attire, materials, and accessories to beat the heat while looking effortlessly stylish in this in-depth style guide. We'll also go over the wide variety of activities and events that Las Vegas has to offer so you can be ready for any situation.
In order to make the most of your wonderful journey, let's explore the fashionable world of Las Vegas and learn what to wear in June.
---
Understanding the June Climate in Las Vega
Knowing what to expect from June's weather in Las Vegas can help you pack clothes that will keep you cool and comfortable while you explore the city's attractions.
June Temperature and Weather Conditions: June is a sweltering month in Las Vegas, with typical daytime highs of 95°F (35°C) to 105°F (40°C). Even higher temperatures are not uncommon. There will be lots of sunlight and little rain during this time.
Day-Night Temperature Variation: There is a big temperature variation between day and night in June in Las Vegas. The heat of the day reaches its height in the late afternoon. Nighttime temperatures, which typically range from 70°F (21°C) to 80°F (27°C), provide some relief. Consider the difference when choosing your attire for daytime and evening activities.
Weather Influencing Factors: With a height of almost 2,000 feet (610 meters) above sea level, Las Vegas has a special climate. The city experiences hot, dry summers with low humidity thanks in part to its location in the Mojave Desert, which is known for its arid environment. Choose clothing that is light, breathable, and offers sufficient airflow as well as sun protection.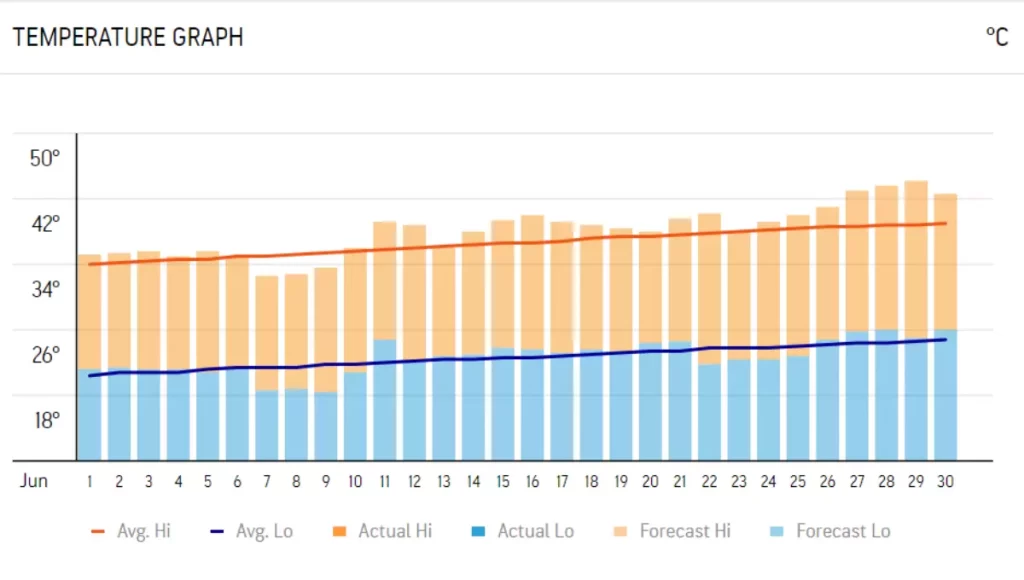 ---
What To Wear In Vegas In June As Per The Occasions?
It's essential to dress appropriately for the weather while considering the various occasions you might encounter in Vegas. Here are some outfit suggestions for different occasions:
Daytime Sightseeing or Outdoor Activities
Pool Parties
Evening Shows or Fine Dining
Nightclubs or Parties
Vegas has a reputation for being glamorous and stylish, so you can opt for trendy, fashionable outfits.
Women can wear stylish dresses, jumpsuits, or skirts with attractive tops.
Men can go for tailored trousers, button-down shirts, blazers, or sports coats.
Wear comfortable but fashionable footwear as you may be on your feet for an extended period.
Keep in mind to bring lightweight, versatile clothing that you may mix and match for various circumstances. Check for specific dress restrictions for any venues or events you plan to attend before you go, as some may have them. Have fun while you're in Las Vegas!
Also Read: What To Wear In Las Vegas In July?
---
List of 11 Best Outfits and Accessories Ideas Ro Wear in Las Vegas in June
June in Las Vegas has a special environment that necessitates careful consideration while choosing your clothing.
High temperatures and dry desert circumstances make it crucial to wear apparel that keeps you both fashionable and comfortable all day.
So, let us help you pick the outfit selections that will make your time in Las Vegas unique and put an end to the speculation.
1. Sundress and sandals
Choose a light, flowing sundress in a colorful print or vibrant color and combine it with comfy sandals.
Last update on 2023-11-30 / Affiliate links / Images from Amazon Product Advertising API
2. Shorts and a tank top
Wearing a pair of denim shorts and a light tank top can help you stay cool in the desert heat. To brighten it up, add a striking necklace or other vibrant accessories.
Sale
Amazon Essentials Women's 4″ Denim Short, Dark…
SLIM FIT: Close fit through hip and thigh, with…
HIGH STRETCH DENIM: Cut from cotton-blend denim…
DENIM SHORTS: These Mid-Rise Denim Shorts will be…
DETAILS: Authentic five-pocket styling, zip fly,…
Sale
Feiersi Women's Sleeveless Criss Cross Print…
This simple random flower pattern casual tops is…
Can pair it with jeans or shorts.With a jacket or…
Wear this tops to a casual evening out for…
US SIZE:Small(US 4-6),Medium(US 8-10),Large(US…
Last update on 2023-11-30 / Affiliate links / Images from Amazon Product Advertising API
3. Maxi dress and wedges
With a stylish maxi dress and a pair of wedge sandals, embrace the vacation feel. Pick a dress made of a breathable material, such as cotton or linen.
Sale
VICKI·VICKI Women's Platform Sandals Wedge Ankle…
Heel height is about 4.3 inches, platform height…
Taking style inspiration from digging what's the…
Featuring braided jute platform to balance wedge…
Pamper your feet with a cushioned foot bed, and…
Last update on 2023-11-30 / Affiliate links / Images from Amazon Product Advertising API
4. Romper and sneakers
Wear a modern romper for a stylish and relaxed look. For a night out on the town, wear it with a pair of relaxed shoes.
Sale
Last update on 2023-11-30 / Affiliate links / Images from Amazon Product Advertising API
5. Jumpsuit and heels
Using a chic jumpsuit, make a statement. For a night out on the town, choose a lightweight fabric and glamour it up with some heels.
Sale
Sale
Last update on 2023-11-30 / Affiliate links / Images from Amazon Product Advertising API
6. Crop top and high-waisted skirt
A high-waisted skirt and a crop top are always in style. This pairing provides a stylish and cozy solution for everyday activities.
Women's Sexy Sleeveless High Neck Racerback…
Double lined in chest area with no padding, keeps…
Available in sizes S-2XL to fit bust 28-39 inches;…
Features a high neck, halter neck, racerback,…
Great for pairing with bottoms like shorts,…
Sale
Last update on 2023-11-30 / Affiliate links / Images from Amazon Product Advertising API
7. Linen pants and a blouse
Wear a light blouse and a pair of linen shorts to keep it stylish and comfortable. This look is ideal for a lovely supper or a day of shopping.
IXIMO Women's Tapered Pants 100% Linen Drawstring…
Solid Color,Front drawstring,Back elastic…
Black,Light Khaki,Khaki,Pink,White,Navy,Dark…
Simple Drawstring waist,easy to pull on, ankle…
Please Check the Size Chart in the pictures…
Sale
Blooming Jelly Women's Puff Sleeve Casual Tops…
Features:This chiffon blouses for women adds a…
Design: The puff sleeve design can cover your arm…
Match:This swiss dot blouse for women is easily…
Occasion: This trendy top is perfect for casual,…
Last update on 2023-11-30 / Affiliate links / Images from Amazon Product Advertising API
8. Denim jacket and a sundress
An outfit that works both inside and outside is one that you can layer a denim jacket over. For a relaxed vibe, wear it with sandals or sneakers.
Last update on 2023-11-30 / Affiliate links / Images from Amazon Product Advertising API
9. Off-the-shoulder top and shorts
Wear shorts and an off-the-shoulder blouse to be fashionable and cool. For a stylish look, add sunglasses and a wide-brimmed hat.
Sale
Last update on 2023-11-30 / Affiliate links / Images from Amazon Product Advertising API
10. Floral print jumpsuit and sandals
With a floral print jumpsuit, you may represent the vibrant lifestyle of Las Vegas. Put on a pair of relaxed sandals and a pretty clutch to finish the look.
Dokotoo Women's Loose Plus Size Jumpsuits for…
Dokotoo Women's Jumpsuits is made with lightweight…
Feature: One Piece Sleeveless Jumpsuits, Two Side…
Match: Great with jacket, sneakers, Sandals, Heels…
Ocassion: Elastic waisted one piece fashion long…
Last update on 2023-11-30 / Affiliate links / Images from Amazon Product Advertising API
11. Graphic T-shirt and jeans
Wear your favorite pair of jeans and a graphic t-shirt to keep things cool and casual. For a casual yet fashionable outfit, add a smart belt and sneakers.
Remember to consider the weather forecast and choose lightweight, breathable fabrics to stay comfortable in the summer heat of Las Vegas. Enjoy your time in the city!
Beach Shirts for Women Hawaiian Graphic Tees…
🌴 High Quality: The soft Cotton blend makes the…
🌴 Novelty T-Shirts: The summer vacation…
🌴 Occasion & Match: Our womens graphic tshirts…
🌴 Perfect Gift: The hawaiian summer vacation…
Sale
Last update on 2023-11-30 / Affiliate links / Images from Amazon Product Advertising API
Also Read: What To Wear In Las Vegas In August?
---
Clothing Essentials for Las Vegas in June
The essential clothing and accessories that we must pack when traveling to Las Vegas in June are listed below.
1. Lightweight and breathable fabrics
Cotton: When it's hot in June in Las Vegas, cotton, a natural fabric, will keep you cool and comfortable since it breathes well and allows air to move freely.
Linen: Another great option is linen because it breathes well. It dries rapidly after absorbing wet, which makes it perfect for Las Vegas's dry heat.
Rayon: A synthetic fabric that resembles natural fibers yet is lightweight and breathable is called rayon. In hot temperatures, it provides comfort and promotes airflow, keeping you cool.
2. Tops and Shirts
Sleeveless and short-sleeved options: Avoid overheating by wearing sleeveless or short-sleeved clothes and shirts to stay cool.
Loose-fitting and flowy styles: Tops that are loose-fitting and flowy increase airflow while offering a relaxed and comfortable fit for warm weather.
3. Bottoms
Shorts: For the best comfort, pick shorts made of lightweight materials like cotton or linen. They provide flexibility and assist in keeping cool.
Capris: If you want more coverage than shorts offer, capris are a wonderful choice. They create a balance between comfort and modesty by being longer than shorts but shorter than full-length pants.
Lightweight pants or skirts: Choose lightweight clothing like cotton or rayon that is breathable, such as slacks or skirts. They provide coverage while allowing air flow to keep you at ease.
4. Footwear
Comfortable walking shoes: A lot of walking in Las Vegas requires appropriate walking shoes. Pick sturdy walking sandals or shoes to keep your feet comfortable all day.
Sandals or open-toe shoes: To allow your feet to breathe and minimize pain from sweating in the hot weather, open-toe shoes or sandals are a wonderful option.
Dressier options for evenings: Bring dressier footwear, such as heels or dress shoes, to go with your evening clothes if you plan on going to more formal events or eat at luxury restaurants.
5. Accessories
Sun hat or visor: Put on a hat with a wide brim or a visor to shield yourself from the harsh sun. Your face and neck will be protected from the sun by doing this.
Sunglasses: Don't forget to pack some UV-protective sunglasses to protect your eyes from the harsh sun and lessen glare.
Lightweight scarf or shawl for indoor venues with strong air conditioning: Las Vegas has powerful indoor air conditioning. Carry a thin scarf or shawl with you to cover up if you get cold in places with a lot of air conditioning, such as casinos or shopping centers.
6. Swimwear and Pool Attire
Swimsuits: Bring your favorite swimsuits if you want to enjoy Las Vegas's waterparks or pools. Pick a look that suits your preferences and makes you feel more comfortable.
Cover-ups: Remember to pack cover-ups, such as sarongs or light dresses, to put over your swimwear while you aren't in the water.
Flip-flops or pool shoes: For sitting by the poolside and moving around the pool areas, choose flip-flops or pool shoes that are water-resistant and simple to put on and take off.
By keeping in mind these clothing basic needs, you'll be ready to face June's heat in Las Vegas while also retaining comfort and style during your trip.
Also Read: What To Wear In Las Vegas In September?
---
Additional Tips and Considerations That Help in Packing For June Trip To Las Vegas
Below are some basic things which we all should consider while planning for June travel.
1. Sunscreen and Sun Protection
Before going outside, use sunscreen with a high SPF to shield your skin from UV radiation that can injure it.
Apply sunscreen again every couple of hours, especially if you're going to be spending a lot of time outside.
To further protect your face and eyes from the sun, put on a wide-brimmed hat.
If you intend to spend a lot of time outdoors, think about wearing breathable, light clothing that protects you from the sun.
2. Staying Hydrated
It's important to drink lots of water during the day in Las Vegas because it can get hot and dry there.
Bring a reusable water bottle with you and fill it up often.
Reduce your intake of alcohol and coffee since these can cause dehydration.
Use the water fountains and, if necessary, ask for water in restaurants.
3. Packing Light and Layering Options
Choose compact, lightweight apparel that won't take up a lot of space in your suitcase.
Pack things that may be combined and matched to create a variety of looks.
Bring a few layering alternatives with you, such as a thin cardigan or a long-sleeved shirt, for cooler indoor spaces or chilly evenings.
4. Checking Dress Codes for Specific Venues
There might be special dress codes for some Las Vegas restaurants, clubs, and concerts.
Check the dress codes of the places you wish to visit before choosing your attire.
If there are any requirements for footwear, clothing, or grooming, make sure to follow them to avoid entry restrictions or disappointments.
You'll be more prepared to enjoy your time in Las Vegas by keeping yourself protected from the sun, staying hydrated, wearing appropriately, and avoiding any dress code blunders if you pay attention to this additional advice and concerns.
---
FAQs About What to Wear in Las Vegas in June
There are a lot of questions that come to mind while packing for the las vegas trip in the month of June some of the commonly asked questions are answered below.
Q. Is Vegas too hot in June?
A. Yes, Las Vegas can be extremely hot in June, so dress accordingly
Q. What style to wear in Las Vegas?
A. Choose lightweight, breathable fabrics and versatile styles that suit the desert climate
Q. What do you wear to dinner in Vegas?
A. Dress in smart-casual attire or according to the specific dress code of the restaurant.
Q. What to wear to stay cool in Vegas?
A. Choose light, airy clothing made of breathable fabrics to stay cool in the Vegas heat.
Q. How do you survive the heat in Vegas?
A. Stay hydrated, wear sunscreen, and dress in lightweight, loose-fitting clothing.
Q. What do you wear in Vegas at 60 degrees?
A. Layer up with a light jacket or sweater to stay comfortable in cooler temperatures.
Q. What do you wear at night in Vegas?
A. Choose trendy and fashionable attire, such as dresses, skirts, or stylish tops, for a night out in Vegas.
Q. What do you wear to a Vegas casino?
A. Dress in smart-casual attire, avoiding overly casual outfits and beachwear, to visit a Vegas casino.
Conclusions
When visiting Las Vegas in June, it's important to focus on suitable attire and comfort. Choose breathable materials, flexible attire, and cozy shoes. You should modify your attire to fit various occasions and interests. Keep your cool, dress to impress, and get ready to have fun in the exciting city of Las Vegas.
---
Tell Us In The Comments your Suggestion for What to wear in Las Vegas in June Month

?

Also, don't forget to book your personalized holiday package with Fiery Trippers. Let us make your vacation a romantic as well as a dreamy getaway.