Are you planning a trip to the Virgin Islands and looking best resorts in the Virgin Islands? This article will really help you in finding the best one.
The U.S. Virgin Islands is a longtime family favourite vacation destination in the Caribbean because of their pristine beaches, stunning reefs, and lush hills.
There aren't many all-inclusive resorts in the USVI, but there are plenty of resorts with fantastic kid-friendly activities and a "family-friendly" atmosphere!
Take your passports along to sweeten the offer even more—a quick ferry ride will get you to the British Virgin Islands!
Here is my compiled list of what I consider to be the top family resorts the US Virgin Islands have to offer if you've been considering taking the whole family on a vacation to the amazing "Twin City" and are looking for hotel recommendations.
---
Which is the best US Virgin Islands to visit?
Croix is well known for its food, culture, and history. St. Croix, the largest of the three islands, attracts the fewest visitors, making it a perfect place to visit if you're looking for a less commercialized Caribbean experience.
---
List Of 11 Best Resorts in The Virgin Islands
Here is my compiled list of what I consider to be the top family resorts the US Virgin Islands have to offer if you've been considering taking the whole family on a vacation to the amazing "Twin City" and are looking for hotel recommendations.
Ritz-Carlton, St. Thomas
St. James's Club and Villas
The Westin St. John Resort and Villas
The Palms at Pelican Cove
The Buccaneer
Frenchman's Cove at Marriott
Sugar Beach Resort
Bolongo Bay Beach Resort
Caneel Bay Resort
Secret Harbour Beach Resort
Point Pleasant Resort
1. Ritz-Carlton, St. Thomas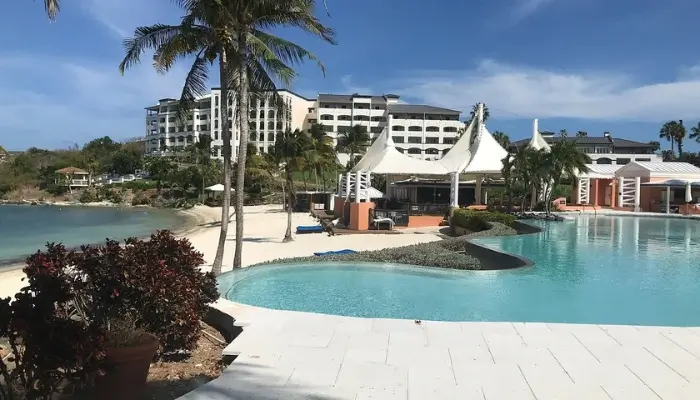 You have to admit that staying at a Ritz-Carlton anywhere in the world leaves very little room for error, and their 30-acre property in the U.S. Virgin Islands is hardly an exception.
The Ritz-Carlton five-star resort is situated on St. Thomas, the main island, in a stunning location amidst the hills and natural setting on the eastern side of the island.
It operates a Jean-Michel Costeau Ambassadors of the Environment program centred on the Caribbean setting of the resort for families.
As part of their outstanding kids' program, the resort offers a range of environmental activities and eco-adventures, such as wildlife observation at night, hiking through a rainforest, and glass-bottom boat rides, all while respecting and meaningfully interacting with the local flora and fauna.
---
2. St. James's Club and Villas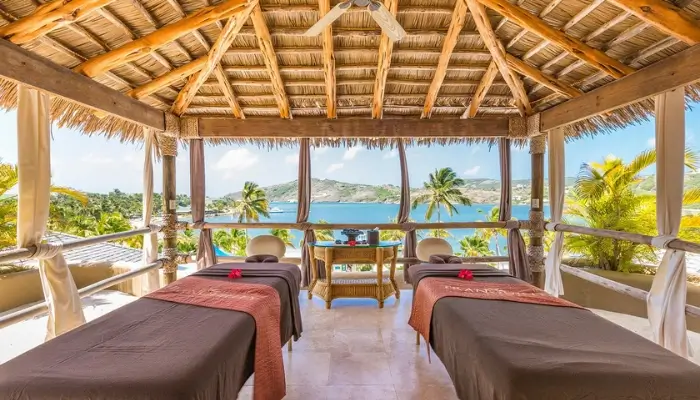 A significant portion of the St. James's Club and Villas, a stunning resort spread across 100 acres on the equally stunning St. James Island, is a designated national park.
Families who enjoy the outdoors will find the resort to be an excellent escape because of this.
On the resort's grounds, there are roughly 250 roomy accommodations for guests to choose from.
Additionally, it contains six pools (yes, you read that correctly!). Featuring two stunning beaches, one of which is situated on a tranquil bay that makes it a fantastic location for the family's younger members.
Even though the resort has a fantastic kids club, they also cater to teenagers with a special hangout on the beach.
Also Read: 11 Best Places To Visit In California
---
3. The Westin St. John Resort and Villas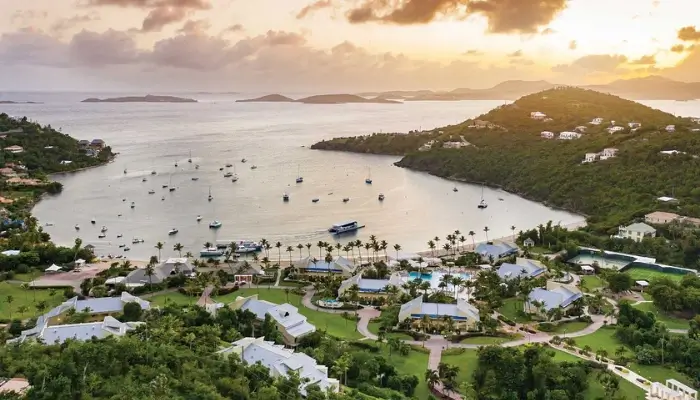 The Westin, one of the most well-known family resorts in the US Virgin Islands, is situated on St. John Island. It has a 47-acre property that is tucked away in the hills but is also close to the marina and island ferries.
One of the resort's main attractions is its 1,200-foot beach, which features white sands, turquoise water, and a variety of on-site watersports. The resort also has a quarter-acre pool, which is a great place for families to get together and spend time together.
There are large villas with one, two, or three bedrooms that come with a fully functional kitchen, washer, dryer, and CD player.
---
4. The Palms at Pelican Cove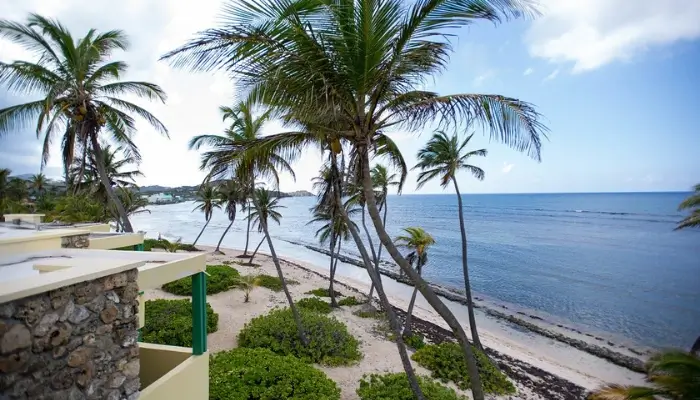 If you're searching for a private family trip where you can immerse yourself in the tradition, culture, and general environment of the Caribbean Islands, St. Croix may be one of the less-travelled islands in the area.
The Palms at Pelican Cove might be the nicest hotel on St. Croix if that's your idea of a family getaway!
There are just 40 rooms on the property, and families can pick between the top-floor suites with kitchenettes and separate living areas or standard guest rooms.
The hotel's modest but lovely pool is only a short distance from the peaceful, deserted beach that lines the property.
---
5. The Buccaneer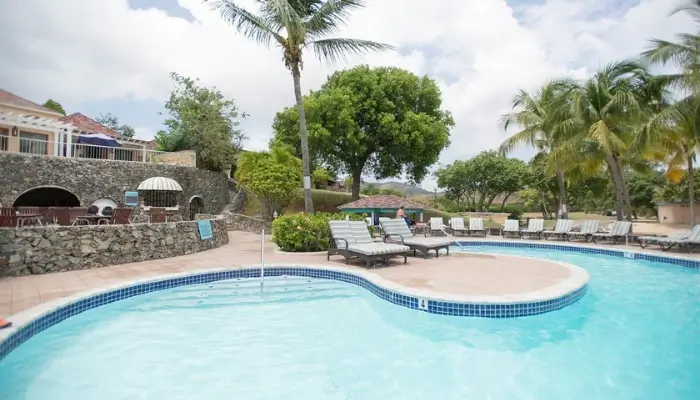 Since it has been owned and operated by one family for more than 60 years, The Buccaneer has been a popular destination for family holidays.
The Buccaneer, which is spread out over 340 acres on St. Croix, may not be the ideal location for a peaceful, private escape, but it offers a tonne of family-friendly activity nonetheless!
The resort's Toddler Time program, which is offered on the resort's beach, is great fun for toddlers and the young ones can have a blast at the free kids' camp program.
The resort provides charming cottage suites with master bedrooms and a second bedroom with twin beds just for the kids as lodging options.
Also Read: 11 Best Beach Resorts In The USA
---
6. Frenchman's Cove at Marriott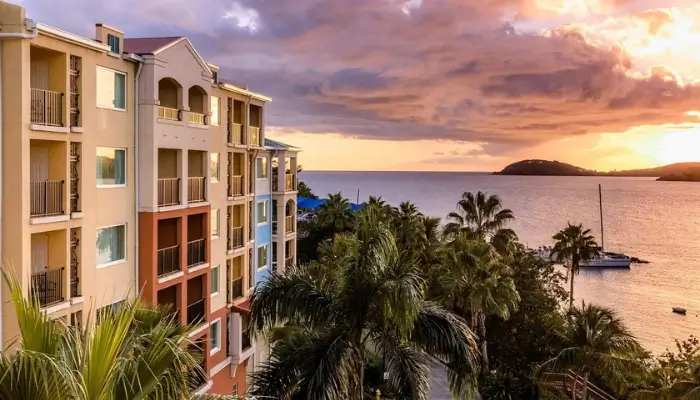 The Frenchman's Cove, which is tucked away in the lovely St. Thomas Island just next to the Marriott's Frenchman's Reef, is calmer, better kept, and less crowded than the Frenchman's Reef.
There are 221 rooms (both two and three bedrooms) at The Frenchman's Cove, including suites that can accommodate up to 12 people.
Each of the suites features a private balcony where you can relax with a glass of wine in the moonlight after the kids have fallen asleep, along with separate living rooms, dining spaces, full kitchens, washers, dryers, and DVD players.
While the youngsters are occupied with the entertaining and interesting activities of the resort's kids' club, you can also choose to spend long, sunny days sunbathing on the beach.
---
7. Sugar Beach Resort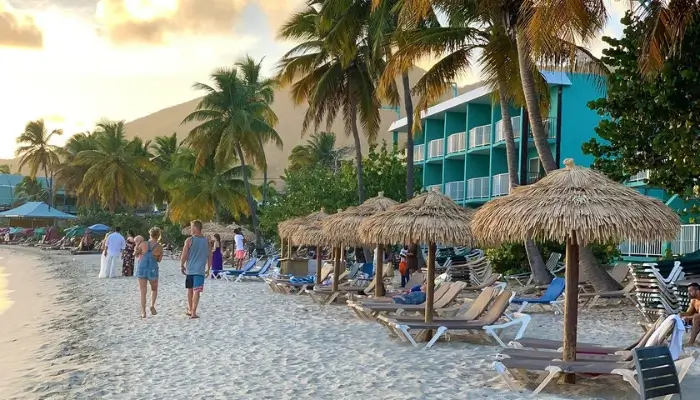 The Sugar Beach Resort is a popular choice for families looking for peaceful getaways because it is small, serene, and offers a tonne of family-friendly moods and activities on just 7 acres of property!
The Sugar Beach Resort, which is situated on the tranquil island of St. Croix, is a fantastic choice for family holidays with many generations because of its roomy four-bedroom apartments with complete kitchens and amenities.
The resort is also conveniently situated 500 feet of magnificent beachfront land, making it the perfect place to enjoy some quality family time.
Along with a reliable childcare service, they also offer hiking and biking.
---
8. Bolongo Bay Beach Resort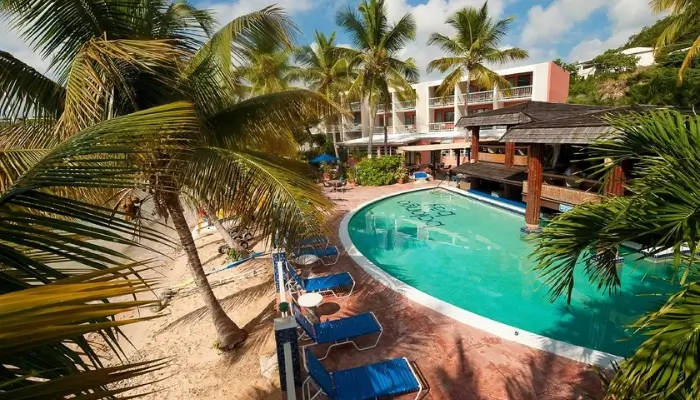 Despite the noise and bustle of the main island life that surrounds it, the Bolongo Bay Beach Resort, which is located on St. Thomas, creates the ideal setting for an incredibly quiet and intimate family holiday!
This resort is a tranquil haven with 62 rooms that offer breathtaking beach views and Iggies Beach Bar, which is a local favorite for its tasty food, live music, and casual dress code of bare feet and swimsuits.
The beach itself is stunning, with ungroomed sand and palm trees lining it. It has been allowed to remain as natural as possible.
But what makes Balongo Bay Beach Resort stand out is that it's one of the few hotels that offers an all-inclusive vacation!
Also Read: 11 Best Things To Do In Madison, Wisconsin
---
9. Caneel Bay Resort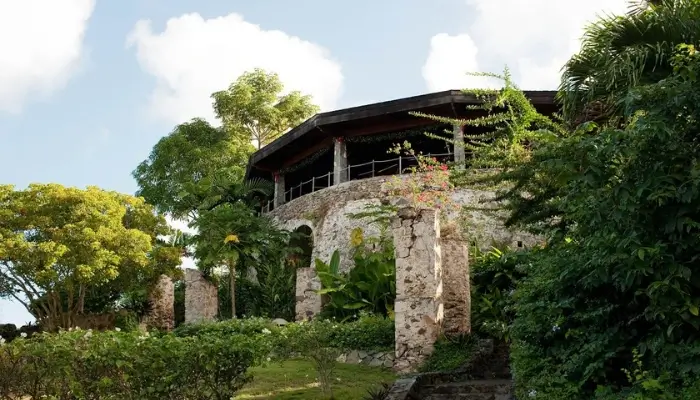 Since Laurence Rockefeller fell in love with Caneel Bay during his first visit to St. John, he even created the area's infrastructure and roadways and made it his home, giving it quite the history.
The location is a terrific place to visit even if you don't plan to stay here because he also donated more than 5,000 acres of land to be made into a national park, 170 acres of which are the Caneel Bay resort.
If you do decide to stay here, Caneel Bay does an excellent job of upholding Rockefeller's affection for the island while effectively serving vacationing families.
The accommodations are lovely and roomy, but they lack televisions and phones so you can focus solely on each other and the island (even the internet connectivity is spotty and weak here!).
---
10. Secret Harbour Beach Resort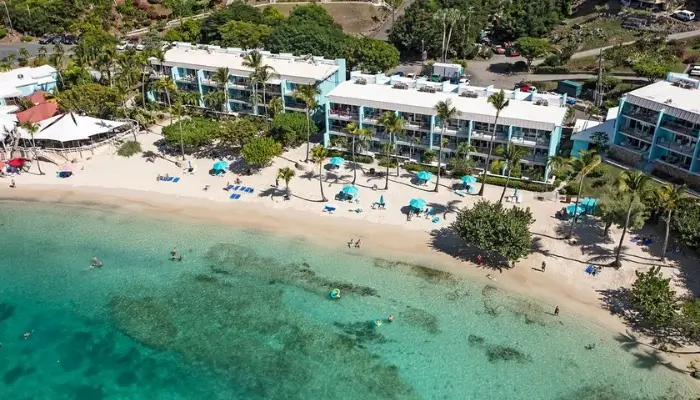 The Secret Harbour Beach Resort on crowded St. Thomas is another incredibly small hotel (as the name implies!).
It's not just a quiet retreat, but it's also kept a secret from most tourists!
The resort provides its visitors with villa accommodations in the form of privately owned condominiums, each of which is specially styled and decorated.
These apartments, which range from one to three bedrooms, are 1,400 square feet in size and have full kitchens, dishwashers, washers, and dryers, as well as dining rooms (both indoor and outdoor).
The resort has 48 villas spread across 5 low-rise structures that surround a tranquil, isolated cove where you and the family can enjoy leisurely swimming and water activities.
Also Read: 11 Best Tourist Attractions In Waikiki, Hawaii
---
11. Point Pleasant Resort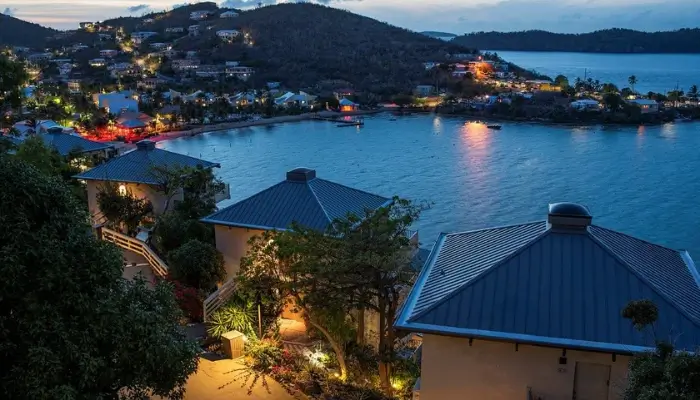 The Point Pleasant Resort is one of the best options when visiting the Virgin Islands with children in tow because of its many features, spaciousness, and activities. It may be last on my list, but it is by no means the least.
Point Pleasant, which is on the east coast of St. Thomas Island, offers beautiful scenery and is just a short drive from the Red Hook neighbourhood's eateries and shopping centres, if you can muster up the willpower to leave the resort, that is.
The resort is a world of entertainment in and of itself with 3 pools, a top-notch spa, and an on-site restaurant.
Private companies own and operate the villas on the property, and they are all individually decorated.
The fact that they are all very roomy, with sizable living areas and fully functional kitchens, makes them all excellent choices for families.
The resort also features a small, rocky beach, but if it doesn't suit your tastes, you are always welcome to walk over to the Sugar Bay Resort and enjoy their beach whenever you like!
---
Conclusion
Since most tourists take the most popular routes, you might notice that many of them suggest St. Thomas as the greatest US Virgin Island for a family trip.
Even though the island is a fantastic choice, don't overlook the stunning resorts on the more sedate St. Croix and St. John.
These islands are a terrific choice for uninterrupted quality family time because they are less popular and hence more private, intimate, and generally crowd-free.
Having said that, the resorts on my list can provide you with the exact kind of vacation you're looking for, whether you want a fun break filled with nonstop action, a relaxed weekend with the family, or anything in between.
Consider these family-friendly hotels the next time you want to plan a vacation to the US Virgin Islands for a wonderful combination of fun, quality time, and the freedom for each child to customize their trip as they like while still being able to enjoy being together as a family.
---
FAQs For Resorts in The Virgin Islands
Below we have answered some of the commonly asked questions about the stay of resorts in the Virgin Islands.
Q.1 What is the prettiest Virgin Island?
Thomas. St. Thomas is one of the U.S. Virgin Islands and is a tropical haven, maybe the most well-liked. It is the ideal location for stunning holiday photos since it has access to the glistening oceans, abundant coral reefs, and immaculate beaches of other nearby islands.
Q.2 Which Virgin Island is the safest?
The safest US Virgin Island is… In terms of crime, St. John is the least violent of the three US Virgin Islands.
Q.3 Which Virgin Island is the cheapest?
Thomas St
The most affordable Virgin Island to stay on is St. Thomas since it offers the biggest airport, the most amenities, public transportation, and a variety of lodging alternatives.
Q.4 Do you need a passport to go to the Virgin Islands?
The U.S. Virgin Islands do not need passports for citizens of the United States, but you must be ready to provide proof of citizenship upon departing the region (such as a government-issued photo ID or your passport).
---
Tell Us In The Comments As per You Which Is The Best Resorts in The Virgin Island?
Hope we were a great help to you, for further guidance and help be the first to discover secret destinations, travel hacks, and more.
Also, don't forget to book your personalized holiday package with Fiery Trippers. Let us make your vacation a romantic as well as a dreamy getaway.
---