Are you planning to visit Venice (CA) and looking for tourist places in Venice? If you have no idea where to go in Venice? This article can help you in finding the best things to do in Venice, California.
The Los Angeles County westside includes Venice, California. Venice has had a reputation for being a quirky, interesting, and distinctive component of the Southern California environment ever since it was established in 1905.
This coastal vacation town has embraced artistic expression and other cultures for over a century while simultaneously offering entertainment, instruction, and ocean-related activities for the neighboring villages.
Even though the city was originally a swampy wetland, its creator, Abbot Kinney, chose to call it Venice in honor of the well-known Italian metropolis.
The new city soon began to resemble its namesake thanks to the building of canals to drain the marsh. Even the stores and old structures from the early 1900s were inspired by Venetian design.
Venice continues to be an enter of diversity and a shelter for artists today. The city continues to entice residents and visitors alike to take advantage of everything it has to offer,
including its self-guided walking tour, access to the Pacific Ocean, mouthwatering cuisine, and prolific street art.
Venice is the ideal location for a warm escape because of its proximity to other Southern California locations like Los Angeles, Santa Monica, Marina Del Rey, and Manhattan Beach.
---
Which is the best month to go to Venice?
September through November, when visitors have left the city, is the ideal time to explore Venice. The reduced hotel costs and the deserted canals make it worthwhile despite the temperatures, which range from the high 30s to the mid-70s.
---
List of 11 Best Things to Do in Venice, California
After a lot of research, we have shortlisted some of the best places to visit in Venice, California.
Venice Beach
Muscle Beach
Venice Beach Boardwalk
Hotel ERWIN and the High Rooftop Lounge
Abbot Kinney Boulevard
Guided Bike Tour
Venice Beach Skate Park
Venice Canal Historic District
Venice Art and Public Art Walls
Venice Pier
The Mosaic Tile House
1. Venice Beach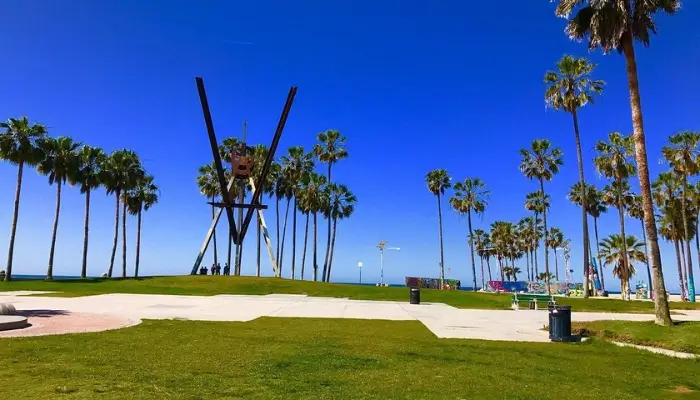 Although the terms are frequently used interchangeably, Venice Beach is the moniker given to the city's oceanfront sector. Numerous ocean activities, including swimming, bodyboarding, paddle boarding, surfing, and kayaking, are available at Venice's beach.
Miles of sandy shoreline offer hours of enjoyment for activities like beach volleyball or frisbee, picnics, sunbathing, shell gathering, and sand castle construction.
Along the exposed coastline of the Venice Breakwater, visitors may watch the waves come in or take surfing lessons.
The second-most frequented destination in Southern California and the busiest of the numerous facilities under its management, according to the Los Angeles Department of Recreation and Parks, is Venice Beach.
According to the department, Venice Beach is one of the most popular tourist destinations in Venice, California, and is also one of the most frequented places in the area, with more than 10 million visitors annually.
Also Read: 11 Best Places To Visit In California That Are Really Beautiful To Explore
---
2. Muscle Beach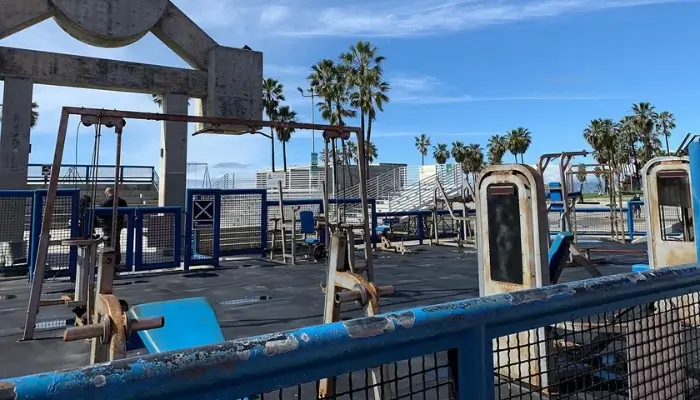 Muscle Beach Venice, a distinctive outdoor gym that is frequently referred to as the "Home of Bodybuilding," is where bodybuilder, actor, and former California governor Arnold Schwarzenegger and bodybuilder and actor Lou Ferrigno first gained notoriety.
Along with Joe Gold, the founder of Gold's Gym, Frank Zane, Franco Columbu, Vic Tanny, and other well-known figures have all trained at Muscle Beach.
Although the bodybuilding and fitness craze started in the middle of the 1930s, it gained popularity among "ordinary Joes" and fitness enthusiasts during the following several decades.
Muscle Beach became well-known for exercising and showcasing feats of fitness because of its setting under the warm Southern California sun and next to the stunning Pacific Ocean.
Bodybuilders and fitness fanatics still flock to Muscle Beach Venice to work out and contribute to the gym's legendary history. Visitors can buy a day pass or a week pass if they want to use the gym for themselves. Please click this link for further details.
Also Read: 11 Best Things To Do In Pasadena, California
---
3. Venice Beach Boardwalk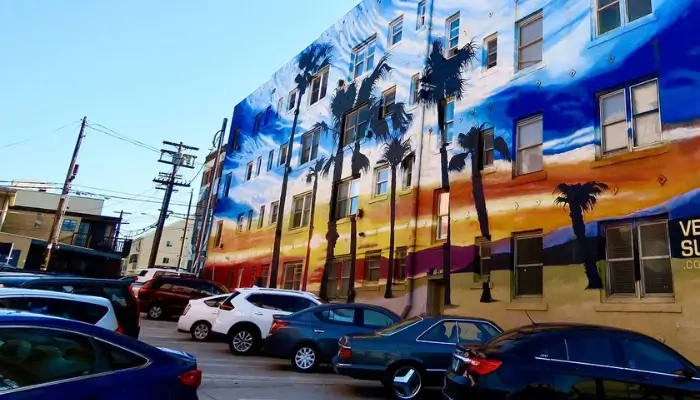 Here is a good place to start if you're unsure what to do in Venice, California. The Venice Beach Boardwalk, which is situated along the Ocean Front Walk of Venice Beach, has a mile-long selection of restaurants, gift shops, street performers, bars, and the renowned Venice public art walls, which are buildings where artists can legally display their street art.
The most popular section of the Venice Beach Boardwalk, which extends for almost a mile along the paved Ocean Front Walk, is situated between North Venice Boulevard and Park Avenue.
Numerous beachgoers can be seen riding bikes, using rollerblades, skating, or just strolling around here.
Also Read: 11 Best Things To Do In Irvine, California That Are Really Wonderful
---
4. Hotel ERWIN and the High Rooftop Lounge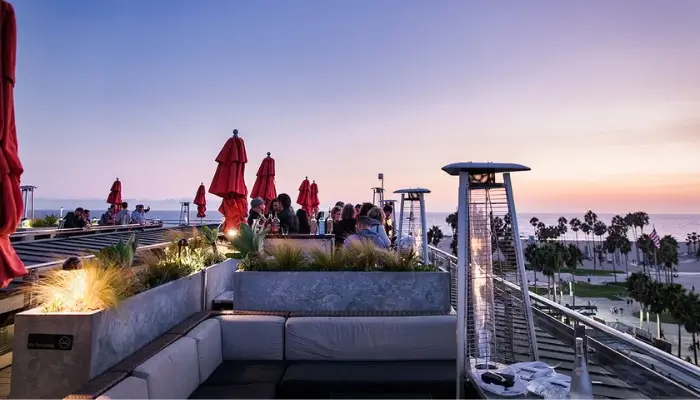 In the 1970s, the Hotel ERWIN, a boutique hotel in Venice, initially opened its doors. This well-known hotel is a favorite among both tourists and residents due to its prime position on Venice Beach and its distinctive design.
The High Rooftop Lounge is one of The Hotel ERWIN's most beautiful features. Visitors can enjoy a breathtaking view of Venice Beach, the Pacific Ocean, the nearby Los Angeles neighborhoods, and the Southern California sunset from this rooftop bar.
The High Rooftop Lounge serves dinner and evening beverages, as well as brunch on Saturdays and Sundays and happy hour deals during the week.
Also Read: 11 Best Monterey Beaches To Visit With Family And Friends
---
5. Abbot Kinney Boulevard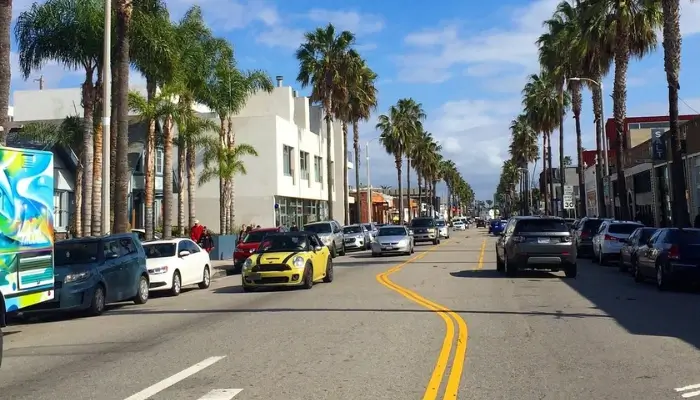 Abbot Kinney Boulevard, which bears the name of the city's original developer, is home to some of Southern California's most distinctive shops and eateries.
The majority of the must-see destinations are located between Venice Boulevard and Pacific Avenue, even though the roadway extends from Washington Boulevard in Venice to Main Street in nearby Santa Monica.
Due to its closeness to the shore, this location is perfect for dining, shopping, and taking in the seaside breeze.
Shopping on Abbot Kinney Boulevard embodies Venice, California. The numerous shops lining the busy boulevard reflect the neighborhood's Boho chic aesthetic.
Abbot Kinney Blvd. has something for everyone, from clothing and fine jewelry to outdoor decorations and home furnishings.
Since there are so many eateries along this length of the promenade, customers can spend the entire day at this well-known Venice location without ever having to leave.
Also Read: 11 Fun And Best Things To Do In Sacramento, California
---
6. Guided Bike Tour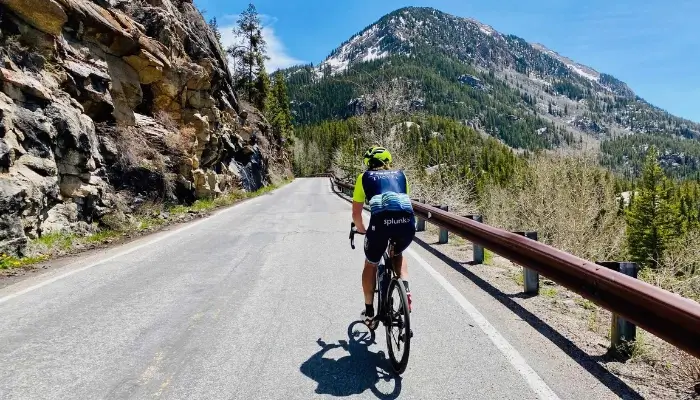 Consider hiring a bike and taking a tour of the Santa Monica and Venice beach districts if you're still unsure of things to do in Venice, California.
To keep you comfortable and energized as you visit some of Santa Monica and Venice Beach's most well-known beautiful locations, our guided tour makes use of electric bicycles.
If visitors would like, they can rent pedal-powered or non-electric bicycles.
Guests will travel along the renowned Venice Beach Canals on this cycling trip. Despite being initially constructed to drain the swampy water from the surrounding area,
they were swiftly transformed into a Venice Beach attraction due to its reputation as the Californian equivalent of the Venice canals in Italy. The Santa Monica Pier and the surrounding bicycle trails are also popular with visitors.
---
7. Venice Beach Skate Park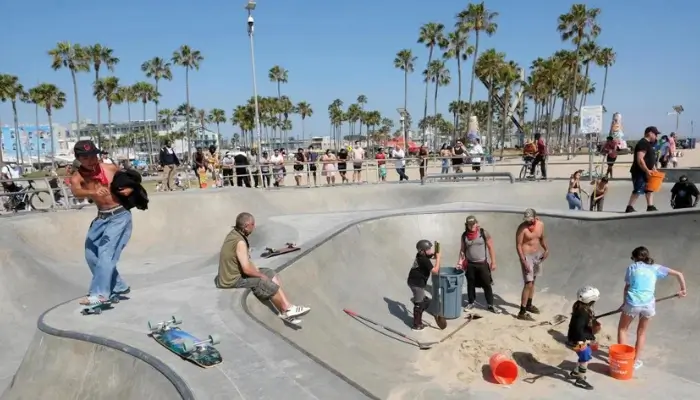 The 16,000-square-foot Venice Beach Skate Park is available to skateboarders and aficionados. The park was the product of a 20-year campaign started by well-known skateboarder Jesse Martinez, and it was finished in 2009. It is the most costly skate park ever built, coming in at $3.5 million.
The closest cross-streets, Market Street or Speedway, make it simple to get to the Venice Skate Park, which is situated just across from the Venice Beach Boardwalk.
Visitors to the park have the option of watching from a distance or getting on a skateboard and participating themselves.
Also Read: 11 Best Places To Visit In San Diego That Make Your Trip Memorable
---
8. Venice Canal Historic District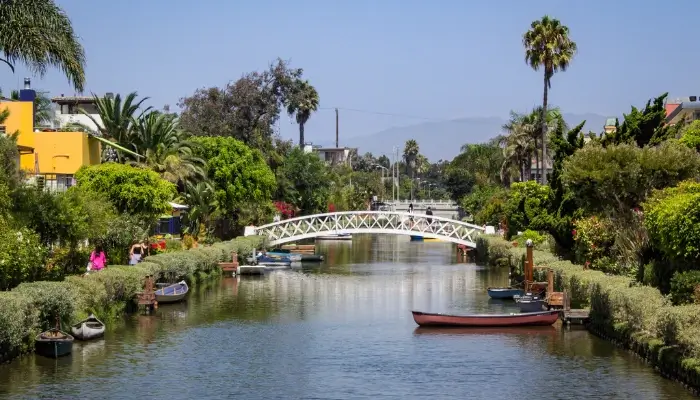 You may discover one of the most well-known Venice Beach attractions while taking a walking or biking tour of the Venice Canal Historic District.
Even though the region's inaugural builder, Abbot Kinney, built numerous canals initially, many of them were covered over in 1929 to make way for roadways.
Only a few of the once-beautiful canals still exist today as a result of the rise in popularity of the vehicle.
The Venice Beach canals were in such bad shape by 1940 that the authorities had to condemn some of the areas.
The canals did not undergo the urgently required upgrades to return them to their former splendor in the early 1900s for more than 50 years.
Also Read: 11 Best Things To Do In Capitola, California To Explore With Family
---
9. Venice Art and Public Art Walls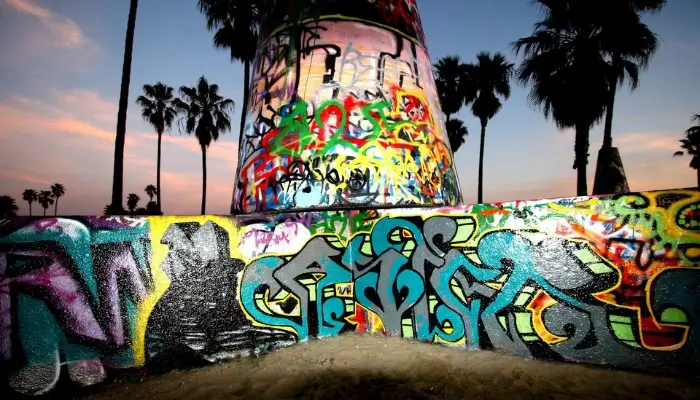 California's Venice Beach has long been renowned for its eccentricity and distinctive art culture. The city still has unique pieces of art and public art walls for residents and visitors to enjoy, ranging from public sculptures to building-size Venice murals.
One of the reasons why artists from all over the world go to this famous beach is because of the public art walls in Venice.
Street artists, graffiti artists, and other artists are welcome to create their unique works of art on one of the public art walls every weekend. First come, first served and the experience is free.
Also Read: 11 Best Places To Visit In California
---
10. Venice Pier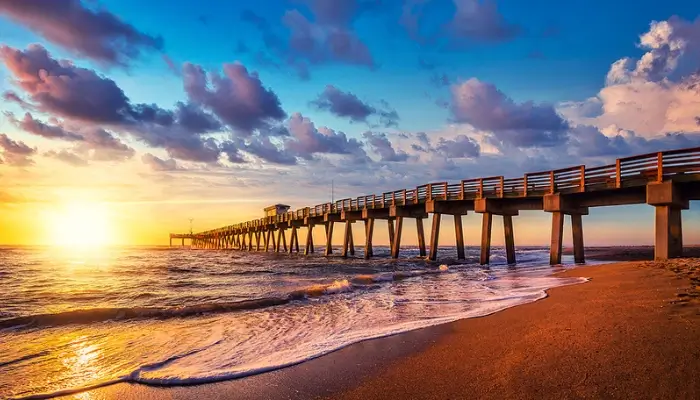 The 1,300-foot-long Venice Pier leads into the Pacific Ocean. The pier was initially constructed in 1963, but it swiftly fell into disrepair and was set to be demolished only 20 years later. However, thanks to the community of Venice Beach, the pier was preserved and renovated, opening once more in 1997.
The pier is a cool location for a stroll in the sun with breathtaking views of the ocean and the waves smashing below. It also provides views of Muscle Beach, the Santa Monica Pier, and the Venice Beach Boardwalk.
It has cutouts along the rail for wheelchair viewing and is completely accessible. In these areas, the railing height is also decreased to provide a clear view.
The Venice Pier is a fantastic area for fishing in addition to being a lovely place to stroll. For a secure, enjoyable, and practical experience, it has benches, sufficient lighting, and fish-cleaning stations.
Also Read: 11 Best Resorts In California For Amazing Vacations With Families
---
11. The Mosaic Tile House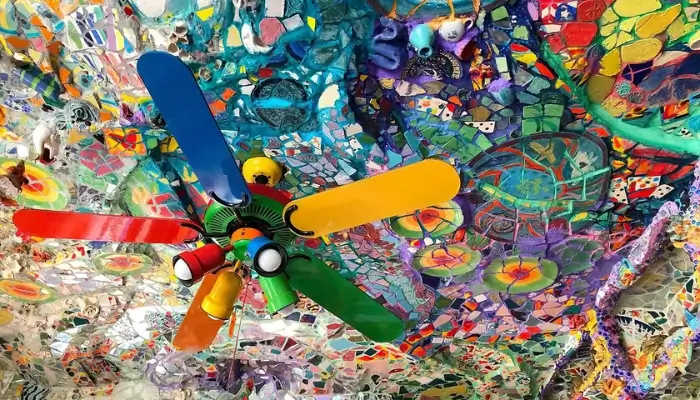 One of Los Angeles' most famous structures is the Mosaic Tile House. It is a distinctive, must-see attraction due to its striking colors, unique design, and eclectic assortment of tiles and ornaments.
The husband and wife artists who built the house utilize it as both a private home and an art studio. Although it started as a weekend renovation project, the couple's passion for it quickly developed. It is still a work in progress.
The home's outside, which features colorful mosaic tiles and intricate motifs, is gorgeous, but the interior is just as striking.
Visitors may examine the personal artwork produced by founders Cheri Pann and Gonzalo Duran in addition to the vibrant murals, as well as get a look at some of their ongoing Mosaic Tile House projects.
---
FAQs For Things to do in Venice
There are a lot of questions that come to mind while planning a trip to Venice (CA) some of the commonly asked questions are answered below.
Q.1 Are 3 days too much in Venice?
Venice should be explored over the course of three full days. To view the main sights, such as the Doge's Palace, Saint Mark's Basilica, and the Bridge of Sighs, you'll need two days. The most fascinating islands in the Venetian lagoon, Murano and Burano, need a whole day of your time.
Q.2 What are the 3 things that Venice is famous or known for?
Venice, often known as the "City of Canals," is well-known for a variety of things, including its stunning bridges, gondola rides, evocative streets, and carnival celebrations. One of the most distinctive cities in the world is Venice, which was constructed on 118 islands.
Q.3 Are 2 days in Venice too much?
Ideally, you should stay in Venice for two to four days. You will only have two full days in Venice, but you will have just enough time to see the main attractions, eat some delectable food, wander the canals, and gain some insight into the city's distinct culture and history. There will be a tonne of activities and locations to see on your itinerary.
Q.4 Is Venice a walkable city?
One of the best cities in the world for walking is Venice, sometimes referred to as the Floating City.
---
Tell Us In The Comments As per You Which One is the Best Thing to Do in Venice, California?
Also, don't forget to book your personalized holiday package with Fiery Trippers. Let us make your vacation a romantic as well as a dreamy getaway.