Are you planning to visit Los Angeles and looking for good places to shop in Los Angeles? If you have no idea what and where to go? This article can help you in finding the best Los Angeles Shopping Destinations
A large, vast city, Los Angeles has quaint stores and sexy boutiques on nearly every corner. However, due to the sprawl, deciding where to go shopping on a given day can be challenging.
Do you want to shop close to the beach, in the middle of Beverly Hills, or even out in the San Fernando Valley? Additionally, choosing where you want to shop is the following step in the planning process after deciding on the site.
There are massive shopping centers, seaside strolls, and entire streets devoted to selling you items that are impossible to find anyplace else in the world.
However, be prepared to deal with the crowds since, in Los Angeles, shopping is a serious sport, especially in the wildly famous locations like the Grove and the Commons at Calabasas.
Perhaps it is because of the fantastic stores, eateries, and movie theaters that are located there, but it's also possible that it is because renowned Hollywood faces can frequently be seen wandering around in both of those shopping meccas.
---
Shopping in Los Angeles?
If you're looking for great shopping in Los Angeles, you're in luck! The city has many great options for shopping, from high-end boutiques to discount stores.
The Grove is a great outdoor mall with more than 100 stores, and the Beverly Center is an eight-level indoor mall with all the top brands.
For bargain hunters, the Citadel Outlets offer designer deals, and there are plenty of vintage shops in Silver Lake and Echo Park.
No matter what you're looking for, Los Angeles has something for everyone. Happy shopping!
---
What is the famous shopping street in LA?
Rodeo Drive
Over 100 expensive clothing stores and opulent one-of-a-kind boutiques can be found on this famous street of Los Angeles, which extends over three city blocks and caters to the couture-obsessed fashion darlings.
---
List of 11 Best Los Angeles Shopping Destinations
After a lot of research, we have shortlisted some of the best places to visit in Los Angeles for shopping as mentioned below.
Westfield Century City Mall: Shopping Mall
Venice Beach Boardwalk: Street Market
The Commons at Calabasas: Shopping center in Calabasas, California
Santa Monica Place: Shopping mall in Santa Monica, California
Melrose Avenue: Avenue in California
Montana Avenue: Street in California
The Grove: Retail and Entertainment Complex
Beverly Center: Shopping mall in Los Angeles, California
Abbot Kinney Boulevard Shops: Road in Los Angeles, California
Rodeo Drive: Street in California
The Santee Alley: Shopping Place
1. Westfield Century City Mall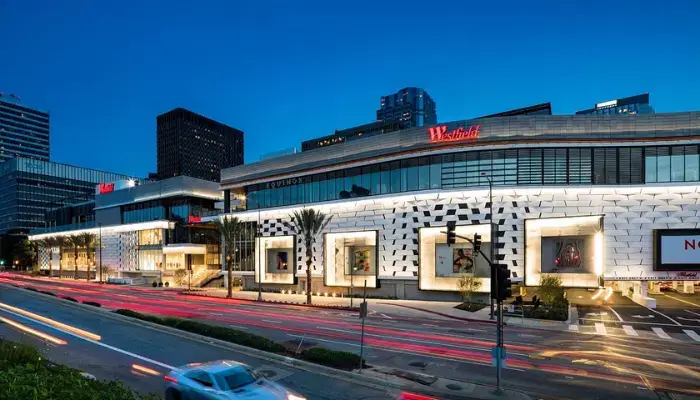 Westfield Century City Mall underwent a significant $1 billion renovation in 2017 and is now one of the leading shopping destinations in Southern California.
The only thing that stayed the same after this huge outdoor mall's changes was the AMC Century City 15 movie theaters.
There are around 200 stores and eateries available to shoppers. It is supported by Nordstrom, Bloomingdale's, and Macy's, and it has three distinct (and delectable) restaurants in addition to a sizable Eataly, an Italian specialty food store.
The Apple Store, Ted Baker, John Varvatos, and Michael Kors are just a few examples of smaller retailers. Try some of the local cuisines at Terra, Din Tai Fung, Javier's, and the other eateries dotted throughout.
Make a weekend out of it by staying at the brand-new Fairmont Century Plaza Hotel across the street. The mall also hosts a tonne of special events and pop-up shops.
Address: 10250 Santa Monica Blvd, Los Angeles, CA 90067, United States
Also Read: 11 Best Things To Do In Venice, California That Will Make Your Trip Memorable
---
2. Venice Beach Boardwalk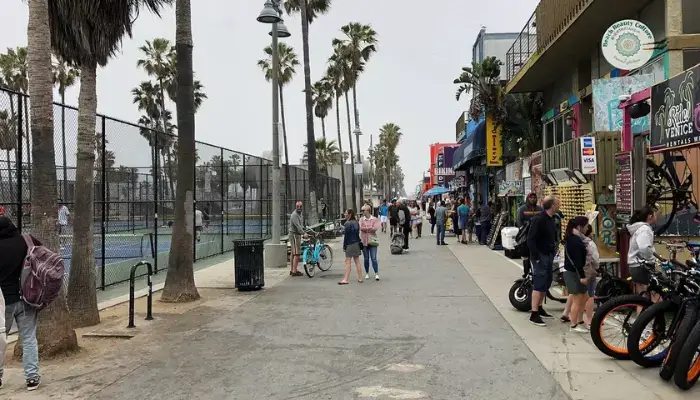 The beach scene on Venice Beach is unlike any other beach scene in Southern California. To begin with, it's the only location where we have a boardwalk that runs directly along the sand, lined with stores offering everything from beach essentials like surfboards, boogie boards, wetsuits, bathing suits, sunscreen, and flip flops to hippy jewelry, incense, and stoner gear.
There is no doubt that the Venice Beach Boardwalk is a must-visit L.A. shopping area when you consider the opportunity to see the renowned Muscle Beach outdoor workout area, the running-chainsaw jugglers,
the drum-circle bangers, and all the gorgeous bikini-clad gals and ripped guys who cycle by on the bike path.
On the Waterfront is a great place to stop for fuel because they've been selling Erdinger beer, frozen cocktails, delicious California-style food, and coastal views of the sand and sun for decades.
Address: 1800 Ocean Front Walk Venice, CA 90291
Also Read: 11 Best Places To Visit In California That Are Really Beautiful To Explore
---
3. The Commons at Calabasas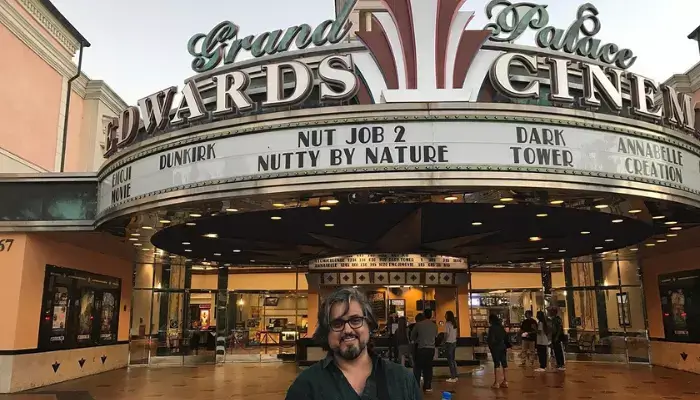 The Commons at Calabasas is another Caruso Affiliated shopping center, and it feels very much like the Grove in the Mid-Wilshire neighborhood of Los Angeles.
The Edwards Grand Plaza stadium-seating multiplex is situated in the center of the outdoor mall, which is surrounded by buildings with Mediterranean architectural styles that house shops, restaurants, and fountains.
People visit just for the atmosphere because it is such a pleasant location. However, there is a tonne of popular retailers to choose from, including Sephora, Barnes & Noble, Williams Sonoma Home, Lululemon, and Bonjour Fete.
Additionally, this is a favorite hangout for celebrities that reside in the area's mansions to visit, so keep an eye out since you never know when Kim Kardashian or her family might pass by.
Address: 4799 Commons Way, Calabasas, CA 91302, United States
Also Read: 11 Fun And Best Things To Do In Sacramento, California To Enjoy Fully
---
4. Santa Monica Place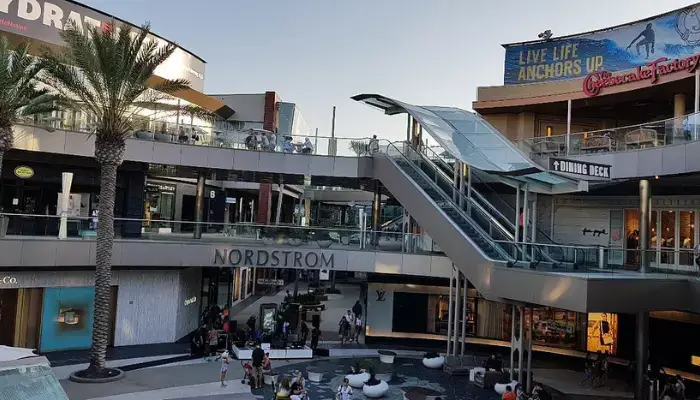 A modern open-air shopping center with Nordstrom as its anchor has long since taken the place of the previous Santa Monica Place, which was built by Frank Gehry.
On the top floor, which has ocean views and a variety of restaurants, there are many upscale shops as well as high-end boutiques.
Park in one of the several parking garages that are located around the mall, and be sure to stroll down the Third Street Promenade, which is nearby and home to additional stores, eateries, and occasionally quite odd people-watching.
The beach and the Pacific Ocean are also close by, as well as the Santa Monica Pier.
Address: 395 Santa Monica Pl, Santa Monica, CA 90401, United States
Also Read: 11 Best Things To Do In Irvine, California That Are Really Wonderful
---
5. Melrose Avenue
Melrose Avenue is home to some of the top designers in the world, such as Vivienne Westwood and Paul Smith, as well as a Decade's consignment shop, where couture brands are given a second chance.
To find Melrose Avenue, start near the Beverly Center and La Cienega Boulevard. As you move closer to La Brea Boulevard, the stores convert into quirky, edgy boutiques brimming with affordably priced, on-trend clothing.
So whether you have a punk aesthetic or a more refined sense of style, somewhere along Melrose Avenue you can find a hidden gem.
Spending a day meandering around the extremely long street and making interesting discoveries along the way is part of the pleasure.
Additionally, don't forget to check out Supreme and Dolls Kill on Fairfax, a few blocks south of Melrose, where lines often form when one of the apparel stores has a special release available.
Also Read: 11 Best Things To Do In Pasadena, California That Are Really Amazing
---
6. Montana Avenue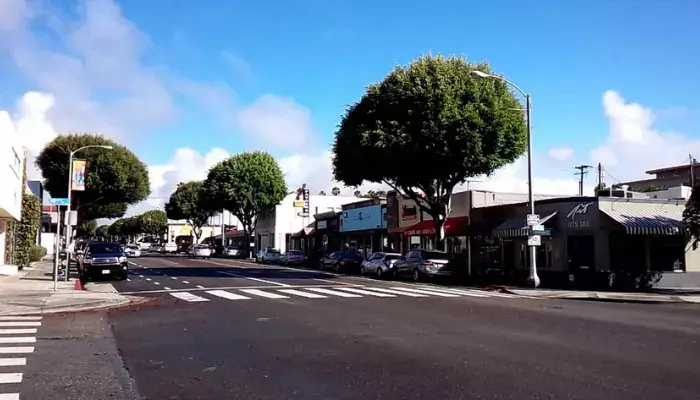 The Montana Avenue retail district is almost 10 blocks long and has over 150 high-end stores selling anything from children's apparel to home goods.
Before heading to Savannah to shop for the newest styles, be sure to stop by Moondance Jewelry Gallery or Claude Joaillier for stunning jewelry and other items that every woman will appreciate.
Furniture may be found at Lovesac or Nest Bedding, bath and body products can be found at Larissa Love, and you can even get all your kinks sorted out at The Massage Place.
Finish out your time in Montana with a meal at Forma or Father's Office, a sample of French cookies at Le Macaron French Pastries, and then continue a few more blocks west to the beach to watch the sunset over the Pacific Ocean.
Also Read: 11 Best Monterey Beaches To Visit With Family And Friends
---
7. The Grove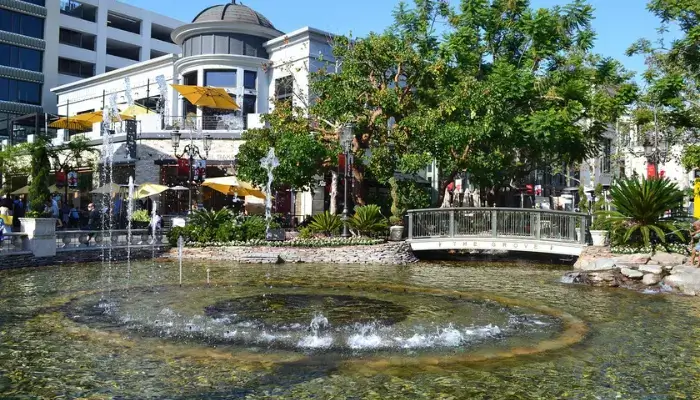 The Grove is constantly bustling with shoppers, no matter the time of day or year. Teenagers enjoy hanging out there and taking pictures by the open-air mall's animated music fountain,
adults enjoy browsing the variety of stores and everyone enjoys the delicious food available there.
Favorites include Alma, the newest hotspot that specializes in upscale Mexican cuisine, La Piazza, and Blue Ribbon Sushi Bar & Grill, where you must have fried chicken with wasabi because it is divine.
And the Original Farmer's Market, where several venerable restaurants are located, is only a short stroll away. For a true taste of New Orleans, go to The Gumbo Pot there!
Address: California 95388, USA
Also Read: 11 Best Places To Visit In San Diego That Make Your Trip Memorable
---
8. Beverly Center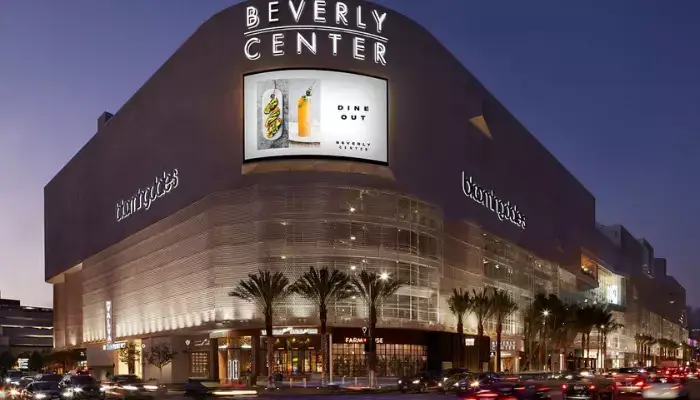 Since it first opened in 1982, the Beverly Center has housed over 100 prestigious stores, including Burberry, Dolce & Gabbana, Gucci, Louis Vuitton, Prada, Saint Laurent, and Versace. It also recently underwent a complete makeover.
The mall, which stands eight stories tall and has been featured in a lot of movies and television shows, is undoubtedly a famous retail landmark. Additionally, there are stores like Bloomingdales and Macy's as well as largely street-level eateries.
There is a feeling of grandeur and elegance inside. We advise doing this, especially on a hot day when the cool inside space just might offer up the ideal item you've been hunting for since it is the greatest way to enjoy this enormous mall.
Address: 8500 Beverly Blvd, Los Angeles, CA 90048, United States
Also Read: 11 Best Things To Do In Capitola, California To Explore With Family
---
9. Abbot Kinney Boulevard Shops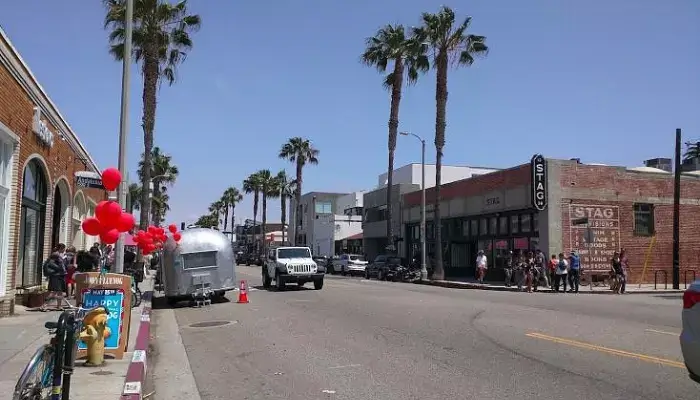 Abbot Kinney in Venice, formerly a tranquil little street with a few great restaurants and art galleries, is now the most popular place to shop.
There appear to be new shops opening up every week, with staples like Robert Graham, Marine Layer, Warby Parker, Huset, and Timbuk2 among them.
Start your journey at the intersection of Abbot Kinney and Venice Boulevard and keep going until you reach Main Street.
Here, the discoveries are limitless. Additionally, there are several excellent restaurants, such as Gjelina, Lemonade, Plant Food + Wine, and Felix.
---
10. Rodeo Drive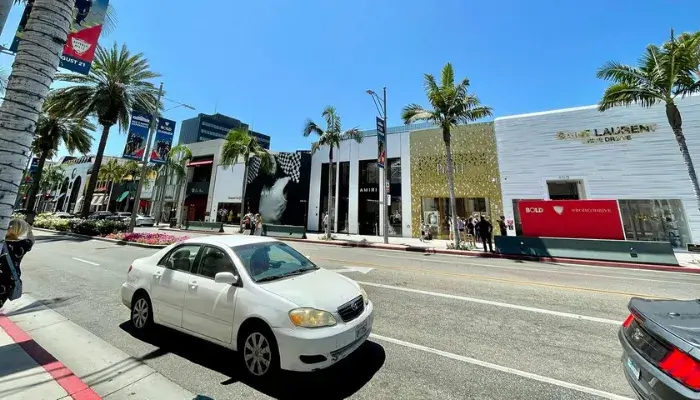 Because of Hollywood, Rodeo Drive is undoubtedly the most well-known shopping boulevard in the world. It is impossible to keep track of how many movies had sequences shot here,
yet despite the influx of ultra-luxe stores, one thing never changes: this is the Beverly Hills neighborhood where wealth prevails.
When you visit Tiffany's, Van Cleef & Arpels, Bulgari, Harry Winston, or Cartier to purchase jewelry, bring lots of it; large wallets are also required at Chanel, Valentino, Dior, or Prada. The best rolling luggage on the planet is sold at Rimowa, so make sure to stop by there.
If you've been busy, you can fill your suitcase with all of your purchases and easily roll it all the way home.
Length: 3.22 km
Location: Beverly Hills, California; Los Angeles, California
---
11. The Santee Alley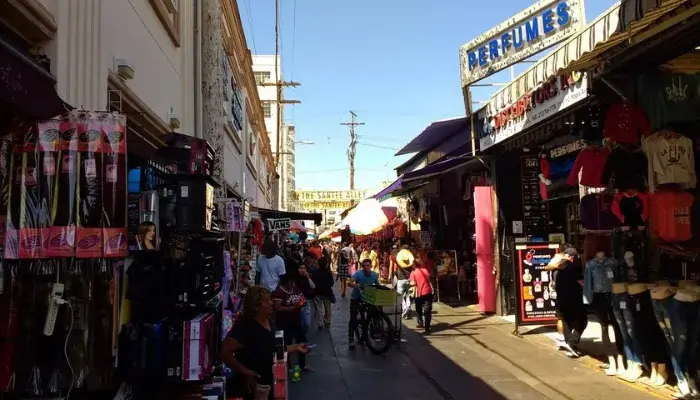 Your greatest bet for inexpensive shopping in Los Angeles is Santee Alley. One of the best places to shop in downtown Los Angeles is an enormous flea market known as the Fashion District, where you may find merchants offering clothing, accessories, footwear, and beauty products.
This location, which is open every day of the week, is comparable to Sarojini Nagar in New Delhi. You can exercise your negotiating talents on the streets of Santee Alley, which are noted for their colorful and energetic ambiance.
Enjoy a fantastic shopping experience in the crowded Fashion District of Los Angeles. It is among the greatest locations in Los Angeles for outlet shopping.
Location: Los Angeles, CA 90015, USA
Also Read: 11 Best Resorts In California For Amazing Vacations With Families
---
FAQs For Los Angeles Shopping Destinations
There are a lot of questions that come to mind regarding where to go shopping in Los Angeles, some of the commonly asked questions are answered below.
Q.1 What is the fashion district in LA called?
Welcome to The Santee Alley
Shop incredible discounts at 150+ merchants crammed into one outdoor corridor on everything from contemporary clothing and accessories to toys, perfume, and gifts for the whole family.
Q.2 What is the most famous shopping street?
Fifth Avenue continues to be New York's (and the world's) greatest shopping strip, despite the fact that popular suburban mall stores like the Disney Store, Abercrombie & Fitch, and H&M have lately moved in.
Q.3 Does LA have a fashion district?
The Los Angeles Fashion District, which spans 100 blocks in the centre of Downtown Los Angeles, is the centre of the city's fashion industry and is home to more than 2,000 independently owned retail and wholesale establishments that offer clothing, accessories, and footwear for every member of the family.
Q.4 Is 3 days enough in Los Angeles?
Yes, 3 days in Los Angeles will be enough time for you to visit a lot of the city, as you can see from the schedule provided below. The bare minimum amount of time you should spend in LA, in my opinion, is three days.
---
Tell Us In The Comments As per You Which One is the Best Los Angeles Shopping Destinations?
Also, don't forget to book your personalized holiday package with Fiery Trippers. Let us make your vacation a romantic as well as a dreamy getaway.
---