Hello People,
If you soon planning a trip to Pasadena and looking for the best things to do in Pasadena? This article is for you if have no idea about where to go and what to do.
One of the first communities in Los Angeles County to be incorporated, Pasadena is well-known for the Rose Bowl football games and competitions.
Many more tourist destinations have established themselves here since the city's foundation in 1886, in addition to historical sites.
You have a lot of possibilities for vacation visits, including gardens, art galleries, and theatres.
---
Is Pasadena worth visiting?
Over the course of a weekend, Pasadena will undoubtedly keep you entertained and well nourished. Despite not being as well known as those in nearby Los Angeles, its attractions are nevertheless worthwhile seeing.
---
List Of 11 Best Things To Do In Pasadena, California
Below is the list of best places to visit in Pasadena, California that will make your trip memorable for sure.
1. The gambling den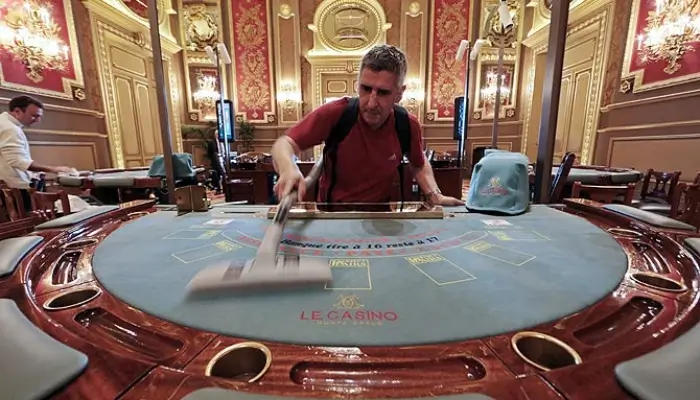 David and Mary Gamble, whose last names you might recall from the renowned Procter & Gamble Company, originally lived in Pasadena, California's Gamble House.
The house still has a lot of its original splendour and historical appeal despite being furnished and designed in 1908.
The Gamble House was recognized as a National Historic Landmark in 1978, making it one of Pasadena's most popular tourist destinations.
With a dark timber exterior and an outward appearance that resembles a ski lodge, it stands out against a background that looks like the desert from the outside.
It's a wonderful illustration of this type of American architecture.
Four days a week, afternoon one-hour tours are offered; each is led by a knowledgeable docent.
Longer specialist tours are also offered if you'd want to learn more about the intricate details of the house's architecture and decor.
---
2. Historic Old Pasadena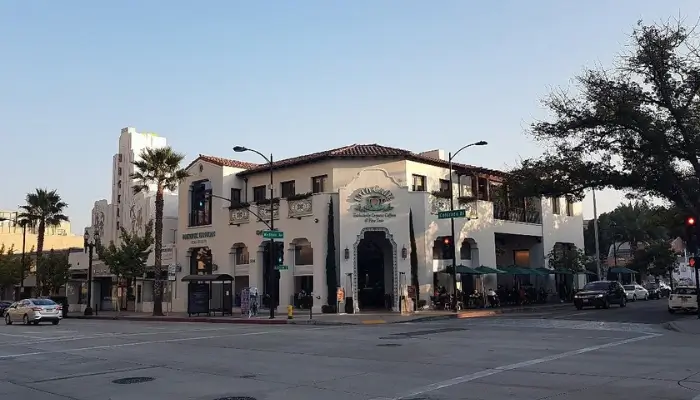 California hasn't always been a buzzing hub of activity.
The historic section of Old Pasadena provides evidence of its earlier allure, which has been amusingly and intriguingly preserved for the present.
This area used to be a quiet, even laid-back, modest desert community.
There are plenty of things to do in this historically significant area of the city to keep you occupied.
There are numerous attractions in the neighbourhood for visitors of all ages, including museums, galleries, dining establishments, shops, and more.
Variety is increased by the more than 200 distinct stores and boutiques.
There are also year-round activities held here that include a range of subjects, such as wine and food, arts and crafts, historical displays, and musical performances.
The Historic Old Town, which mixes modern luxury with historical charm, is the city's most popular tourist site, which is not surprising.
Also Read: 11 Best Things To Do In Gainesville, Florida
---
3. The Fork in the Road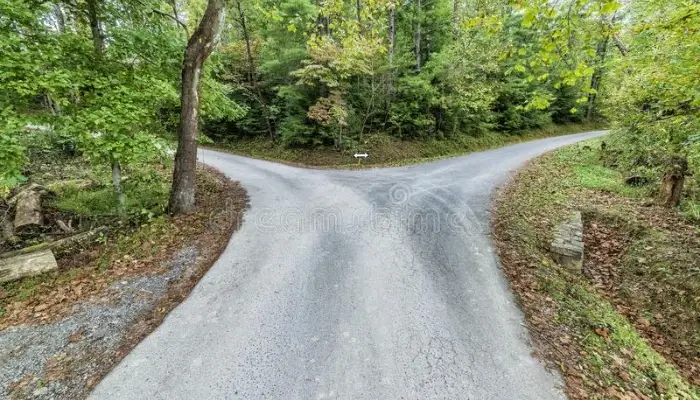 If you're looking for free activities that don't take up a lot of time and are less well-known among Pasadena's attractions, you can't go wrong with The Fork in the Road.
One of the quirkiest and most recognizable spots in this Californian city is undoubtedly a large sculpture at the intersection of St. John Avenue and Pasadena Avenue.
As its name suggests, this 18-foot-tall work of art is shaped like a huge fork.
The diverse piece was created by Ken Marshall and Bob Stane, two local company owners.
Since the fork was initially constructed without the city's approval, it had to be taken down until the necessary licenses could be obtained.
It is still unclear whether The Fork in the Road has a deeper meaning or if it is only a visual pun, which makes it famous for more than just photo opportunities.
It often hosts philanthropic events, including food drives, and is now a well-liked tourist attraction in the city. Jet Propulsion Laboratory
It's difficult to imagine that visiting a "Jet Propulsion Laboratory" wouldn't be among the top things to do in Pasadena, California, as it sounds so cool!
With the initial objective of developing space and aviation technologies, NASA and the famous university Caltech formed the Jet Propulsion Laboratory in 1936.
Robotics and astronomy-related operations are now included in the Jet Propulsion Laboratory's area of competence.
Just a handful of the numerous accomplishments it is responsible for include the Curiosity rover, the Mars Science Laboratory, the NuSTAR X-ray telescope, as well as a wide range of other deep space, robotic, and astronomical programs and missions.
The Jet Propulsion Laboratory is located in Pasadena on Oak Grove Drive.
Reservations are required in advance for tours, which provide informative teaching from local guides.
You can take tours of the flight operations centers, the spacecraft manufacturing line, and the von Karman Visitor Center.
Keep an eye out for JPL technology and scientific demonstrations as well!
---
4. Jet Propulsion Laboratory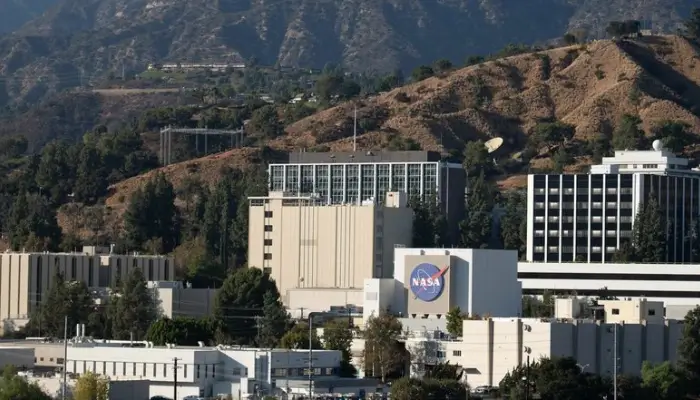 A "Jet Propulsion Laboratory" sounds cool, so it's hard to think that it wouldn't be one of the best things to do in Pasadena, California!
The Jet Propulsion Laboratory was established in 1936 as a collaboration between NASA and renowned institutions Caltech, with the initial goal of advancing space and aviation technology.
The Jet Propulsion Laboratory now includes robotics and astronomy-related operations in its scope of expertise.
The Curiosity rover, the Mars Science Laboratory, the NuSTAR X-ray telescope, as well as a large variety of other deep space, robotic, and astronomical programs and missions, are just a few of the numerous contributions it is accountable for.
On Oak Grove Drive in Pasadena is where you can find the Jet Propulsion Laboratory.
Tours, which must be reserved in advance, offer interesting and educational instruction from local guides.
You can tour the von Karman Visitor Center, the spaceship assembly line, and the flight operations centers. Watch for JPL science and technology demonstrations as well!
---
5. Wrigley and Tournament House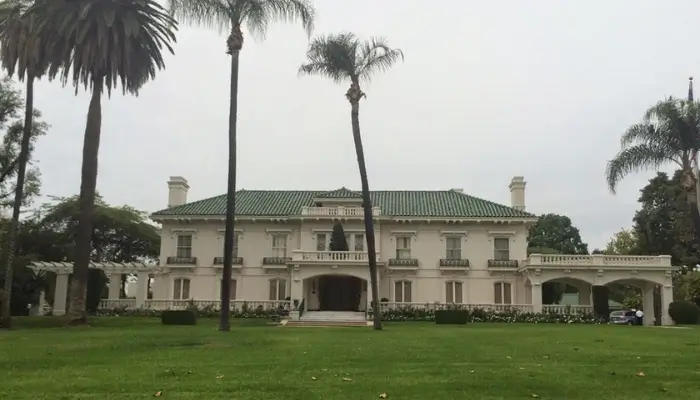 Almost everyone is familiar with Wrigley chewing gum.
Founded by businessman William Wrigley Jr. Wrigley, a Pennsylvania native was able to buy a wide variety of residences in a wide variety of states thanks to his popularity across the country, including the Tournament House in Pasadena, California.
The Pasadena Tournament of Roses Association, which is in charge of organizing, planning, and carrying out the Rose Parade and Rose Bowl football games, now has its headquarters at the house.
It not only contains a tonne of informational resources and exhibitions about these entertaining attractions, but it's also one of the best locations to go for beauty and aesthetics.
With lavish embellishments and 21 luxuriously panelled rooms, the Tournament House's Italian Renaissance architecture makes it remarkable and well-liked.
Marble is inlaid throughout the floors, while the ceilings are elaborate and magnificent.
The Wrigley Gardens are even more amazing outside, covering 4.5 acres with more than 1,500 different flower species, including camellias, roses, and annuals.
Also Read: 11 Best Monterey Beaches
---
6. Eaton Canyon Nature Center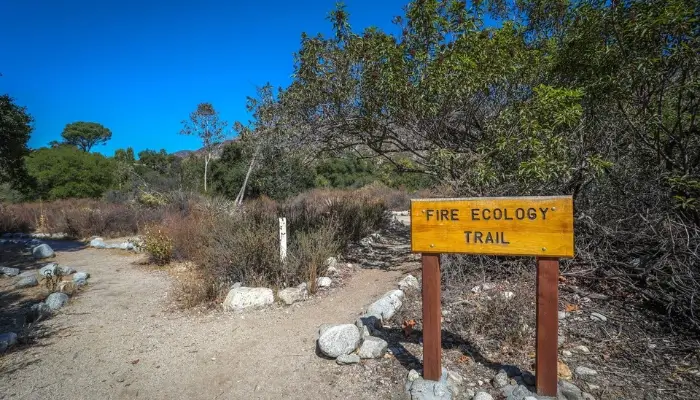 The Eaton Canyon Nature Center, regarded as one of the top locations to visit in Pasadena, California, is undoubtedly the best Pasadena, California venue for sightseeing and activities including nature and the great outdoors.
With a center that is 7,600 square feet in size and a 190-acre nature preserve surrounding it, it is located at the foot of the San Gabriel Mountains.
Look no further if you're seeking things to do in Pasadena and want to do a lot of walking!
The visitor center at this location is crammed with live animals and interactive displays, as well as native plants and ecosystems that are on show for an intriguing and educational look at the local terrain and fauna.
The grounds of the natural preserve start to surround the center.
The surroundings include staging places that are suited for all ages, hiking paths, picnic spaces, and equestrian areas.
Additional opportunities to learn about the diverse area are offered through the scheduled walks and tours.
---
7. The Gold Bug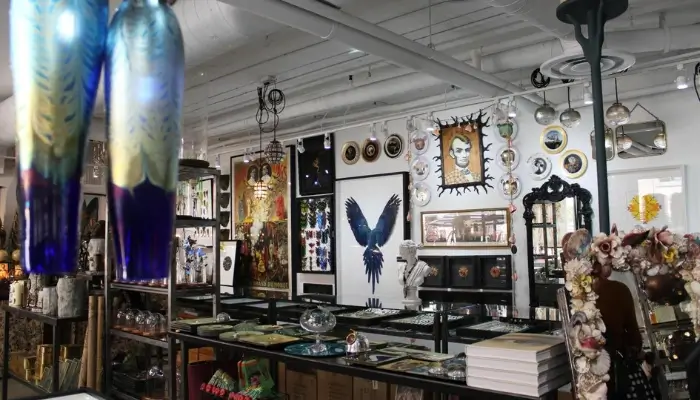 The Gold Bug will wow you if you're looking for fun things to do in Pasadena, California.
One of the best sites to find unusual, one-of-a-kind curiosities and unconventional goods are The Gold Bug.
It is an occult business run by a family that is situated in Old Pasadena.
You can purchase a wide range of products at the Gold Bug for a wide range of uses.
Among the things you'll discover are rare insect displays, original paintings, steampunk collectables, jewellery fashioned from or inspired by nature, chandeliers, school posters, Japanese-imported tactile clothes, and Andy Paiko's original bell jars.
You're bound to discover something you enjoy here, whether you're an artist, a fan of the bizarre, or a sophisticated alternative.
---
8. Norton Simon Museum
One of California's finest private art collections, assembled by the museum's namesake Norton Simon, a businessman who started collecting art in the early 1900s, is housed at the Norton Simon Museum.
The permanent collection includes more than 12,000 various pieces of artwork that span more than a century of artistic influence and style and take you away from Pasadena as you browse.
Masterworks including Rembrandt van Rijen's Portrait of a Boy, Giovanni di Paolo's Branchini Madonna, and Vincent van Gogh's Mulberry Tree are among the well-known works of art kept here.
Rotating exhibits, talks, classes, workshops, activities, and guided tours are all offered at the Norton Simon Museum by its helpful and experienced staff.
One of the most lovely tourist attractions in Pasadena, the Norton Simon Museum, which is located on West Colorado Boulevard.
Also Read: 11 Best Places To Camp In North Carolina
---
9. The Rose Bowl Stadium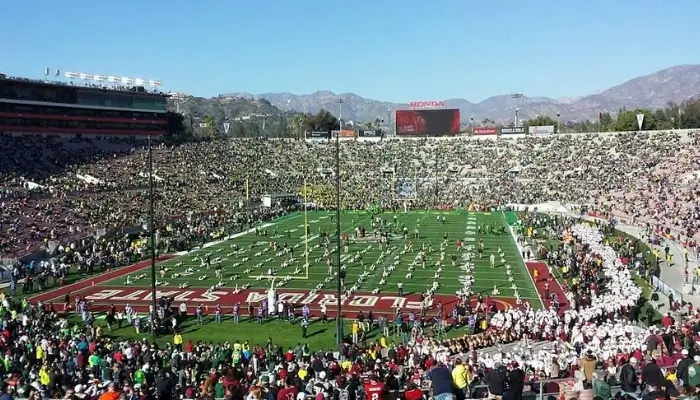 In Pasadena, California, if not the entire country, the Rose Bowl Stadium, a National Historic Landmark, is without a doubt the most recognizable site for collegiate sports.
Early 1920s construction still has much of its original architecture, but more than $150 million in repairs over the years have assured its quality and modernity, keeping it as one of the city's most popular tourist attractions.
The Rose Bowl Stadium hosts several sporting events, many of which take place in the winter and fall, which is effectively when football season begins.
A guided tour of the stadium is always open to visitors who want to learn more about its past. At other times, the stadium serves as the location for festivals, fairs, religious services, celebrations, and live entertainment.
Not to mention the renowned Tournament of the Roses Football Game, this location hosts the largest flea market in the entire globe.
Why not look at their schedule to see if any fun events are occurring this weekend if you're in town?
---
10. POPS and The Pasadena Symphony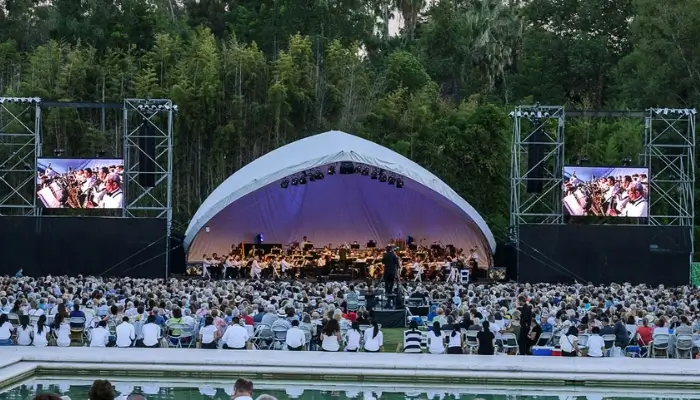 Look at the Pasadena Symphony and POPS schedules if you want entertainment tonight.
Music fans will discover that this is perhaps one of the best things to do in this Californian city!
POPs and the neighbourhood symphony put on affordable or free performances that are egregiously underappreciated.
In addition to City Hall, All Saints Church, the LA County Arboretum, and Ambassador Auditorium, the Symphony performs at numerous other venues as well.
Every year, a variety of shows are held here. Favourite solo performances include An American in Paris and Mozart's Symphony No. 4.
Additionally, there are longer performance series, such as the Singpoli Symphony Classics series, the Moonlight Sonata Gala, and the Sierra Auto POPS Summer Series.
Try to purchase a ticket in advance if you want to ensure a seat!
The lovely metropolis of Los Angeles is not far from the Pasadena Symphony and POPS! Check out our list of some of the best things to do in Santa Monica and Los Angeles if you're planning a road trip within a 30-mile radius!
Also Read: 11 Best Things To Do In Lubbock, Texas
---
11. USC Pacific Asia Museum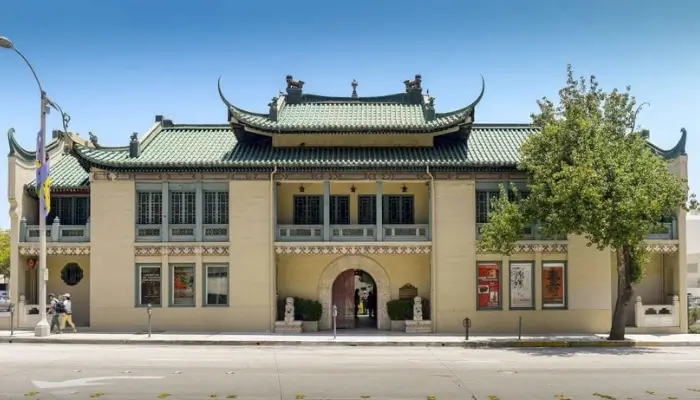 The USC Pacific Asia Museum serves as a memorial to all of the Asian immigrants who have made Pasadena and the surrounding region of California their home since the gold rush era in the 1800s.
The USC Pacific Asia Museum was established in 1971 with the goals of fostering intercultural understanding and maintaining Asian citizens' artistic and cultural traditions.
The USC Pacific Asia Museum is a historical tourist destination in Pasadena that combines education and entertainment.
There are more than 15,000 pieces on exhibit, many of which were made by immigrants from Asia and the Pacific islands, as well as many older works that date back thousands of years.
Along with performances, festivals, exhibitions, seminars, workshops, and classes, there are a variety of modern and classic works on display.
The art programs of the USC Pacific Asia Museum, such as haiku writing, and Chinese calligraphy, as well as the exercise sessions for tai chi and yoga, are among its most intriguing offerings.
The popular Royal Taste exhibition also provides information on the opulent lives of Chinese princely courts.
---
FAQs About Things To Do In Pasadena
What is Pasadena famous for?
The Hahamogna Tribe of Native Americans previously lived on the territory that is today known for the Tournament of Roses, the Rose Bowl, the Jet Propulsion Laboratory, and the California Institute of Technology.
What is the best part of Pasadena?
Bungalow Heaven is regarded by many residents as Pasadena's nicest neighbourhood. Beautiful Craftsman-style homes are common in this area, and their expansive porches, which are sometimes supported by brick or cobblestone pillars, are particularly noteworthy.
Is Pasadena by the beach?
As previously stated, there are no beaches close to Pasadena, and both possibilities are comparable. Therefore, it is up to the OP to determine whether travelling a few more kilometres is worthwhile in order to try something new. Will Rogers State Beach is 28.4 miles and 34 minutes from Pasadena. Huntington Beach and Pasadena are separated by 48.5 miles and 56 minutes.
How far is Pasadena from the beach?
Yes, it is 124 miles to get from Pasadena to Ocean Beach by car. The driving time from Pasadena to Ocean Beach is about 2 hours and 12 minutes.
Is it nice to live in Pasadena?
As one of the 2019 Coolest Suburbs in America, Apartment Therapy selected Pasadena. We highlighted the suburbs around the country that provide the most in terms of cultural events, a feeling of community, and a decent quality of life in general.
---
Tell Us In the Comments About One of Your Best Things To Do in Pasadena.
Hope the article was helpful to you and was able to make your trip more easier and fun! Don't forget to book your personalised holiday package with Fiery Trippers. Let us make your vacation a romantic and dreamy getaway.
---