Are you looking for Mexico City's best hotel for your upcoming trip? If you have no idea, what are the famous hotels in Mexico City? This article will help you in finding the best hotels in Mexico City.
Is it safe to stay in a hotel in Mexico City? Yes, staying in a hotel in Mexico City is safe. Like any large metropolis, there are some parts of the city that are safer than others. It's crucial to conduct research and pick a hotel in a secure area.
One of the continent's oldest cities, Mexico City is a vibrant place with a fascinating past, stunning buildings, and a thriving food scene.
Mexico City is a secret haven of tourist attractions that you must see to believe. When it comes to accommodation options, the city also shines. The top hotels in Mexico City will be revealed in this post.
---
Are there any all-inclusive hotels in Mexico City
In Mexico City, there aren't any hotels that are all-inclusive. However, a lot of the city's hotels provide packages including meals, excursions, and other extras.
---
Here Are The List 11 Best Hotels in Mexico Where Luxury Meets Authenticity
After doing a lot of research and considering the tripper's reviews we have shortlisted some of the luxury hotels in Mexico City.
1. Four Seasons Hotel Mexico City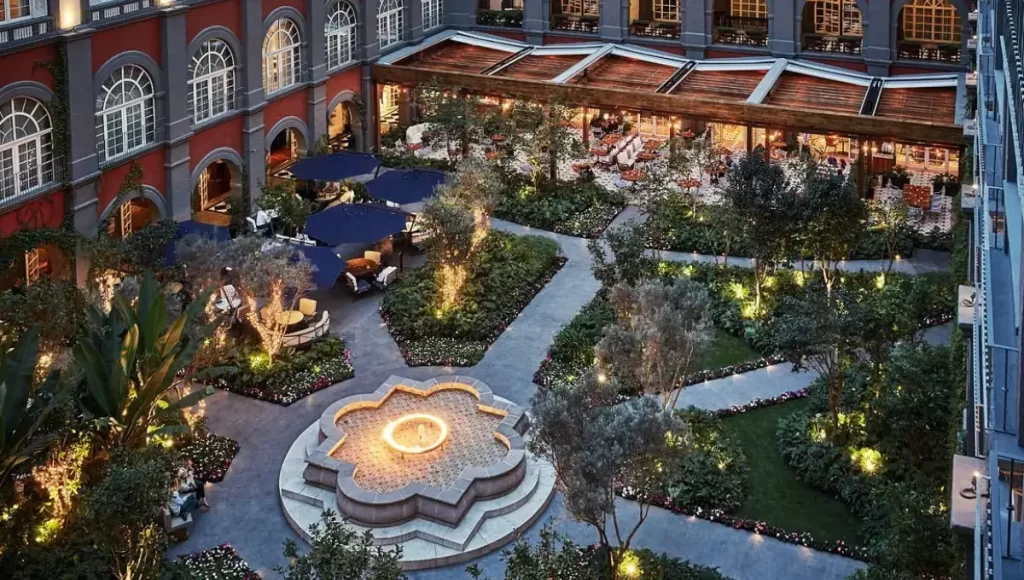 Starting with an ideal position, The Four Seasons is close to three of the city's most exciting neighborhoods: Roma, Condesa, and Polanco.
Despite being located on the busy Paseo de la Reforma, the hotel's attention is turned inward toward the lush courtyard that occupies its core. It is dotted with canaries that live there, lovely flowers, and fruit trees.
The elegantly contemporary and residential design of the rooms and suites contrasts the old, hacienda-style structure. Several have their terraces.
Similar to other Four Seasons hotels, this one places a strong emphasis on wellness in both its restaurant menus and its opulent spa services.
Additionally, this opulent hotel creates unique experiences for visitors. These might include guided shopping or art studio outings, private pyramid tours, cooking lessons with the hotel chef, and cooking demonstrations.
Il Becco, an Italian eatery with an open kitchen; ZANAYA, a "rod to fork" seafood restaurant; and Pan Dulce, a bakery and coffee shop in the lobby, are all available to satisfy your appetite.
---
2. Sofitel Mexico City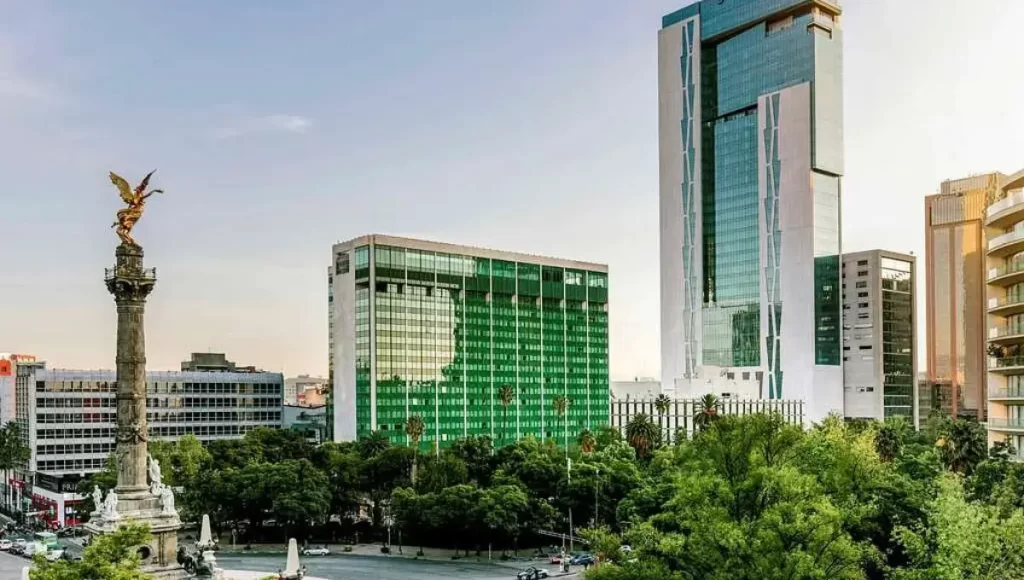 The Sofitel Mexico City is a brand-new hotel that will debut in late 2019 on the famous Paseo De La Reforma Avenue. The brand's signature interior design approach seamlessly combines Mexican and French Art de Vivre.
The stylish, modern rooms and suites have a gray, white, and blue palette. They provide stunning city views from a wall of floor-to-ceiling windows and great extras like marble bathrooms and Nespresso coffee makers.
There are many food options available on-site. One restaurant specializes in modern Mexican cuisine, while another serves Mediterranean cuisine.
Other features include a posh spa with a full menu of services, a well-stocked fitness center, an indoor pool, and a hot tub. The hotel can arrange to babysit for you if you are traveling with children. It welcomes dogs as well.
---
3. Intercontinental Presidente Mexico City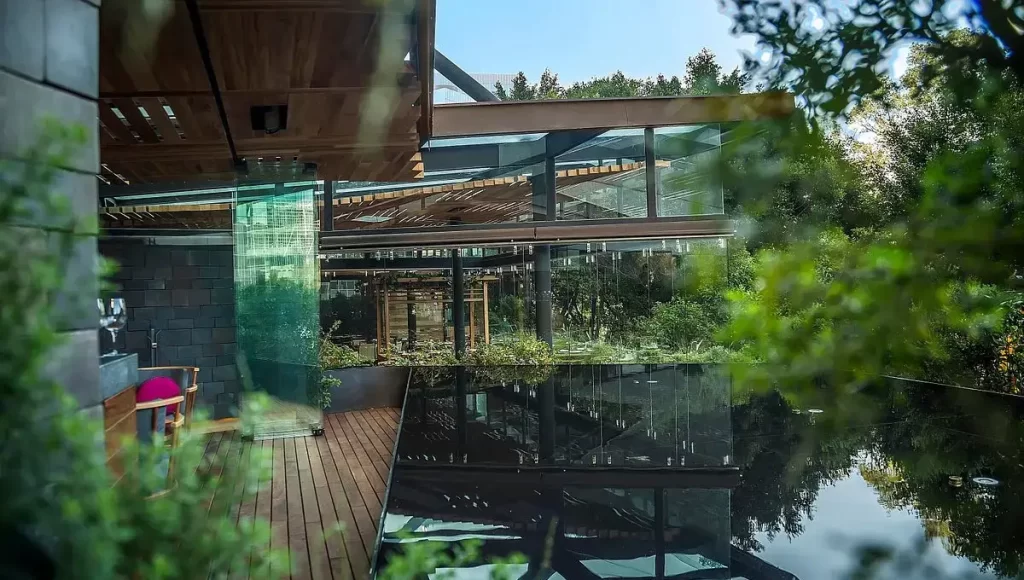 Overlooking the expansive Chapultepec Park on one side and the chic Polanco area on the other is the InterContinental Presidente Mexico City. While elegant, rooms can also be small. They do have sizable, horizontal windows with privacy glass and motorized shades.
The hotel's Club InterContinental, available only to suite and club-level guests, offers breakfast and other meals and is a place to check in and out.
The rooms on the club level that are affiliated with it are more significant, on higher floors, and have more incredible views.
The National Auditorium, a sizable music hall, and the anthropological museum are directly across the street from the InterContinental. You can also walk to Presidente Masaryk Avenue, Mexico City's Rodeo Drive when shopping is time.
There are seven different dining alternatives so that foodies feel well at home. These include the famous American steakhouse The Palm and the open-during-the-night Parisian cafe Au Pied de Cochon.
Chapulin, the hotel's fine-dining nuevo-Mexican restaurant, should be visited for a meal. Chapulines, or roasted grasshoppers, the restaurant's signature dish, are a risky choice.
---
4. Las Alcobas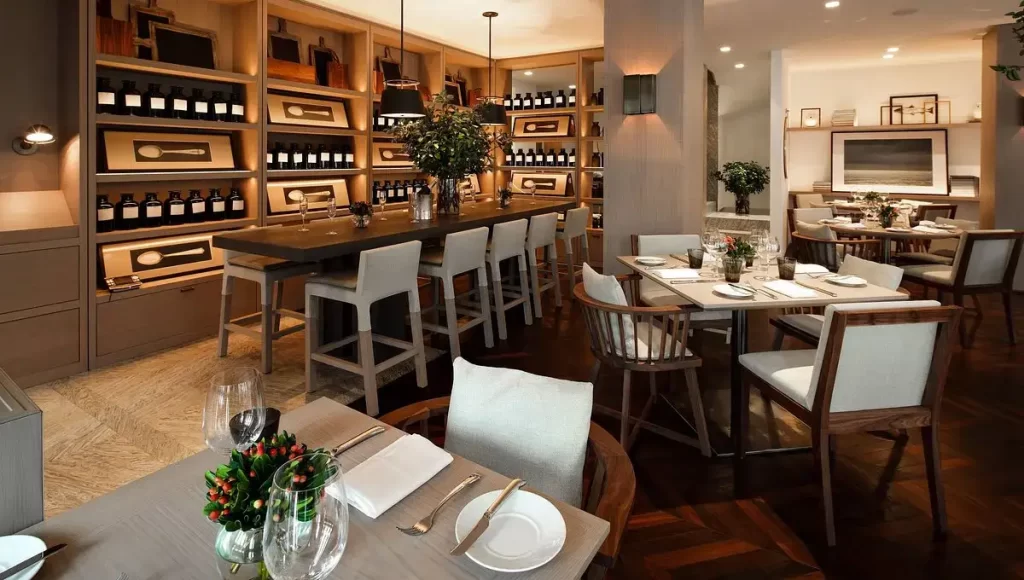 This opulent design hotel offers a genuinely rich boutique experience. It has a sibling hotel with the same name in California's Napa Valley.
Your butler, who can do anything from drawing you a bath to making theater reservations, is where it all begins.
The 35 rooms all have terraces with views of the neighborhood nearby. The seven-story hotel has superb views from the higher floors.
The entire building was made by the renowned design company Yabu Pushelberg, noted for its opulent retail and hotel designs, along with the unique rosewood furnishings.
Although each room has its distinct design and aesthetic, they all include spa-like bathrooms with steam jets, deep whirlpool tubs, and rain showers.
The two on-site restaurants, Anatol (contemporary European) and Dulce Patria (high-end Mexican) are sure to please foodies. Smoothies, coffee, and tea are always free and available at the front desk.
---
5. JW Marriott Hotel Mexico City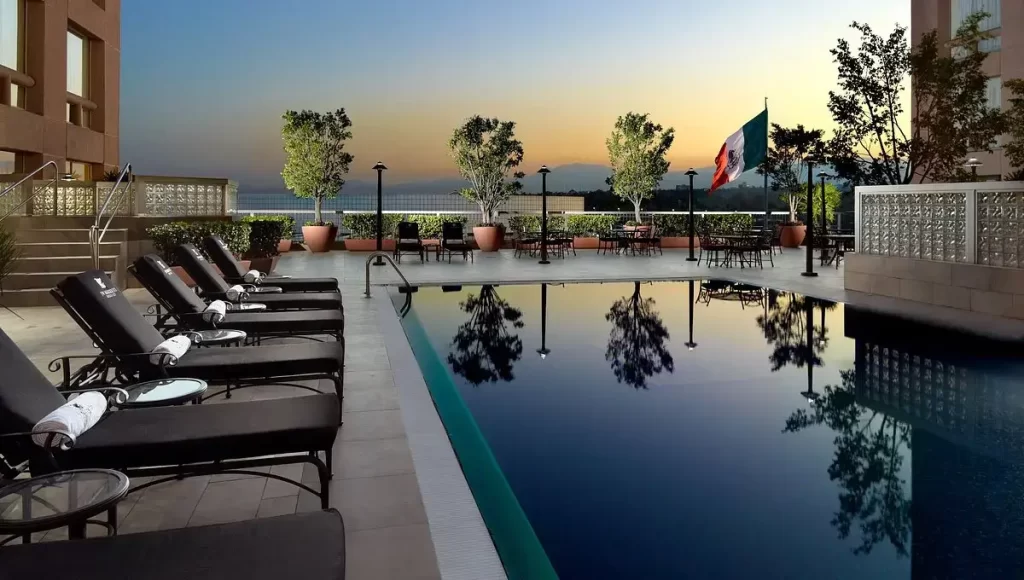 The JW Marriott is a luxury hotel also located in Polanco. With floor-to-ceiling windows in every room and suite, visitors may enjoy sweeping views of either Chapultepec Park or the Polanco skyline.
With the Marriott, even the entry-level rooms are pretty spacious, so you get a lot of space for your money here. Bathrooms are also significant and generally made of marble. With pillow-top mattresses, featherbeds, and personalized duvets, bedding is taken seriously here.
There is a sizable, almost rooftop outdoor pool and a fully furnished fitness facility. There isn't a traditional spa, but a specialized treatment space in the fitness center with two private rooms, and the hotel can set up massages and aesthetic services.
You can walk to some of Mexico City's best dining and shopping from the Polanco location, which puts you in the middle of both.
Inside the JW Marriott, there are two primary dining establishments: Xanat, which serves contemporary Mexican food, and a branch of the renowned Brasserie Lipp in Paris.
---
6. The St. Regis Mexico City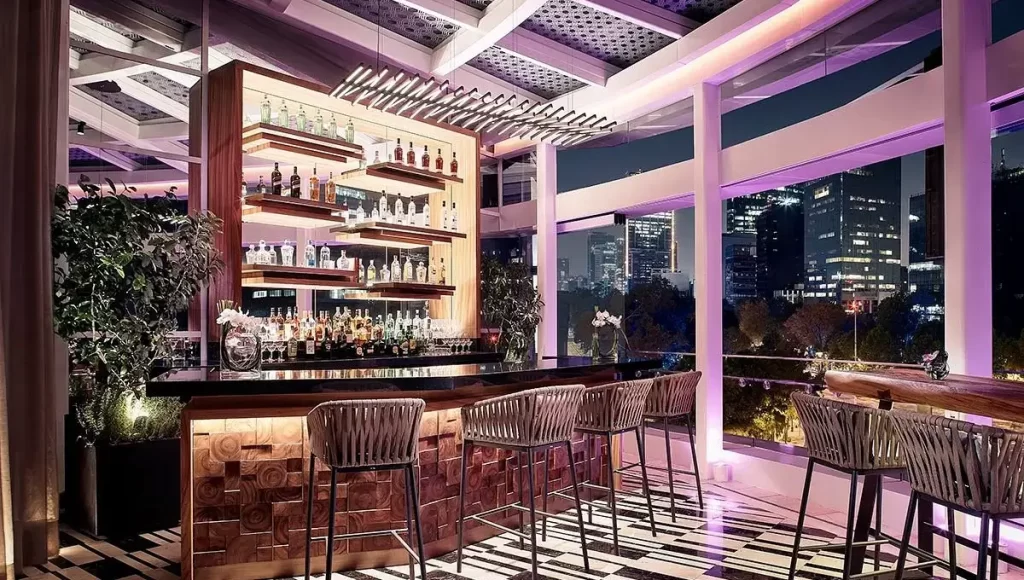 A mini-oasis in the middle of the city, this high-rise luxury hotel delivers the entire Mexico City urban resort experience.
It can be challenging to leave the hotel because of the opulent Remede Spa, which some people think is the greatest in Mexico City, its indoor pool, and the seven various dining options.
Located on Paseo de la Reforma in the city's center, St. Regis is housed inside the renowned 31-story Torre Libertad building.
The hotel only has 189 rooms, including 36 suites and an incredible Presidential Suite, so there is a hint of luxury boutique intimacy. Like other St. Regis hotels, every accommodation category offers access to a butler available around the clock.
---
7. Hilton Mexico City Reforma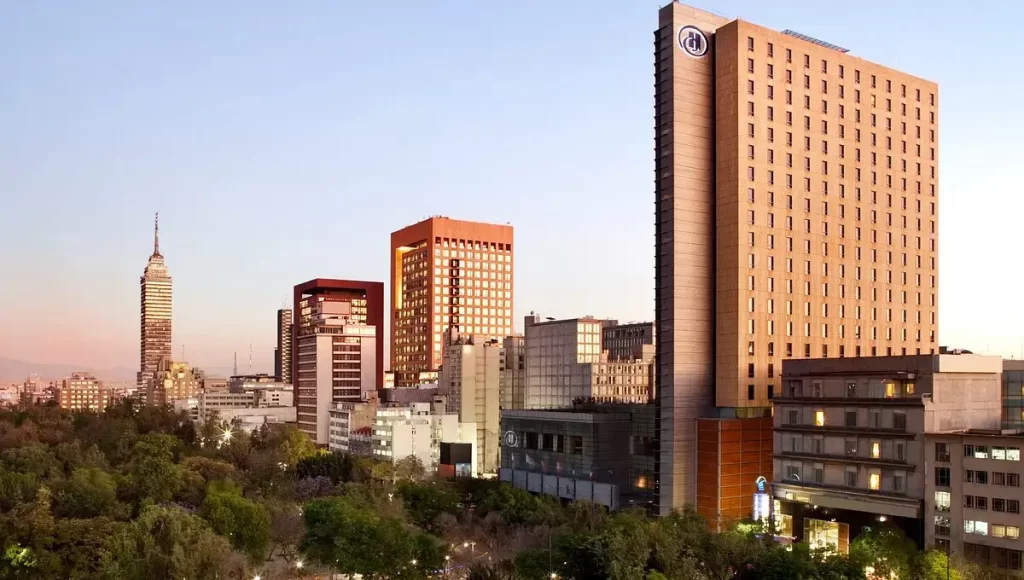 With its proximity to the Centro Historico and many amenities, this contemporary corporate hotel stands out.
A rooftop lap pool and a 5,000-square-foot spa with a Jacuzzi tub and steam room are among the opulent hotel's facilities. Additionally, the resort offers an indoor vitality pool.
To save time, try to book a room on the hotel's Executive Level floor, which provides access to a lounge with free meals and its own check-in/check-out desk.
The hotel's flexible eating options, free Wi-Fi, and spacious in-room workplaces make it an excellent choice for business visitors. Additionally, there is a sizable convention center there.
There are three eating options at the hotel. The first is a relaxed cafe on a Mediterranean terrace.
Then there is Los Dones, which specializes in the regional cuisine of southeast Mexico and serves home-style Mexican food. El Cardenal is a fine-dining Mexican/colonial restaurant offering a fresh, farm-to-plate menu.
---
8. JW Marriott Hotel Mexico City Santa Fe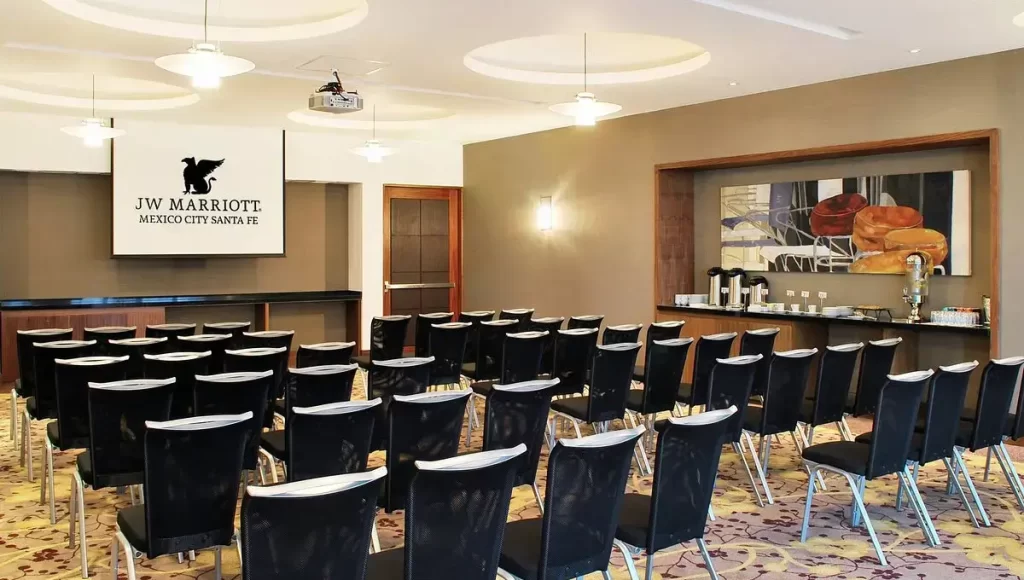 In the Santa Fe neighborhood, a business sector sits this sizable luxury hotel. Large rooms and suites with lavish spa-like baths are ideal for families.
Private outside patios are a feature of suites. You receive access to a sizable exercise facility, an outdoor pool, and a spa with various massages and beauty services.
There is an upmarket Mexican restaurant called Cua, as well as a fine-dining Italian restaurant. There is also 24-hour room service at the hotel.
---
9. Brick Hotel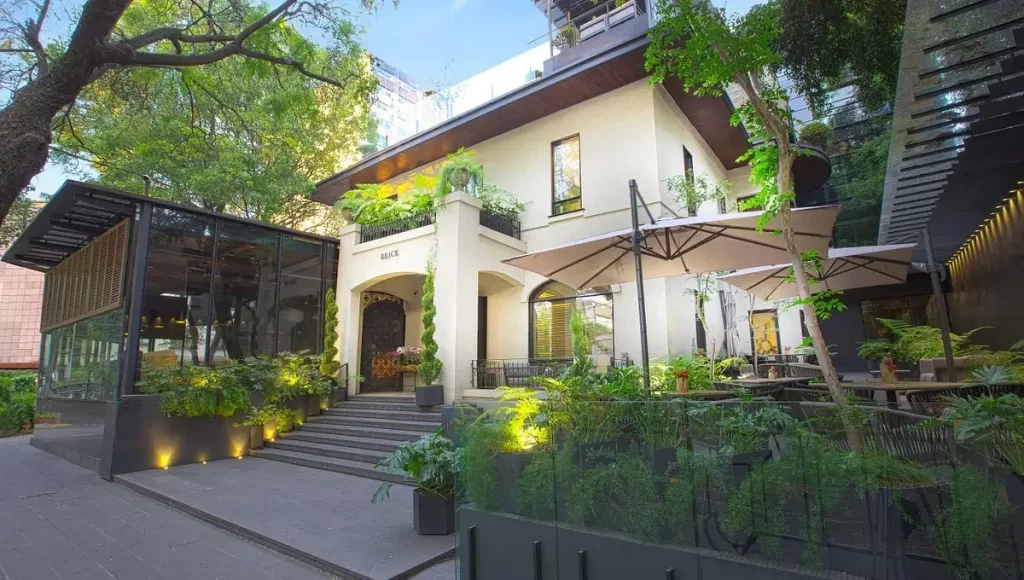 In the heart of Colonia Roma in Mexico City, this modern alternative is close to everything the neighborhood offers, from its shaded 19th-century boulevards to the delectable pastries at Panaderia Rosetta.
While staying at an Airbnb may be the best way to blend in, walking up the Brick Hotel's broad, palm-fringed steps at night will make you feel at home.
The Brick, which reopened in 2019 (after a 2010 debut), is much more contemporary than the Belle Epoque building it is surrounded by.
However, the structure has a rich history: To create a private estate for the first manager of the Bank of London and Mexico, the original home, or Gran Casona, that predated the hotel was constructed in the early 20th century using bricks carried over from England.
There are plenty of boutique and design hotels in Mexico City right now, but few are located on a block as ideal as the Brick's Calle Orizaba, one of the main thoroughfares in the area.
---
10. The Alest Hotel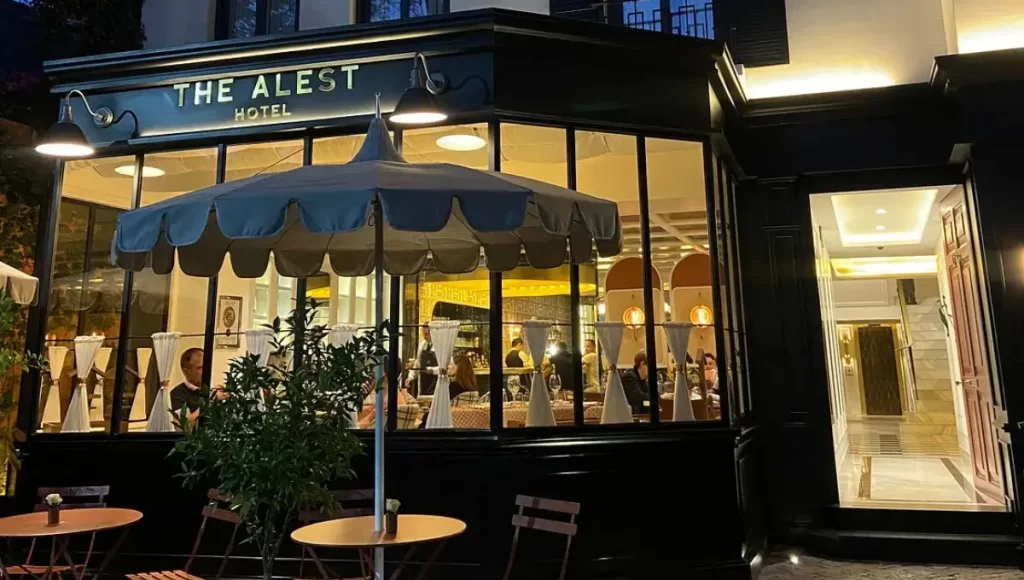 The Alest provided a distinct feeling of British friendliness to Polanco and was inspired by a made-up story about a traveling family of intrepid British people. A modern lobby and bar welcome visitors beyond the building's elegant exterior.
There, a white marble staircase leads to 19 opulent rooms and suites. Chef Fernando Martnez Zavala, who specializes in modern Mexican cuisine with a flair for foreign presentations, is responsible for the property's 45 restaurants.
The ground-floor bar of Limantour, regularly named one of Mexico City's top bars, is next to the restaurant and offers a distinctive cocktail created by its mixologists.
---
11. The Ritz-Carlton, Mexico City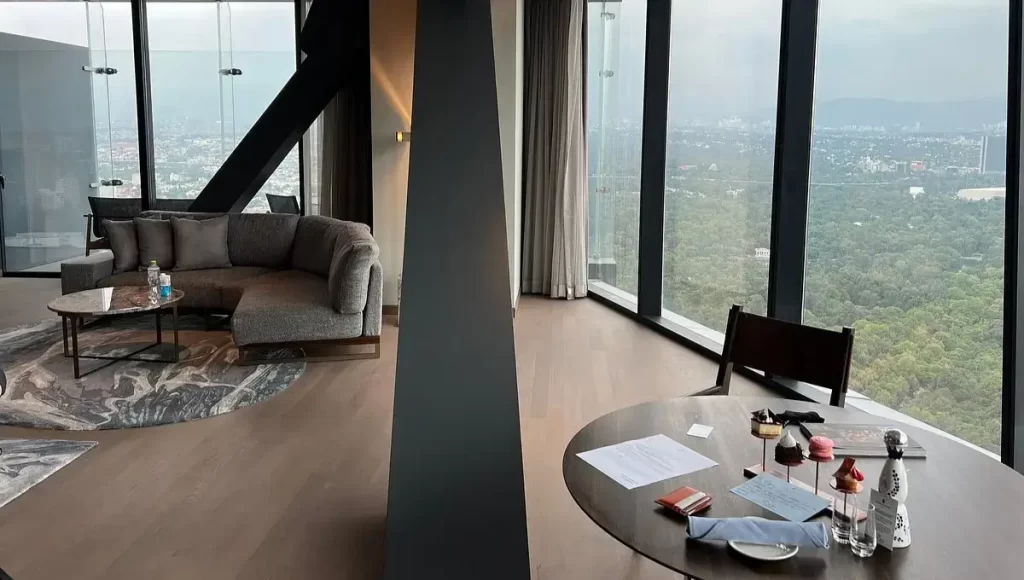 You'll feel the city as a constant presence while staying at this Ritz, whether sipping a cocktail at the Deco-inspired bar or watching the sunset from your private balcony 40 floors high.
The building is located on 13 feet of a 59-story skyscraper that rises where Mexico City's most opulent avenue, the Paseo de la Reforma, and the city's largest park, the Bosque de Chapultepec, meet.
The rooms are large and serene, with marble baths and a muted color scheme of dusty blues and grays that lets the metropolis take center stage.
90% of the rooms feature private balconies with expansive views. Samos, the hotel's on-site restaurant, offers a satisfying breakfast and uncomplicated Mediterranean fare with an emphasis on local ingredients for lunch and evening.
---
Conclusion
It might be difficult to choose the best hotels in Mexico City, but thanks to this FAQ, you have the knowledge you need to choose wisely. Recall to select a hotel in a secure area, reserve early for the lowest rates, and benefit from specials and packages. You are guaranteed to enjoy a wonderful vacation to Mexico City since there are so many amazing sights to see and experience.
---
FAQs About Best Hotels in Mexico City
There are a lot of questions that come to mind when choosing where to stay in Mexico City, some of the commonly asked questions are answered below.
Q: What amenities do hotels in Mexico City typically offer?
A: Typical hotel amenities in Mexico City include Wi-Fi, air conditioning, TV, room service, and laundry facilities. There are several restaurants, pubs, and exercise facilities in hotels.
Q: What is the best time of year to visit Mexico City?
A: Between March and May, when the weather is moderate and there are fewer tourists, is the ideal time to visit Mexico City. However, December is also a fantastic time to come if you don't mind the crowds because there are so many fun festivities going on.
Q: Can I find budget hotels in Mexico City?
A: Yes, Mexico City has a lot of cheap hotels. Affordably priced lodging is available in areas like Coyoacan and Centro Historico.
Q: Do I need to speak Spanish to stay in a hotel in Mexico City?
A: No, speaking Spanish is not a requirement to get a hotel room in Mexico City. You may get by with simple Spanish words and the English that many hotels' staff members speak.
---
Tell Us In The Comments As per you Which One Is The Best Hotel in Mexico City?
Also, don't forget to book your personalized holiday package with Fiery Trippers. Let us make your vacation a romantic as well as a dreamy getaway.