Are you planning to visit Las Vegas and looking for hotel spas? If you have no idea, this article can help you in finding the best spa Hotels in Las Vegas.
The Las Vegas experience is based on a foundation of flashing lights, loud music, and excitement.
It's normal for your senses to feel a little overwhelmed after a long day of walking the Strip or a wild night of dancing in one of Vegas' best clubs.
Fortunately, Vegas is home to some of the top spas in the world, featuring exquisite attention to detail and providing exclusive and opulent spa services.
Go ahead and take a short break from the action to refresh your body, mind, and spirit. Here are our top 11 selections for spas in Las Vegas that you must visit to believe.
---
How much does a massage cost in Vegas?
between $80 and $120 per hour
A massage in Las Vegas typically costs between $80 and $120 per hour, although prices might vary based on the service and facility you select.
---
1List of 1 Best Hotels Spa In Las Vegas
Encore Hotel's Spa
Sahra Spa & Hammam
Qua Baths & Spa
Vdara Hotel & Spa
The Wynn Resort Spa
The ARIA Resort Spa
Spa Mandalay
Canyon Ranch Spa Club
Bellagio Spa
The Waldorf Astoria Spa
The Red Rock Spa by Well & Being
1. Encore Hotel's Spa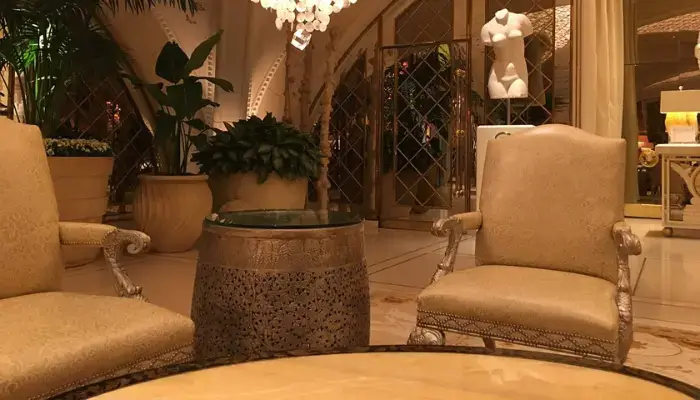 The entire experience of this lavish day spa at Encore Las Vegas is one of breathtaking splendor. When you enter their spectacular hallway, which is adorned with gold Moroccan lamps and urns that are brimming with water, you'll understand exactly what we mean.
The spa at Encore will take you away from the Strip's people and noise to an exotic getaway. Additionally, it was the first spa in Las Vegas to ever receive a Forbes Travel Guide 5-Star rating.
In the wet section, unwind on heated stone chaise couches or cool off in the Jacuzzi tubs and cold plunge pool.
The touchscreen screens in the rainfall showers allow you to adjust the temperature, pressure, and even mood lighting! For couples' treatments, private garden villas with natural lighting are ideal.
With a Polynesian-fusion massage, body exfoliation, and a scalp massage using coconut oil, the Nalu Body Ritual is a soothing treatment that we highly suggest.
---
2. Sahra Spa & Hammam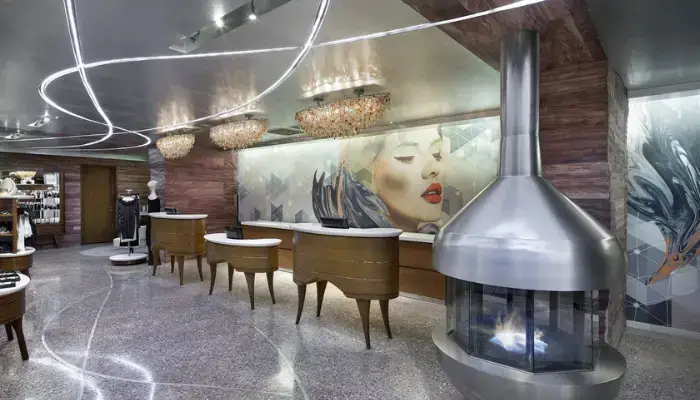 Your visit to The Cosmopolitan's amazing spa will be unique and in keeping with the hotel's distinctive and fashionable aesthetic.
With the idea of "the desert's stark contrasts – exciting intensity paired with ageless serenity and peace – offer a route to balance, clarity, and quiet," the desert landscape served as the inspiration for the architecture of this spa.
The Space Between is a tranquil lounge where the sounds of falling water will lull you into a state of complete relaxation at Sahra Spa, Salon & Hammam.
It is surrounded by dramatic walls that are inspired by natural sandstone structures. The Hammam room, which has a sizable heated stone slab, is just one of the extraordinary treatment rooms here.
The distinctive therapies provided at Sahra are inspired by the rituals of many desert tribes. We adore the Sahra Desert Aromatherapy Massage,
which begins with a soothing desert mist and then uses scent oils with a desert theme to massage you into balance and profound relaxation.
Also Read: 11 Best Beaches In Maryland
---
3. Qua Baths & Spa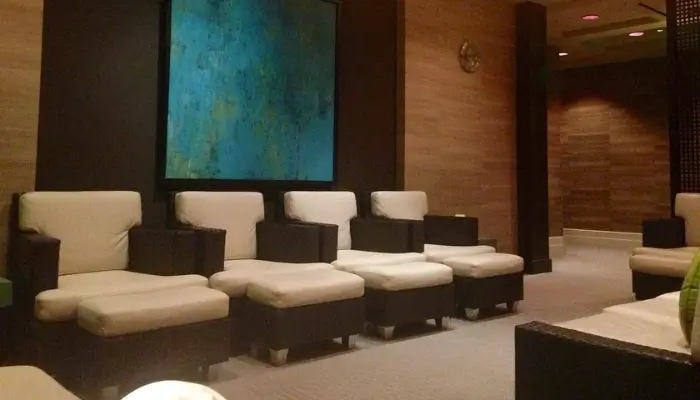 At Caesar's Palace, there is a lavish 50,000-square-foot spa that boasts an award-winning luxury spa experience. The therapeutic properties of water are the inspiration behind Qua Baths & Spa, where the tranquil sounds of flowing water will accompany you on your spa journey.
The Tepidarium, which uses mineral-rich water to restore your skin's natural attractiveness, the Caldarium, a hot bath for unwinding the muscles, and the Frigidarium, an energizing cold bath, are the three Roman baths located in the center of Qua.
Only one spa in the entire globe offers authentic Nobu brand treatments, which emphasize body rituals that are painstakingly created to be journeys of regeneration.
We adore the Nobu Zen treatment, a specialty massage that is meticulously tailored to your needs and employs an aroma oil blend of your choice.
---
4. Vdara Hotel & Spa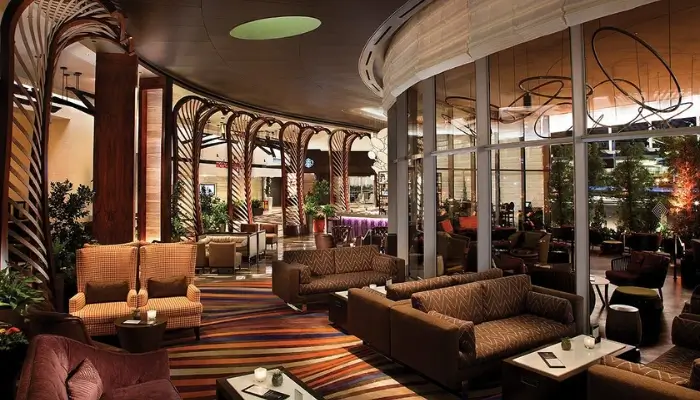 The Vdara Hotel's ultra-luxurious spa recently received the Forbes Five-Star Award for the fifth consecutive year. The Spa at Vdara is spread out across 2 stories and has a natural yet contemporary design theme that instantly puts you at ease.
It is defined as "an experience that is as aware of luxury and leisure as it is a holistic healing and eco-friendly method" by Forbes Travel Guide.
Services are provided in this tranquil haven using organic, natural substances with naturopathic benefits.
Between spa treatments, you can meditate in the meditation room, and following your spa services, you can get your hair, nails, and cosmetics done at the on-site full-service salon.
The Gemstone Clay Mask is a body wrap made of clay laced with gemstones that cleanse and replenishes the minerals in your skin.
A tailored massage, a scalp treatment, and water filled with gemstones round out this therapy.
---
5. The Wynn Resort Spa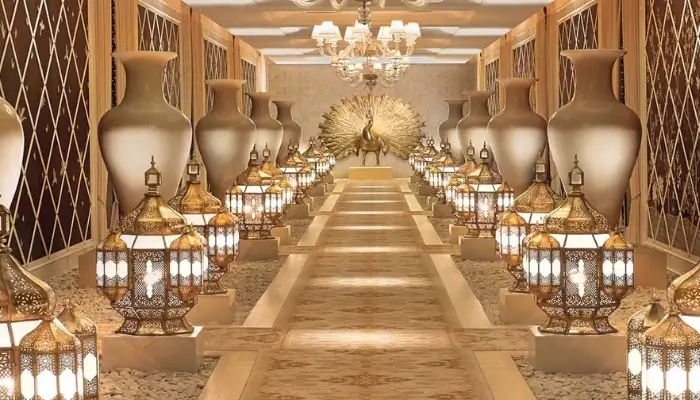 Visitors can make use of a special spa service at the Wynn Hotel Resort. It is known as the Good Luck Ritual therapy and includes elements of Feng Shui as well.
Feng Shui is an ancient Chinese discipline that uses spiritual energy to harmonize individuals and improve their health, in case you're not familiar with it. Of course, you can also use a hot pool if you prefer a more traditional spa experience.
Also Read: 11 Best Resorts In The Virgin Islands
---
6. The ARIA Resort Spa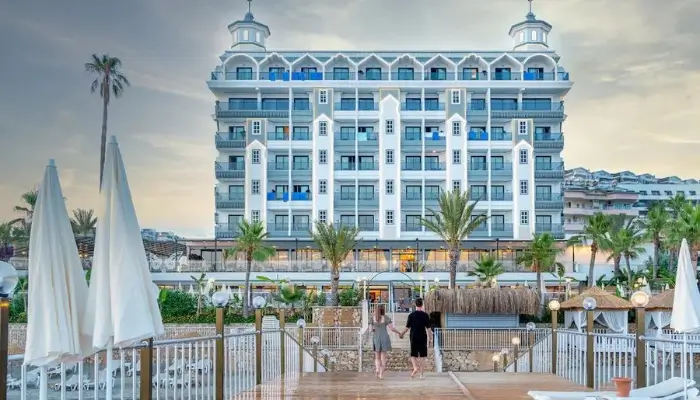 Enter the lavish ARIA Resort & Casino to find the world's largest Forbes Five-Star spa. With calming music, a distinctive aroma in the air, and a stunning infinity-edge therapeutic pool on a terrace overlooking the mountain ranges, this opulent day spa provides a tranquil escape from the hustle and bustle of the Las Vegas Strip.
Unique treatments at The Spa at ARIA include vibration therapy in the energizing Shio Salt Room and Ganbanyoku heated stone beds that assist your body flush out impurities while calming your muscles.
We adore their Smoothing Exfoliation Treatment and Rich and Buttery Coconut Lime Body Masque in their Fresh Hydration Pure Fiji Body Wrap. After receiving this beautiful trademark service, you'll feel renewed and rejuvenated from head to toe.
---
7. Spa Mandalay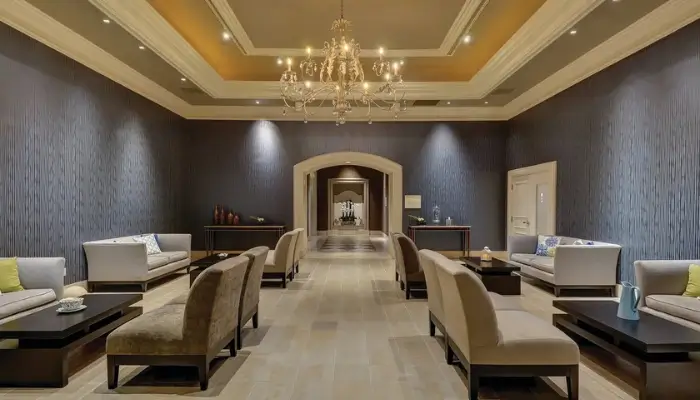 Spa space at the Mandalay Bay Resort Hotel measures 30,000 square feet. By utilizing all the services provided, you might easily pass an entire day at this establishment.
Or you could just take a few hours to relax with a facial, massage, or hot tub soak. If you're traveling in a big group, you could spend the entire time chatting while getting each service.
The lavish outdoor swimming pool with a man-made beach is just next to the inside spa facility. This beach also has 11 acres of actual sand.
Many guests like swimming in the pool before going inside for a soothing spa treatment. There are so many activities you may do here to have fun.
Also Read: 11 Best Florida Vacation Spots
---
8. Canyon Ranch Spa Club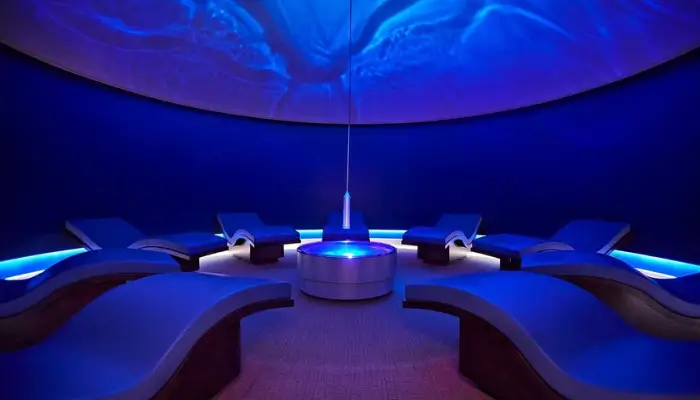 The largest day spa in North America is a vast 134,000-square-foot resort. Since it first opened, The Venetian's Canyon Ranch Spa & Fitness has won 89 accolades, including 17 Forbes Travel Guide Four-Star distinctions! There are so many amenities that you might not even get to use them all in one day, so this spa experience lasts all day.
There is the tranquilizing Wave Room, which offers a multi-sensory encounter simulating the appearance and sensation of breaking waves.
Enjoy some calming "sea air" in the Salt Grotto before purging your body of impurities in the Crystal Steam chamber, which features an enormous crystal for meditation.
Enter the Finnish Sauna, which is illuminated by colored crystal-refracted light, and then enjoy Experiential Rains, a cooling shower with several senses. Even more, their Canyon Ranch chefs will prepare you a nutritious dinner.
We adore their Serenity Bath & Massage treatment, which starts with a sage bath and ends with a full-body massage using herbal oils.
---
9. Bellagio Spa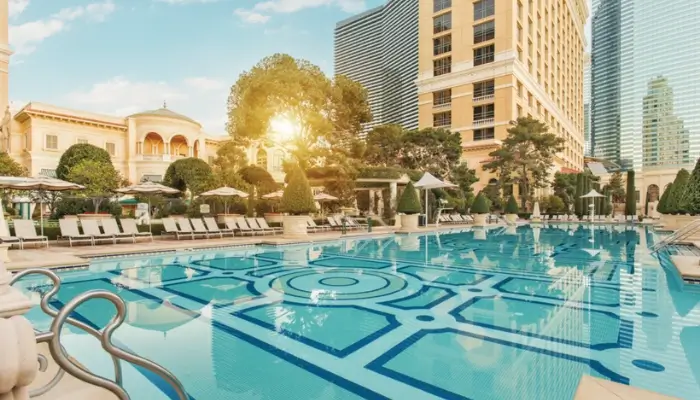 One of the first spa facilities in all of Las Vegas was the Bellagio Spa. The spa is still making guests happy today. When you enter, both the interior decor and the staff members who are waiting to welcome you are very hospitable.
Cold plunge pools, steam rooms, saunas, and Watsu massages are a few of the spa's facilities. Shiatsu movements and stretches are carried out during the Watsu massage treatment session in the water. Afterward, you'll feel fantastic.
---
10. The Waldorf Astoria Spa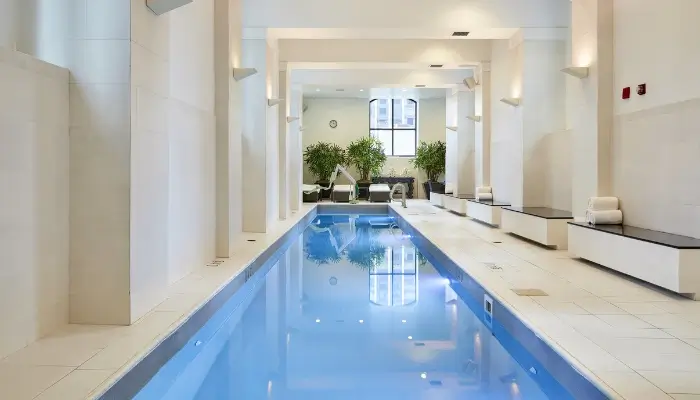 A 27,000-square-foot spa treatment space is available at the Waldorf Astoria. It spans two stories and has all the amenities you'd expect from a spa experience.
The 2-hour facial that is the service's highlight is intended to balance out your facial skin tone and minimize pores. This is accomplished by using certain safe acids that are administered to your face.
Also Read: 11 Best Things To Do In Toledo, Ohio
---
11. The Red Rock Spa by Well & Being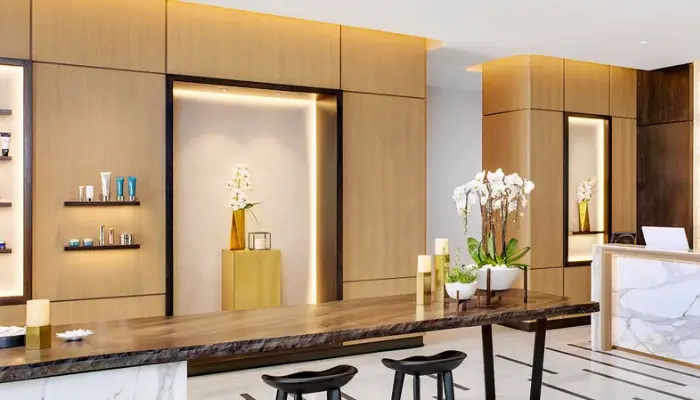 We'll share a little secret with you. Only locals and knowledgeable tourists are aware of a hidden gem that is located about 20 minutes west of the Strip.
The stunning Red Rock Resort is home to the Red Rock Spa by Well & Being, which combines relaxation and wellness under one roof. Dr. Harold Lancer, a celebrity dermatologist, provides his products and methods to the Forbes Travel Guide Four-Star spa.
As soon as you enter the spa, your senses are awakened by the mid-century modern design and the spa's light and vibrant color scheme.
Instead of getting treatments in a treatment room, you can choose to get them by the pool. Additionally, they host fantastic special occasions like full moon gong meditations.
A moisturizing combination of pineapple and papaya fruit enzymes that nourish and restore your skin tone is the Lancer Caviar Lime Facial, which we highly recommend. Stabilized retinol is used in the procedure to make your skin look smoother and younger.
---
Conclusion
Did you locate the ideal Las Vegas spa for your needs? It could be challenging to choose which spa on this list sticks out the most because it includes some of the greatest spas in Las Vegas.
If you heed the recommendations given at the outset of this book, you will be able to identify the best spa in Las Vegas for your requirements.
Take into account the prices, services offered, design, and location. Are you looking for a hotel spa near the Strip? Do you want the spa treatment package to include a massage service? Before making a reservation, provide the answers to this kind of query.
---
FAQs For Best Spa Hotels In Las Vegas
Q.1 Does Cromwell have a spa?
There is no spa at The Cromwell.
Q.2 What hotel in Vegas has a sand beach?
The 11-acre aquatic playground that is Mandalay Bay Beach invites you to sun, swim, splash, and soak on your terms. In the wave pool, ride the tides. Follow the Lazy River's flow.
Q.3 Is it circa Vegas adults only?
Circa Resort & Casino Las Vegas is a luxury adults-only resort.
Q.4 Can you go to the Mandalay Bay pool without staying there?
Does Mandalay Bay provide non-guests with a day pass to the pool area? No. Only logged-in hotel guests are permitted access to the pool and beach. At entry, a room key must be presented.
---
Tell Us In The Comments As per You Which One is the Best Spa Hotels In Las Vegas?
Also, don't forget to book your personalized holiday package with Fiery Trippers. Let us make your vacation a romantic as well as a dreamy getaway.
---