Are you planning a vacation in Maryland and looking for the best beaches in Maryland? This article is for you if you don't know what to do or where to go.
Maryland, the state that gave birth to the national anthem, is a historic location that provides both residents and visitors with an intriguing area to live and visit.
Maryland, a state that borders the Atlantic Ocean and the Chesapeake Bay, is well-known for its mouthwatering blue crabs, Baltimore, and stunning beaches.
Approximately 3,190 miles of breathtaking coastline may be found in Maryland. You can get any kind of beach vacation you're seeking right here. You might even see some wild horses!
Visit one of the many state parks in Maryland for a comprehensive experience that includes a variety of activities and camping options.
For a pleasant journey in Maryland, you can choose ING Chauffeured Transportation.
---
Why travel to the Maryland Beaches?
Despite being the ninth-smallest state, Maryland has a lot to offer for a beach trip. There are many different beach experiences to be found in Maryland, which has more than 3,000 miles of shoreline along the Chesapeake Bay. There are lakes, rivers, and oceans where you can go swimming, sunning, and relaxing.
For single beachgoers, families, groups of friends, and even dogs, Maryland's numerous beaches provide the perfect vacation place. The nice part is that many of these locations allow free access!
There are lots of different ways to spend your vacation in Maryland if you're not by the water. Discover other stunning vistas, such as cliffs, valleys, and mountains. In addition, you may learn about history, have some of the greatest seafood in the country, and watch sports.
The chances to observe wildlife and go hiking, motorcycling, or walking on nature trails are also appreciated by nature lovers.
---
Does Maryland have good beaches?
Popular beach towns may be found in this Mid-Atlantic region, and many families make yearly trips to locations like Ocean City for extended summer weekends. Because they are so much more than simply lovely stretches of coastline, Maryland's best beaches stand out.
---
11 Best Beaches in Maryland
Small, undiscovered beaches can be found all around Maryland, as well as large, crowded areas. You may find it in Maryland whether you're looking for a popular state park beach or a local favorite location.
1. Ocean City Beach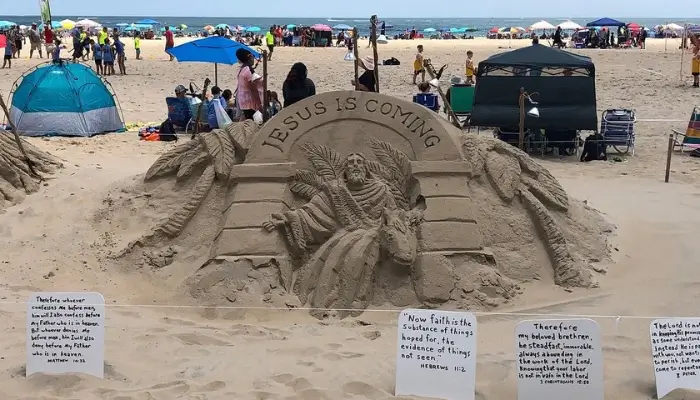 You might wish to visit Ocean City Beach in Maryland if you want to enjoy one of the state's most iconic beaches. Ten miles of sandy beach are available at the beach for locals and guests to enjoy.
It's not just locals who enjoy visiting Ocean City Beach. One of the best 10 beaches in the United States, according to TripAdvisor. Swimming, fishing, surfing, kayaking, and sunbathing are popular tourist activities.
In addition to a sandy beach, there is a 3-mile boardwalk that offers delectable cuisine and thrilling entertainment. Additionally, there are restrooms, stores, restaurants, and lifeguards on duty during the summer at the beach.
The beach is enjoyable and cost nothing to visit at any time of the year. The low season, which runs from October to April, also allows you to bring your pets.
---
2. Sandy Point State Park, Annapolis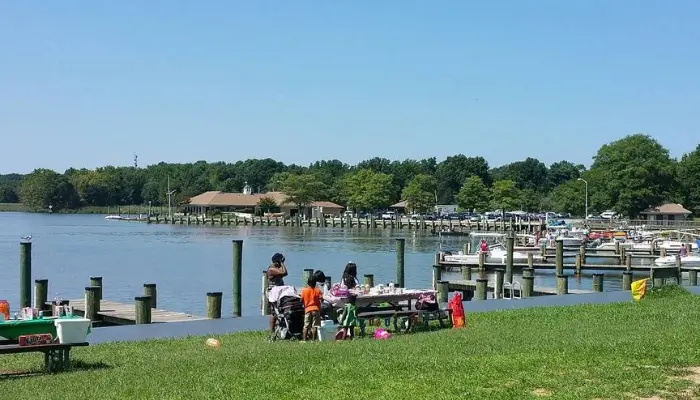 One of the nicest state parks in the region, Sandy Point State Park, is only 15 minutes from the busy metropolis of Annapolis, Maryland. Sandy Point is a well-liked destination for locals of Annapolis and visitors to Maryland since it provides public beach access.
The beach part of the park offers visitors a spot to swim, tan, and take in breathtaking views of the Chesapeake Bay Bridge. To protect the security of every beachgoer, there are designated swimming areas.
Sandy Point State Park is open throughout the year, although you'll find more lifeguards on duty from May through September.
Dogs and other pets are not permitted on the beach during the busy summer months. You are allowed to bring your four-legged friend to Sandy Point State Park after summer gives way to October.
A boat launch, bathing places, fishing locations, and a variety of amenities are available at the park's beach. These consist of restrooms, barbecues, picnic tables, and concession stands. Searching for something unique? Visit the park's nature centre and hiking paths.
Also Read: 11 Best Beaches In Hawaii
---
3. Assateague Island National Seashore, Berlin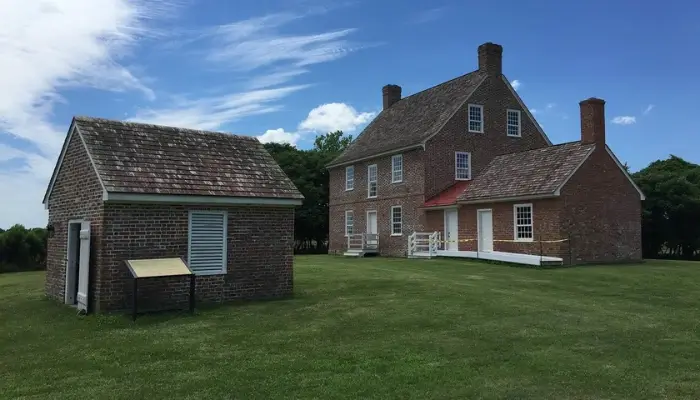 There is so much more to this beach than that! Due to the waves and wind from the Atlantic Ocean, Assateague Island National Seashore is always changing. It originates in Berlin, Maryland, and travels through Virginia and Maryland.
Assateague Island is unquestionably one of Maryland's most distinctive beaches since it puts you right on the edge of the continent of North America. The barrier island contains salt marshes, beaches, campers, and picnic places.
You can also go swimming, kayaking, crabbing, biking, and hiking on Assateague Island National Seashore. Even watching wild horses roam is possible! Pets are allowed in certain places if you want to bring your animal family member.
---
4. North Beach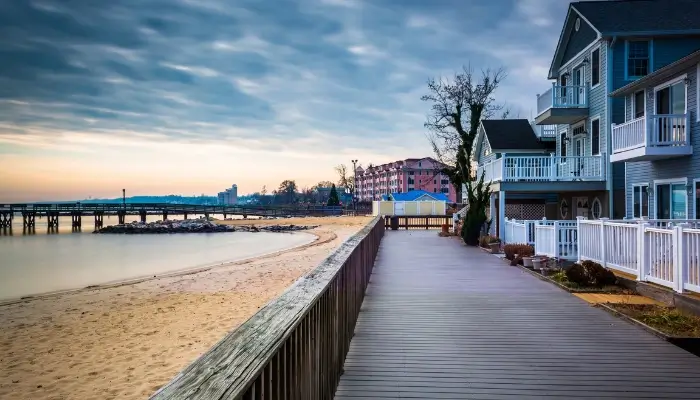 A quiet, little beach may be found in the small village of North Beach. One hour separates the beach from Baltimore and Washington, DC. Locals frequent North Beach the majority of the time, but tourists can also take advantage of the sandy shore and calm waves.
Even without a lifeguard on duty, swimmers enjoy the water. In certain regions, you can go fishing and crab-catching as well.
The beach also includes a calm boardwalk where you can stroll, take in the scenery, and get some food. On the boardwalk, you are also welcome to bring your pet; however, they are not permitted on the beach.
Locals and guests must purchase daily or annual beach passes or tickets from May through September. They are not required during the off-peak period.
---
5. Matapeake Beach, Stevensville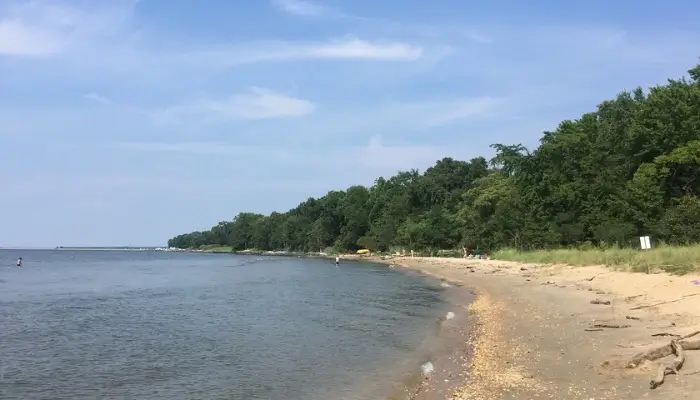 Located at a free, pet-welcoming clubhouse, Matapeake Beach is a hidden gem.
At the Matapeake Clubhouse on Kent Island, there is a little-known treasure called Matapeake Beach. This gorgeous beach and clubhouse are surrounded by the Chesapeake Bay.
This open space has a swimming beach, an outdoor amphitheater, a mile-long trail, and a picnic spot for families.
There are also specific pet zones where your dog or cat can swim if they like the beach. There is a cafe in the clubhouse that is open throughout the summer. The actual beach is open all year long.
Many visitors come here since Matapeake Beach is free to enter. You don't have to pay to spend the day relaxing in the sand or swimming in the Chesapeake Bay, in contrast to other well-known beaches in Maryland.
Also Read: 11 Best Beaches In Oahu, Hawaii
---
6. Breezy Point Beach, Chesapeake Beach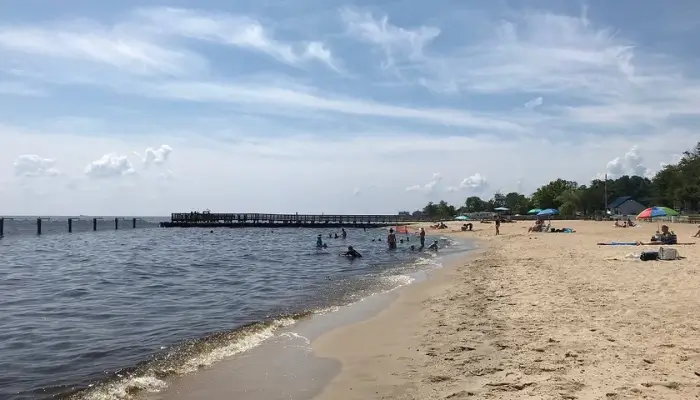 The charming Breezy Point Seaside may be found in the Maryland beach town of Chesapeake Beach. Locals claim that it is one of Maryland's best beaches. It's the ideal weekend vacation for citizens of the nation's capital because Washington, DC, is close by.
This charming beachfront community has a lot to offer tourists. Numerous swimming spots are unobstructed by boats and other watercraft, as well as picnic areas with grills where people may rest and shower. Check out the 200-foot fishing pier if you want to go fishing or crabbing.
You can set up camp at Breezy Point Beach if you want to stay overnight. The campsite does not prohibit pets, but the beach and other day-use areas do not.
---
7. Elk Neck State Park, North East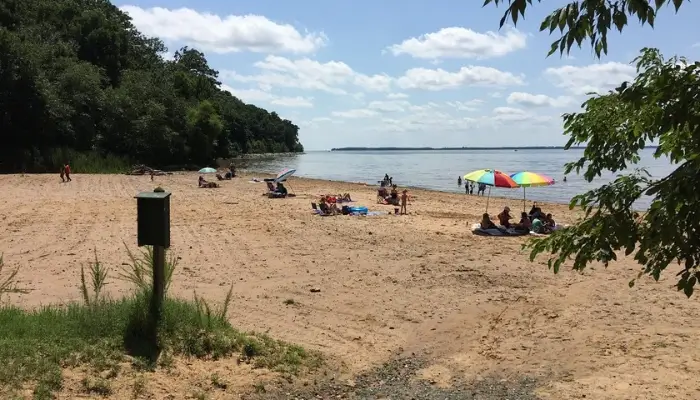 Some of the most stunning state parks on the East Coast can be found in Maryland. Elk Neck State Park is situated to the north of Baltimore. It is situated between the Elk River and the Chesapeake Bay.
Everybody can find something to enjoy in Elk Neck State Park, even animals! During the summer, the state park beach is the most well-liked destination; it's great for making sandcastles and relaxing with a nice book. Most beachgoers can be seen swimming or wading in the Chesapeake Bay when the water is the ideal temperature.
Bathrooms, showers, and picnic spots are just a few of the park and beach amenities. Campsites are also available for overnight stays in the park.
Be sure to explore the famous Turkey Point Lighthouse while in Elk Neck State Park. There are various hiking trails in the park if you like to hike.
Also Read: 11 Best Monterey Beaches To Visit With Family And Friends
---
8. Brownies Beach, located in Chesapeake Beach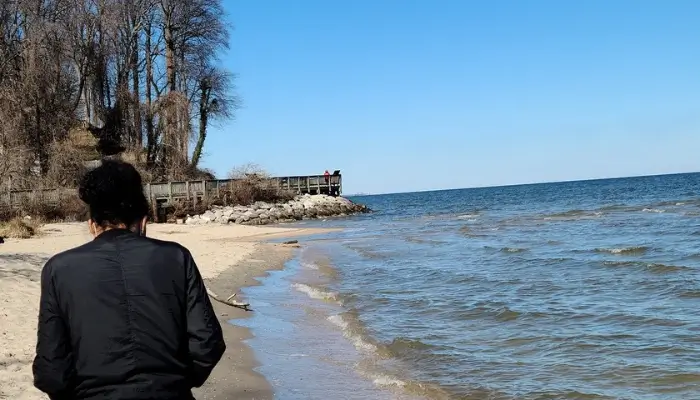 Brownies Beach, also known as Bayfront Park Beach, is a small beach frequented primarily by locals who take pleasure in showing off its beauty to tourists. If you want to spend a calm beach day with a few people, this is one of the best beaches to check out.
Although finding stunning seashells and shark teeth is common along the Chesapeake Bay, Brownies Beach is said to have significantly more shark teeth than other Chesapeake Bay beaches.
There aren't as many amenities at Brownies Beach as there are at other nearby beaches. You must go to the front of the adjoining Bayfront Park to find the restrooms.
You can't see Brownie's Beach (or Bayfront Beach Park) from the road when going there. On Route 261 seashore, keep an eye out for a little parking area enclosed by trees. After turning into the parking lot, you will see the Bayfront Park sign.
---
9. Hammerman Beach Gunpowder Falls State Park, Middle River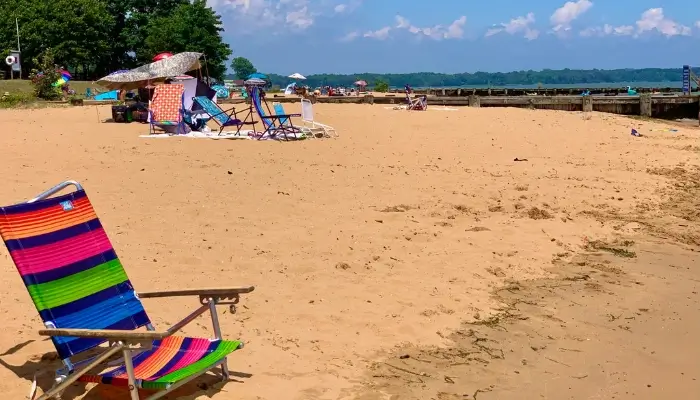 Hammerman Beach is located on the banks of the Gunpowder River and is said to be one of the best beaches in Maryland because of the variety of activities and sights. It has 1,500 feet of sandy shoreline and is situated in Gunpowder Falls State Park.
There is something for everyone at Hammerman Beach, whether you like to laze in the sun or enjoy water sports. If they're not lounging on the sand, it's usual to see people paddleboarding or kayaking in the water. You can also enroll in watersports lessons.
This is a terrific location for a family with children because of the playground area. Along with restrooms and snack concessions, there are fishing holes and hiking trails to discover. The park has various locations where dogs are welcome.
---
10. Betterton Beach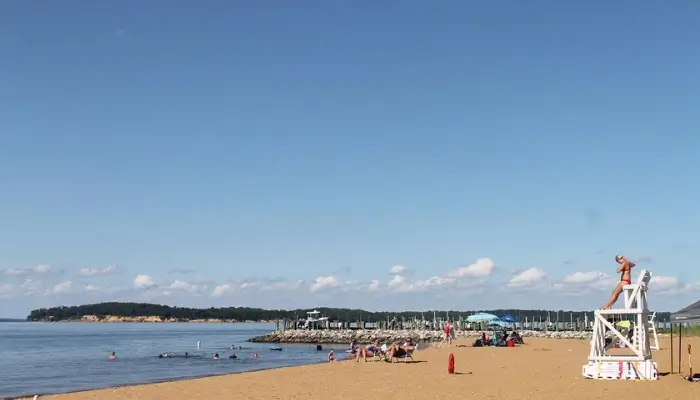 Betterton Beach is a magnificent beach that stretches for 5.2 acres and has a lovely landscape. There is plenty of room to spread out and enjoy a day at the beach. The fact that this beach is free all year round is one of its main draws.
Betterton Beach is a well-known seaside park that caters to families. A volleyball court, fishing jetty, and boat launch are located on the sandy shore. When visiting Betterton Beach, keep in mind that there are no lifeguards on duty and that pets are not permitted.
You can conveniently locate restrooms, showers, and snack stalls at the beach. They are accessible from May through September.
Also Read: 11 Best Beach Resorts In The USA
---
11. Deep Creek Lake State Park, Swanton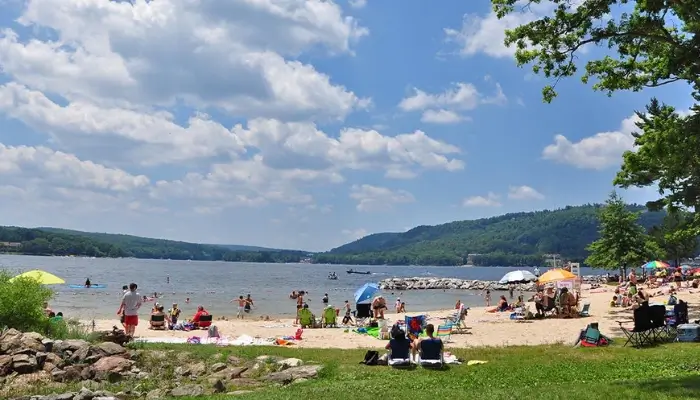 The beach at Deep Creek Lake State Park is a lakefront beach, unlike the other top beaches in Maryland. The biggest man-made lake in the state is found in Deep Creek Lake State Park, which is situated in Western Maryland at the southernmost tip of Meadow Mountain.
Around 3,900 acres make up Maryland's biggest man-made lake. You will not realize it is artificial when there is a lake huge. People swarm to the beaches of this lake from Memorial Day through Labor Day to swim, fish, kayak, and enjoy the sun.
Two swimming beaches that span a mile are located on the lake. If you want to get some exercise while spending the day at a lakeside beach, there are miles of hiking paths close to the lake.
As a state park, it has several conveniences including picnic shelters, restrooms, and a discovery centre. If you want to spend the night, you can camp at the park's campground.
---
FAQs For Beaches in Maryland
Q1. Are there any clear water beaches in Maryland?
Greenbrier State Park in Maryland Offers the Cleanest, Purest Water for Swimming.
Q2. Can you swim in the beaches in Maryland?
Swimmers are drawn to the state's numerous beaches during the hot, muggy summers on the eastern shore. One of the most well-liked beaches in Maryland is Ocean City, which is located along the Atlantic coast. The large, clean, and sandy beach draws both locals and tourists each year.
Q3. Can you swim at Chesapeake Beach?
Despite these safety issues, swimming, boating, and fishing are frequently permitted at beaches bordering tidal rivers and the Chesapeake Bay.
Q4. Is there blue water in Maryland?
You should visit this beautiful lake in Maryland, where the water is the bluest. Lake Habeeb is located in Maryland's Rocky Gap State Park and is a stunning shade of blue. The centrepiece of the park, this 243-acre aquatic wonder is located in Western Maryland.
---
Tell Us In the Comments About One of Your Best Beach in Maryland.
Hope the article was helpful to you and was able to make your trip more easier and fun! Don't forget to book your personalised holiday package with Fiery Trippers. Let us make your vacation a romantic and dreamy getaway.