Hello People!!!
Today's Article is all about the best national parks in the United States.
The National Park Service has been in charge of millions of acres for more than a century, entirely for the "enjoyment, education, and inspiration of this and future generations.
" Millions of people visit the 63 national parks in the United States today to see their distinctive natural wonders and spectacular landscapes.
U.S. News evaluated the recommendations of recent park visitors as well as those of travel industry professionals to select the top U.S. national parks. Have you got a preferred park?
---
List Of 11 Best National Parks in the United States
After researching & experience nature we provide you with the list of the best national parks in the United States Where You Can Talk With Nature.
1. Great Smoky Mountains National Park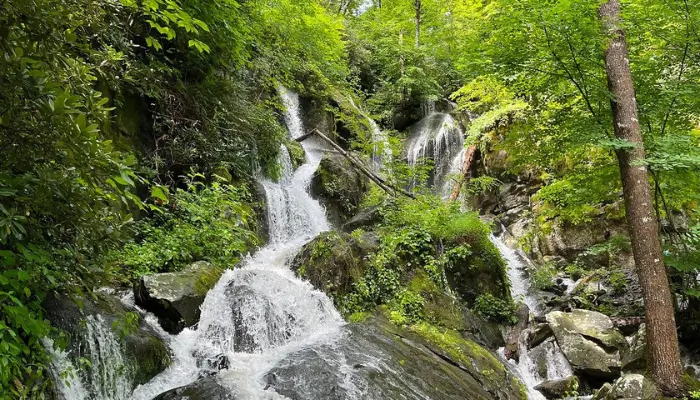 Thanks to its all-year-round beauty and exceptional hiking paths, the Great Smoky Mountains National Park is the most popular park in the US.
The park is among the biggest in the east of the nation and spans numerous counties in both Tennessee and North Carolina.
At 6,643 feet, Clingmans Dome's top is the park's highest point, and from its observation tower, it provides breathtaking vistas of the Blue Ridge Mountains.
Another well-liked location is Cades Cove, which has a number of old log homes, churches, and other structures from the time of the settlers.
It's a beautiful spot to visit all year round because the terrain changes dramatically with each season.
---
2. Grand Canyon National Park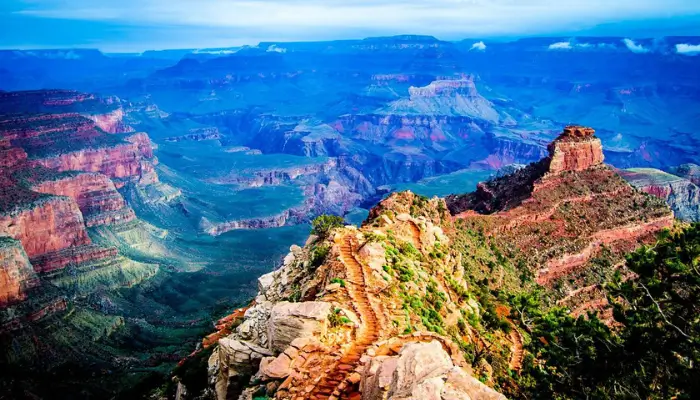 The Grand Canyon is a really astounding natural wonder to witness, measuring 226 miles long, up to 18 miles broad, and a mile deep. Over a period of 5 or 6 million years,
the Colorado River carved it through the intricately stratified rocks of Arizona. Its staggering size now draws millions of tourists annually, especially to the South Rim. Hopi Point, Powell Point, and Desert View all offer views.
Although the North Rim has some great vistas, they are only accessible for about half the year. Alternately, if you're feeling particularly daring, you could even kayak down the river or take a helicopter flight over the canyon.
Also Read: 11 Best National Parks In America 
---
3. Yellowstone National Park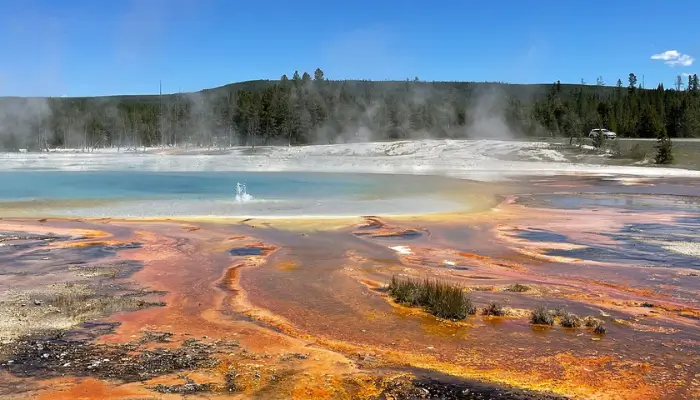 Yellowstone National Park is an outdoor enthusiast's heaven with its imposing peaks and clear lakes. Hot springs are surrounded by colourful pools, lush woodlands wind through wide-open meadows, and erratic geysers shoot streams of boiling water into the air.
Given Yellowstone's pristine natural beauty, it is understandable why everyone believed John Colter, a scout for explorers Lewis and Clark, was exaggerated when he first described the park's geothermal wonders in 1807.
Today, there is no denying the park's amazing nature. Be ready to share the trails with local wildlife like buffalo, elk, and occasionally even grizzlies as you trek through its more than 3,000 square miles of mountains, canyons, geysers, and waterfalls.
If you don't spend your whole day at Old Faithful, you probably won't see many of the more than 4 million tourists that Yellowstone receives each year.
The 2.2 million acres of Yellowstone offer lots of uncharted terrains to explore as they extend from Wyoming's northwest tip into Idaho and Montana's borders. Give yourself a day or two to enjoy Mammoth Hot Springs and Yellowstone Lake's scenery.
Save some time, though, for the trails that lead through less well-known areas, such as the West Thumb Geyser Basin's hot springs and the untamable animals that may be found there and along the Lewis River Channel and Dogshead Loop.
You can always return, despite the fact that the sheer quantity of trails and wildlife-watching chances initially seems overwhelming.
---
4. Grand Teton National Park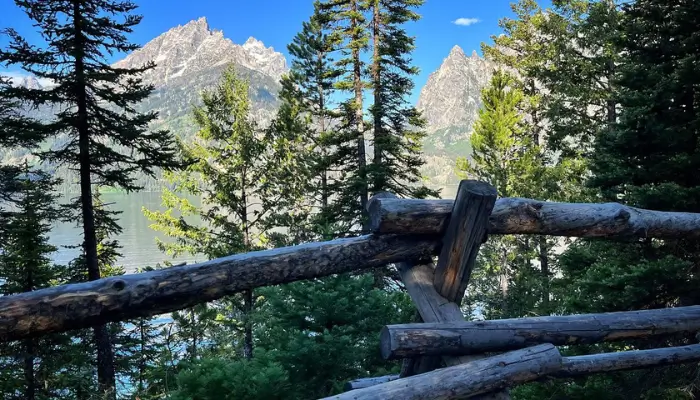 Wyoming's spectacular Teton Mountains are displayed in stark perspective in Grand Teton National Park, towering over Jackson Hole Valley with ragged snow-topped peaks.
There are countless photo opportunities, including the 13,770-foot Grand Teton and the sparkling Jenny and Jackson lakes that deepen to reflect the mountains.
 But only mountaineers and photographers are permitted in the park. During the height of the summer hiking season, the region's routes beckon hikers of all skill levels and provide treasures like undiscovered waterfalls and mesmerizing Tetons views.
Kayakers, rafters, and people who just want to float enjoy the Snake River, meanwhile. History buffs drawn to this section of the Western Frontier's 19th-century history can be found in places like Menor's Ferry and Mormon Row.
Black bears, grizzlies, moose, antelope, and bison are just a few of the many animals that live in this approximately 500-square-mile park. Additionally, in the autumn, parkgoers can see the aspens become golden.
Visitors can travel a few miles north to Yellowstone, which is close to Grand Teton if they want to visit two national parks on the same trip.
---
5. Yosemite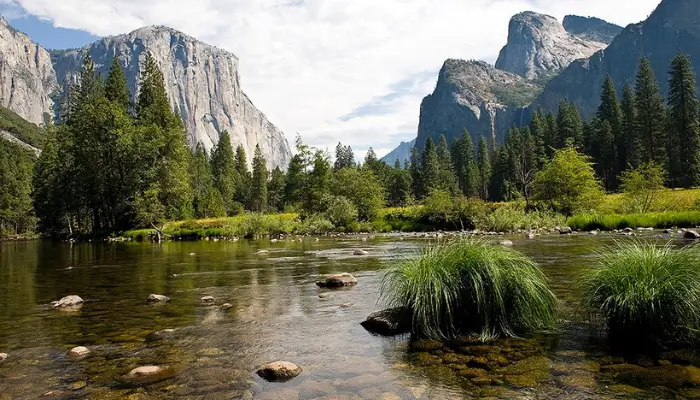 Yosemite National Park, one of California's most challenging natural settings, is roughly 1,200 square miles of pure awe: towering waterfalls, centuries-old sequoia trees, stark, intimidating cliff faces, and some of the most unusual rock formations in the country.
However, the majority of the visitor activity is concentrated in the 8-square-mile Yosemite Valley region, despite the park's immense size.
Half Dome and El Capitan, two of the park's most well-known landmarks, are located here, along with some of the best hiking trails through the natural wonders.
Yosemite is accessible to hikers of all levels: local adventure outfitters offer guided excursions and climbing lessons (such as those featured on our list of the best California tours).
Do not, however, anticipate doing so alone. Yosemite receives around 4 million visitors annually, making it one of the most popular American tourist sites.
Crowds remain the largest deterrent to a fun vacation, though. However, if you visit at the appropriate moment (and begin your day a bit earlier than usual), Mother Nature's wonders will miraculously and peacefully show themselves to you.
Also Read: 11 Best Things To Do In Nashville 
---
6. Mesa Verde National Park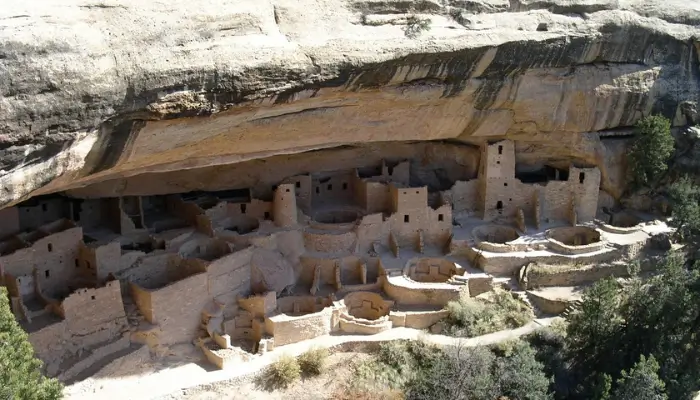 Mesa Verde National Park in Colorado contains nearly 4,000 Ancestral Puebloan archaeological sites, making it a treasure mine of Ancient American history.
They were the first people to arrive in North America, and they established communities in rock cracks.
Cliff Palace, the largest of them, offers roughly 150 rooms and is the national park's main attraction. Balcony House and Long House are two other notable sites.
Ranger-led tours of the cliff houses are available at Mesa Verde National Park. Balcony House, Cliff Palace, and Long House are exclusively available via ranger-led tours; only Long House will be open to the public in 2021.
Starting at 7:45 a.m., you can reserve your tickets online up to two weeks in advance. Plan ahead of time since tickets sell out quickly!
---
7. Rocky Mountain National Park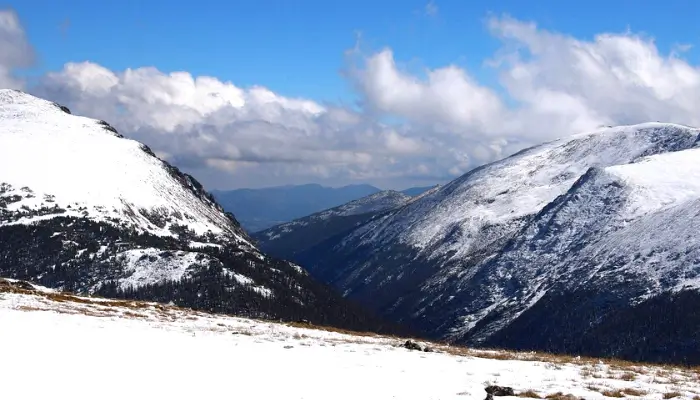 Rocky Mountain National Park is not the largest national park in the US (it is only around 265,000 acres), nor is it the most visited (Great Smoky Mountains National Park has more than 12 million visitors annually, compared to Rocky Mountain National Park's 4 million tourists).
Longs Peak, the highest peak of RMNP, which soars 14,259 feet into the Colorado sky, is undoubtedly magical. The park's 350+ miles of hiking trails are its biggest draw. 
They meander through pine and spruce forests, sparkling alpine lakes, patches of wildflowers, and, if you're lucky, elk or bighorn sheep.
And perhaps it's the thinner air that gets to visitors' heads, but even the most hardened of travellers report experiencing sensations of amazement and wonder after spending a day or two breathing in that reviving mountain air.
When it's time to descend back to earth, or at least to a height of about 7,500 feet, guests can indulge in some handcrafted ice cream,
go on a creepy tour of the Stanley Hotel, or simply stroll through the charming community of Estes Park. Moreover, Boulder and Denver, two popular Colorado cities, are both close by and accessible by car.
---
8. Bryce Canyon National Park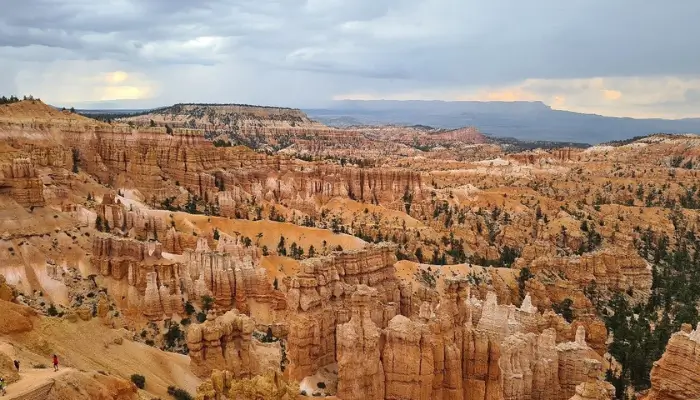 Bryce Canyon National Park, which is situated in southwest Utah, is made up of a dozen amphitheatres, or horseshoe-shaped canyons, on an eroded escarpment of the Paunsaugunt Plateau.
Visitors who enjoy exploring the slot canyons, windows, fins, and—most notably—the towering, slender spires known as hoodoos are drawn to the fanciful limestone rock formations formed by erosion and rain.
The world's largest concentration of hoodoos is found in Bryce Canyon National Park. Bryce offers over 150 miles of visibility on a clear day, with altitudes reaching 9,115 feet.
Additionally, the park offers the best opportunities for stargazing because of its little exposure to light pollution. The International Dark-Sky Association really named Bryce Canyon an International Dark Sky Park in 2019.
Also Read: 11 Best National Parks In Washington
---
9. Arches National Park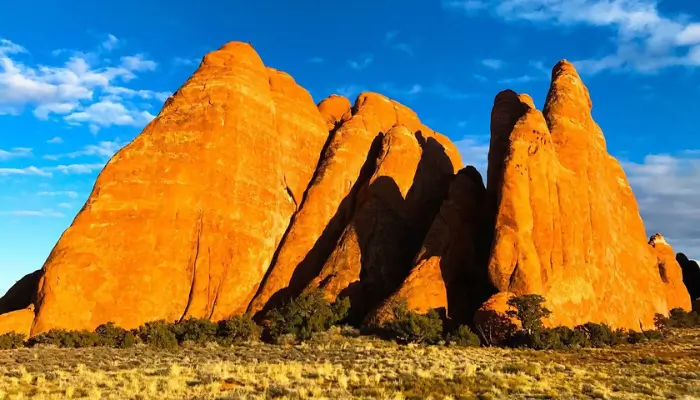 The experience of visiting Arches National Park is like visiting a different planet, one with tens of thousands of natural sandstone arches, red rocks and landforms arranged in breathtaking ways, and light that appears to change constantly.
The park is very captivating for photographers, who are compelled to capture its breathtaking landscapes during dawn and twilight in particular.
This is due to the way the shadows dance across the arches. Arches National Park, however, is more than just a photographer's heaven.
The park, which is located 5 miles northwest of Moab, Utah, has 26 miles of scenic roads and treks for all levels of fitness.
A range of trails is available for hikers to select from, ranging from simple 20-minute strolls to Balanced Rock and the Double Arch to more difficult and secluded excursions up to and into the Fiery Furnace.
Simply gaze up when you need to return to Earth since the Colorado Plateau has some of the darkest skies in the contiguous United States, which makes it possible to see the Milky Way with stunning clarity.
---
10. Zion National Park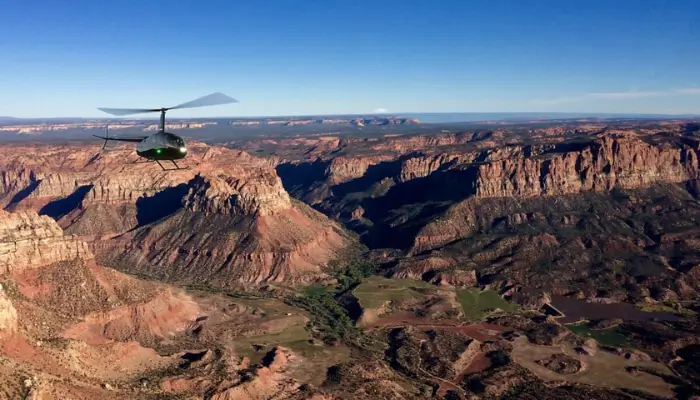 Zion National Park, located in Utah's southwest, is named after the Hebrew word for "refuge," yet it is no longer the peaceful haven it once was.
Today, the park receives more than four million people annually, making it one of the most popular in the nation.
Travellers can admire the apricot-coloured Zion Canyon while wading through its Virgin River or climbing Angels Landing, and they can't get enough of it because every bend in the river or turn in the trail provides an even more spectacular vista.
It's as if they've discovered a hidden gem. In addition, the night sky's blanket of stars is a pleasant way to end a day of energetic activities.
---
11. Red Rock Canyon National Conservation Area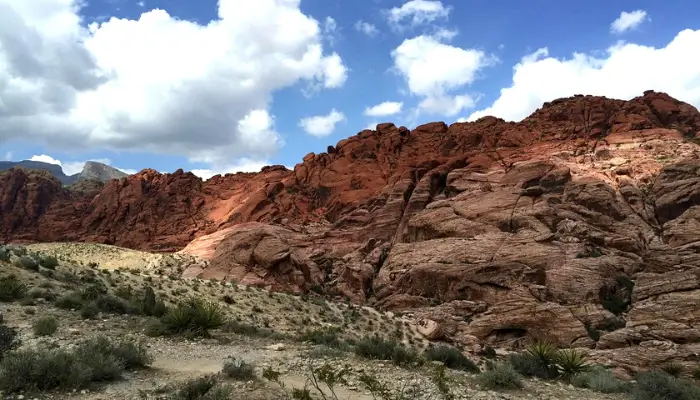 The first National Conservation Area in Nevada was named Red Rock Canyon. 17 miles west of the Las Vegas Strip, on Charleston Boulevard/State Route 159, is where you'll find Red Rock Canyon. More than two million individuals visit the area annually.
 A 13-mile scenic drive, miles of hiking trails, rock climbing, horseback riding, mountain biking, road biking, picnic areas,
nature observation, a visitor centre with indoor and outdoor exhibits, and a book store are just a few of the attractions Red Rock has to offer, in stark contrast to a town focused on entertainment and gaming.
Numerous recreational pursuits are available in Red Rock, with hiking, biking, rock scrambling, and rock climbing is the most well-liked.
On particular trails and in designated spots, camping is also permitted. Group outings through the 13-mile beautiful circuit are frequently organized by car and motorcycle organizations. In this location, ATV use is not allowed.
In addition to the apparent risks associated with scaling rock walls and cliffs, tourists are advised that summertime temperatures regularly surpass 105 °F (41 °C), so they should pack lots of water.
Hikers are warned against going alone and to let others know about their plans before venturing off of designated paths into the backcountry. Venomous rattlesnakes and lightning from thunderstorms that cause flash flooding are risks.
Also Read: 11 Best Beaches In Oahu, Hawaii
---
FAQs For National Parks in the United States
What is the #1 national park?
Yellowstone National Park
Yellowstone is the world's first national park, covering more than 2 million acres. It attracts visitors from all over the world to iconic sites including Old Faithful, Mammoth Hot Springs, and Grand Prismatic Spring.
What is the least visited national park?
Gates of the Arctic National Park & Preserve
According to the National Area Service, Gates of the Arctic National Park & Preserve is the least visited of the 63 national parks since it has no roads or trails and visitors must fly or trek into the park.
Is Yellowstone or Zion better?
In 2018, Zion was the fourth most visited national park in America, trailing only Yellowstone (fifth) and Yosemite (sixth) (sixth). Only the Great Smoky Mountains National Park, the Grand Canyon, and Rocky Mountain National Park were more popular.
What is the oldest park in the US?
Boston Common, the oldest public park in the United States, is significant in the history of conservation, landscape architecture, military and political history, and recreation in Massachusetts.
Where is the oldest state park in the USA?
History. Niagara Falls State Park in New York claims the title of oldest state park in the United States, having been established in 1885.
---
Tell Us In The Comments Which One Is The Best National Park In United States?
If you ever been there? How was your experience? Let us know in the comments!
Also, don't forget to book your personalized holiday package with Fiery Trippers. Let us make your vacation a romantic as well as a dreamy getaway.