Hello People,
If you soon planning a trip to Montgomery and looking for the best things to do in Montgomery, Alabama? This article is for you if you have no idea about where to go and what to do.
The Cotton State's capital, Montgomery also has a turbulent civil rights movement history, was the birthplace of Dr Martin Luther King, Jr., and much more.
Additionally, Montgomery has a fantastic arts scene, beautiful outdoor locations, fantastic shopping, and wonderful restaurants.
The city is a great vacation spot for families, couples, or groups of friends because of its charming downtown area, amazing landmarks, and intriguing attractions.
With so many great attractions to visit in one vibrant city, it is understandable that tourists fly from far and wide to see Monty.
In addition to the fantastic attractions, the city boasts a friendly atmosphere, attractive lodgings, and a tonne of things to see and do.
---
---
List of 11 Best Things To Do In Montgomery
So, if you're debating whether to book a trip to Montgomery, have a look at all the fantastic things to do. You've come to the correct place if you're looking for exciting and unusual tourist attractions in Montgomery, Alabama.
1. Montgomery Zoo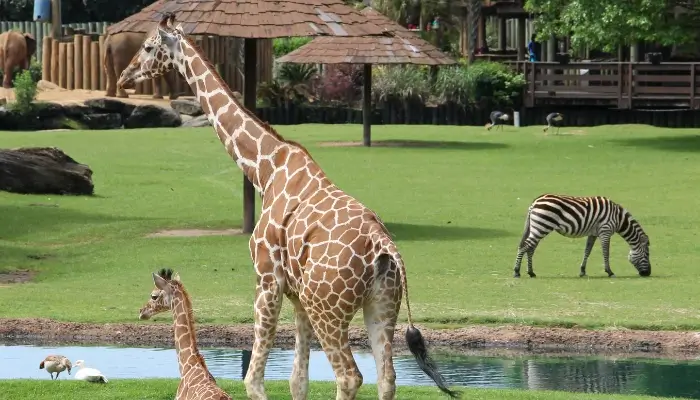 One of the nicest things to do in Montgomery, Alabama, is the 40-acre Montgomery Zoo.
With approximately 800 animals as residents, the zoo is a wonderful spot to spend the day with friends and family.
In addition, the zoo is home to up to 140 different species of animals from regions as diverse as South America, Africa, and Asia.
In addition to the magnificent species you'll see when visiting the zoo, the beautifully maintained landscaping enhances the adventure.
The Montgomery Zoo also has a wide variety of species that you may get to know, such as African birds, reptiles, komodo dragons, North American bald eagles, an Eastern bongo calf, and much more.
Some of the experiences even allow visitors to engage with the amazing animals in their replica habitats in addition to merely viewing them.
A meet-and-greet with a giraffe, freshwater fish interactions, a koi fish feeding pond, and a petting zoo are just a few of the zoo's animal encounters.
---
2. Hank Williams Memorial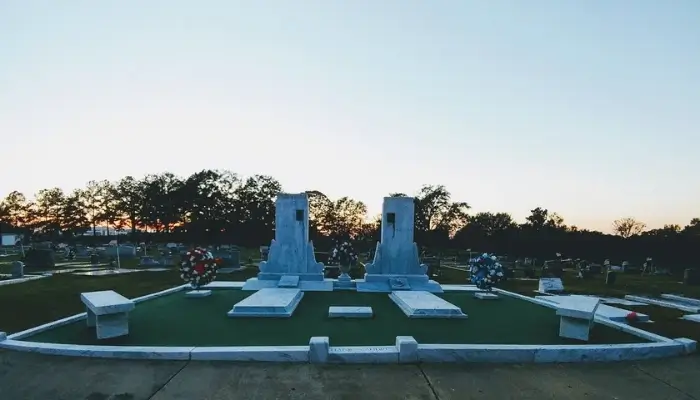 Visit the Hank Williams Museum if you're seeking things to do in Alabama with a fan of country music.
The museum is one of the top tourist destinations in the Montgomery, Alabama, area and is home to the largest collection of items and memorabilia related to illustrious country singer and actor, Hank Williams.
The museum is open every day of the week, so now, this weekend or whenever is a terrific time to go.
The Hank Williams Museum, located in the heart of Montgomery, is home to a sizable collection of memorabilia that recreate Hank Williams's life narrative.
A tour of the museum will introduce you to approximately 40 personal item exhibits, Williams' 1952 Cadillac, apparel and costumes, immaculately preserved musical instruments, and even Williams' high school yearbook.
The Hank Williams Museum is a must-see if you enjoy country music or simply want to spend a few hours in this icon's shoes.
Also Read: 11 Best National Parks In The United States
---
3. Rosa Parks Museum and Library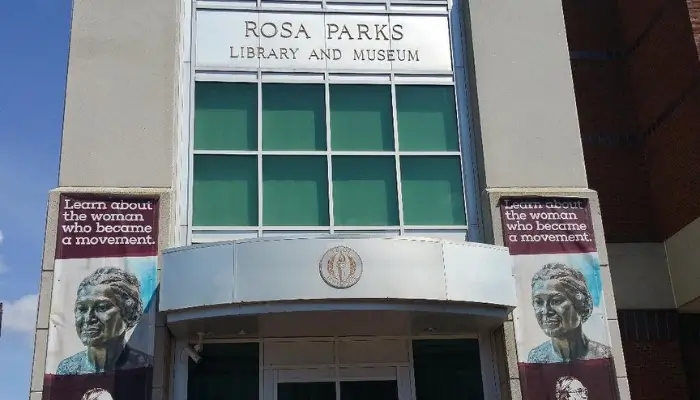 One of the most poignant Montgomery attractions is the Rosa Parks Library and Museum, which is located at Troy University in Alabama.
To begin with, the museum offers self-guided tours, which are among the few activities that are free for kids under the age of three.
The Rosa Parks Museum, which is devoted to preserving Parks' legacy as a leader in the civil rights movement, is located in downtown Montgomery on the spot where she was famously detained.
The Rosa Parks Library and Museum, the only institution of its kind, is a must-see when visiting Alabama.
Notably, the museum serves as a clearinghouse for historical artefacts associated with Ms Parks' life as well as insights gained from her social activism.
Rosa Parks was the impetus behind the Montgomery Bus Boycott and an inspiration to many.
You will have the chance to learn all there is to know about the segregated South, the plight of African Americans, and the role of women in the civil rights movement during your visit to the museum.
The Rosa Parks Library and Museum, one of Montgomery's top historical attractions, deserves a place on your itinerary.
---
4. Montgomery Museum of Fine Arts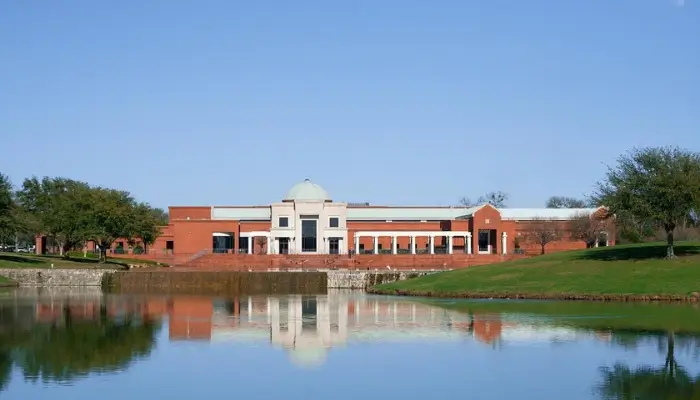 One of the most popular tourist destinations in all of Alabama is this well-known Montgomery museum.
The Montgomery Museum of Fine Arts is the place to go if you're looking for free things to do while you're in town because neither admission nor parking is charged.
The museum has a sizable collection of artwork from the 19th and 20th centuries, including decorative arts, master prints, paintings, and sculptures.
The museum's galleries feature works of social, religious, and Southern art.
A lovely sculpture garden is also a lovely place to stroll around on a sunny day.
Other noteworthy features of the museum include the Verde Cafe, which is great for a delicious meal, and a fantastic gift shop where visitors may buy archival prints.
Additionally, the museum regularly conducts special events like seminars on activism-related art, children's art classes, and historical nonfiction readings.
Make sure to include time on your agenda for a visit to the Montgomery Museum of Fine Arts, one of many wonderful sites to visit with family.
---
5. Riverfront Park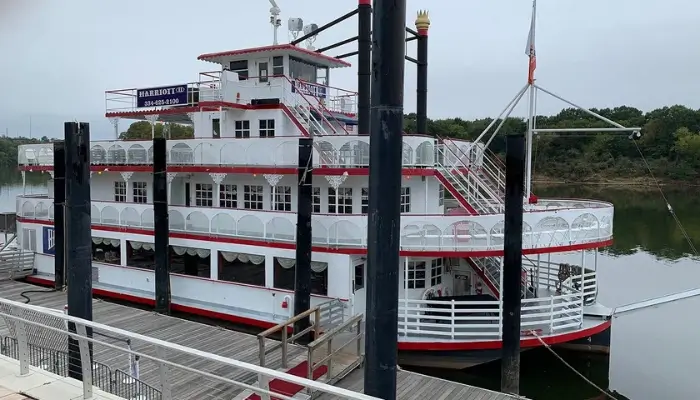 Riverfront Park, one of Montgomery, Alabamatop's outdoor attractions, serves as a gathering place for boating, concerts, delightful dining, and picturesque excursions.
Notable features of the park include an amphitheatre where you can see unforgettable performances and concerts throughout the year and a lovely riverwalk where you may meander all day.
When baseball season is in session, you can watch a game at Riverwalk Stadium, which is located in the park.
It's entertaining to explore the old Union Station Train Shed, which is also located at the park. In addition, Riverfront Park offers enjoyable family activities.
The Rotary Dog Park is the greatest place for your four-legged companions to let off some steam, while a children's splash pad is a terrific method for young children to beat the heat during the hot summer months.
There are numerous practical amenities available in Riverfront Park, including park benches, public restrooms, shelter rentals, local food trucks, and more.
Also Read: 11 Best Places To Camp In North Carolina
---
6. The Museum of Scott and Zelda Fitzgerald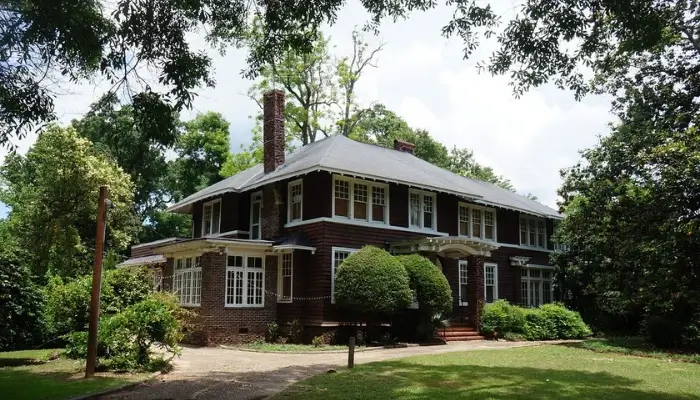 The Scott & Zelda Fitzgerald Museum should not be missed if you have an interest in history or literature.
Famous novelist F. Scott Fitzgerald and his wife Zelda Sayre Fitzgerald once resided in this preserved historical home.
This museum, the only one in the world to do so, honours these figures from the Jazz Age by memorializing them.
Fans of "The Great Gatsby" and other well-known Fitzgerald works should not miss the Scott & Zelda Fitzgerald Museum, which is located in the historic home that was constructed in 1910.
The Fitzgeralds' life is meticulously captured in the museum's hundreds of photographs, records, letters, and even pertinent newspaper articles from the 1930s.
Additionally, the museum is kept in its original design and furnishings from the 1920s.
You genuinely get the impression that you are inside a history book when you visit the museum.
Check out The Scott & Zelda Fitzgerald Museum, one of Montgomery, Alabama's most interesting attractions.
---
7. Festival of Alabama Shakespeare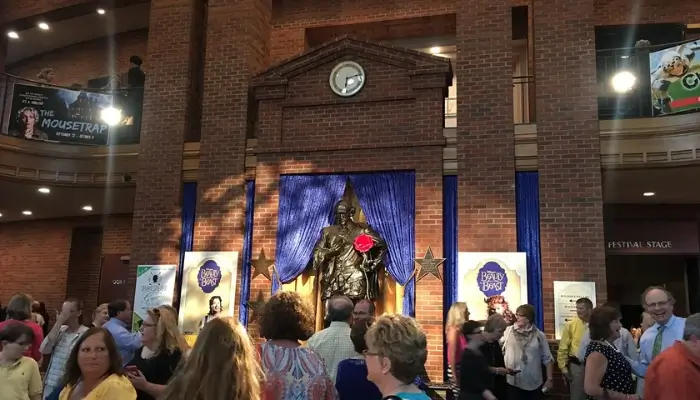 The Alabama Shakespeare Festival is one of the top 10 theatre companies in the world and one of the top Montgomery groups.
The Carolyn Blount Theater, which stages up to three Shakespearean plays annually, is the group's host.
The Alabama Shakespeare Festival, which was established in 1972, is a pioneer in performing arts in Alabama.
Additionally, this theatrical group is a significant player in both children's and adults' educational programming.
There are a few items that might be of interest to you if you decide to visit the Alabama Shakespeare Festival.
In the beginning, the company offers summer camps as well as playwriting, acting, and theatre etiquette seminars.
The renowned Alabama Shakespeare Festival puts on up to six performances each year, so check the events calendar and buy your tickets before traveling to Montgomery if you'd prefer to just take in a performance.
Make sure to schedule a visit to the Alabama Shakespeare Festival if you're unsure of what to see in terms of performing arts.
Also Read: 11 Best Things To Do In Pasadena, California 
---
8. Montgomery's Haunted Tours
A vibrant and original way to learn about Montgomery is through Haunted Montgomery Tours.
While taking a guided journey through the city, this enjoyable tour tells eerie historical tales.
These spooky tours start at dusk when the ghosts are out having fun.
It should be noted that bookings are necessary, weather permitting and that you should wear good shoes because the tour is primarily conducted on foot.
Be sure to buckle up because one of the tour's quirkier aspects is that some of it takes place in a hearse.
You'll be treated to tales and historical recountings by knowledgeable guides who will keep your interest peaked throughout the entire tour, whether you're creepily enjoying the hearse ride or meandering about the city.
The excursions are a top activity to undertake today or this weekend because they are full of personality and mystique.
---
9. Park Blount Cultural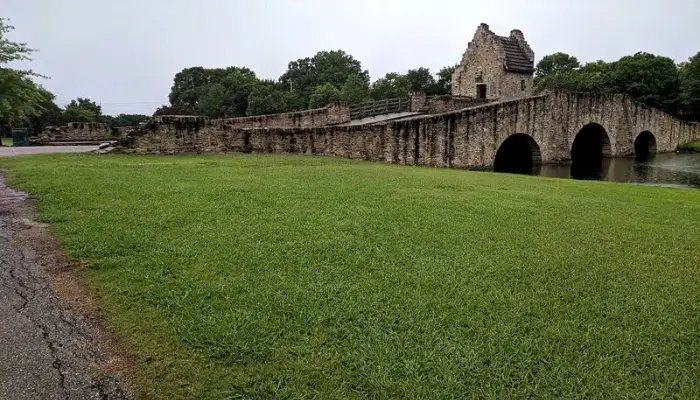 Blount Cultural Park is a gleaming city park with lovely sights to see and enjoyable things to do in Montgomery, Alabama.
More than 75 acres of lush terrain make up this lovely park, which serves as the setting for wonderful outdoor activities.
The park is notable for its miles of walking and biking trails, lush open areas, and charming ponds.
The magnificent statuaries that are scattered throughout the park and are truly a sight to behold are another major draw to the area.
In addition, the park is home to a theatre, the Bark Park for dogs, and even a museum of fine arts.
One of the most beautiful places to visit in Montgomery is Blount Cultural Park, which is a great place to have a picnic, play catch, and read a book.
Photography is another enjoyable activity you can do in the park, and many lovely, natural backdrops are ideal for photo shoots.
Last but not least, Blount Cultural Park is among the places to visit in Montgomery Alabama to go outside.
---
10. Eastbrook Antique Mall and Flea Market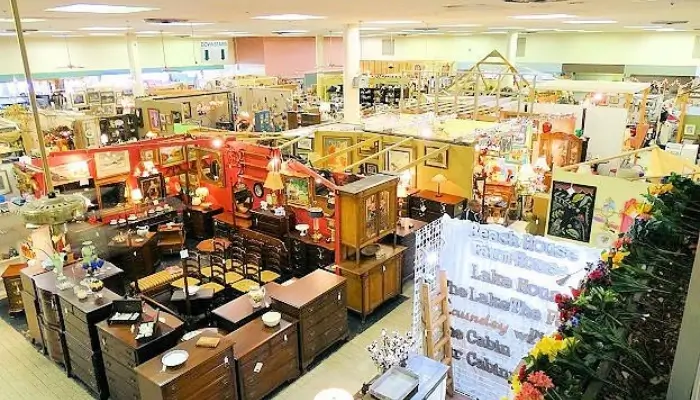 Eastbrook Flea Market and Antique Mall is a Montgomery institution and one of the most distinctive places to shop in the city.
More than 300 vendors are occupying this 60,000-square-foot area and are selling a wide range of goods.
You never know what you might find at the Eastbrook Flea Market and Antique Mall if you're hoping to discover exciting finds.
The ever-evolving collection of antiquities is worth a look and includes everything from vintage fixtures and furniture to one-of-a-kind glassware and decorations.
The flea market is open seven days a week, so a good time to go is today, tomorrow, or this weekend.
You can find a wide variety of items at Eastbrook Flea Market & Antique Mall, including rare treasures, vintage apparel and accessories, books and records, and much more.
Both locals and tourists gush about the amazing find you'll find at this mall.
So make sure to stop by Eastbrook Flea Market and Antique Mall when you're in Montgomery if you're looking for a vibrant shopping experience.
Also Read: 11 Best Things To Do In Irvine, California
---
11. Bamboo Forest & Wilderness Park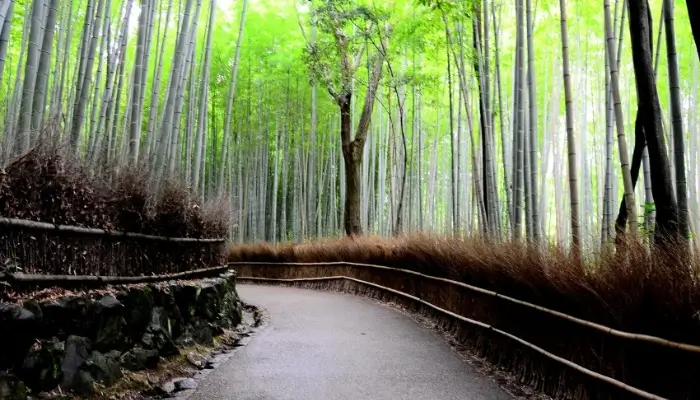 The Wilderness Park & Bamboo Forest, located in Prattville, Alabama, close to Montgomery, is a fantastic place to spend some time outside.
Despite the park's limited size, its picturesque location makes a trip there worthwhile.
Notably, the park is covered in stunning, 60-foot bamboo stalks that cover Wilderness Park & Bamboo Forest in a magnificent canopy.
It's thrilling to explore this bamboo forest or utilize it as a backdrop for photos.
Unique trees and shrubs, including the second-largest Beech tree in the state, are woven throughout this bamboo wonderland.
The Wilderness Park & Bamboo Forest, one of the coolest attractions in Montgomery, has excellent walking pathways that welcome dogs.
The park also has a charming frog pond, which offers a tranquil environment for picnic lunches or reading a book.
This unusual forest and park setting is worth exploring; it's a great place to spend some time in the morning or at dusk.
---
FAQs For Things To Do In Montgomery
Is Montgomery Alabama worth visiting?
With the well-known Alabama Shakespeare Festival, the Montgomery Museum of Fine Arts, and the Performing Arts Center, Montgomery boasts a vibrant art scene. Montgomery is an excellent destination for day trips or weekend getaways because to its lovely parks, nature centers, zoo, and numerous family-friendly attractions.
What's Montgomery Alabama famous for?
Montgomery, which was incorporated on December 3, 1819, has a lengthy and fascinating history. Montgomery developed into the epicenter of the Civil Rights Movement, particularly the Montgomery Bus Boycotts, and was once the site of the First White House of the Confederacy.
Is Birmingham or Montgomery safer?
Huntsville was ahead of Montgomery by one position in the overall rankings (No. 112). Birmingham, the lowest-ranked of the four Alabama cities in the research, came in at No. 1, while Mobile came in at No. 129.
Why is Montgomery called the Gump?
Imagine a portion of Montgomery that is shaped like ham and is enclosed by the directional bypasses. Whatever any rapper says, we lovingly refer to that location as "the Gump."
---
Tell Us In the Comments About One of Your Best Thing To Do in Montgomery.
Hope the article was helpful to you and was able to make your trip more easier and fun! Don't forget to book your personalized holiday package with Fiery Trippers. Let us make your vacation a romantic and dreamy getaway.